Here's what to serve with fish so that you can take your simple and ordinary fish dishes to the next level! From condiments to side dishes, I have gathered it all for the ultimate list of menu ideas! No matter what you choose, you won't be disappointed.
Easy Side Dishes & Condiments For Fish
I absolutely love enjoying a delicious fish meal any day of the week! Not only do I appreciate simple and tasty fish recipes, but I also love pairing them with equally mouthwatering dishes!
I put together this list of over 25 different items that pair perfectly with all kinds of fish! No matter what kind of fish is your favorite, or if you prefer it fried or baked, you're going to find something here for you!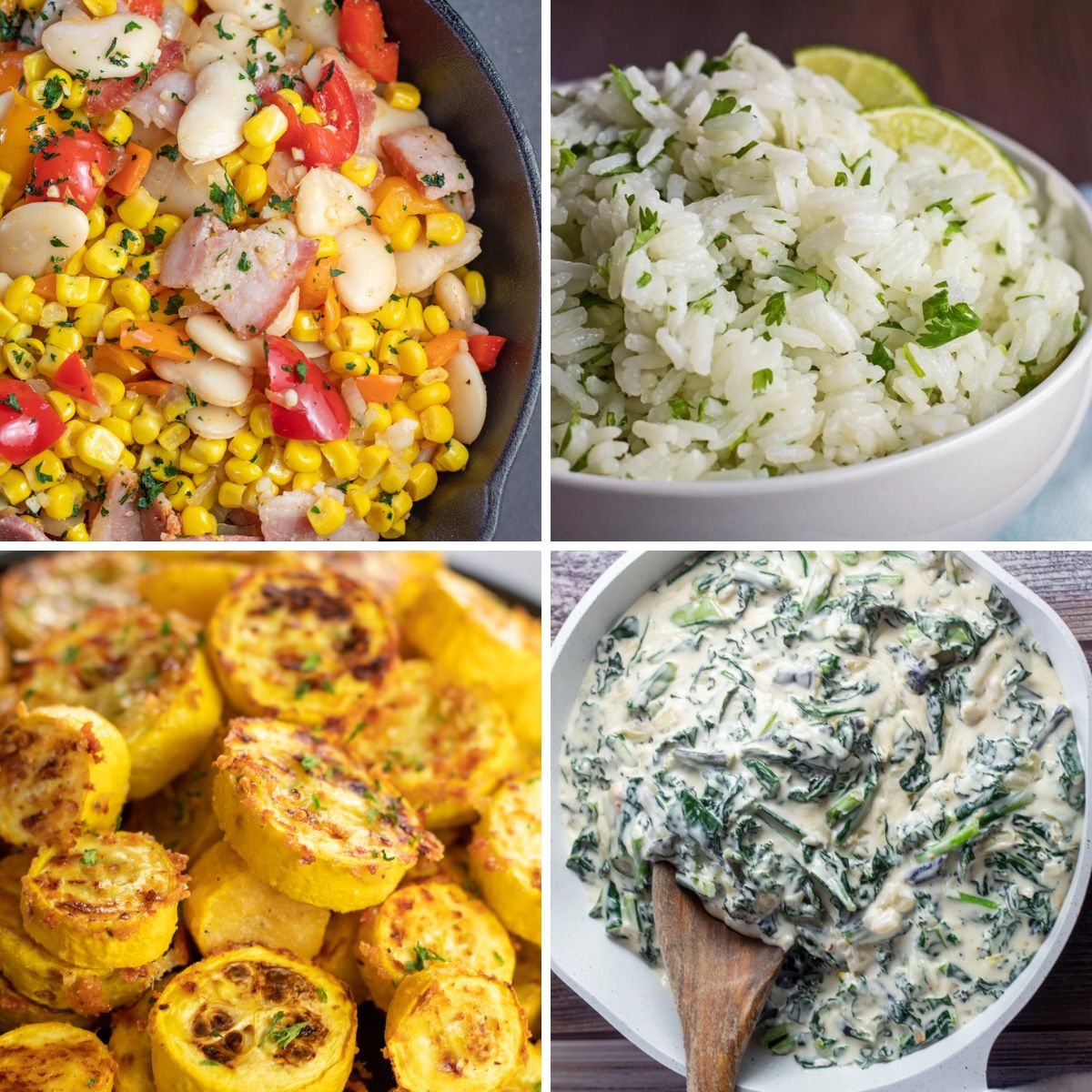 Jump to:
1. Lemon Butter Sauce For Fish
Lemon is known for being an amazing complimentary flavor for all varieties of seafood! This lemon butter sauce is simple to throw together and can quickly add some extra flavor to your fish!
2. Vermicelli Rice
Rice is always a great side dish for fish! This Vermicelli rice is easy to make and amazingly tasty!
3. Oven Roasted Potatoes
Potatoes are a great starchy side for practically any fish! These potatoes are easy to make with a crisp outside and wonderfully fluffy inside!
4. Gremolata
This Italian condiment is wonderful for both meat and fish dishes! It only has 3 ingredients, but can add a delightful freshness to your meal!
5. Cauliflower Mac & Cheese
This low-carb alternative tastes amazing alongside your favorite fish recipes! It is perfect for an all-around light and healthy meal!
6. Air Fryer French Fries
Have you ever heard of fish and chips? French fries are a classic side for some perfectly fried fish!
7. Bloves Sauce
Bloves sauce is an amazingly rich and flavorful sauce that is great for any seafood dish! Fried, grilled, seared, or baked, it will taste amazing with any fish!
8. Roasted Vegetable Medley
Fish and veggies go great together! This roasted medley includes all of your favorite vegetables that have been roasted until perfection!
9. Sauteed Green Beans
This recipe is incredibly simple yet extremely delicious! Sprinkle these green beans with some grated Parmesan cheese for an extra special touch.
10. Southern Coleslaw
There's a reason you see coleslaw served alongside fish at so many restaurants! They are a great pair!
11. Roasted Garlic Mashed Potatoes
These mashed potatoes feature garlic for an extra savory flavor! They are a southern comfort staple that goes great with anything!
12. Roasted Brussel Sprouts
These brussel sprouts are so crispy and delicious that even picky eaters will enjoy them! They are roasted until they become crisp and caramelized, yum!
13. Mashed Sweet Potatoes
Add some butter and brown sugar for a sweet and nutritious side dish! This one is sure to be a family favorite.
14. Roasted Yellow Squash
Roasted squash is an easy and delicious veggie side that is great for any occasion!
15. Dill Sauce
Grab some fresh dill and you're ready to go! This easy homemade sauce is wonderful for all of your favorite fish varieties!
16. Instant Pot Cilantro Lime Rice
The citrus lime flavor pairs wonderfully with fish! Plus, the Instant Pot makes this rice side dish practically effortless.
17. Mushroom Risotto
This mushroom risotto will add a romantic and elegant touch to any meal. It is perfect for making your fish dinner extra special!
18. Caesar Salad
This classic appetizer pairs well with almost any meal. As an added bonus, it is ready in just mere minutes!
19. Creamed Kale
Creamed kale is a fantastic appetizer to serve before your main fish entree. It is cheesy, creamy, and completely addicting!
20. Lemon Asparagus Orzo
This asparagus and orzo dish features some delicious lemon flavor, making it perfect for a fish side dish! It is light, refreshing, and super easy to prepare!
21. Roasted Broccoli With Garlic & Parmesan
Broccoli is a tasty and healthy side dish as-is. This recipe adds garlic and rich Parmesan for an extra flavorful boost!
22. Succotash
Succotash is a great versatile and customizable side dish! It is a southern staple that would taste great for any family meal.
23. Twice Baked Potatoes
These potatoes are extra delicious alongside some grilled fish! They are loaded with all of your favorite baked potato toppings!
24. Roasted Peppers & Onions
Top your favorite grilled, baked, or pan-seared fish with these delicious pepper & onions! They not only add some beautiful color but are also super tasty!
25. Asian Cucumber Salad
This ultra-light and refreshing salad is a perfectly healthy pairing for baked or grilled fish!
26. Creamy Coconut Rice
This completely versatile dish can be served with any type of fish, no matter how it was prepared!
Now that you know what to serve with fish, what recipe will you be making first? Let me know in the comments below!
🐟 Delicious Fish Recipes
📋 Recipe