These budget friendly casseroles are perfect for family dinners and can be made with just a few simple ingredients! Many can even be prepared in advance and frozen, so all you have to do is pop them in the oven! Beat the stress of weeknight meals with these easy and inexpensive dinner ideas!
Easy and Inexpensive Casserole Recipes
I love a good casserole recipe because there are tons of different variations, many of which can be made on a budget! They are perfect for busy school nights, too, especially if you plan ahead and freeze them.
If you're craving Mexican cuisine, there's a casserole for that. Some classic Southern cooking? There's a casserole for that too! Take a look at a few of my favorite cheap and delicious family-favorite casseroles below!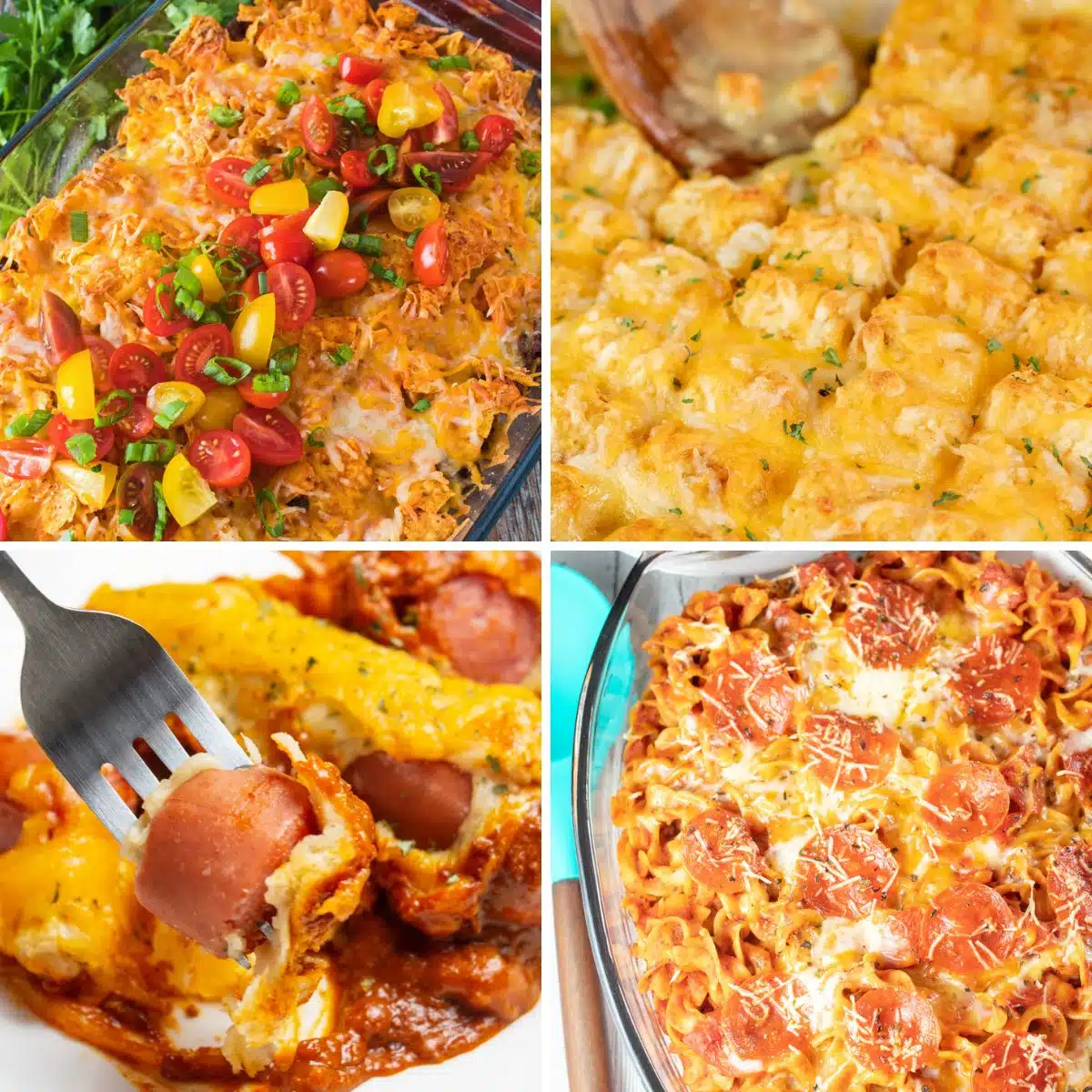 Jump to:
For more easy and delicious casserole recipes, be sure to check out my collection of casseroles that can be made with 5 ingredients or less! I also have some super simple breakfast casseroles that are pretty inexpensive, too!
1. Chili Dog Casserole
With just four ingredients, this chili dog casserole is always a hit with the kids! All you need is some hot dogs, crescent rolls, chili (leftover chili or canned chili works great), and cheese!
2. Pepperoni Pizza Casserole
Your family will love this simple baked pasta casserole loaded with classic pizza ingredients. The pasta is tossed with pizza sauce, pepperoni, and cheese before being baked into warm, melty, pizza-flavored goodness!
3. Baked Spaghetti and Meatballs
This is my favorite after-spaghetti night dinner to make with all of our leftover spaghetti and meatballs! If you don't have leftovers, you can still make your spaghetti and meatballs from scratch, which is relatively inexpensive as-is.
4. Chicken Tater Tot Casserole
Chicken tater tot casserole is a rich, creamy, and comforting casserole that always hits the spot. It's ready to eat in just 30 minutes, and it's a great way to use up leftover chicken!
5. Crockpot Chicken Enchilada Casserole
This crockpot chicken enchilada casserole is one of my favorite back-to-school dinners because I can set it and forget it and go about my day! With only a handful of ingredients, it takes almost no prep time at all!
6. Hamburger Hashbrown Casserole
With perfectly seasoned ground beef, crispy hashbrowns, tender veggies, and lots of cheese, this one-pan meal doesn't need a single side dish! It's a great dinner for busy families because you can assemble and refrigerate it 24 hours before, then just pop it in the oven!
7. Ritz Chicken Casserole
Crunchy, cheezy, and flavorful, this Ritz chicken casserole is everything you could want in a meal! All it needs is 7 simple ingredients and about 30 minutes in the oven.
>>>>See all of my recipes HERE<<<<
8. Chicken Divan Casserole
Chicken Divan casserole is a classic family dinner that has stood the test of time. It's a simple yet delicious combination of chicken, broccoli, rice, cream of chicken (or cream of mushroom) soup, and plenty of cheese that is baked to golden perfection.
9. Green Bean Potato Sausage Casserole
You've got your meat, veggies, and potatoes, so what else do you need? This hearty casserole can be served as a side dish, too, but it is definitely satisfying enough to work as a main course.
10. Beef Enchilada Casserole
All the flavor of beef enchiladas in one easy (and inexpensive) casserole! You can make your own enchilada sauce or just pick up a few cans on your next grocery run.
11. Ground Beef Casserole
A super meaty and cheesy pasta casserole that kids and adults will both enjoy. Just toss the ingredients in a baking dish, mix them up, let it bake for 25 minutes, and then dinner is ready to go!
12. Mexican Cornbread Casserole
Taco seasoning is one of those things I like to keep on hand because it can be used in so many wonderfully easy recipes like this one! The taco-seasoned ground beef is layered between two sheets of fluffy cornbread with corn, tomatoes, and cheese, then baked for a tasty Mexican-inspired meal.
13. Chicken Stuffing Casserole
Boxed stuffing is a great way to bulk up casseroles, and you certainly don't have to wait for the holidays to enjoy it! Mix in some cooked chicken, cream of chicken soup, and frozen veggies, and you have a well-rounded meal that bakes up in no time.
14. Tuna Noodle Casserole
I don't know about you, but cheesy tuna noodle casserole always brings on a wave of nostalgia from childhood. I'm happy to report that it is still just as tasty to this day, and I can see why Mom and Grandma loved making it so much (it couldn't be easier)!
15. Doritos Casserole
You're going to want to grab a few bags of nacho cheese Doritos so you can make this casserole weekly! If you keep ground beef in the freezer, all you'll need is some cheese, corn, tomatoes, beans, and taco seasoning!
Best Tips For Making Inexpensive Casserole Dinners
Making budget-friendly casseroles is a delicious and cost-effective way to feed your whole family! Here are some tips to help you create tasty casseroles without breaking the bank:
Use Inexpensive Proteins: Aim for casseroles that call for inexpensive proteins like canned tuna, canned chicken, ground turkey, chicken thighs, or even beans.
Bulk up with Vegetables: Make a heartier dish that goes further by adding lots of inexpensive vegetables. Things like carrots, corn, bell peppers, zucchini, and tomatoes are all great choices.
Buy in Bulk: Try to buy staple ingredients in bulk, like rice, pasta, and canned goods. In the long run, it will save you money, and you won't have to worry about last-minute grocery trips.
Substitute with Frozen Produce: Opt for frozen vegetables if fresh vegetables are too expensive. They are usually more affordable and retain their nutritional value!
Repurpose Leftovers: Turn leftovers into a new casserole. Leftover cooked chicken, vegetables, and pasta can be transformed into a delicious dish with a little creativity!
Casseroles are the perfect way to reduce your weeknight dinner stress! If you have any family favorite inexpensive casseroles you love, let me know in the comments below so I can give them a try!
📋 Recipe