Tasty breakfast casseroles are the ultimate one-pan dishes and are perfect for a weekend brunch with the whole family! When you have family in town or over on Sunday morning, this wonderful assortment of easy breakfast options will do the trick. Give these hearty and sweet breakfast casseroles a try and you won't regret it!
Easy Breakfast Casserole Recipes To Make
Breakfast casseroles are one of the most filling and delicious ways to start your day out right! Plus, you can feed your whole family with ease. These one-pan meals are the perfect thing to make for a weekend family brunch!
Whether you are a fan of sweet or savory, there is a casserole for everyone to enjoy. So choose a dish that catches your eye and get ready to have some new family-favorite breakfast casseroles!
A list of my favorite incredibly delicious breakfast casseroles to serve up for a Saturday or Sunday brunch!
Jump to:
Best Breakfasts Casseroles For Weekends
If you need new ideas on what to make for busy weekends or family brunch, I've collected the best breakfast casserole recipes for you to try! From sweet apple pie french toast casserole to savory ham and potato casserole, I've got it all.
1. Cinnamon Roll Casserole
This incredibly easy cinnamon roll casserole is the perfect treat to serve with a cup of coffee! Just cut up cinnamon rolls (baked or unbaked), soak them in an egg and cream mixture, and bake!
2. Tater Tot Casserole
If your family enjoys tater tots, breakfast sausage, bacon, eggs, and cheese, this hearty tater tot casserole is a must! With just 5 minutes of prep work, it's a wonderful casserole to whip up on busy mornings.
Plus, you could meal prep this dish for up to 4-5 days because the leftovers reheat beautifully! Serve this casserole with some sweet apple oatmeal muffins for a balanced meal.
3. Hashbrown Sausage Bacon Egg Casserole
My hashbrown sausage casserole is filled with layers of hashbrowns, eggs, breakfast sausage, and cheese! The leftovers can be chopped up and stuffed into tortillas with salsa for tasty breakfast burritos the next day.
4. Panettone Cherry French Toast Casserole
Panettone cherry french toast casserole is an impressive meal to make for your loved ones! A chocolate chip panettone loaf is cut up into cubes, soaked into an egg mixture then topped with cherry pie filling, chocolate chips, and oatmeal streusel.
You can easily prepare this dish the night before to save time! I like to make some quick microwave eggs and bacon to go with it.
5. Apple Pie French Toast Casserole
This sweet breakfast casserole recipe features a delightful combination of classic French toast and homemade apple pie! Of course, you can use canned apple pie filling, but I highly suggest taking the time to make a homemade pie filling instead.
Make this dish the night before and let it soak up the egg mixture all night. Serve with a dollop of whipped cream, if you'd like!
6. Sausage Egg & Cheese Breakfast Casserole
This delicious casserole features all of your favorite savory breakfast staples! It combines your choice of breakfast sausage, eggs, and cheddar cheese all in a 9X13 baking dish.
7. Ham and Potato Casserole
Ham and potato casserole is enjoyable any time of the day! Tender potatoes and diced ham are layered with a delicious cheese sauce for the ultimate savory and comforting meal.
8. Sausage Hashbrown Breakfast Casserole
Who could resist a hearty breakfast casserole filled with breakfast sausage, hashbrowns, eggs, and cheese? With only 15 minutes of prep time, you can set a timer and let the oven do all of the work!
Even inexperienced cooks will have no problem putting this casserole together. I like to serve it with my homemade double chocolate chip banana bread to compliment the savory flavors.
9. Hashbrown Crust Sausage Cheddar Quiche
This all-in-one dish features all of the best breakfast items in one recipe! A hash brown crust is par-baked and chilled before a mixture of eggs, onion, sausage, cheese, and chives is added.
Create an irresistible brunch lineup by serving this savory quiche next to some chocolate-frosted baked donuts and a Maraschino cherry coffee cake!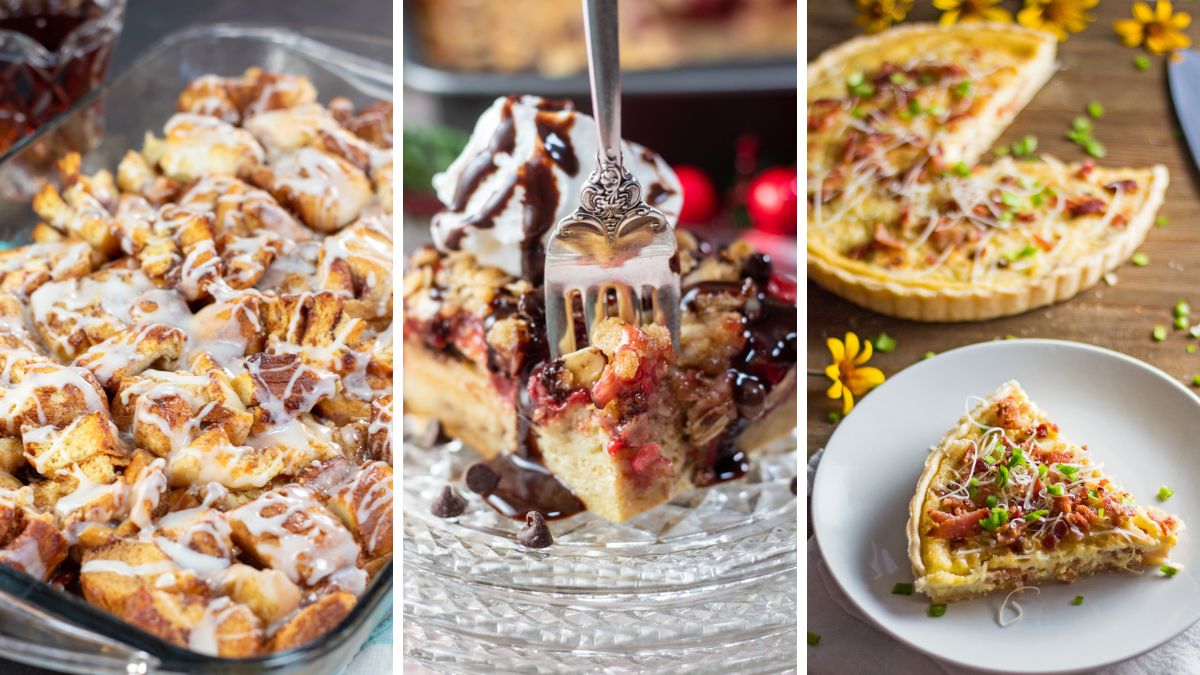 10. Overnight French Toast
If you love french toast as much as I do, you'll appreciate how much easier this casserole is than making individual pieces of toast! It's a fantastic option if you are planning on feeding a large hungry crowd.
You can do all of the prep work the night before to save time the next morning! This is the perfect make-ahead sweet casserole that will be a hit with anyone that tries it!
11. Baked Denver Omelet
This baked Denver omelet is loaded with crisp veggies, diced ham, cheddar cheese, and creamy eggs! In only 35 minutes, you'll have a hearty and satisfying omelet that you can easily slice up into individual squares!
12. Cinnamon Roll Bread Pudding
If you have some leftover cinnamon rolls that have started to harden, you can bring them back to life in this rich bread pudding recipe! Cinnamon rolls are first soaked in a custard made out of cream, sugar, egg, and egg yolks, then baked until the custard sets.
This bread pudding is a family favorite in my household, so I hope that your family enjoys it too!
13. Quiche Lorraine
This classic French quiche recipe features a flaky butter pie crust filled with savory egg custard, chopped bacon slices, Parmesan cheese, and Gruyère cheese! Serve this warm at your next family brunch and watch how quickly it disappears.
14. Make-Ahead Breakfast Casserole
Make-ahead breakfast casserole is an easy and versatile dish to make with your favorite seasonings, veggies, breakfast meats, and cheeses! It's the perfect all-in-one meal that you can adapt with different variations each time you make it!
Plus, the leftovers will cook up deliciously every time! You can cook it right away or assemble the dish and refrigerate it for 24 hours before baking.
15. Raspberry Cream Cheese Cinnamon Roll Casserole
This simple, yet impressive cinnamon roll bake only requires 5 simple ingredients! To make it, the cinnamon rolls are cut into 6 small pieces and then folded into a cream cheese and fresh raspberry mixture.
Add in some lemon zest for a refreshing flavor or top with sliced almonds for a delicious crunch!
16. Biscuit Egg Casserole
Biscuits, eggs, and cheese is combined to make an easy and incredibly delicious savory breakfast casserole! In just 30 minutes, you'll have a fantastic breakfast dish to share with the whole family.
You could switch the sausage out for bacon or ham if you'd like!
17. Monte Cristo Breakfast Casserole
This sweet and savory casserole has all of the flavors of a classic Monte Cristo sandwich! It is even sprinkled with Confectioner's sugar and served with a side of raspberry preserves. Yum!
You will need to plan on chilling this casserole overnight in the fridge before baking.
Do you plan on making one of these casseroles this weekend for brunch? Which casserole are excited to try first? Let me know in the comment section down below!
>>>>See all of my recipes HERE<<<<
🍳 More Tasty Breakfast Recipes
📋 Recipe