These back-to-school dinner ideas are just what you need to get back into the swing of busy weeknight family meals! From easy one-pot meals to satisfying casseroles, these recipes are simple to prepare and always delicious. Who knows, you may even find a few new family favorites!
Easy Dinners For Back To School
While most of us don't get to enjoy summers off, when the kids go back to school, the work week always gets more hectic! Luckily, you don't have to settle for fast food or takeout to try and pull off a wholesome and delicious family meal.
Below are a few of my family's favorite weeknight dinner recipes that are a breeze to throw together. Everything can be made with simple and relatively inexpensive ingredients, and most importantly, they are all super tasty!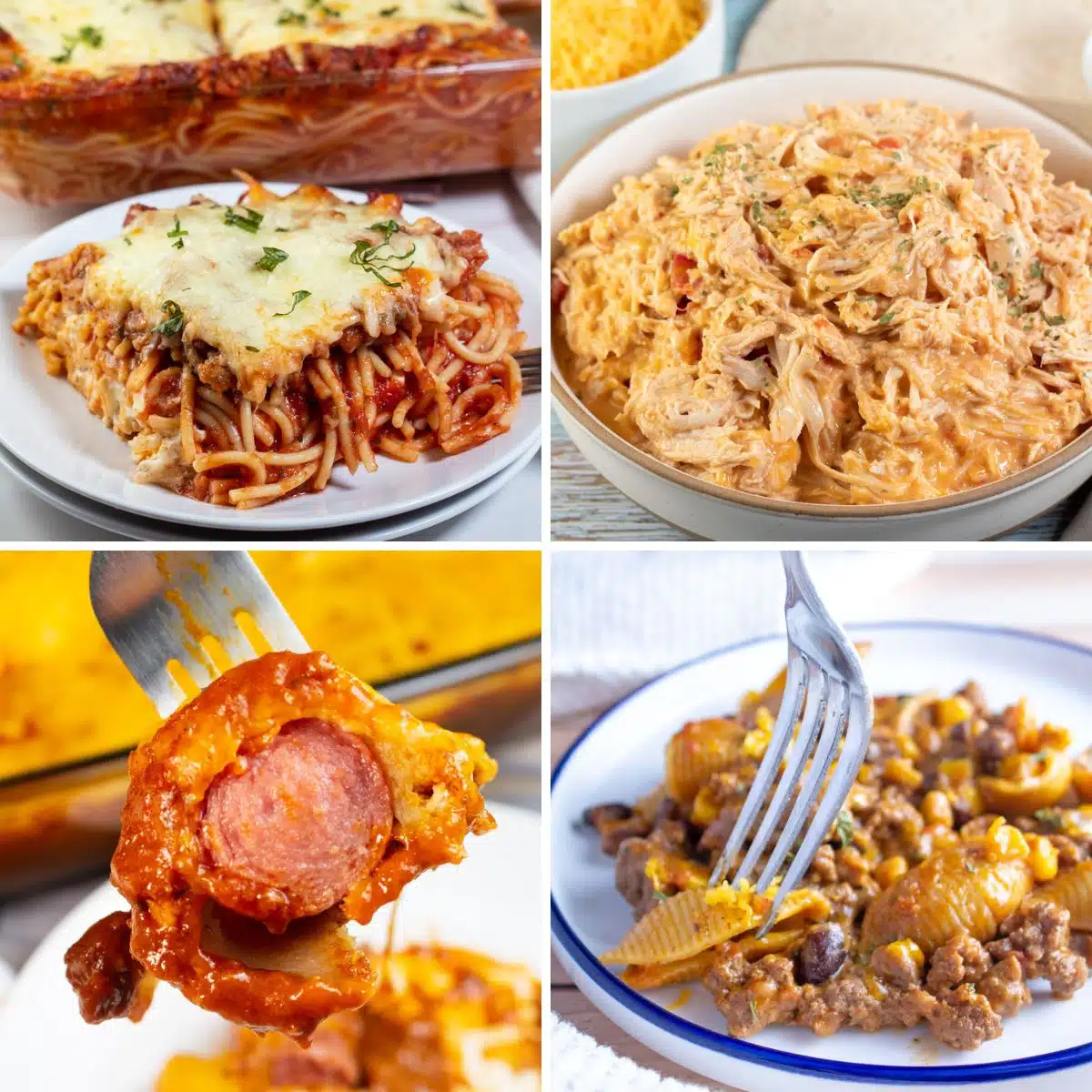 Jump to:
1. Chili Dog Casserole
This kid-favorite casserole features hotdogs, fluffy crescent rolls, chili, and cheese! It's a combination that they already know is delicious, and it's ready to eat in just 30 minutes!
2. Crockpot Creamy Salsa Chicken
Slap this creamy salsa chicken in a tortilla with your favorite taco toppings or burrito fillings, and call it a night! You can even use your air fryer to quickly whip up some crispy tortilla chips to serve on the side (or to scoop the salsa chicken directly into your mouth)!
3. Taco Pasta
Now you can enjoy taco night and pasta night at the same time! This flavor-packed pasta dinner features tender pasta shells, perfectly seasoned taco meat, corn, beans, and cheese!
4. Million Dollar Spaghetti Casserole
This super easy spaghetti casserole tastes like a million bucks, and it's a great way to use leftover spaghetti! It includes a savory meat sauce, plenty of tasty noodles, and tons of rich and creamy cheese.
5. Crockpot Chicken Enchilada Casserole
I love a 'set-it-and-forget-it' recipe, and this crockpot chicken enchilada casserole was instantly devoured. Layer the ingredients in your crockpot before work and go about your day knowing dinner is taken care of.
6. Air Fryer Frozen Burgers
There's no shame in tossing a few frozen burger patties in your air fryer! They crisp up on the outside slightly but still stay tender and juicy. All you need is the buns and your favorite burger toppings!
7. Pepperoni Pizza Casserole
No kid is disappointed when they hear pepperoni pizza casserole is on the menu tonight! Tender egg noodles, pizza sauce, pepperoni, and cheese come together to make one simple yet totally tasty comfort food!
>>>>See all of my recipes HERE<<<<
8. Sheet Pan Shrimp Fajitas
I love a recipe where everything can be baked together on one pan because it makes prep and cleanup so much easier! These shrimp fajitas bake the protein and veggies all in one pan, then all you have to do is supply the flour tortillas and enjoy!
9. Chicken Spaghetti with Rotel
Chicken spaghetti is a childhood favorite of mine, and the taste has stood the test of time because my daughter loves it too! It's rich and cheesy, with tender chunks of chicken, juicy tomatoes with chiles, and plenty of noodles.
10. Cabbage and Noodles
Cabbage and noodles might sound simple, and that's because it is! Caramelized onions and crispy bacon give loads of flavor to the more mild-tasting cabbage, and then everything is tossed with noodles to create a satisfying and delicious dish!
11. American Chop Suey
This classic combination of seasoned ground beef, al dente macaroni noodles, and savory tomato sauce is a long-time favorite for busy families. I like to serve mine with a quick side of air fryer garlic bread to sop up all the extra sauce!
12. Cream of Mushroom Pork Chops
Perfectly cooked pork chops slathered in a rich and creamy mushroom sauce made from cream of mushroom soup. It's delicious enough to serve any day of the week, and good thing because it's ready in just 30 minutes!
13. Slow Cooker Salisbury Steak
These juicy burger steaks in a savory mushroom brown gravy are absolutely delicious with a side of easy Instant Pot mashed potatoes! The gravy works for the potatoes, too, so you can throw everything together and dig in!
14. BLT Sandwich
When you don't have it in you to turn on the oven, a stacked BLT sandwich is always an easy, stress-free option. Use some perfectly ripe and juicy tomatoes, crisp, fresh lettuce, and thick-cut bacon, and watch your family savor every bite.
15. Hamburger Helper Beef Stroganoff
This copycat hamburger helper beef stroganoff is just as easy as the boxed stuff you remember from childhood, except it has way better ingredients! It's a delicious one-pot meal you can have on the table in 30 minutes.
Tips For Making Back-To-School Dinners Easier
When it comes to streamlining your weeknight meal planning process, there are a few tips and tricks that will help along the way. From utilizing leftovers to preparing ingredients in advance, there are a ton of things you can do to cut down on prep time!
How To Make After-School Dinners Efficiently
Batch Cooking: Cook larger quantities than you typically need so that you can refrigerate or freeze leftovers. This is a lifesaver on those super busy evenings!
One-Pot and Sheet Pan Meals: These types of meals are easy to prepare and require minimal cleanup afterward.
Prep Ingredients in Advance: Wash, chop, and portion out your ingredients ahead of time. Store them in airtight containers or Ziploc bags so you can quickly assemble meals during the week.
Slow Cooker and Instant Pot: These kitchen appliances are fantastic for busy families! You can prepare ingredients in the morning, set the cooker, and come home to a hot meal.
Use Leftovers Creatively: Transform leftovers into new meals. For example, a rotisserie chicken can become shredded chicken tacos and cooked rice can be turned into a quick batch of fried rice.
Freezer-Friendly Meals: Prepare and freeze meals that can be easily reheated, like lasagna, soups, or casseroles. I like to do this on the weekends when I have a little extra free time.
I wish you a great first day of school from my family to yours! Tell me about your favorite after-school recipes in the comment section below so I can give them a try!
📋 Recipe