If you're thinking about what to serve with veal scallopini to create a delicious meal, any of these incredible side dishes will do the job! With everything from soup, to bread, vegetable side dishes, and pasta, you are sure to find what you need!
Best Veal Scallopini Side Dishes
Veal scallopini is a classic traditional Italian American dish that is bursting with rich, bright flavor. Scallopini refers to the thin cutlets of veal that are dipped in flour and then pan-fried in a buttered oil.
This dish is a delicious restaurant-worthy meal that is easy to make at home. We've rounded up some of our favorite side dishes to pair with this wonderfully appetizing entrée!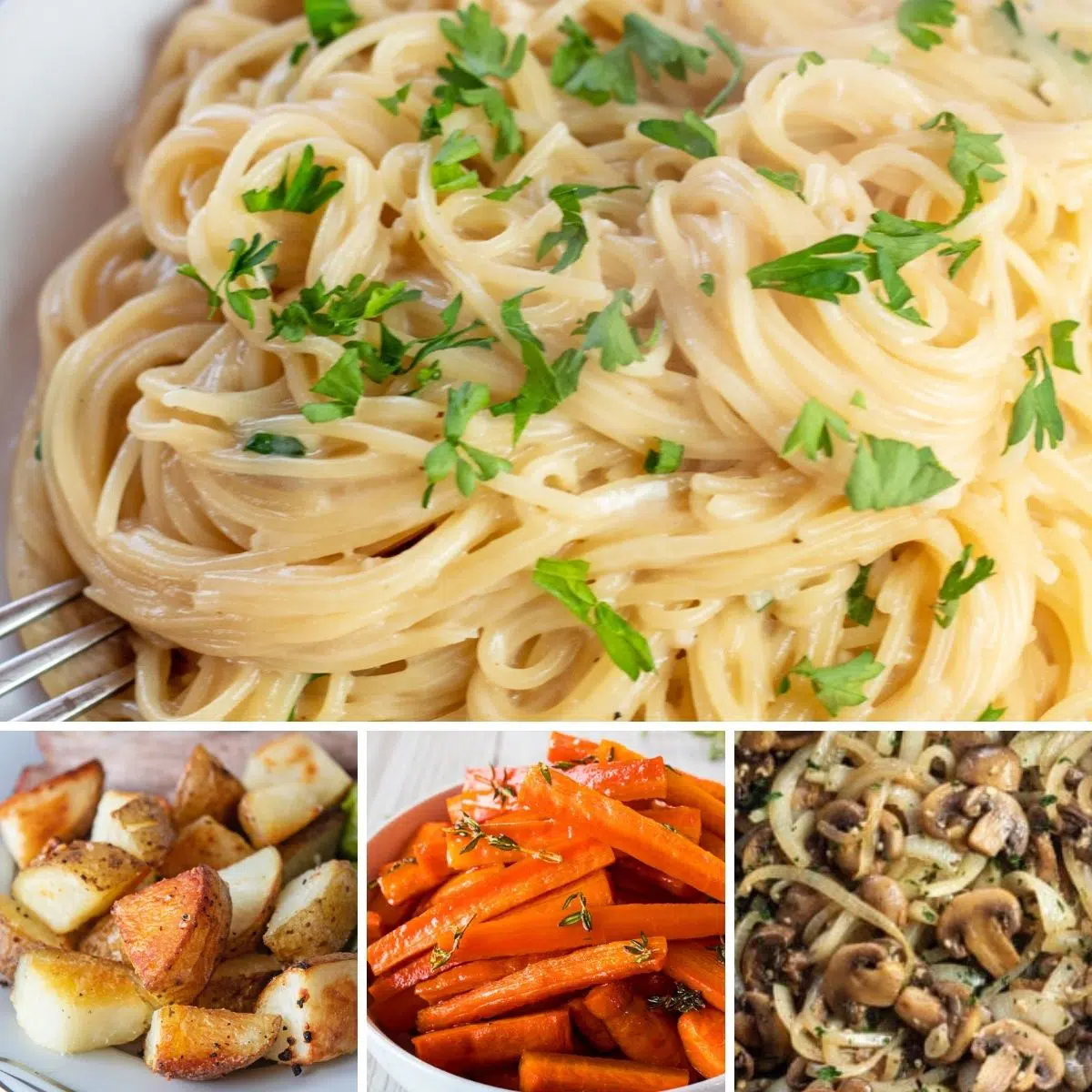 Jump to:
1. Oven Roasted Potatoes
Meat and potatoes go together like peanut butter and jelly. These oven-roasted potatoes are very easy to make, crispy on the outside, and soft and fluffy on the inside.
Versatile in how you may season them, they are a flawless pairing with veal scallopini that elevates the dish.
2. Sauteed Mushrooms and Onions
Mushrooms and onions are a delightful side dish that pairs well with most meals! It's packed full of flavor with earthy flavors from the mushrooms and sweetness from the onions.
Sauteed garlic is added at the end to really take it over the top!
3. Sauteed Broccolini
This sauteed broccolini has a fresh kick that complements veal scallopini. Every bite has the refreshing zest of lemon that will brighten your palate.
The broccolini is topped with parmesan cheese giving it a hint of nutty flavor. It's a side dish you'll want to enjoy regularly.
4. Garlic Green Beans
Green beans are a quintessential side dish that is so simple to make. This recipe is a gem due to the addition of crispy, delicious bacon. Once the bacon is cooked, butter and garlic are added to the pan and the green beans absorb all of the enjoyable flavors.
A beautiful complement to veal scallopini!
5. Honey and Herb Roasted Carrots
These honey and herb-roasted carrots are so delicious. Slightly sweet, savory, and bursting with flavor, you'll never want to make carrots any other way again.
6. Buttered Noodles
These buttered noodles are an easy and quick addition to your dinner plate. Buttery goodness is absorbed into the noodles, making it the perfect base for a hefty serving of veal scallopini.
Buttered noodles are an inviting pasta side dish the whole family will love.
7. Baked Parmesan Zucchini Rounds
Take your side dish game to the next level with these easy-to-make and wonderfully tasty zucchini rounds. They are a healthy and low-carb side that is so good you will forget you're eating a vegetable.
8. Quick French Bread
Bread is a universal favorite for any meal. With this recipe, you can have fresh, homemade bread in no time.
In under 3 hours, you have fresh from the oven French bread! Take a slice, butter it up, and enjoy it with your veal scallopini.
9. Pasta e Fagioli Soup
This is a traditional Italian soup served in many restaurants. It's hearty and pairs great with veal scallopini!
Full of robust flavors, pasta, vegetables, and beans, it's comfort food you'll you're guaranteed to enjoy!
10. Vermicelli Rice
This recipe is a popular middle eastern side dish that is versatile, quick, and easy to make. It goes great with veal scallopini as it adds a tasty nutty flavor.
The rice is nice and fluffy while the pasta is cooked perfectly. It's a wonderful weeknight meal to throw together when paired with veal.
11. Roasted Brussel Sprouts
Roasted Brussel sprouts are an easy, healthy, and delicious side dish to add to any plate. These little balls of leafy greens are tossed in olive oil, seasoned, and roasted until tender.
Brussel sprouts are a wonderful upscale veggie to enjoy with your veal scallopini.
12. Garlic Parmesan Angel Hair Pasta
This side dish is a blissful blend of angel hair pasta, cream, garlic, and butter. While wonderful by itself, it's also a tasty side dish.
Combining this pasta with your veal scallopini makes for a hearty and delightful meal.
13. Mushroom Risotto
Risotto is a wonderful alternative to pasta or potato side dishes. This one does not disappoint with its earthy flavors from the mushrooms and creamy, dreamy butter parmesan sauce.
Risotto has endless possibilities of additional ingredients so feel free to get creative and add other herbs or veggies to it. It's a delightful pairing with veal scallopini that creates a well-rounded meal.
14. Sauteed Asparagus and Cherry Tomatoes
Cherry tomatoes really complement asparagus as they are roasted to perfection. Mix it with garlic and parmesan to give this combo an extra punch of flavor.
15. Roasted Vegetable Medley
Brussel sprouts, carrots, beets, and parsnips are used here, however, you can mix in some of your favorites as well. When tossed with seasoning and garlic, your veggies will turn out wonderfully tasty once roasted to perfection.

Adding these delicious veggies to your plate doesn't just complement the veal scallopini, they also add colors that makes for a beautiful dish.
We wish you the best of luck with your cooking endeavors, and hope to have helped you find the perfect sides! Let us know what you're serving with your veal scallopini in the comments below!
📋 Recipe