If you need to know what to serve with chicken marsala, check out any of these simple side dishes and easy recipes that will pair perfectly! There are indulgent dishes that will absorb the delicious marsala sauce, some green veggies, and even pasta!
Wondering What To Serve With Chicken Marsala?
Chicken marsala is a classic Italian dish full of rich, earthy flavors. A favorite in America too, it goes well with many wonderful side dishes!
So, depending on what you're looking for, we've rounded up the best side dishes to complement this savory dish. Whether you're wanting a low-carb side, healthy vegetable choices, hearty comfort food, or anything in between, we've got you covered.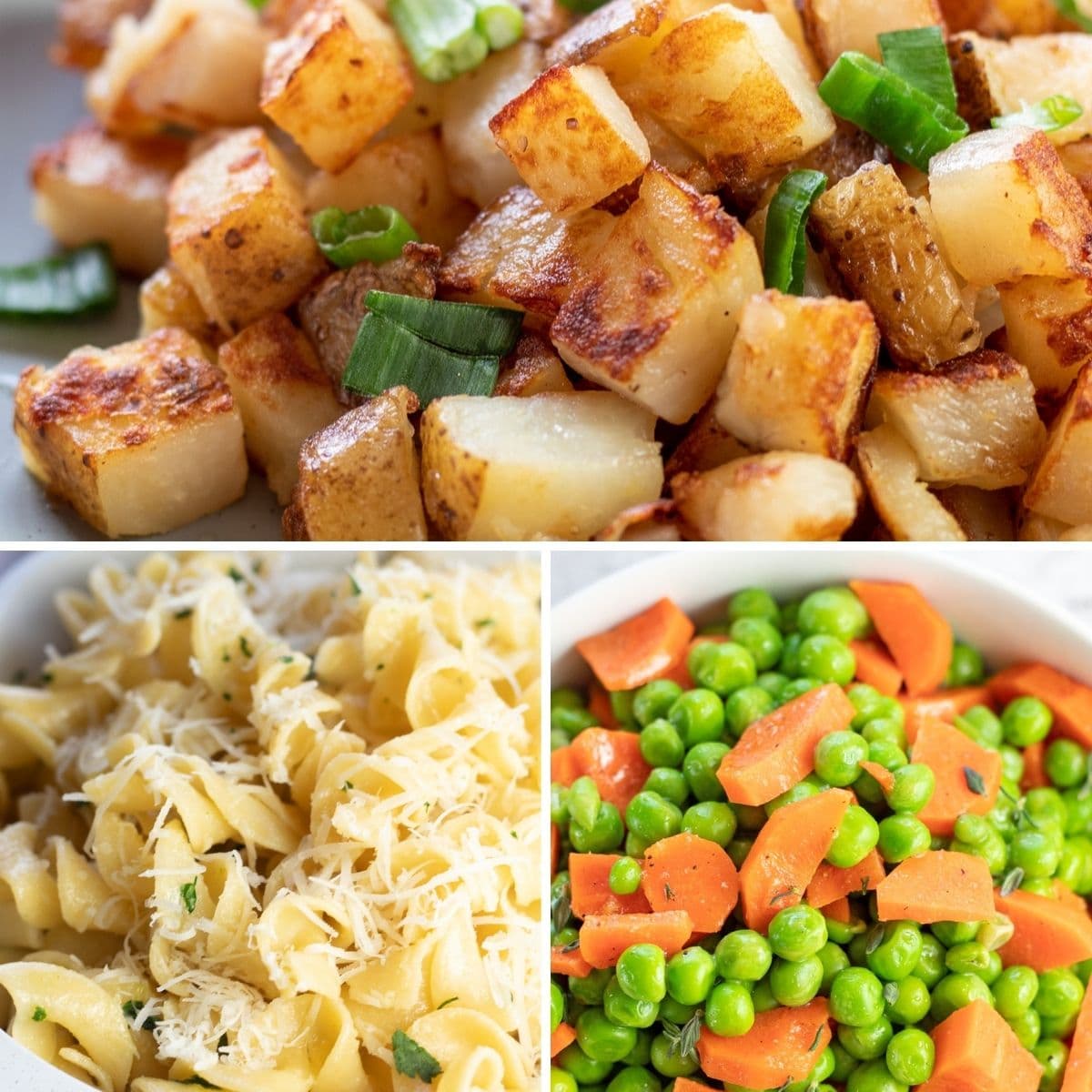 Jump to:
1. Jasmine Rice
Jasmine rice is a wonderful side dish to serve with Chicken Marsala. The light and fluffy rice is perfect for soaking up that rich, earthy sauce.
This recipe is a quick and simple way to get perfect rice every time.
2. Buttered Noodles
Buttered noodles are a delicious addition to a chicken marsala dish. The buttery flavor engages with the marsala sauce and creates a great, tasty, and completely satisfying dish.
No wonder you will commonly see chicken marsala served over a bed of tasty noodles like these!
3. Creamy Roasted Garlic Mashed Potatoes
These creamy roasted garlic mashed potatoes are everything you'd want them to be and more. Great for pairing with chicken marsala as the rich earthy sauce is like a gravy for the garlic mashed potatoes.
4. Parmesan Risotto
Parmesan risotto is a rich and creamy Italian rice dish. It is also a base dish that can be completely customizable.
This parmesan risotto is a delectable side dish to chicken marsala as the creamy rice is full of flavor from the onion, butter, and parmesan that complements the marsala sauce.
5. Duck Fat Fried Potatoes
These fried potatoes aren't your average fried tater. The duck fat gives them the tastiest, rich flavor.
They are crispy on the outside and soft on the inside, and they are a wonderful side dish to many main dishes, including chicken marsala.
6. Sauteed Green Beans
Green Beans are the perfect side dish when you want to get some green veggies on the plate and don't have a lot of time. Green beans are such a healthy and flavorful side dish and are a welcome addition to your chicken marsala plate.
They are sauteed with onion and garlic, ready in 10 minutes, and are tender yet crispy.
7. Air Fryer Asparagus
Another great green veggie, asparagus is always a welcome addition to the plate. This air fryer version of asparagus is the ideal way to get the perfect textured asparagus in no time.
It's topped with parmesan cheese and goes great as a side dish with chicken marsala.
8. Sauteed Broccolini
This broccolini has a zesty kick to complement your chicken marsala. Each refreshing bite goes wonderfully with the richness of the marsala sauce.
Topped with parmesan cheese giving it a hint of a nutty flavor and you've got a side dish worthy of any restaurant.
9. Air Fryer Garlic Bread
I'm not sure it's possible to enjoy an Italian dish without garlic bread. It is such a classic and welcome side to many meals.
This version is quick and easy in the air fryer and done in a mere 10 minutes. It's the perfect vessel to dredge in your chicken marsala.
10. Roasted Broccoli with Garlic and Parmesan
This roasted broccoli with garlic and parmesan is sure to win over even the biggest of veggie critics. Roasting brings about the natural flavor and topping with garlic and parmesan gives it the Italian shazam of flavors.
Another mouthwatering side dish that is a great companion to your chicken marsala.
11. Baked Sweet Potatoes
Baked sweet potatoes go fabulously with chicken marsala when you're looking to add a heartier side dish. Packed full of delicious vitamins and nutrients, sweet potatoes are a big bang for a healthy side.
Naturally sweet, they absorb the rich earthiness of the chicken marsala for a well-rounded, tasty, and satisfying meal.
12. Italian Chicken Pastina Soup
An Italian chicken and pasta soup, this is just as classic as the American chicken noodle soup we all know and love. This version is full of yummy goodness including onion, garlic, and tomatoes.
This soup is a nourishing side to your chicken marsala full of its own delicious flavors that go together perfectly with the marsala sauce.
13. Fondant Potatoes
Not only do these classic French-style potatoes pair great with chicken marsala they will also impress any dinner guest. White potatoes are cut into rounds, seared in oil, then cooked in broth which is absorbed into the potato.
They are crispy on the outside while soft and fluffy on the inside. They dress up the plate in presentation while complimenting the tastiness of the chicken marsala.
14. Buttered Peas and Carrots
An easy recipe to make, buttered peas and carrots are as classic a side dish as they come. They are versatile too, as you can mix up the flavor profile with herbs, onions, and even honey.
While chicken marsala has a lovely rich, earthy flavor, buttered peas and carrots add a welcome contrast.
15. Garlic Parmesan Angel Hair Pasta
This is a creamy, garlicky, buttery dish made from heaven. While flawless on its own, it's also a tasty side dish.
Pairing this pasta with your chicken marsala creates a hearty mouthwatering meal you'll want to repeat.
Each of these recipes are tasty options when you're wondering what to serve with chicken marsala! Choose one or choose a few, and be sure to come back and let us know how your meal turned out by leaving a comment!
📋 Recipe