What is cod fish, why is it so popular, what does it taste like, is it sustainable, and what is the best way to prepare it? I'm going to go over everything you need to know about this popular fish! Not only will I tell you how to cook it and what it tastes like, but I'll also give you some great recipes!
What Is Cod Fish
Codfish are groundfish that is popular all over the world for cooking! They are white fish that can be cooked in a variety of different ways.
While there are 3 different species of cod, they also come from the same family as haddock and pollock. Fun fact: Humans are the only natural predator of cod since they are apex predators!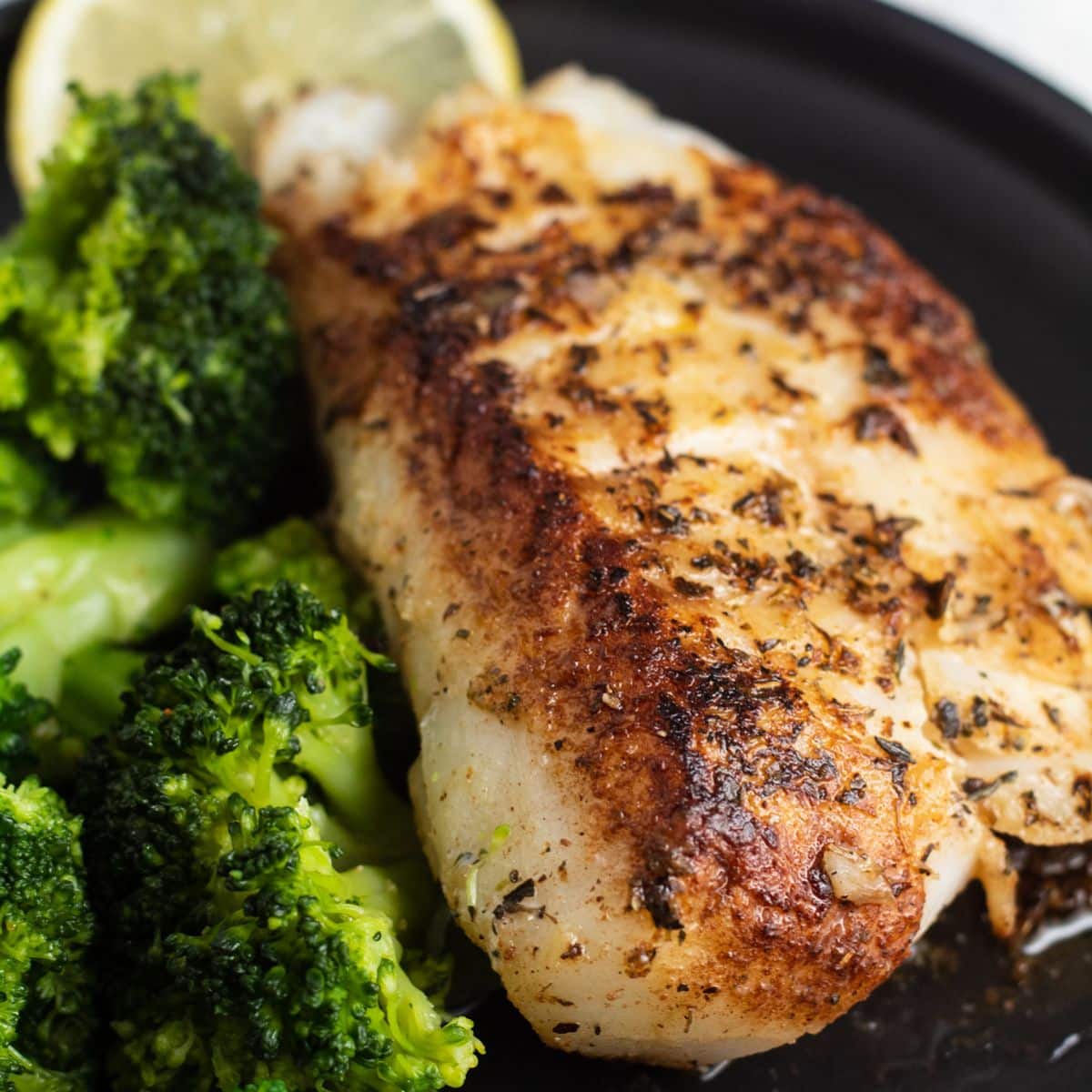 Jump to:
🍲 How To Cook Cod Fish
Typically, you'll find cod sold in fillets so you won't have to do much preparation like cutting or skinning the fish. This tasty fish can be prepared by grilling, frying, broiling, baking, and steaming!
The most common way to prepare cod is by frying it! This fish is hard to mess up and is perfect for any beginner learning to prepare fish.
The Cod should be fully cooked. However, as with any lean fish, if you overcook it could become dry.
😋 What Does Cod Fish Taste Like
Cod has a mild flavor with a firm and flaky texture. This mild flavor makes it an incredibly versatile fish as it pairs well with a wide variety of different seasonings and flavor profiles.
Additionally, this fish is rather lean so it does not carry any type of 'fishy' flavor.
🔎 Cod Fish vs Salmon
These two fish are both incredibly popular throughout the world. However, they do have a bunch of key differences.
Salmon is considered to be healthier as it contains higher amounts of Omega-3s, but they are also higher in both calories and fat. Additionally, salmon is richer, fattier, and more tender while cod is lean and flaky.
🍽️ Cod Fish Recipes
This versatile fish can be used in so many different kinds of recipes! It is actually one of the most common types of fish used for fish and chips!
Generally, you can substitute cod into any recipe that calls for another firm, white fish such as haddock, snapper, or tilapia.
💪 Is Cod Fish Good For Me
Cod has many health benefits that most other fish also possess. It is a great source of protein, is low in calories, and contains a bunch of b-vitamins and minerals.
Mercury exposure is a common health concern when it comes to eating fish. Luckily, cod is considered to have low mercury levels and is therefore safe to eat.
Cod liver oil is actually sold as a supplement because of its high amount of health benefits! It contains beneficial fatty acids and can improve heart, brain, and joint health!
🛒 Where To Buy
Cod is a very popular fish and is widely available. You can find it both fresh and frozen at any standard supermarket or seafood counter. Additionally, you can purchase it online!
🥡 Storing
If your fish was already frozen when you bought it, go ahead and store it in the freezer until you're ready to use it. Defrost it in the fridge overnight for best results.
If you purchased fresh fish (that was not frozen), it is best to enjoy it the same day. Of course, if that is not possible, you can store it in the fridge for a couple of days max.
🐟 Varieties
There are 3 different species of cod fish: Atlantic cod, Pacific cod, and Greenland cod. Unfortunately, they were heavily overfished and Atlantic cod are currently on the endangered species list.
Additionally, there are many fish species that aren't actually cod but are often referred to as such (like pollock). You may even find these species marketed and sold as cod in the grocery store.
Now that you know all about this popular fish, try out some recipes! Leave a comment down below and let me know what your favorite way to enjoy cod is!
📋 Recipe
Print Recipe
Leave A Comment
Love This Recipe?
Click On A Star To Rate It!
What Is Cod Fish: Lemon Butter Baked Cod (+Other Recipes)
What is cod fish, why is it so popular, what does it taste like, is it sustainable, and what is the best way to prepare it? I'm going to go over everything you need to know about this popular fish! Not only will I tell you how to cook it and what it tastes like, but I'll also give you some great recipes!
Pin Recipe
Share on Facebook
Ingredients
2

lbs

cod fillet

(fresh, cut into portion sizes)

1

tablespoon

olive oil

(to grease your baking dish)
Lemon Butter Cream Sauce
1

cup

heavy cream

4

tablespoon

butter

½

cup

white wine

(dry, we used Pinot Grigio)

2

large

lemons

(juice and zest - divide zest into 2 equal portions)

1 ½

tablespoon

dill weed

(fresh, chopped - 1 tablespoon and ½ tablespoon portions)

½

teaspoon

salt

½

teaspoon

ground white pepper
Instructions
Lemon Butter Sauce
In a small to medium size saucepan, melt the butter over medium heat. Add heavy cream, dry white wine, lemon juice, the first 1 tablespoon portion of chopped dill and the first ½ portion of lemon zest. Stir to combine, add seasoning (salt & ground white pepper) then allow lemon butter sauce to come to a low simmer. Remove from heat.

Lemon Butter Baked Cod
Rinse and pat dry your cod fillets. Grease a small baking dish (big enough to fit your cod fillet portions into) with olive oil, butter, or non-stick cooking spray. Preheat your oven to 425°F (218°C).

Pour enough of the lemon butter sauce to cover the bottom of your baking dish, then arrange your cod fillets into the baking dish on top of the sauce. Sprinkle with the remaining portions of chopped dill and lemon zest, then season with salt and pepper (to taste).

Leave uncovered and bake at 425°F (218°C). Depending on the thickness of your cod fillets, my thickest cod fillet cooked in 20 minutes. If you are using thin cod portions, cook for 12-15 minutes and check the center of your largest portion. The cod should be white and flaky when done. Serve immediately with remaining lemon butter sauce.
Video
Nutrition
Calories:
549
kcal
(27%)
|
Carbohydrates:
2
g
(1%)
|
Protein:
41
g
(82%)
|
Fat:
38
g
(58%)
|
Saturated Fat:
21
g
(131%)
|
Cholesterol:
209
mg
(70%)
|
Sodium:
538
mg
(23%)
|
Potassium:
1002
mg
(29%)
|
Vitamin A:
1320
IU
(26%)
|
Vitamin C:
2.9
mg
(4%)
|
Calcium:
81
mg
(8%)
|
Iron:
0.9
mg
(5%)
baked cod, cod fish, lemon butter, what is cod fish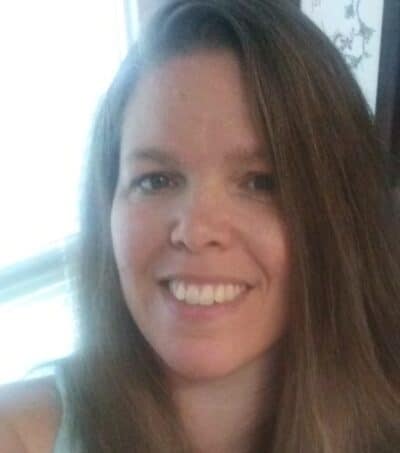 Angela is an at home chef that developed a passion for all things cooking and baking at a young age in her Grandma's kitchen. After many years in the food service industry, she now enjoys sharing all of her family favorite recipes and creating tasty dinner and amazing dessert recipes here at Bake It With Love!