My best side dishes for prime rib dinner: what to eat with prime rib to transform it into a memorable and flavorful meal! These side dish recipes are perfect for holiday dinners, special occasions, or just because! Choose from refreshing salads, fluffy dinner rolls, creamy mac and cheese, and more Christmas & Thanksgiving favorites!
Best Side Dishes To Serve With Prime Rib
Whether making a juicy Christmas prime rib roast or simply indulging in a roasted prime rib dinner, you can't forget the sides! From gravy to salad, rolls, and potatoes, the side dishes are what make the meal!
The side dishes have a lot to compete with (who can resist a succulent prime rib roast), so choosing the best recipes is key! Here are a few prime rib side dishes that can hold their own alongside this tender and flavorful cut of beef!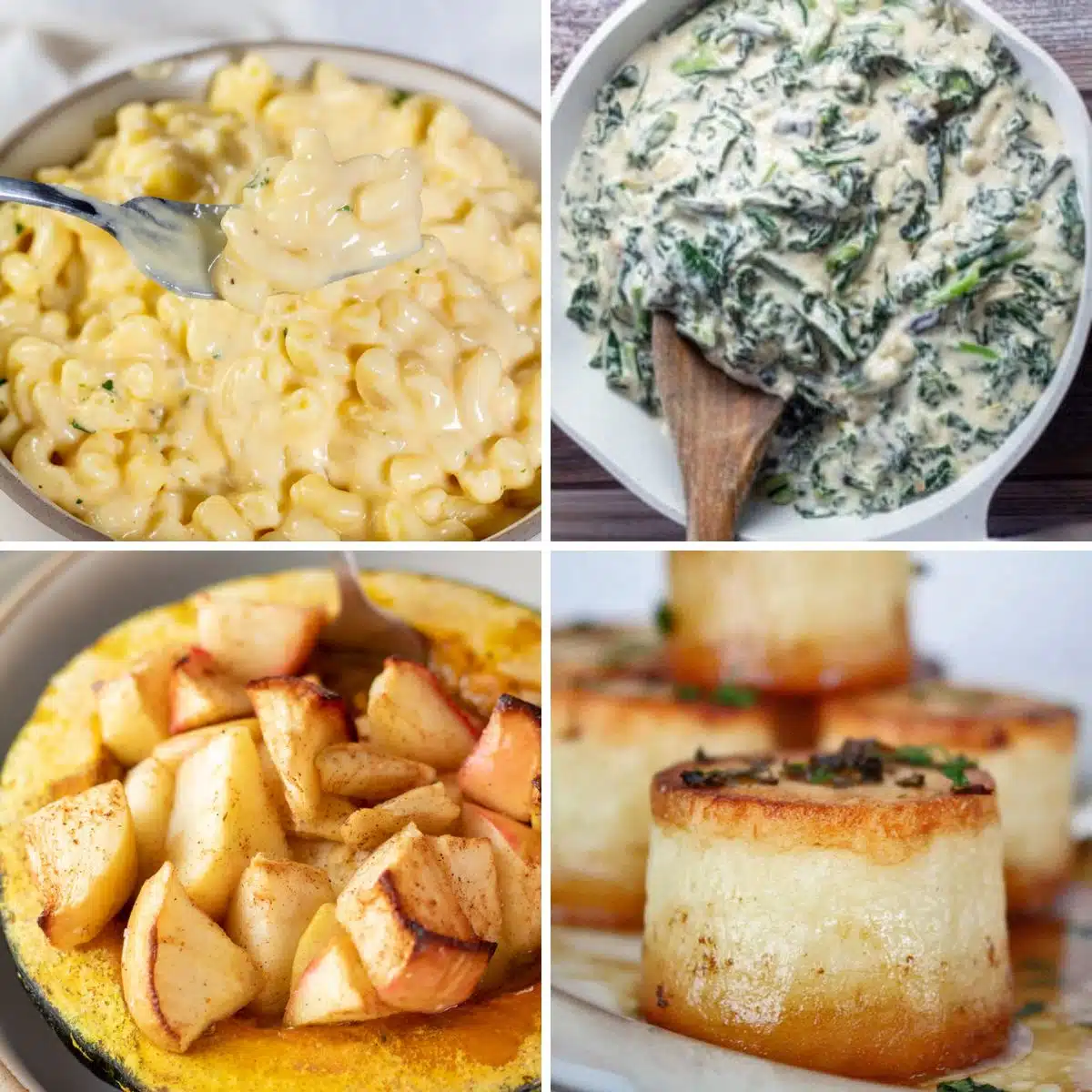 Jump to:
Before you do your shopping, be sure to see my guide on how to pick the perfect prime rib roast! Don't forget to safely thaw your holiday prime rib early, too!
1. Sour Cream Macaroni and Cheese
This creamy macaroni and cheese is enhanced with sour cream for the perfect balance of richness, creaminess, and tang! It features a velvety blend of sour cream, cheddar, and al dente macaroni for an indulgent and satisfying side.
When it comes to prime rib dinners, you really can't go wrong with any macaroni and cheese recipes!
2. Fondant Potatoes
Elevate your prime rib dinner with a side of fondant potatoes! Fondant potatoes are russet potatoes that are sliced, pan-seared, and slow-cooked in a rich broth.
These Pinterest-worthy potatoes have a super tender texture and rich, buttery flavor to match!
3. Creamed Corn
Creamed corn is a comforting side dish made by simmering sweet corn kernels in a rich, velvety cream sauce. It balances the savory flavors of prime rib with its creamy texture and hint of natural corn sweetness.
4. Twice Baked Sweet Potatoes
Sweet potato recipes complement prime rib beautifully by offering a starchy and slightly sweet contrast to the savory roast. Twice-baked sweet potatoes involve baking sweet potatoes, scooping out the flesh, mixing it with flavorful ingredients, and baking again until golden!
5. Green Bean Casserole with Bacon
While I am a huge fan of classic Campbell's green bean casserole, I think a main dish as elegant as prime rib calls for something special! Adding crispy bacon only elevates the flavor of this casserole even more!
6. Green Garden Salad
With crisp and refreshing leafy greens, ripe tomatoes, and crunchy cucumbers, a garden salad makes a terrific light starter before the meal. You can always swap out my quick apple cider vinaigrette for ranch, Italian vinaigrette, honey mustard vinaigrette, or your favorite dressing!
7. Honey and Herb Roasted Carrots
Honey enhances the natural sweetness of the carrots, while fresh herbs add aromatics and layers of flavor! As the carrots cook, the honey creates a caramelized glaze that perfectly complements rich and savory roast beef!
8. Butter Herb Rhodes Rolls
Rhodes rolls come pre-made and frozen, which means all you have to do is thaw and bake! A quick brush with homemade herb butter gives them an irresistible flavor that sets these dinner rolls apart!
>>>>See all of my recipes HERE<<<<
9. Creamed Spinach
This steakhouse creamed spinach recipe perfectly balances tender greens and rich, creamy cheese sauce. It's so indulgent that it's easy to forget you're eating vegetables!
10. Baked Buttercup Squash
The natural sweetness of buttercup squash is brought out as it's baked to perfection! It's seasoned with honey, salt, and pumpkin pie spice for a tender, caramelized side dish, perfect for fall or winter!
11. Maple Candied Yams
Candied yams glazed with maple syrup will add a sweet contrast to a savory roast beef dinner. They also feature smokey, salty bacon to balance the sweetness!
Candied yams are a classic Thanksgiving and Christmas side dish, so naturally, they would make an excellent addition to your holiday roast!
12. Baked Cauliflower with Cheese
Even the kids will go nuts for cauliflower when it's covered in gooey melted cheddar! It's an easy vegetable side dish suitable for special occasions and always impresses guests!
13. Bacon Wrapped Asparagus
While pan-fried asparagus or sauteed asparagus would also be great choices, wrapping asparagus in bacon gives it some extra pizazz! It's a quick and easy upgrade that makes it a side dish worthy of a succulent prime rib roast!
14. Horseradish Sauce for Prime Rib
Prime rib is so tender and juicy it doesn't need a sauce, though it can enhance its flavor even further! Creamy horseradish sauce adds a zesty kick that complements the rich, savory notes of the prime rib.
15. Prime Rib Au Jus
Prime rib au jus is a sauce made by simmering your roast drippings with broth, creating a rich and flavorful gravy! Not only is it delicious when ladled over the beef, but it's great on top of your mashed potatoes, too!
💭 Tips For Choosing Your Side Dishes For A Prime Rib Dinner
Choosing the right side dishes to pair with prime rib will enhance the overall flavor and experience of the meal! For the best results, follow these guidelines when planning your prime rib dinner menu:
Complement the roast: Prime rib is a rich and flavorful cut of meat, so choose side dishes that complement rather than overpower its taste. Sides with fresh herbs or a savory profile will enhance the natural beefy flavor.
Balance Textures: Since prime rib is tender and juicy, consider adding side dishes with different textures—for example, creamy mashed potatoes or crispy oven-roasted vegetables.
Contrast Temperatures: Balance the warm prime rib with both hot and cold side dishes. A hot side like roasted potatoes or garlic bread will contrast nicely with a cool and refreshing salad.
Consider Dietary Preferences and Restrictions: Be mindful of any dietary restrictions or preferences your guests may have. Include vegetarian or gluten-free options as needed so that everyone can enjoy the meal.
Test Recipes in Advance: If you're trying out new recipes, it's a good idea to test them in advance! Do a trial run to see if the flavors meet your expectations.
Which delectable side dish recipes will you pair with your prime rib feast? Share your top picks or any personal favorites in the comments below!
📖 Recipe Card