Here's what to serve with roast beef so you can complete your hearty beef dinner with the perfect side dishes! On this list, you'll find satisfying salads, cheesy vegetables, baked potatoes, and more tasty recipes to try! A well-chosen side dish can make all the difference in pulling off an amazing roast beef dinner!
Best Side Dishes For Roast Beef
Roast beef is a classic and delicious main course that can be enjoyed for a variety of occasions, from holiday gatherings to Sunday dinners. While the star of the meal is undoubtedly the juicy and tender roast beef itself, deciding on what to serve alongside it can be just as important!
You could go with something light and refreshing like a salad, or choose something hearty and comforting like twice-baked potatoes! No matter what you're craving, you're sure to find something to serve with roast beef that will hit the spot!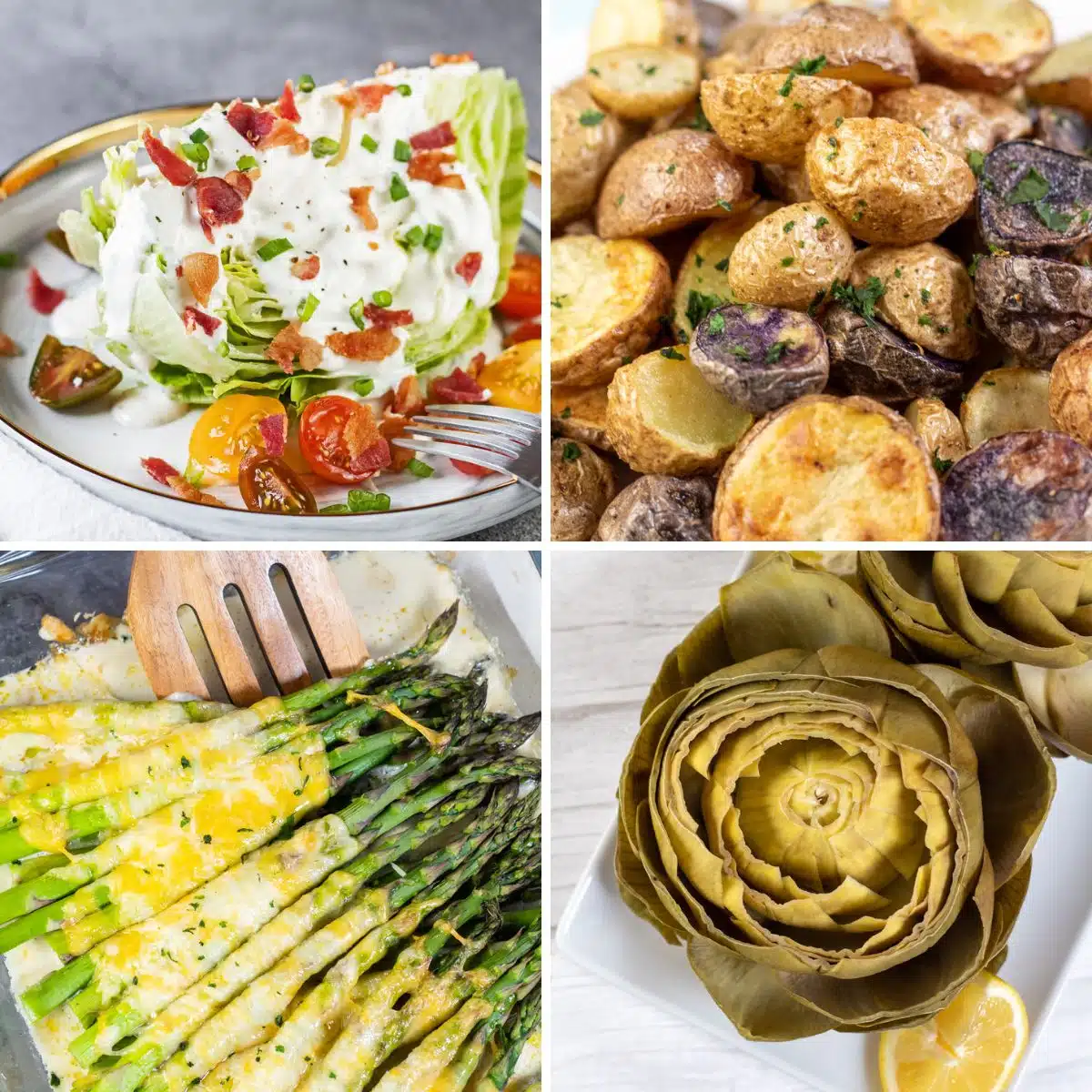 Jump to:
1. Wedge Salad
Serving a wedge salad with roast beef is a classic and elegant way to complement the rich and savory flavors of the beef. The crisp and refreshing texture of the iceberg lettuce pairs well with the tender and juicy meat, creating a balanced and satisfying meal.
Not to mention, a wedge salad is quick and easy to prepare so it makes a great last-minute addition to any roast beef dinner. Just slice the lettuce wedges, add the blue cheese dressing, sprinkle on your toppings, and enjoy!
2. Cowboy Butter
Cowboy butter is a versatile and flavorful condiment that has become increasingly popular in recent years. It's a compound butter made with a variety of ingredients, including butter, garlic, lemon juice, shallots, herbs, and spices.
The result is a rich and zesty butter that is perfect for dunking your roast beef. You could even slather some cowboy butter on top to give your roast an extra pop of flavor!
3. Slow Cooker Baked Potatoes
Crockpot baked potatoes are a simple and delicious way to cook potatoes without ever turning on the oven. Just season the potatoes, wrap them in foil, and let the slow cooker do the rest!
The result is soft and fluffy baked potatoes with perfectly cooked skin. You can top them with butter, sour cream, chives, cheese, or any other toppings you like!
For more suggestions on how to load your baked potatoes, stop by my page dedicated entirely to all the best baked potato toppings!
4. Sauteed Sweet Potatoes
Sauteed sweet potatoes are a delicious and nutritious side dish that pairs wonderfully with roast beef. When sautéed, sweet potatoes become tender and flavorful, with a slightly caramelized exterior that is hard to resist.
You can even customize the seasonings to make your sweet potatoes sweet or savory. Best of all, they only take about 15 minutes to make!
5. Instant Pot Artichokes
If you're getting tired of the same old veggies and are looking for a new vegetable side dish to try, these Instant Pot artichokes are just the thing! You can slather them in butter or dunk the leaves in your favorite dipping sauce (garlic butter sauce is my personal favorite).
With your Instant Pot, making perfectly tender whole artichokes has never been easier!
6. Cheesy Baked Asparagus
This super simple cheesy baked asparagus is the perfect way to turn asparagus into a special side dish worthy of a roast beef dinner. In this recipe, the asparagus is baked in a rich cream sauce with 2 types of cheese melted on top.
You still get all the wonderful nutrition of asparagus, they are just extra cheesy and delicious! Once you try these richly flavorful and tender asparagus spears you'll never want them any other way!
7. Broccoli and Cheese
You can never go wrong with the classic combination of broccoli and cheese sauce! The velvety smooth cheese sauce adds a rich and savory flavor to the broccoli that makes it hard to put down.
Somehow, the addition of cheese turns broccoli into pure comfort food. Not to mention, it's incredibly easy to whip up in about 15 minutes!
8. Air Fryer Baby Potatoes
Air fryer baby potatoes are a delicious and easy side dish that pairs perfectly with roast beef. Baby potatoes are small and tender, and when cooked in the air fryer, they become crispy on the outside and perfectly fluffy on the inside!
This makes them a great complement to the rich and savory flavors of roast beef. Plus, if you pair your roast beef with some gravy or au jus, it tastes just as good on the potatoes.
>>>>See all of my recipes HERE<<<<
9. Candied Carrots
If you're looking to add a touch of sweetness to your roast beef dinner, candied carrots are a great choice! Not only that, but they are also a great way to entice kids to eat their veggies!
The carrots are incredibly soft and tender, plus they are coated in a sticky brown sugar glaze that makes them delightfully sweet. You'll think of carrots in a whole new light once you try them candied!
10. Slow Cooker Roasted Potatoes
Your slow cooker is an easy way to whip up some delicious roasted potatoes! Just toss the diced potatoes into your crockpot with some butter, garlic, herbs, and spices, and let them cook until tender.
Once the buttery potatoes are done cooking, I like to top them off with some Parmesan cheese and chives. The potatoes absorb all of the buttery flavor and taste so good they practically melt in your mouth!
11. Zucchini Fritters
If you have any extra zucchini in hand, you could make some crispy zucchini fritters! Grated zucchini, flour, Parmesan, minced garlic, and egg are mixed together and then pan-fried in heaping tablespoons until the fritters have a delightful crunch.
You can serve these fritters to the side of your roast beef, or offer them up as a tasty appetizer with your favorite dipping sauces! Either way, they make a great addition to any roast beef dinner.
12. Instant Pot Long Grain White Rice
Instant Pot long-grain white rice is a quick and easy way to cook rice without the hassle of monitoring it on the stove. Simply add the rice, salt, and water to the Instant Pot, set the timer, and let the pressure cooker do the rest.
The result is perfectly cooked rice every time, with a fluffy texture that is perfect for soaking up sauces and gravies.
13. Sweet Potato Casserole (With Marshmallows)
The combination of sweet potatoes and marshmallows creates a tasty side dish that is both savory and sweet. The mashed sweet potatoes are rich and creamy, with a hint of natural sweetness that is complemented by the brown sugar and cinnamon.
With melted marshmallows in every bite, it's a crowd-pleasing dish that is sure to be a hit with kids and adults alike.
If you prefer your sweet potato casserole to be marshmallow-free, you could also try my Southern candied sweet potatoes!
14. Twice Baked Potatoes
Twice-baked potatoes are a delicious side dish or appetizer that takes your usual baked potatoes and elevates them! The flesh of the baked potatoes is scooped out and mixed with cheese, butter, milk, diced ham, sour cream, and seasonings.
Then, you load the potato skins back up with the filling and bake until golden brown and crispy!
15. Bacon Cream Cheese Mashed Potatoes
Bacon cream cheese mashed potatoes are a rich and indulgent twist on classic mashed potatoes. The cream cheese adds a tangy and creamy texture, while the bacon adds a salty and smoky flavor.
The combination of flavors makes for some of the most delicious mashed potatoes you'll ever have. With bacon cream cheese mashed potatoes on the plate, your roast beef dinner is guaranteed to be a hit!
16. Rhodes Butter Herb Rolls
These Rhodes rolls with herb butter taste so good, you'd think they were homemade! Instead, you can just pull them from the freezer, let them thaw and rise, and pop them in the oven.
Once in the oven, they only take about 15 minutes to bake. You'll have soft and buttery pull-apart rolls ready in no time.
17. Jalapeno Cheddar Scones
Jalapeno cheddar scones are a flavorful and savory twist on the usual sweet scones. They are loaded with the classic flavor combination of cheddar cheese and jalapenos and make a unique alternative to dinner rolls!
The recipe only requires 5 ingredients, so they are easy to whip up at a moment's notice. Plus the rich and meaty flavor of a beef roast complements the slightly spicy jalapeno flavor wonderfully!
18. Bacon Cheddar Turnovers
What's not to love about flaky puff pastries stuffed with bacon and cheese? They make a great appetizer or side dish, and they are super easy to prepare with just a handful of ingredients.
Just assemble your turnovers, pop them in the oven, and bake for 15-20 minutes until golden. The combination of buttery pastry, melted cheese, and smokey bacon, will have you savoring every bite!
19. Fruit Salad
If you're looking for something light and refreshing to balance your hearty beef dinner, look no further than a fresh fruit salad. The wide variety of fruits and berries in this salad is a beautiful addition to any dinner table.
This salad includes kiwis, bananas, grapes, nectarines, strawberries, oranges, and pineapple. Last but not least, a sweet and tart honey citrus sauce ties it all together!
I hope your family enjoys these delicious roast beef sides as much as mine does! Come back and tell me how everything turned out in the comments below, I'd love to hear it!
🍖 Roast Beef Recipes To Try
📋 Recipe