What to serve with baked chicken: A complete list of easy and flavorful side dishes to accompany your baked chicken dinner! Whether you're in the mood for sweet maple candied yams or creamy and savory au gratin potatoes, I've got it all! There are plenty of options to make a truly unforgettable meal for your family!
Best Side Dishes For Baked Chicken
Baked chicken is a popular main course dish for many households. It's easy to prepare, delicious, and incredibly versatile! While chicken pairs well with many different foods, it's important to find the right combination of flavors and textures to create a balanced and satisfying meal.
Thankfully, there are plenty of easy and tasty side dishes that complement baked chicken perfectly! From vegetables to starches, salads, and more, these dishes will take your baked chicken to the next level!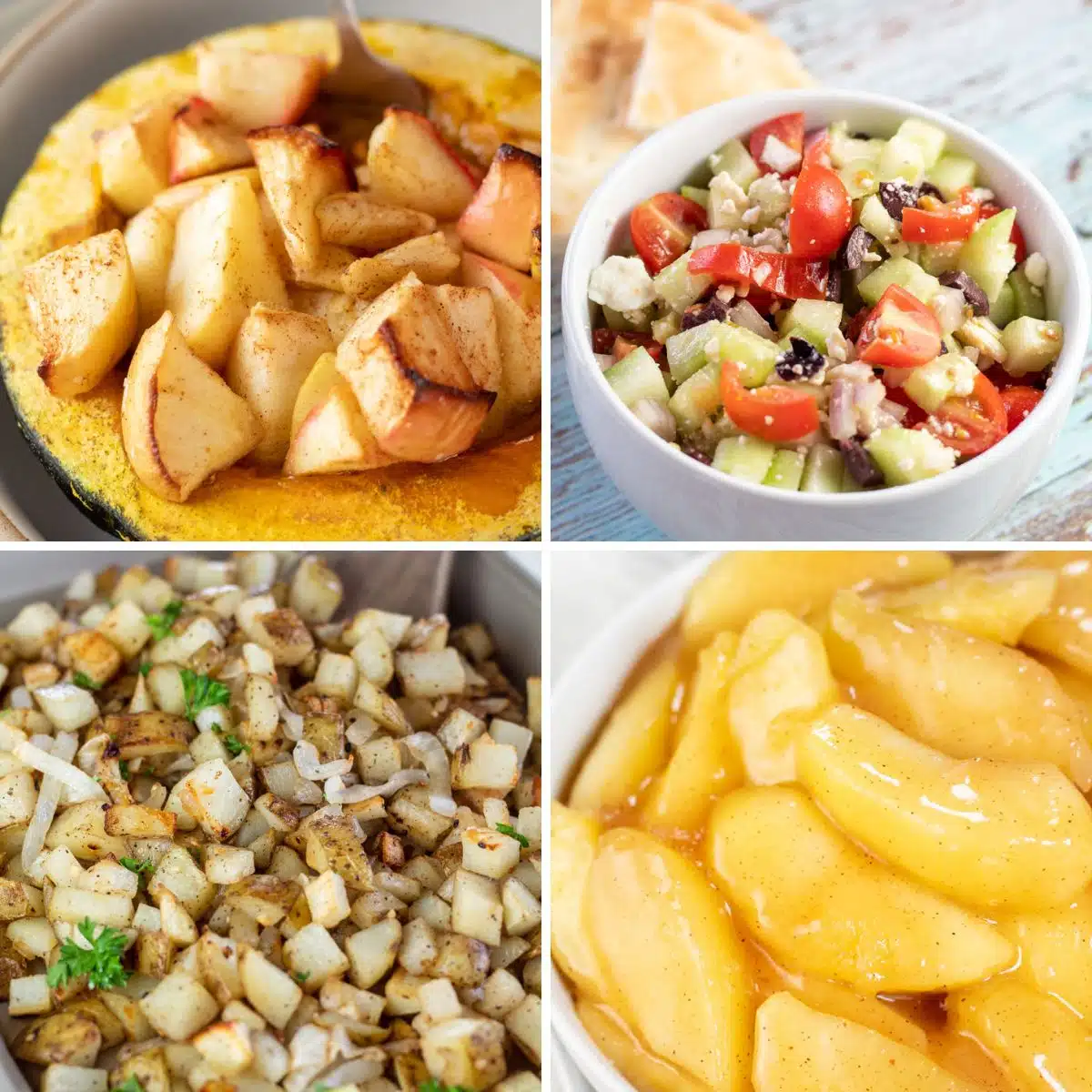 Jump to:
1. Greek Pasta Salad
This tasty Greek pasta salad only takes 15 minutes to make and is full of healthy and flavorful ingredients! Plus, you can even make it 24 hours in advance and add the dressing before you are ready to serve.
It's an incredibly easy dish that is light enough to serve with your favorite baked chicken recipe! You could also try my delicious Greek salad without pasta too!
2. Cucumber Vinegar Salad
Cucumber vinegar salad is a light, refreshing side dish with crunchy cucumber slices, fresh dill, cherry tomatoes, and red onion! If you're not a fan of dill, you could add in some basil or parsley instead.
Plus, there are only 3 steps required to make this easy and delicious dish. Once you try it, you'll want to add it to your quick and simple vegetable side dishes rotation!
3. Instant Pot Cauliflower
Cooking up some perfectly tender cauliflower just got much easier with this Instant Pot recipe! All you need is a medium-sized head of cauliflower, water for steaming, and some basic ingredients to season it before serving.
There's no need to worry if you don't have a pressure cooker. My microwave cauliflower would be delicious to pair with your baked chicken too.
4. Sauteed Sweet Potatoes
Sauteed sweet potatoes are a delicious and easy-to-make side dish that can complement a variety of meals. They can be customized to be enjoyed as a sweet or savory dish by tweaking a few ingredients.
In this recipe, diced sweet potatoes are sauteed in extra virgin olive oil and then seasoned with salt, pepper, and garlic powder. But you can also use cinnamon instead of garlic powder, then top them off with a drizzle of honey or maple syrup!
5. Canned Potatoes
Who knew canned potatoes could turn out so wonderfully tasty?! I have to admit, it was a surprise, but the crisped edges won me over.
Now, when you need a really fast potato side dish, you can grab your pantry canned potatoes and whip up these tasty potatoes to serve with your chicken!
6. Turmeric Rice
Turmeric rice is a flavorful and aromatic side dish that is simple to make and perfect for adding color to any meal. The rice turns out perfectly fluffy every time and is ready to serve in under 30 minutes.
The best part of this dish is its versatility. It makes an excellent addition to any main course, especially baked chicken. Just throw in a veggie, and you'll have a delicious and well-rounded meal!
7. Creamed Corn
Creamed corn is a delicious and versatile side dish that brings a comforting touch to many main dishes. It's easy to make and only requires a handful of simple ingredients you probably already have!
Fresh (or frozen) corn is cooked with a rich cream sauce made from butter, heavy cream, salt, pepper, and a touch of sugar. Then the sauce is thickened with whole milk and flour to create the most satisfying and creamy texture ever!
8. Maple Candied Yams
These Maple-candied yams are full of warm spices, maple syrup, crumbled bacon, and chopped pecans. Plus, they're ready to serve in just 30 minutes!
It's a tasty and popular holiday side dish, especially on Thanksgiving. However, they can be easily enjoyed on any occasion. Plus - everyone will want seconds!
>>>>See all of my recipes HERE<<<<
9. Butternut Squash Risotto
Butternut squash risotto is a creamy and flavorful side dish that is perfect for chilly nights when you are craving something hearty and satisfying. It's a dish that's surprisingly easy to make and is sure to impress your guests.
Whether you're cooking for your family, hosting a dinner party, or simply looking to make a cozy meal for yourself, this recipe is sure to hit the spot. And if you've never made risotto, these steps are easy to follow.
10. Baked Buttercup Squash
Tender buttercup squash is baked to perfection with a chopped apple filling that everyone will enjoy. This tasty winter squash side dish is a wonderful fall recipe for pairing with your chicken dinners!
This over-looked squash is a real treat to serve up for your family. The butter, honey, and warm baking spices all caramelize into the edges of the squash, making it a surprising new favorite.
11. Instant Pot Au Gratin Potatoes
These Instant Pot au gratin potatoes are a quick and easy side dish that will satisfy your cravings for something deliciously cheesy. Tender slices of potatoes are smothered in a tasty and creamy cheese sauce, then they're cooked perfectly in your pressure cooker!
It's the perfect accompaniment to any main course, from baked chicken to grilled steak. And with the convenience of the Instant Pot, you can have this delicious side dish on the table in no time!
12. Grilled Acorn Squash
If you're planning on firing up the grill and are looking for a delicious and nutritious side dish to make, then this grilled acorn squash is a must. It's the perfect dish that will add a burst of flavor and color to any protein.
One of the best things about this recipe is how easy it is to prepare the squash. Simply slice the squash in half, remove the seeds, slice it down into ½-inch thick slices, drizzle them with oil and seasonings, then grill!
13. Pan Fried Sweet Potatoes
Pan-fried sweet potatoes are packed with sweet and savory flavors, making them a great side dish to pair with your favorite chicken dinners. They're cooked up to crispy perfection with minimal ingredients - all you need is sweet potatoes, olive oil, onions, and some basic spices!
Plus, these tasty potatoes only take 10 minutes to make. So when you're looking for a quick and easy side dish that's full of flavor, go ahead and plan for pan-fried sweet potatoes!
14. Ranch Roasted Potatoes
Ranch-roasted potatoes are a delicious and hearty side that is perfect for any meal. Whether you are looking for a tasty way to serve up your next family dinner or are hosting a dinner party with friends, this recipe is sure to please.
These potatoes are simply coated with olive oil and a dry ranch mix packet. Then they're roasted until they are crispy on the outside while remaining soft and tender on the inside. Yum!
15. Roasted Potatoes and Onions
Roasted potatoes and onions are a classic pairing that brings out the best in both ingredients! The crispness of the roasted potatoes contrasts perfectly with the sweet and savor flavor of the onions, creating a dish that is both satisfying and full of flavor.
Not only are they delicious, but they are also extremely versatile. Plus, you can even use any potato variety that's great for baking and your favorite variety of onions to customize to your family's preferences.
16. Green Beans Almondine
Green beans almondine is a classic French dish that features crisp-tender green beans tossed with butter, toasted almonds, garlic, salt, and pepper. It's a wonderful dish to make when you are wanting a light vegetable dish to pair with a hearty main course.
It's perfect for a dinner party or a family gathering, and it's sure to impress your guests with its bright flavors and stunning presentation! Plus, it only takes 20 minutes from start to finish.
17. Cracker Barrel Fried Apples
This Cracker Barrel fried apples recipe is easy to make and only requires 6 simple ingredients to make. It's a wonderful treat to enjoy as a tasty dessert, snack, or as a side to your baked chicken meal!
Fresh Golden Delicious apples are cooked with apple juice, sugar, butter, apple pie spice, and cornstarch. You could even switch up the apples if you can't find Golden Delicious apples and use your favorite variety of baking apples!
Now that you have some simple and tasty side ideas to choose from to pair with your baked chicken dinner, which ones are you most excited to try? Leave a comment down below to let me know!
🐔 Baked Chicken Recipes To Try
📋 Recipe