These Christmas side dish recipes complement any main course and will make your holiday celebrations truly unforgettable! There are creamy mashed potatoes, fluffy rolls, tasty casseroles, and classic Christmas comfort food! It's never too early to start menu planning!
Best Christmas Side Dishes
Some people look forward to the Christmas main dish, but I'm a bit of a side dish fanatic myself! Here are a few of my family's favorite holiday recipes that have to make at least one appearance every year. (If not for Christmas, for Thanksgiving)!
Don't forget to add some easy Christmas desserts to your menu planning!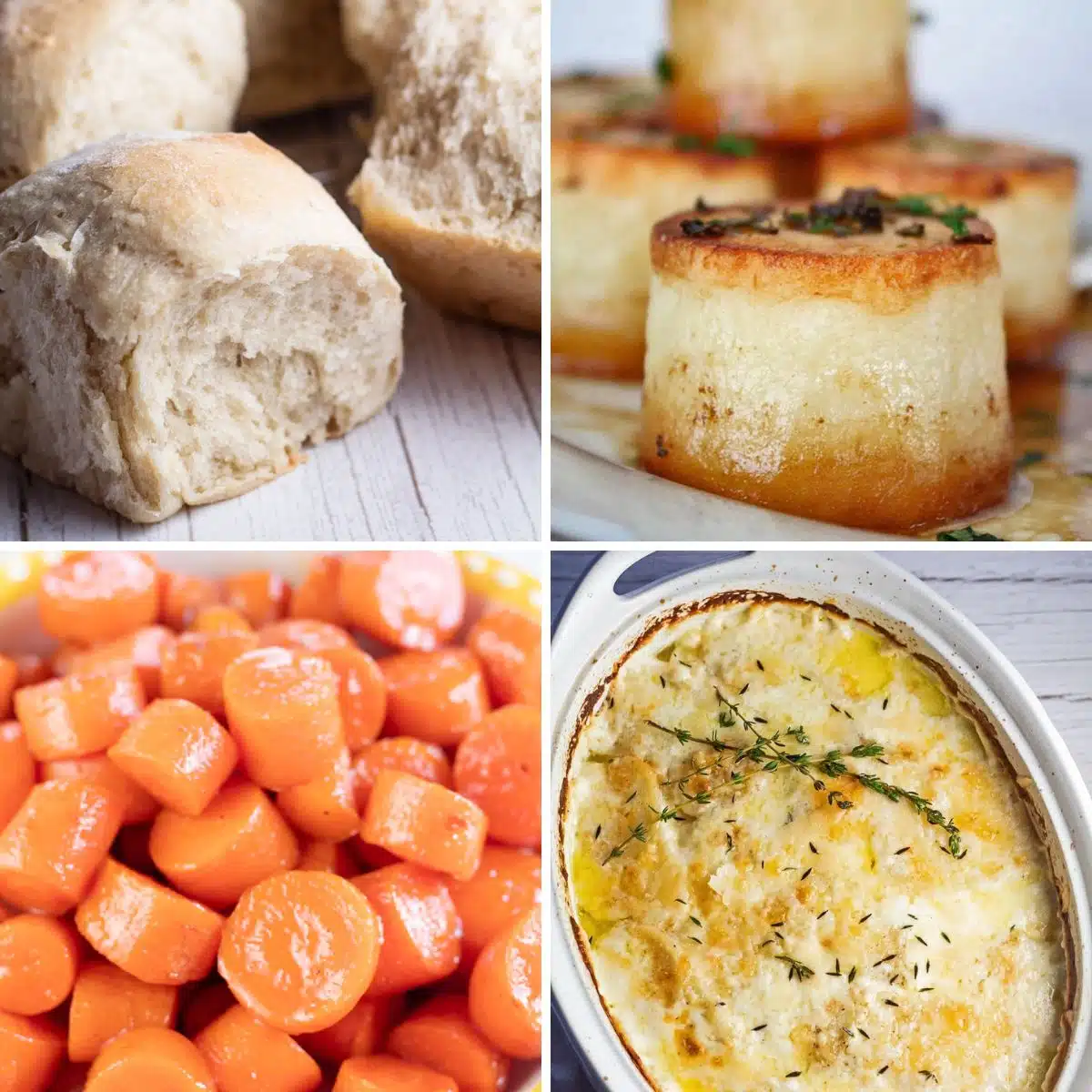 Jump to:
Whether you're a pro at hosting Christmas dinner and holiday parties or giving it a try for the first time this year, you're sure to find my ultimate guide to planning Christmas a help! Don't forget to safely thaw your holiday prime rib early, too!
1. Twice Baked Potatoes
Twice-baked potatoes offer a delicious twist on traditional baked potatoes! The potato skins are filled with creamy, cheese-filled mashed potatoes and baked until crispy on the outside and fluffy on the inside!
If you have any leftover ham from Christmas Eve, mix it into your potato filling!
2. Potatoes Dauphinoise
This rich and luscious French potato side dish is easier to make than you think. The hardest part is thinly slicing the potatoes.
Then layer your sliced potatoes with a rich mixture of butter, cream, and cheese, and bake!
3. Campbell's Green Bean Casserole
This popular holiday comfort food takes me back to Christmas feasts as a kid. The crispy fried onions, cream of mushroom soup, and canned green beans are pure nostalgia.
It's just as delicious now and is a great reminder that sometimes you don't mess with a classic!
4. Easy Stuffing
This easy stuffing recipe is one of my favorite side dishes to bring along to Thanksgiving and Christmas gatherings! Ready-made stuffing cubes save on prep time and still taste delicious!
5. Instant Pot Mashed Potatoes
The Instant Pot is one of my all-time favorite tools for making mashed potatoes! They're rich and creamy in less than 30 minutes, and your pressure cooker does all the hard work!
7. Green Bean Almondine
Instead of plain sauteed green beans, elevate them with butter, garlic, and almonds for a delectable crunch! It's a classic French recipe that adds elegance and flavor with very little extra work!
8. Balsamic Roasted Brussel Sprouts
Brussel sprouts are a great way to add veggies and color to your Christmas dinner plate. The tangy honey and balsamic vinegar glaze and crispy caramelization on the leaves give them loads of flavor!
>>>>See all of my recipes HERE<<<<
9. Maple Candied Yams
Maple syrup is one of my favorite ways to sweeten yams because the combination of flavors is divine! Then, I toss in some pecans for crunch and savory, salty bacon to balance the sweetness!
10. Instant Pot Au Gratin Potatoes
Instant Pot au gratin potatoes are quick and satisfying, providing creamy, cheesy goodness in record time! This recipe is always a crowd-pleaser!
11. Bacon Cheddar Green Bean Casserole
Crispy bacon and melted cheddar cheese transform a classic green bean casserole!
12. Yellow Mashed Potatoes
Yellow mashed potatoes are so buttery and smooth, and they taste great with any protein (gravy or not)!
13. Fondant Potatoes
Fondant potatoes are so rich and buttery that they practically melt in your mouth!
14. Bacon Cream Cheese Mashed Potatoes
Cream cheese adds richness, and the bacon adds a savory, salty flavor that's hard to beat!
15. Slow Cooker Candied Yams
Save precious oven space by cooking your candied yams in your crockpot (and it's so much easier)!
16. Oat Rolls
These soft and fluffy oat rolls have a subtly sweet and nutty flavor that adds to the coziness of Christmas dinner!
17. Sausage Stuffing
Pork sausage, apples, and cranberries give my sausage stuffing the perfect balance of sweet and savory flavors!
18. Mirliton
A classic Creole side dish made with chayote squash, shrimp, ham, and breadcrumbs that is similar to stuffing (and worth branching out for)!
19. Parmesan Roasted Mashed Potatoes
These fluffy mashed potatoes are roasted to perfection with a crispy Parmesan crust on top!
20. Butter Herb Rhodes Rolls
Rhodes rolls are convenient and delicious! They can be kept in the freezer until needed; then let them rise, baste with herb butter, and bake!
21. Horseradish Sauce
The bold, zesty kick of my homemade horseradish sauce adds a creamy flavor to any Christmas roast! It's perfect for prime rib!
22. Bacon Wrapped Asparagus
Wrapping asparagus in bacon takes it from a boring green veggie to a side dish worthy of the Christmas dinner table!
23. Mashed Sweet Potatoes
Some years, I add cinnamon and honey to my mashed sweet potatoes. I stick with salt, pepper, and butter other years to keep them savory!
24. Au Jus
A side of au jus for your Christmas roast gives it an extra beefy flavor, and if it gets on the mashed potatoes, so be it!
25. Candied Carrots
Even the kids will obsess over these super tender and sweet brown sugar candied carrots!
💭 Tips For Choosing The Best Side Dishes For Christmas
When it comes to choosing the perfect Christmas side dishes for your family, there are a few things to consider. Follow these guidelines to build your ideal holiday dinner menu:
Balance Textures and Flavors: If your main dish is rich and heavy, balance it with lighter, fresher sides. Or, if your main dish is on the lighter side, make sure you have a few rich or hearty side dishes.
Trust Tradition: Many families have one (or a couple) Christmas side dish that is served every year. It's always a safe bet to start with family favorites and build your menu around them!
Think About Preparation and Cooking Time: Usually, oven space is limited. Opt for sides that can be made on the stovetop, served cold, or prepared in advance and reheated.
Include a Variety: The perfect plate has a mix of starchy dishes (like potatoes, bread, or rice), protein, and vegetables.
Trial Run: If you plan on making a new recipe, it's best to test it out in advance so you don't have any mishaps on Christmas day!
*Do you have a favorite Christmas side dish that didn't make the list? Tell me all about it in the comments below!
📖 Recipe Card