These Christmas main dish ideas are just what you need for a delicious, satisfying, and memorable holiday meal! There's Christmas prime rib, roasted rack of lamb, gingersnap-crusted ham, and many more great ideas! Any one of these recipes will have your family dashing to the dinner table this year!
Best Christmas Main Courses
Christmas is one of the times I let myself splurge a little when it comes to the dinner menu, particularly, the main dish. It's the perfect time to prepare some premier proteins that we don't typically enjoy throughout the year- and I've shared a few of my favorites below!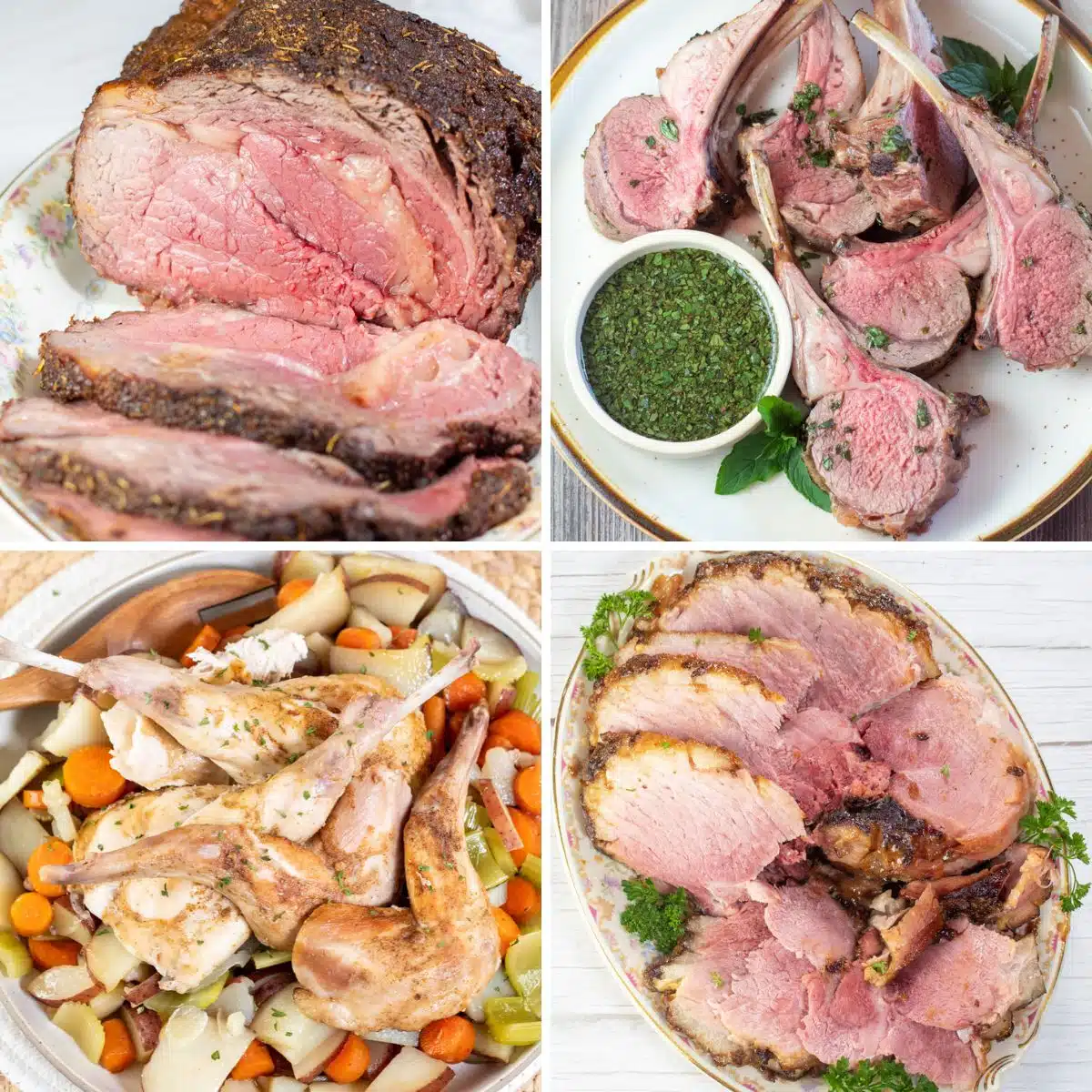 Jump to:
Whether you're a pro at hosting Christmas dinner and holiday parties or giving it a try for the first time this year, you're sure to find my ultimate guide to planning Christmas a help! Don't forget to safely thaw your holiday prime rib early, too!
1. Christmas Prime Rib Roast
Prime rib is a personal holiday favorite of mine because it's so succulent and mouthwateringly tender. Plus, I look forward to all the delicious recipes I can make with the prime rib leftovers!
2. Ginger Snap-Crusted Ham
The ginger snap cookie crust on this juicy bone-in ham certainly gives it a Christmasy feel and is downright delicious! It's a simple 5-ingredient recipe that always receives rave reviews from my family.
3. Roasted Rack of Lamb
A roasted rack of lamb with a fresh mint sauce is my idea of a picture-perfect Christmas dinner! The tender meat is bursting with flavor, making this a gourmet restaurant-quality meal if I ever served one!
4. Whole Roasted Rabbit
A whole roasted rabbit at Christmas dinner adds a rustic charm. Its delicate, gamey taste pairs wonderfully with fresh herbs and spices, giving it an incredible depth of flavor everyone will savor!
5. Sous Vide Chicken Breast
Perfectly cooked sous vide chicken breast will blow you away with its level of tenderness and flavor! It's one of my favorite choices for a stress-free holiday meal.
6. Roast Beef
Classic and comforting, succulent roast beef is a Christmas staple! Serve it with gravy or without, no one will complain either way!
7. Roasted Pheasant
My easy, whole-roasted pheasant brings elegance to any Christmas dinner, making the meal feel truly special. It has a mild taste that isn't overly gamey, so it's a great way for chicken lovers to branch out!
8. Smoked Corned Beef
Corned beef is already packed with flavor from the corned beef seasoning, so smoking it on top of that leads to incredibly tasty results! I use the leftovers to make corned beef hash the next morning, and we look forward to that almost as much!
9. Standing Rib Roast
A standing rib roast, beautifully cooked to perfection, is the embodiment of a grand Christmas feast! The succulent flavor and perfectly crispy crust had the whole family silent during dinner one year (we were savoring every bite)!
>>>>See all of my recipes HERE<<<<
10. Slow Cooker Pork Ribeye Roast
Using a crockpot to cook the main course lets you relax and focus on more important things like family and friends (or your Christmas side dishes)! Your guests will think you were slaving away in the kitchen all day because the pork turns out so juicy and melt-in-your-mouth tender!
11. Roasted Rack of Pork
A rack of pork, roasted to perfection, is a showstopper at Christmas dinner. My favorite thing about it is that it only takes about 10 minutes of prep, then pop it in the oven and let it take over!
12. Roasted Lamb Breast
It's not too frequently I get my hands on lamb, but if I can find it in December, it's one of my favorite options for holiday get-togethers. This recipe for roasted lamb breast is incredibly simple but turns out rich and buttery with tons of flavor!
13. Oven Roasted Prime Rib
The king of roasts, oven-roasted prime rib is a Christmas tradition I've grown up with my whole life. Once you taste how wonderfully rich and perfectly tender this cut of beef is, you might make it a new tradition, too!
14. Smoked Surf & Turf
No matter the occasion, a smoked steak and lobster surf & turf will always impress! This is a great summertime recipe for readers in Australia or elsewhere who like to fire up the smoker for Christmas cookouts!
15. Pan Seared Duck Breast
You can't go wrong with juicy pan-seared duck breasts if you're not the most skilled in the kitchen or short on time. Despite its simplicity, it is elegant and flavorful, which makes it an excellent addition to any easy Christmas dinner menu.
16. Veal Short Ribs
The meat on these braised veal short ribs will literally slide right off the bone. They are cooked low and slow in a delicious marsala sauce that will make you want to lick the plate!
17. Roasted Quail
Quail has delicate, flavorful meat that really does taste like you're being treated to something special. Plus, there's the charm of serving individual birds to each of your guests!
18. Grilled Prime Rib
Grilling prime rib gives this classic holiday roast a smoky twist. I made this last year, and it had a smoky, perfectly charred crust and a succulent, pink center. Everyone raved about this roast!
19. Smoked Bison
Smoked bison is a tender and richly flavorful alternative to traditional Christmas. It tastes similar enough to beef that it is a great recipe for anyone looking to branch out from more familiar proteins!
20. Oven Roasted Turkey
There's a reason that oven-roasted turkey is the star of Thanksgiving and Christmas! The crispy, golden-brown skin and juicy meat are what makes it a holiday staple, and it's a safe bet that everyone will enjoy!
21. Honey Glazed Ham
Some would argue a Christmas table isn't complete without a honey-glazed ham (it's me, I'm someone). It offers a perfect balance of sweet and savory flavors, and my whole family looks forward to it each year!
💭 Tips For Choosing The Best Main Dish For Christmas Dinner
Here are a few tips if you're unsure exactly what you're looking for (or it's your first year hosting Christmas dinner). These guidelines will help you narrow down what entrees will work for your family at Christmas!
Know Your Audience: Are there vegetarians? People with food allergies? Picky eaters? Take them into consideration. Christmas is one of those times you want to ensure everyone can share in the food and festivities!
Honor Traditions: Some families have a traditional dish they expect at Christmas. (If you're breaking from tradition, you might want to discuss it with your family first!)
Availability of Ingredients: If you are opting for wild game or some of the more premier proteins, make sure they are available in your area. I know first-hand how hard it is to get certain cuts of meat around Christmas!
Skill Level: If you're trying a new recipe, make sure it's within your cooking skill range. Better yet, do a test run beforehand (this even applies to seasoned cooks like me)!
Accompaniments: Consider the side dishes. Are there certain recipes you know will be served each year that you can plan around? Some mains have traditional sides to pair them with, while others offer more flexibility.
Gathering at the Christmas dinner table is my favorite part of the day! What's your go-to main course for the holiday season?
Share your recipes in the comments below and tag BIWL on Instagram at #bake_it_with_love if you make one of these recipes!
📖 Recipe Card