This easy Christmas dinner menu is the ultimate guide to hosting the most epic holiday feast without stressing yourself out! Build your ideal menu by choosing one (or a few) recipes from each section. There are plenty of Christmas appetizers, main courses, drinks, side dishes, and desserts to choose from!
Easy Christmas Recipes
Everyone knows hosting the holiday family get-together can be taxing. You have to clean the house, do all the shopping, and prepare a Christmas-worthy dinner spread.
Fortunately, I am here to help you build the perfect dinner menu that will impress your guests and take some of the load off your shoulders! These recipes are some of my all-time favorite Christmas dishes that just so happen to be super easy to make!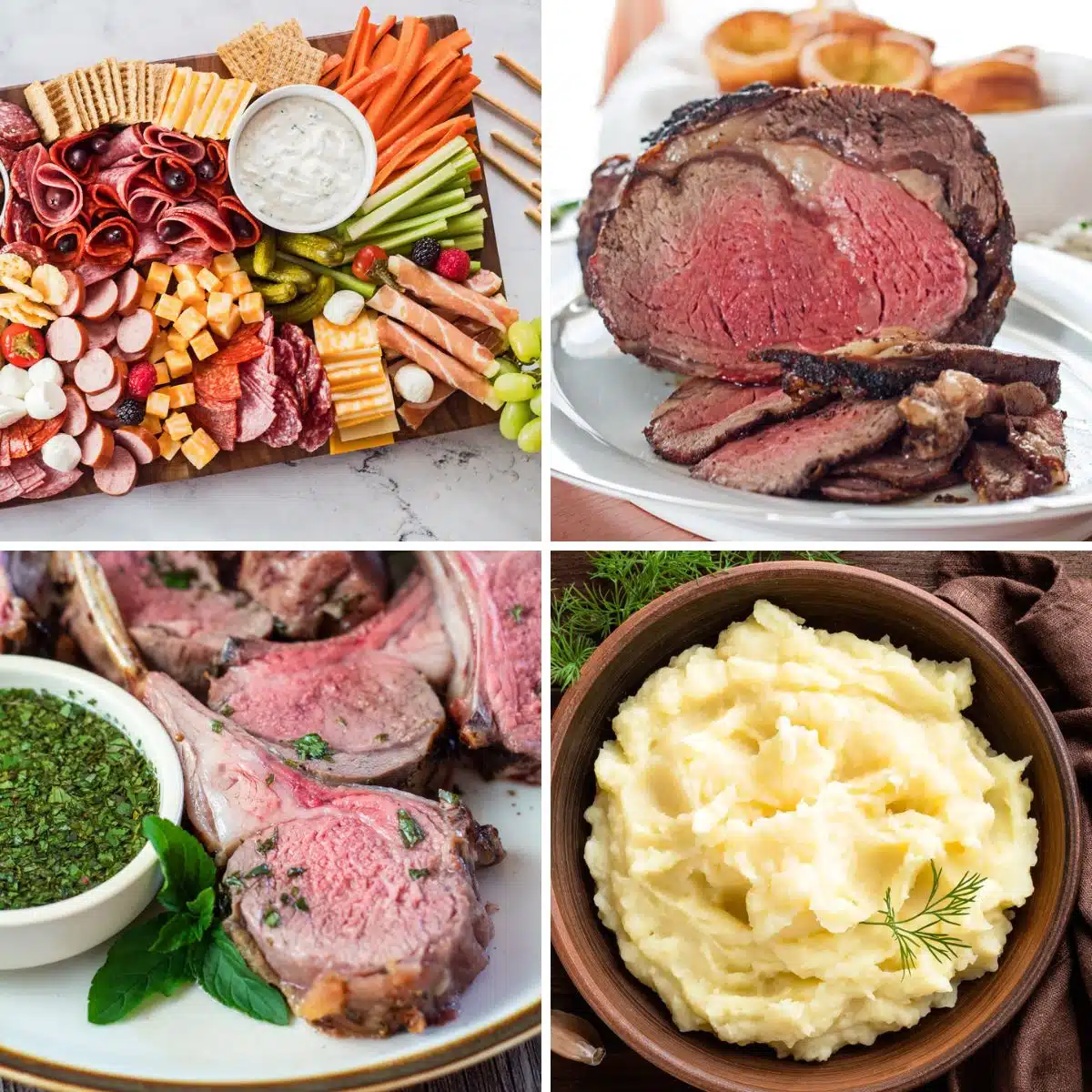 Jump to:
Easy Christmas Menu Ideas
Build your menu by selecting a main course, an appetizer or two, a drink, a few side dishes, and a dessert. I can't clean and do the shopping for you, but I can share these fool-proof recipes!
If this is your first time hosting dinner for the holidays, check out my Christmas guide for a step-by-step timeline for preparing Christmas dinner!
Main Course
1. Honey Glazed Ham
After Thanksgiving, everyone is tired of turkey so why not opt for an easy honey-glazed ham? A 5-pound glazed ham on a platter is not only an incredible entrée but a delicious centerpiece that is totally insta-worthy.
Not to mention, this recipe only requires 5 ingredients. It is hard to mess up!
2. Bag Roasted Chicken
Bag roasting chicken is a hands-off cooking method that keeps the meat delightfully moist and tender! All you need is 3 ingredients: a whole chicken, butter, and chicken seasoning.
If you have a large family, you can easily double down and make two bag roasted chickens. You may want to regardless because people will definitely want seconds!
3. Roasted Rack of Lamb
Lamb is an elegant choice that is sure to impress. Even more so when your family finds out how easy it was for you to make!
If you really want to show off, serve your lamb with my homemade mint sauce. The flavor combination is fantastic and it will truly feel like a special occasion.
4. Boneless Prime Rib
Everyone will be in awe of a juicy, perfectly medium-rare prime rib. Just because it's a more expensive (and arguably more flavorful) cut of meat, does not mean it's difficult to prepare.
This recipe is basically hands-off. Just season your prime rib with my prime rib rub and let the oven do the work!
Appetizers
No Christmas setting is complete without some tasty appetizers! These fabulous recipes are perfect for grazing or letting others make a small appetizer plate of their own!
5. Crab Cakes
Crab cakes are quick and easy, making them a great choice when you need a last-minute appetizer. Seriously, they are ready to eat in just 15 minutes!
All you have to do is combine some crushed Ritz crackers, crab meat, lemon juice, an egg, mayo, and seasonings. Cook them in a skillet for 6-8 minutes and voila!
6. Cream Cheese Stuffed Mushrooms
Stuffed mushrooms are the best 2-bite morsels for munching before a meal. The stuffing is a simple combination of cream cheese, Parmesan, and seasoning.
Clean the mushrooms, remove the stems, make your filling, load them up, and bake! They will be ready in 30 minutes or less.
7. Charcuterie Board
All it takes to make a charcuterie board is a flat surface, some meat, cheese, and veggies, and a little creative placement. It's the perfect appetizer for serving a crowd!
You can customize all the ingredients to suit your preferences. You can even add your favorite dipping sauces!
8. Air Fryer Garlic Bread
If it's mad in the air fryer, you can pretty much guarantee it is a simple recipe. This garlic bread is perfectly crisp on the outside with a soft inside.
Garlic bread pairs well with anything on this list (and practically anything in general). It's a safe bet that it will be a hit this Christmas!
Drinks
9. Crockpot Apple Cider
This sweet, spiced drink is a holiday classic. Just add all the ingredients to your slow cooker and let it do its thing!
Honestly, the most time-consuming part is just slicing the fruit. You can even serve it straight from the crockpot!
10. Eggnog
Eggnog is another Christmas classic that has become a tradition for many families. Sure, you could buy it at the store, but why do that when homemade eggnog is so easy and much more flavorful?
You can't go wrong with this baseline recipe, but I also like to dress it up sometimes. Try making gingerbread eggnog or gingerbread eggnog cocktails for the adults!
Sides
11. Instant Pot Mashed Potatoes
There's no shame in relying on kitchen appliances to cut down on prep time. These Instant Pot mashed potatoes are just as fluffy and creamy as those made on the stovetop, maybe even better!
12. Green Beans Almondine
It may have a fancy French name, but green beans almondine is incredibly easy to make. Not to mention, it is nice to have a healthy option on the table amongst all the carbs.
These crisp-tender green beans are tossed with slivered almonds, salt, pepper, garlic, and butter. It's simple, but full of flavor!
13. Easy Stuffing
This stuffing is totally beginner friendly. After all, 'easy' is in the name of the recipe!
You can use your favorite pre-made stuffing cubes combined with some sliced onion and celery to whip up a stuffing that tastes like it was made from scratch. No one will be any wiser!
14. Roasted Butternut Squash
Butternut squash is healthy and packed full of flavor on its own! Toss it with olive oil and seasonings then pop it in the oven, that's all you have to do.
The flavor is slightly sweet and slightly nutty. It is one of my favorite fall vegetables!
14. Jiffy Corn Casserole
Corn casserole, corn pudding, spoon bread, no matter what you call it, it's delicious! Not to mention, super easy to make!
You only need 5 ingredients to pull it off. Every bite is full of soft cornbread and sweet creamed corn!
15. Velveeta Mac and Cheese
Everyone wants to indulge at Christmas dinner and this mac and cheese will do the trick. In just 20 minutes, you can whip up a dreamy, creamy, macaroni and cheese made with Velveeta!
It can all be made in one pot. So not only does it save prep time, but it saves time on dishes!
Desserts
16. Cherry Chocolate Dump Cake
If baking is not your forte, you can never go wrong with a dump cake. In fact, they come in many different flavors, so you can always find just what you like.
It's named for how you make the batter. Just dump the ingredients in a baking dish and bake, no mixing necessary.
17. Pumpkin Fudge Poke Cake
This decadent pumpkin fudge poke cake is the perfect holiday dessert. The soft, spiced pumpkin cake is filled with hot fudge- but it doesn't end there.
It's topped with creamy vanilla frosting, a drizzle of caramel, and toasted sunflower seeds for crunch! Every bite tastes like a little piece of heaven.
18. Christmas Crack
Christmas crack gets its name because it is downright addicting! These chocolate peanut butter clusters are made a bit more festive by adding some green, red, and white sprinkles.
The whole thing is made in your crockpot, so you can let it go while you work on other recipes.
19. Sugar Cookie Cherry Cobbler
It doesn't get easier than a 2-ingredient dessert. A package of sugar cookie dough and cherry pie filling are all you need!
Add some homemade whipped cream to really take this cobbler up a notch. I also have an apple version of this recipe if that is more your taste.
20. Baked Cinnamon Apples
Baked apples can be either a sweet side dish, or a simple dessert. There are a few ingredients, but you just toss them all together and bake until the apples are nice and tender.
These warm apples are full of sweet brown sugar and cinnamon. Although a scoop of vanilla ice cream goes a long way!
🎄 More Christmas Recipe Ideas
I hope this easy Christmas dinner menu helps you to pull off a fantastic meal for you and your family! Let me know which recipes you chose in the comments below!
📖 Recipe Card