These easy Christmas desserts are beginner-friendly, delightfully delicious, and take very little prep time! If you aren't a frequent baker, don't worry. Anyone can make these fabulous cookies, cakes, cobblers, and other festive treats!
Easy Holiday Desserts To Make
The best part of Christmas is getting to spend time with those you love. The second best part of Christmas is all the fantastic food and desserts!
You should never show up to a Christmas party or get-together empty-handed. With these easy Christmas dessert recipes, you don't have to be a seasoned baker to bring something delicious!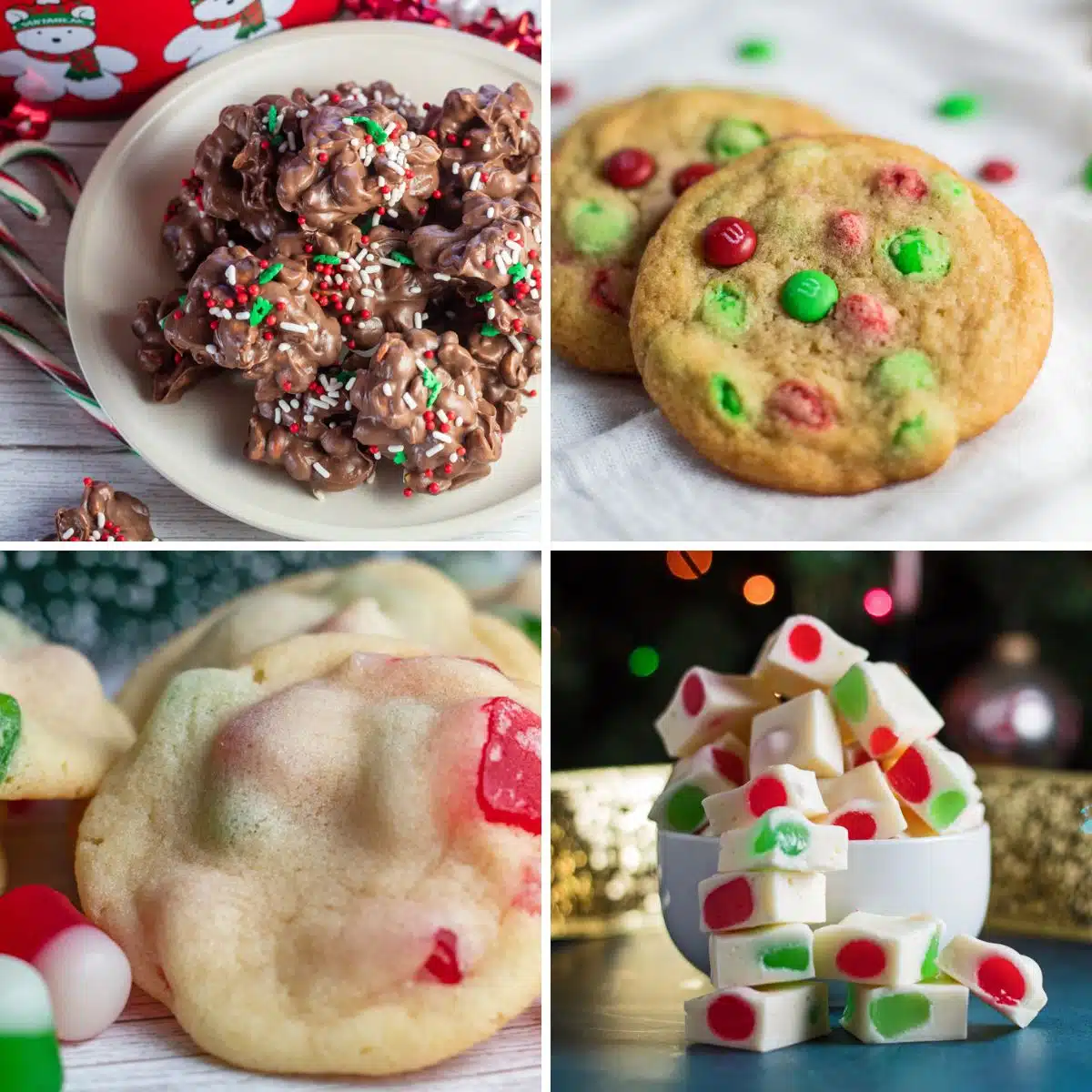 Jump to:
Easy Christmas Cakes, Cookies, & More
Each of these desserts is beginner-friendly! There are a variety of flavors and textures, try one or try them all!
If this is your first time hosting dinner for the holidays, check out my Christmas guide for a step-by-step timeline for preparing Christmas dinner!
1. Easy Chocolate Cake
Everyone loves a rich chocolate cake, and you'll love how easy it is to make! Not to mention, the moist and decadent chocolate cake is topped with a creamy chocolate ganache that is downright heavenly.
2. Cherry Pie Bars
All the flavor of a homemade cherry pie in easy-to-share dessert bars! You only need 3 ingredients and an oven to make these sweet, fruity treats.
3. Pumpkin Dump Cake
Turn an ordinary box of spiced cake mix into an indulgent pumpkin dessert! This cake gets this name from the way you can just 'dump' all the ingredients into a baking dish and pop it in the oven.
4. Chocolate Frosting Fudge
Chocolate lovers rejoice because now you can make rich and decadent fudge with chocolate frosting! It only requires 2 ingredients: chocolate chips and chocolate frosting.
Of course, you can add any of your preferred toppings. Like nuts, coconut, or sprinkles!
5. Baked Cinnamon Apples
These apples taste like crust-less apple pie. The sticky, sweet, cinnamon sugar sauce caramelizes around them as they bake.
The apples become nice and tender. There's only one way to make them better- add some ice cream!
6. Apple Cobbler Bars
These dessert bars taste like the most incredible apple cobbler condensed into some easy-to-eat dessert bars! Top it all off with a simple 3-ingredient vanilla glaze for a dessert no one can resist.
7. Chocolate Peppermint No Bake Cookies
Chocolate and peppermint is one of the most classic Christmas flavor combinations! These no-bake cookies are as festive as can be, and you never have to turn on your oven.
8. S'mores Board
A s'mores board is like a dessert charcuterie board with all of your favorite s'mores toppings! Keep it classic with chocolate and peanut butter, or try some unique options like roasted berries.
Everyone will love building their perfect s'more this Christmas!
9. Apple Dump Cake
Another simple dump cake that is packed full of flavor! This one tastes like a blend of the most wonderful apple pie and fluffy yellow cake.
10. Snickerdoodles
Snickerdoodles are a classic Christmas cookie loaded with cinnamon sugar! You could even try my snickerdoodles made without cream of tartar for an easier recipe with one less ingredient.
11. Christmas Gumdrop Cookies
These sugar cookies are filled with chewy bits of red and green gumdrop candy! They are so fun to make and even more fun to eat!
12. Vanilla Bean Cupcakes
Classic, homemade vanilla bean cupcakes with vanilla bean buttercream frosting. They are simple to make with plenty of flavor from using actual vanilla beans.
13. Crockpot Christmas Crack
Christmas crack is an easy crockpot treat made with peanuts, peanut butter, chocolate, and almond bark. These yummy nut cluster candies are downright addicting!
14. Microwave Peanut Butter Fudge
All you need is 4 ingredients to make a wonderfully rich and creamy peanut butter fudge in the microwave! It's optional, but I love to add some extra roasted peanuts for a crunchy texture.
15. Christmas M&M Cookies
Soft and chewy cookies loaded with red and green M&Ms! Kids and adults will love these cookies, and you will love making them!
16. Fudge Covered Oreos
The only thing better than Oreos is Oreos covered in rich chocolate! The fudge coating is a simple combination of cocoa powder, vanilla extract, milk, butter, and sugar.
17. Baked Apples
Baked apples are a great alternative to cakes, cobblers, or cookies. To make them, apples are filled with cinnamon, butter, and brown sugar and baked until soft and tender.
I love serving them with a scoop of vanilla ice cream or a dollop of whipped cream!
18. Christmas Nougat
My easy Christmas nougat is fully loaded with red and green gumdrop candies. It takes just 4 ingredients and 10 minutes to make, then you let your nougat cool for a couple of hours. Anyone can do it!
19. Sugar Cookie Cherry Cobbler
All you need to make an incredible cherry cobbler is some pre-made sugar cookie dough and cherry pie filling! You can even try my sugar cookie apple cobbler if you prefer apples to cherries (it's just as easy to make).
20. No Bake Pumpkin Cookies
These sweet oatmeal cookies are loaded with pumpkin flavor! Heat the cookie mixture, form your cookies, and let them set, that's all there is to it!
21. Fruitcake Shortbread Cookies
This recipe takes butter shortbread cookies and makes them even better by loading them with sweet mixed fruit! You only need 5 ingredients to make these fun and festive cookies.
22. No Bake Maraschino Cherry Chocolate Crisps
Any dessert you don't have to bake always gets an A+ in my book. These cherry chocolate crisps only require a mixing bowl and a little time.
These crisps are made with just a handful of ingredients including Rice Krispies cereal, chocolate chips, cherries, and coconut!
23. Christmas Cake Batter Meringues
These red, green, and white meringue cookies are just as fun to look at as they are to eat. They are light as air and practically melt on your tongue!
🍰 More Tasty Treats
These easy Christmas desserts may become a new family tradition! Let me know which recipes you try by leaving a comment below!
📖 Recipe Card