This Christmas guide will walk you through all the planning you need to host the ultimate Christmas gathering! This countdown to Christmas guide covers everything from decorations to grocery shopping and planning the menu. Enjoy this year's stress-free holiday with these easy tips and tricks for hosting a Christmas dinner!
Jump to:
How To Host Christmas Dinner Like A Pro
While you want to give yourself plenty of time to plan for the ultimate Christmas feast, you also want to give yourself time to enjoy each holiday. Therefore, rather than rushing straight from Thanksgiving into Christmas, take a week to enjoy the in-between. Once you have relaxed after Thanksgiving, use this guide to hosting Christmas dinner to prepare for your festivities slowly.
While it may seem early to begin planning a few weeks out, slowly planning is the best way to plan for a big dinner while still enjoying all the holiday festivities leading up to it. Moreover, taking a few weeks to prepare for your feast allows you to enjoy the actual day it arrives.
Doing a little bit of preparation each week eliminates the hustle and stress of doing it all the week of Christmas. Therefore, when it arrives, you will feel jolly, joyful, and ready to enjoy a meal with family and friends! 
📅 Three Weeks Before Christmas
1. Plan Your Guest List
The first step to this Christmas guide is to plan your guest list. So, who is coming to dinner?! If you have a family tradition of hosting Christmas dinner, then you may have the same list as last year.
However, it is still a good idea to write down everyone that is planning to attend. Things change from year to year. For example, maybe someone who came to dinner last year now has a new dietary restriction.
By writing down everyone's name you have a visual place to see who is coming.
Moreover, you can quickly write notes and reminders. Such as guests who have replied that they are a "maybe" for dinner, or who end up canceling leading up to the holiday.
You can also add names if you decide to invite someone along the way or if a guest is bringing a plus one.
2. Find Extra Tables, Dining Wear, Etc.
Depending on how large your dinner guest list is, you may need to get extra items for hosting. This may include extra tables, linens, cutlery, or flatware.
One of the easiest ways to manage this is to rent these items. Several rental companies offer everything you will need to host a dinner. By renting, you know exactly what you are getting and that it is guaranteed to be available for the day of Christmas.
However, Christmas is already a time of extra spending for most of us. Therefore, if you don't want to pay to rent items - reach out to friends and family to see who can share what they have.
3. Plan the menu
Unlike Thanksgiving which has many traditional dishes, Christmas has a bit more flexibility. However, you may have some favorite dishes you always make or that are a family tradition. In addition, you may have a new recipe you want to try.
With so many options, it is important to start thinking about the menu a few weeks before Christmas. This allows you to get a clear menu planned out that has everything you want on it.
Moreover, writing out your menu early on helps you plan your shopping list. The more shopping you can do weeks in advance, the better.
🍽️ What To Serve For Christmas Dinner
While turkey is the main dish for Thanksgiving dinner, Christmas has many options to choose from. If your family loves turkey, you can always do another roasted turkey.
However, most people prefer something different. A glazed honey ham, leg of lamb, or prime rib beef roast are all delicious choices.
In addition to the main roast, plan out the different side dishes. A good guideline is to include a potato or rice dish, a vegetable, a type of bread, and possibly a salad.
However, what you choose to include will depend on the primary dish that you make. Don't forget to plan for any appetizers you may want to serve as well as dessert.
🥨 Appetizers For Christmas Dinner
When you are hosting Christmas dinner consider what time people are coming to your house. Will they be arriving right when dinner begins, or a little bit early?
If you plan to have guests arrive early, then it is nice to have some appetizers or hors d'oeuvres to offer.
Simple appetizers like deviled eggs, crackers with dip, antipasto skewers, cheese platter, or a complete charcuterie board are great because they provide guests with something to snack on without filling them up before the main meal.
🐖 Ham At Christmas Dinner
If you want to serve ham as your main dish, check out my suggestions of what to serve with ham for ideas on tasty side dishes.
This list includes several different vegetable dishes, potato and rice dishes, and bread options. Some of my favorites for Christmas are roasted brussels sprouts with bacon and Dijon mustard sauce,  Gordon Ramsay's mushroom risotto, and traditional Yorkshire Puddings.
🐑 Lamb At Christmas Dinner
Lamb is another delicious choice for Christmas dinner. A leg of lamb has a wonderfully rich flavor that pairs well with many different side dishes.
However, one thing to consider is who you invite to dinner. Not everyone enjoys the taste of lamb. Therefore, if you are unsure your guests will enjoy it you may want to choose ham or beef.
If you choose to serve lamb, I list several tasty sides that pair perfectly with lamb. You are sure to find something from my list of what to serve with lamb that will be perfect for your Christmas feast.
Moreover, if you are new to cooking lamb, it is not as difficult as it seems. You can learn everything you need to roast a lamb with my guide on how to roast lamb.
🍖 Prime Rib At Christmas Dinner
Prime rib is another lovely choice for Christmas dinner. This beef roast is a cut that is often served for special occasions. If you have a large group of guests that you are unsure of their preferences, prime rib is one that most people will enjoy.
Since prime rib is more familiar you may already know what pairs well with it. Twice-baked potatoes and green beans are classics. A great horseradish sauce and au jus are also essentials with this premier roast!
If you'd like some additional ideas, check out my list of what to serve with prime rib.
🍨 Dessert At Christmas Dinner
Sweets are a standard part of the Christmas holidays. Therefore, you don't want to forget a tasty dessert to wrap up your Christmas dinner.
While pies are considered a traditional dessert for Thanksgiving, they are also a good choice for Christmas dinner. Pecan pie is an especially delicious one with its rich flavor.
In addition, many people consider Christmas cake, bread pudding, or sticky toffee pudding to be traditional Christmas desserts.
If you don't want to have a formal dessert you can also have a dessert buffet. A dessert buffet is a fun way to incorporate all your favorite Christmas cookies, fudge, candy, and other holiday treats.
You can bake up several of your favorites and set them out for guests to snack on as soon as they feel like it. In addition, you can invite your guests to each bring their favorite Christmas sweets to share.
How To Plan For Any Dietary Restrictions
As you think of your Christmas menu, keep in mind any dietary restrictions your guests may have. Dietary restrictions are a common occurrence in today's world.
Therefore, depending on how large your guest list is, it is likely that you will have at least one person who has a specific dietary need.
While a large and varied menu will often provide enough different options for people to choose from, as the host, it is a good idea to ask your guests ahead of time. This doesn't mean that you will need to create an entirely new menu, simply to be mindful of having plenty of different options.
For example, if you have anyone vegetarian or vegan – try to have additional casseroles or side dishes that don't have animal products.
Additionally, if you have anyone who is gluten-free, try to make a separate small side dish that is gluten-free (for example, leaving the breadcrumb topping off a small, personalized serving).
4. Order Your Ham, Turkey, Or Roast
Once you decide on what you are serving for dinner, I highly recommend ordering it early. The last thing you want is to get to the week of Christmas and not be able to find the cut of meat you want.
Ordering a ham, leg of lamb, or prime rib roast weeks ahead guarantees that you will have the exact cut of meat you want. While you can freeze these different cuts, most are sold fresh.
Therefore, you can order it for pickup a few days before Christmas without worrying about defrosting it.
📅 2 Weeks Before Christmas
5. Write Out The Grocery List
Once you have finalized your menu, it is time to write out the grocery list. It is necessary to do this two weeks in advance because you need to start shopping for many of these items early on.
Ask someone else to go over the list with you to make sure you didn't forget anything. In addition, don't assume that you have anything already on hand. Always double-check!
You may think you have enough vanilla extract or cinnamon, only to find you ran out at Thanksgiving.
6. Go Shopping For Non-Perishables
Leaving grocery shopping until Christmas Eve is not going to cut it when hosting a big Christmas dinner.
Not only will there be crowds to deal with, but you also run the risk of the grocery store being out of certain ingredients. Remember, a lot of people are cooking Christmas dinner!
To avoid the crowds, stress, and potentially missing ingredients, shop for what you can early. Canned items and dry-packaged items can all be purchased a couple of weeks in advance.
Remember to also pick up extra baking supplies like flour, sugar, and vanilla.
In addition, you can even buy certain items to freeze. Butter freezes well, and it is always a good idea to have extra butter on hand for the holidays!
7. Buy Specialty Items
Preparing a large dinner isn't only about having the right food. It is also about having the proper tools for cooking the food.
You will want a meat thermometer for getting your roast (or ham) perfectly cooked. Moreover, if you plan to make any type of caramel or candies, you will need a candy thermometer.
Don't forget to check for pots, pans, and any other cooking gadgets you may need.
8. Pickup Drinks
If you think the grocery stores are going to be packed a few days before Christmas, you can bet the liquor store will be as well. Therefore, save yourself time by picking up all your beverages two weeks prior.
Beer, wine, spirits, and sodas can all be picked up early and left un-refrigerated until the day of Christmas. You can leave them out in the garage or the pantry so they don't take up space.
Then, chill them the day before (or the morning of) the holiday.
📅 1 Week Before Christmas
9. Decorate The House
The wonderful thing about Christmas is that decorating is a natural part of the holiday. Therefore, you may have already put all our decorations up earlier in the month.
However, if you haven't had time to get decorations up, the week before is a great time to do it.
This is the week that is kind of a lull when it comes to the food portion. So, it is the perfect time to focus on festive fun like trimming the tree, decorating gingerbread houses, and making wreaths.
10. Make Centerpieces
In addition to regular holiday decorations, this week is a good time to prepare any special centerpieces you would like for dinner. Many Christmas centerpieces can be made in advance.
Simple centerpieces like poinsettias, pine cones, and mini pine trees are all fun options that can be made early.
11. Pick Up Meat Or Other Groceries
If you did not order a fresh ham or roast to pick up right before Christmas, make sure to get your meat this week. Find your desired cut of meat and then put it in the freezer until a few days before Christmas.
In addition, you can pick up any hearty vegetables (like potatoes) and additional ingredients like heavy whipping cream this week. If you ordered your ham or roast, you can leave these additional items for your final grocery run.
📅 Two To Three Days Before Christmas
12. Clean the House
While you may need to do a quick pick-up before guests arrive on Christmas day, take time to do the deep cleaning a few days before. Then, all you need to do is pick up the remnants of wrapping paper on the day of.
13. Pick Up Rentals Or Borrowed Items
If you are renting or borrowing any tables or dining wear, pick them up at least a few days before the holiday. Therefore, you know you have everything you need and can enjoy the days leading up to Christmas.
14. Final Grocery Store Run
Make your final run to the grocery store. Pick up any last-minute items that you may have forgotten on earlier trips (especially if you didn't do a grocery run last week). In addition, get vegetables that you need for salads or other side dishes.
15. Defrost Ham Or Roast
If you have a frozen ham or any type of roast (lamb or beef), then take it out to defrost. The best (and safest) way to defrost meat is to move it from the freezer into the refrigerator.
Place the meat on a paper towel or tray on the bottom shelf of the refrigerator. Leave it wrapped in whatever protective plastic it came in. Also, leave it for 2-3 days to slowly defrost (smaller cuts will only need 2 days, but you can start 3 days before Christmas to be safe).
16. Prepare Sides And Desserts
Many side dishes and desserts can be prepared a couple of days in advance. Casseroles (such as green bean casserole) can be assembled and placed in the refrigerator. Just make sure to cover them securely with plastic wrap.
Desserts like bread pudding can often be assembled and refrigerated a day or two ahead. Then you just need to bake it the day of dinner. In addition, pumpkin pies can be baked, and mousse pies made, two days earlier. Then simply refrigerate until Christmas.
This is the time to assemble appetizers as well. Meat and cheese boards can easily be assembled two days early if they are tightly wrapped and properly refrigerated.
17. Plan Your Cooking Schedule
Use a couple of days before Christmas dinner to plan the cooking schedule. This will allow you to not only be prepared for dinner but to enjoy your Christmas morning with the family.
Review the cooking times for the type of meat you are cooking, as this will take the longest to cook. Then, you can plan how long you will need for side dishes.
Since the meat will need to rest for about 30 minutes after coming out of the oven, you can plan to use the oven during that time to heat other dishes.
18. Christmas Eve Day
Unlike Thanksgiving, where the night before is where a lot of last-minute prep is done, Christmas Eve is just as much a holiday as the day of Christmas. Therefore, I suggest getting as much as you can done in the two to three days before Christmas.
However, there are a few things that you may need to still prep for the main celebration. To stay in the Christmas spirit, try to do these early in the day.
Moreover, ask others in the family to help so you can get things done more quickly. Another great idea is to put on some Christmas music to help you stay in the spirit of the holiday!
Set the table.
Put drinks in the fridge to chill.
Move any frozen desserts or dishes that need to defrost to the refrigerator.
Prepare the ham, leg of lamb, turkey, or prime rib by seasoning it and placing it in the roasting pan. Then cover it tightly and place it back in the refrigerator until it is time to cook.
Prep any other food items you can (cut veggies, make appetizers, etc.)
19. Christmas Day
When it is finally Christmas day, the most important thing is to enjoy your day! Therefore, remember to enjoy the holiday along with your hosting responsibilities.
Start your day off by enjoying your holiday morning with family and your traditions. In between opening presents and eating yummy breakfast foods, do a little bit of prep for dinner.
Take out frozen bread or rolls that need to thaw and rise.
Set the lamb or prime rib on the counter for 30-60 minutes to come to room temperature before you need to cook it.
Pick up wrapping paper after opening presents and do a quick pick up around the house.
Depending on if you are having an early or late dinner, begin to prepare for your guests to arrive.
Place the ham or roast in the oven according to what time you plan to sit down to dinner.
While the meat is cooking, get appetizers ready to put out for guests. Remember to place napkins and small plates out for guests to use for appetizers (yes, disposable holiday paper dishes are acceptable and one less dish to wash).
When the meat is done cooking, let it rest for about 30 minutes (remove from the oven and cover with foil). During this time, heat any casseroles that need to be warmed.
If making gravy (and/or mashed potatoes) use the 20 minutes before sitting down to dinner to do so.
When everything is ready to eat, sit down to enjoy dinner! After dinner, invite guests to relax away from the table for a bit before dessert. This is a great time to chat with those who you didn't sit next to at dinner or to play a game as a group.
Depending on what type of dessert you are serving you can allow guests to get dessert on their own when they feel ready or serve everyone at the same time.
Once everyone is fed and full, relax and enjoy the last moments of another Merry Christmas!
🎄 Happy Holidays!
I hope this countdown to Christmas guide has helped you alleviate some stress and get a plan in order! Whether you're a first-time host or your house is the family gathering place every year, these valuable tips can help you truly enjoy your holiday!
If you have any questions, please reach out to me in the comment section below. I will get back to you as quickly as possible so your holiday runs smoothly! Don't forget to save your leftovers to try my incredible leftover prime rib recipes, leftover lamb recipes, leftover turkey recipes, or leftover ham recipes!
Do you love a recipe you tried? Please leave a 5-star 🌟rating in the recipe card below and/or a review in the comments section further down the page.
Stay in touch with me through social media @ Pinterest, Facebook, Instagram, or Twitter! Subscribe to the newsletter today (no spam, I promise)! Don't forget to tag me when you try one of my recipes!
📖 Recipe Card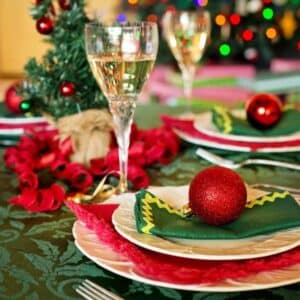 Print Recipe
Leave A Comment
Love This Recipe?
Click On A Star To Rate It!
Christmas Guide: Oven Roasted Prime Rib (Complete Menu Planning & Make Ahead Dishes!)
This Christmas guide will walk you step by step through all the planning you need to host the ultimate Christmas gathering! From decorations to grocery shopping and planning the menu, this countdown to Christmas guide covers it all. Enjoy a stress-free holiday this year with these easy tips and tricks for hosting Christmas dinner!
Cooking
1

hour
30

minutes
Total Time
2

hours
10

minutes
Pin Recipe
Share on Facebook
Help Us Out!
If you love a recipe, be sure to come back and share your ratings. This helps future users, and allows me to continue sharing free recipes! Angela
Instructions
Preheat your oven to 450°F (230°C).

Combine all of the herbs: salt, pepper, garlic powder, ground sage, dried rosemary, dried thyme, and dried oregano in a small bowl. Rub the prime rib roast with the seasoning blend, making sure to coat all sides evenly.

Place the seasoned prime rib roast in a shallow roasting pan on a rack with the fat side facing upward. Sear the roast for 15 minutes in a preheated oven at 450°F (230°C), then reduce the temperature to 325°F (160°C) and cook for an additional 45 minutes before starting to check the internal meat temperature.

When the internal temperature (inserted into the thickest middle portion of the roast) reaches 120°F (50°C), remove the roast from the oven and transfer to a cutting board. Then cover loosely with aluminum foil, forming a 'tent' over the roast while allowing your prime rib to rest for 20-30 minutes before serving. The internal temperature should be 130°F (55°C) when the roast has rested, before serving.
Equipment You May Need
Notes
*(optional) After rubbing the dry seasoning mix into the roast, wrap the roast tightly in plastic wrap then place on a baking sheet and refrigerate overnight. Bring to room temperature before roasting.
Remember that cooking times will vary depending on your oven temperatures and the size of your prime rib portion so make sure to use your meat thermometer.
When checking the internal temperature, make sure that your meat thermometer is inserted into the thickest middle portion of the roast.
The internal temperature should be 130°F (54°C) when the roast has rested, before serving.
Let your roast sit at room temperature for an hour before cooking to ensure that it cooks as evenly as possible.
To store: Place the meat in an airtight container in the refrigerator for up to 5 days. It can also be frozen for up to 6 months, just make sure to let it defrost for 24 hours before reheating.
To reheat: Place your roast in a pan and cover it with foil. To maintain juiciness, add ¼ cup of beef broth. Bake in the oven at 300°F (149°C) for 20-30 minutes.
Nutrition
Calories:
1220
kcal
(61%)
|
Carbohydrates:
2
g
(1%)
|
Protein:
55
g
(110%)
|
Fat:
109
g
(168%)
|
Saturated Fat:
44
g
(275%)
|
Cholesterol:
245
mg
(82%)
|
Sodium:
2830
mg
(123%)
|
Potassium:
940
mg
(27%)
dry rib rub, dry rub, oven roasted, prime rib, prime rib roast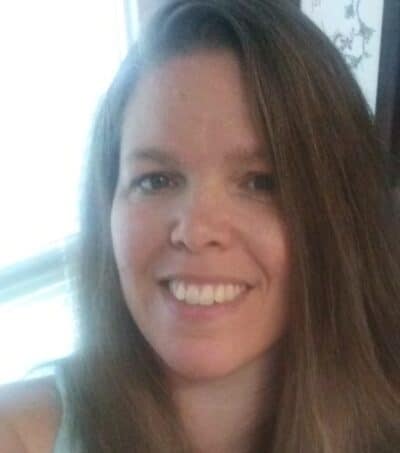 Angela is an at home chef that developed a passion for all things cooking and baking at a young age in her Grandma's kitchen. After many years in the food service industry, she now enjoys sharing all of her family favorite recipes and creating tasty dinner and amazing dessert recipes here at Bake It With Love!