These savory sweet potato recipes are perfect fall-time dishes for the holidays, get-togethers, or even your regular everyday family dinners! Just because sweet potatoes have a natural sweetness, doesn't mean they aren't wonderful in savory dishes as well! Here is a list of 19+ delicious recipe ideas to enjoy some savory sweet potatoes!
Best Recipes For Savory Sweet Potato Dishes
Sweet potatoes are one versatile (and delicious) root vegetable. As the name suggests, they can be sweet but they can also be incredibly savory!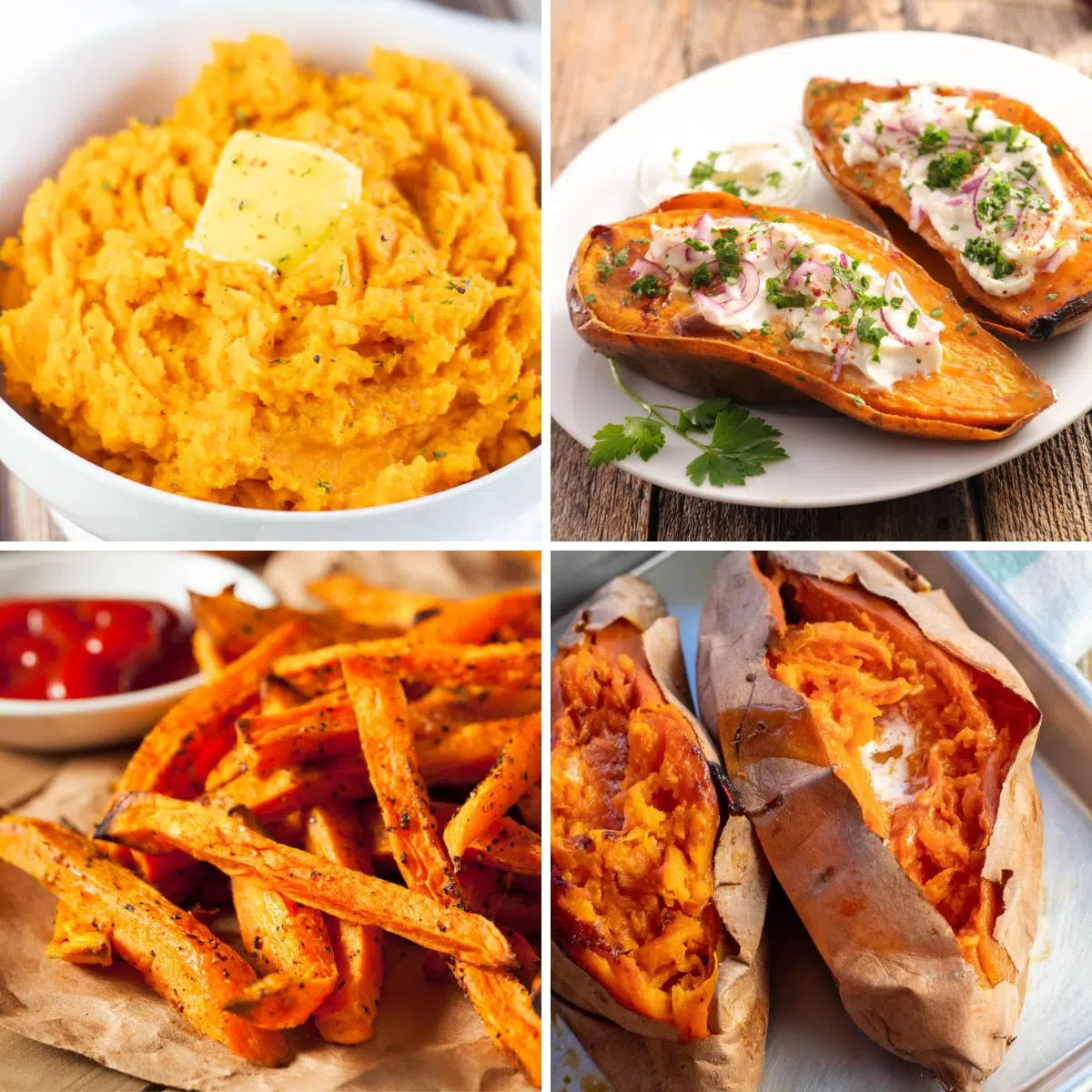 Be sure to check out my post for Thanksgiving Sweet Potato Side Dishes.
Jump to:
1. Mashed Sweet Potatoes
This side dish is perfect for holidays or any time of year! A little salt, pepper, and butter are all you need.
2. Baked Sweet Potatoes
Baked sweet potatoes are a healthy, vitamin-rich side dish that is incredibly easy to make! Like mashed sweet potatoes, they taste fabulous with just some salt, pepper, & butter.
3. Sweet Potato Sushi
Crispy breaded sweet potato all rolled up in soft sushi rice with a drizzle of teriyaki sauce. It's a unique recipe that is sure to become one of your favorites!
4. Air Fryer Sweet Potato Fries
Sweet potato fries are crisp and salty. Snag a bag of your favorite brand and whip them up in minutes using your air fryer!
5. Sweet Potato Fritters
These sweet potato fritters are similar to a french fry but in a patty shape! They whip up in under 30 minutes and pair well with just about anything.
6. Mushroom & Sweet Potato Pot Pie
This rich and cozy mushroom & sweet potato pot pie is fabulous fall comfort food. It's healthier than a pot pie made with dough, too!
7. Sweet Potato Gratin
Cheesy sweet potato gratin is a delicious casserole that is worthy of even the fanciest of tables! You can even prepare the potatoes in advance to make prep time easier.
8. Sweet Potato Bisque
A velvety sweet potato bisque is the perfect way to start any meal! You can even make it the main course by serving it with a side salad.
9. Sweet Potato Lasagna
Make lasagna healthier by swapping sheets of pasta for thinly sliced sweet potato! This recipe is gluten-free, vegetarian, and super satisfying!
10. Smoked Chile Scalloped Sweet Potatoes
Chipotle pepper puree adds an incredible smoky flavor to these scalloped sweet potatoes. It's warm and comforting with a little kick!
11. Sweet Potato & Bacon Hash
This rustic sweet potato and bacon hash is a delicious way to get your day started! Jalapeno is included for even more flavor!
12. Sweet Potato & Black Bean Burritos
These are healthier than your typical burrito. They are full of spice, sweet potatoes, black beans, and baby spinach, all wrapped up in a whole wheat tortilla.
13. Roasted Rosemary Sweet Potatoes
Sweet potatoes are savory and satisfying on their own. These roasted medallions are full of flavor and so easy to make!
14. Sweet Potato & Black Bean Enchiladas
These hearty enchiladas are a fabulous vegetarian dish that stars sweet potatoes! It's shockingly healthy and you can always freeze it so you have dinner ready to go at any time!
15. Stuffed Sweet Potatoes
These vegan and gluten-free stuffed sweet potatoes are a meal in themselves! They are full of black beans, onion, and plenty of spices.
Use cashew cream to top them off, or if you don't mind them not being vegan try sour cream!
16. Sweet Potato & Crab Soup
Sweet potato and lump crab meat come together to make a warm and cozy soup! Add some crispy croutons on top and you won't be able to put this soup down.
17. Sweet Potato Chili
Instead of beans, try sweet potato in your chili! It's a lovely substitution that you may want to keep in your chili from here on out.
18. Sweet Potato Salad
This is no normal potato salad. It's creamy and zesty because it includes bell pepper and hot sauce!
19. Sweet Potato & Chorizo Croquettes
Chorizo is the perfect way to balance out the sweetness in sweet potato. You can even make these croquettes into cute little pumpkins for fall!
20. Microwave Baked Sweet Potatoes
For savory sweet potato recipes it doesn't get any easier than this.
😋 More Savory Side Dishes
I hope you find these recipes comforting and delicious! In the comment section below, let me know about your favorite savory sweet potato recipes!
📋 Recipe