If you're headed to the butcher counter, it is important you know how to select prime rib roast so that your meal is as tasty as possible! Don't worry, I'm going to let you know all of the important information so you pick out the best piece of meat! Keep reading to find out everything you need to know!
How To Select The Best Prime Rib Roast
Prime rib roasts are incredibly juicy, tender, and overflowing with rich flavor. While they will all taste good, if you're wanting a cut of meat that will yield the most incredible dish possible then you need to know exactly what to look for.
I'm going to discuss USDA beef ratings, chuck end vs loin end, and much more! Plus, I'll even include some of my favorite prime rib recipes, just for you!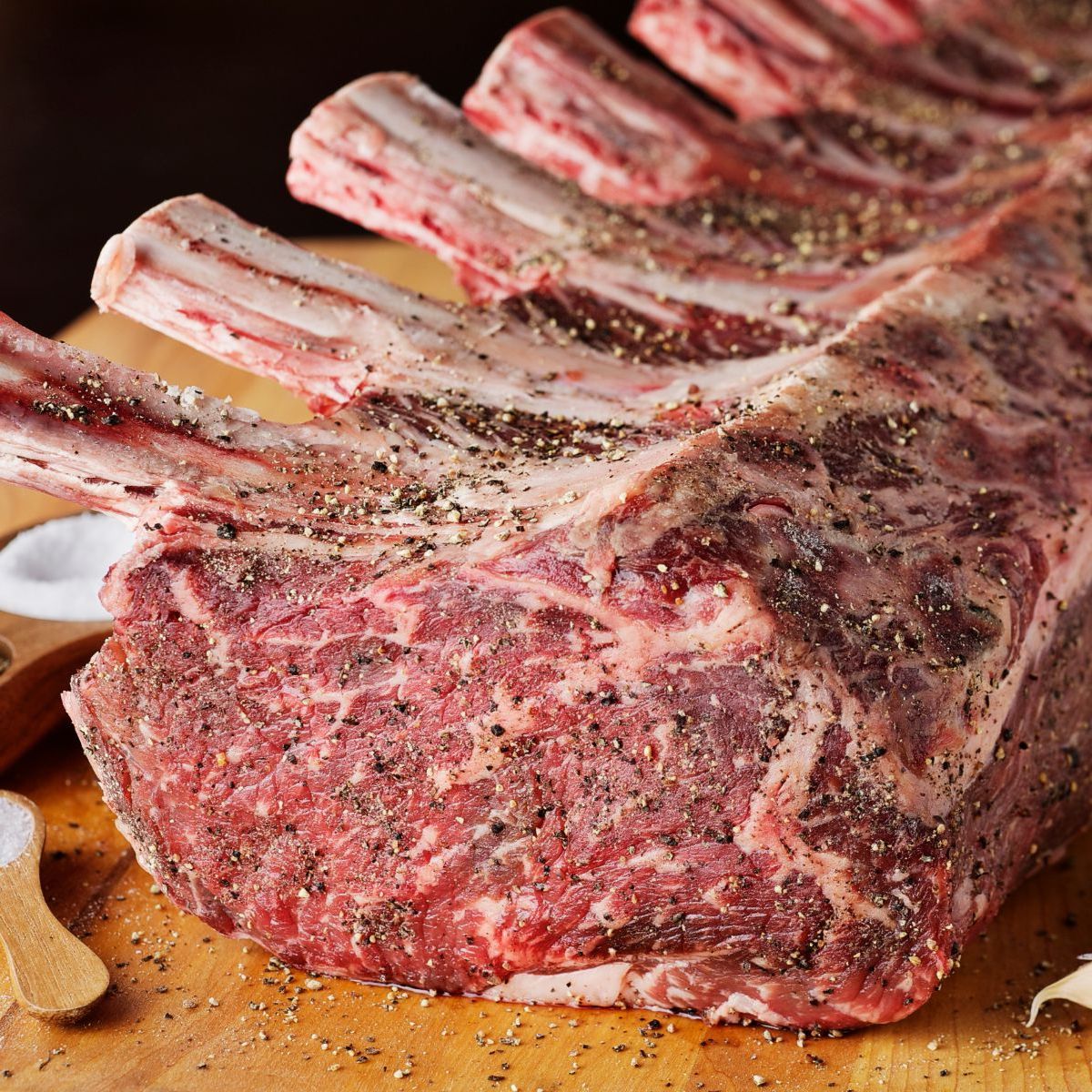 Jump to:
What Is Prime Rib?
Prime rib is the classic, bone-in roast that is cut from the primal rib section of the cow. The term "prime" is in reference to its actual rating from the USDA. If the meat is not rated as prime, then it is simply a standing rib roast (with the bone-in) or a rib-eye roast (if boneless) and not actually 'prime' rib.
USDA Prime Rib Ratings
Our US beef grading system is overseen by the US Department of Agriculture. It is graded based on tenderness, juiciness, and flavor. While there are actually 5 more designations (standard, commercial, utility, cutter, and canner) that rank below Select, Choice, and Prime, these are the three grade choices that you would be looking at when selecting a prime rib portion.
However, a good eye can pick a great choice cut that may be better than a prime-rated prime rib. This is due to the grades also having 'sub-grades' within their ratings.
You can find a great prime rib portion that is graded Select, but being within the "high-select" meat quality, grading may indeed be (and likely is) better than an "entry-level prime" rated beef portion.
Select
USDA select beef is leaner than its prime and choice counterparts. This is because it has less fat marbling, resulting in meat that is not as tender as the higher grades.
Additionally, due to less marbling, it does not have as much flavor and is less juicy. This does not mean that this meat is not tasty or of good quality, it is just not as juicy, tender, or flavorful as prime or choice beef.
It is considered to be more of a budget option since it is significantly cheaper than the higher grades. Select beef is great for throwing on the grill or for marinating (since marinating makes the meat more tender)!
Choice
Choice beef has more fat marbling than select, but less than prime. This is where the cut of meat makes a significant difference.
Choice cuts from the rib and loin will still be extremely juicy, flavorful, and tender! This is the most common, high-quality option that you will see at every grocery store. It is still a great option to choose!
Prime
Beef that is graded as prime is cut from young, well-fed cows. It has significant fat marbling, making it extremely tender and juicy. This quality of meat is typically what you'll find sold in restaurants!
Of course, since this is the highest quality, it will be more expensive than the choice options. Additionally, it is not as easy to find, since the majority of what you see at the grocery store will be graded select or choice. If you want to splurge (and have the money), prime-graded beef will unlock unlimited possibilities with your culinary creations!
Wagyu Prime Rib Ratings
The Japanese Wagyu beef grading system is where you hear the term "A5," which is the highest grade of beef that can be purchased. The beef is graded A, B, or C based on yield ( A=72% and above, B=69% and above, and C=69% and below ).
The 1, 2, 3, 4, or 5 quality grades are based on the overall quality of the meat including marbling, the color and texture of the beef, and the color and quality of the fat. Quality scores are graded 1-12, with 12 being the highest grade available.
So, a quality score of 1=Poor=1 quality grade. A quality score of 2=Below Average=2 quality grade, and a quality score of 3-4=Average=3 quality grade. The higher quality scores of 5-7=Good=4 quality grade, and 8-12=Excellent=5 quality grade.
American Wagyu beef is graded on the same standards as Japanese Wagyu beef but rated using the Select, Choice, and Prime designations.
Chuck End vs Loin End
At the butcher counter, in addition to being able to choose the grade of your prime rib roast, you can also decide if you want it to be cut from the chuck end or the loin end.
Cows have 13 ribs on each side of their body with ribs 6-12 being the portion that is cut and sold as prime rib. The loin end is the most desirable cut (typically referred to as the first cut), consisting of ribs 10-12. This cut contains a single rib-eye muscle which is incredibly tender.
Ribs 6-9 are considered to be on the chuck end (usually referred to as the second cut). This area has more connective tissue and fat pockets and is less uniform than the first cut. However, this is still a delicious and tender piece of meat!
Cheat Sheets
I put together a few handy cheat sheets so you can remember all of this information with just a quick glance!
Table 1: Beef Grades Chart
| | | | | |
| --- | --- | --- | --- | --- |
| Select | Makes up about 30% of graded beef | Budget-Option | Less marbling | Lacking in flavor and potentially less tender or juicy |
| Choice | Most common (65% of beef) / Easiest To Find | High-quality option | Moderate marbling | Very flavorful, juicy, and tender |
| Prime | Top 5% of beef / Hard to find | Very Expensive, Best-quality option | Heavy marbling that is evenly distributed | Extremely flavorful, juicy, & tender |
Table 2: Chuck and Loin Ends
| | | | |
| --- | --- | --- | --- |
| Chuck End | Second cut | Ribs 6-9 | More fat pockets, not as uniform |
| Loin End | First cut | Ribs 10-12 | One large, tender, uniform muscle |
❓ Should I Choose Boneless Or Bone-In Prime Rib?
This is truly a personal preference. Some people believe that choosing a bone-in prime rib roast will give you more flavor. However, the boneless variety is easier to carve when you are ready to serve it.
Ultimately, I recommend choosing whichever option the recipe you are intending to make calls for!
❓ How Much Prime Rib Do I Need?
If going based on weight, a great general rule is 1 pound per person. If judging by ribs, you can aim for 1 rib for every 2 people.
For more helpful information about prime rib, check out my article about prime rib cooking temperatures as well as my guide on what to serve with prime rib! Leave a comment down below and let me know your favorite prime rib recipe!
🥩 My Favorite Prime Rib Recipes!
📋 Recipe
Print Recipe
Leave A Comment
Love This Recipe?
Click On A Star To Rate It!
How To Select Prime Rib Roast: Boneless Prime Rib (How To Pick The Perfect Roast!))
If you're headed to the butcher counter, it is important you know how to select prime rib roast so that your meal is as tasty as possible! Don't worry, I'm going to let you know all of the important information so you pick out the best piece of meat! Keep reading to find out everything you need to know!
Cooking
3
hours
45
minutes
Total Time
4
hours
30
minutes
Share on Facebook
Ingredients
Boneless Prime Rib Roast
5

lb

prime rib

(boneless roast)
Prime Rib Rub
1 ½

tablespoon

kosher salt

1

tablespoon

coarse ground pepper

(freshly ground is best)

½

tablespoon

garlic powder

1

teaspoon

smoked paprika

(or regular paprika)

1

teaspoon

dried rosemary

1

teaspoon

ground sage

1

teaspoon

dried thyme

½

teaspoon

dried oregano

½

teaspoon

onion powder
Instructions
Preparation
Rinse your prime rib roast in cool running water, and pat dry with paper towels. Remove any excess fat or silver skin, if desired.

(optional) Tie the rib roast with butcher twine. For boneless roasts, tie every 1.5 inches down the length of the roast.
Prime Rib Rub
Combine dry rub ingredients in a small bowl (salt, pepper, smoked paprika, garlic powder, onion powder, ground sage, dried rosemary and dried thyme) and set aside.

1 ½ tablespoon kosher salt,

1 tablespoon coarse ground pepper,

½ tablespoon garlic powder,

1 teaspoon smoked paprika,

1 teaspoon dried rosemary,

1 teaspoon ground sage,

½ teaspoon dried oregano,

½ teaspoon onion powder,

1 teaspoon dried thyme

Place the prime rib on a baking sheet or in a baking dish and sprinkle the dry rub over, using one half for each side. Massage the dry rub into place and roll the edges in the excess that is on the baking sheet to coat the entire surface of your roast. *Don't be shy with the seasoning!

Once your prime rib is seasoned, leave uncovered and transfer to your refrigerator to dry brine overnight (or 8 hours). For the best results, be sure to also allow at least 1 hour (preferably 2 hours) of bringing the roast to room temperature before roasting.
Roasting The Prime Rib
Preheat your oven to 200°F (93°C).

Transfer the seasoned prime rib roast in a roasting pan to your preheated oven (fat side facing up for a boneless prime rib or bone side down for a standing rib roast). Roast for approximately 3 hours 45 minutes (or about 45 minutes per pound for a 5-pound prime rib), until the internal temperature of the roast reaches your desired doneness in the next step below.

When the roast has an internal temperature of 120-125°F (49-52°C) for RARE, 125-129°F (52-54°C) for MEDIUM RARE, 130-139°F (54-59°C) for MEDIUM, and 140-145°F (60-63°C) for MEDIUM DONE remove the roast from your oven and allow it to rest tented loosely with aluminum foil for 20-30 minutes before slicing and serving.
(Optional) Reverse Sear
To reverse sear your prime rib before serving, remove the roast about 10°F (5.5°C) below the temperature of your desired doneness listed above. Transfer the roast to a cutting board or platter and cover with aluminum foil while you bring your oven temperature up to 500°F (260°C).

Once your oven is fully heated, return the roast and sear until the internal temperature is 130°F (54°C) for RARE, 135°F (57°C) for MEDIUM RARE, and 140°F (60°C) for MEDIUM. *Keep a close eye on your prime rib as this searing step moves along quickly.

Remove your prime rib from the oven, replace the aluminum foil over the roast, and allow to rest for at least 15 minutes before carving and serving.
Equipment You May Need
Notes
Time allowing, wrap the seasoned roast in plastic cling film and allow it to 'cure' in the refrigerator for at least four hours, and up to overnight. Or, apply the dry rub and leave the roast unwrapped to 'dry brine' in the refrigerator overnight.
Check the internal temperature of your roast at the thickest portion of the roast, as well as a few other areas toward the center of your roast to determine doneness.
All temperatures given for *removing the roast* from your oven are not the final temperature that your roast will reach. The 'carryover cooking' that happens while resting should increase your roast's internal temperature by 5-7°F (3-4°C) for its final cooked temp and doneness.
Nutrition
Calories:
681
kcal
(34%)
|
Carbohydrates:
1
g
|
Protein:
31
g
(62%)
|
Fat:
60
g
(92%)
|
Saturated Fat:
25
g
(156%)
|
Polyunsaturated Fat:
2
g
|
Monounsaturated Fat:
26
g
|
Cholesterol:
137
mg
(46%)
|
Sodium:
1148
mg
(50%)
|
Potassium:
522
mg
(15%)
|
Fiber:
1
g
(4%)
|
Sugar:
1
g
(1%)
|
Vitamin A:
108
IU
(2%)
|
Vitamin C:
1
mg
(1%)
|
Calcium:
25
mg
(3%)
|
Iron:
4
mg
(22%)
boneless prime rib, how to select prime rib roast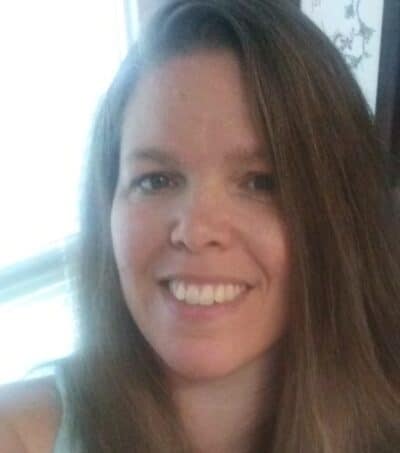 Angela is an at home chef that developed a passion for all things cooking and baking at a young age in her Grandma's kitchen. After many years in the food service industry, she now enjoys sharing all of her family favorite recipes and creating tasty dinner and amazing dessert recipes here at Bake It With Love!