Crockpot casserole recipes are super easy and delicious, making them the perfect choice for family dinners on work nights! Just toss in the ingredients, turn on your slow cooker, and let it do its thing! It doesn't get much more hands-off than that!
Best Slow Cooker Casseroles
Typically, when most people think of casseroles, they think of one-pan meals baked in a casserole dish in the oven. However, you can also make some pretty incredible casserole dinners in your crockpot, as seen in all of the recipes below!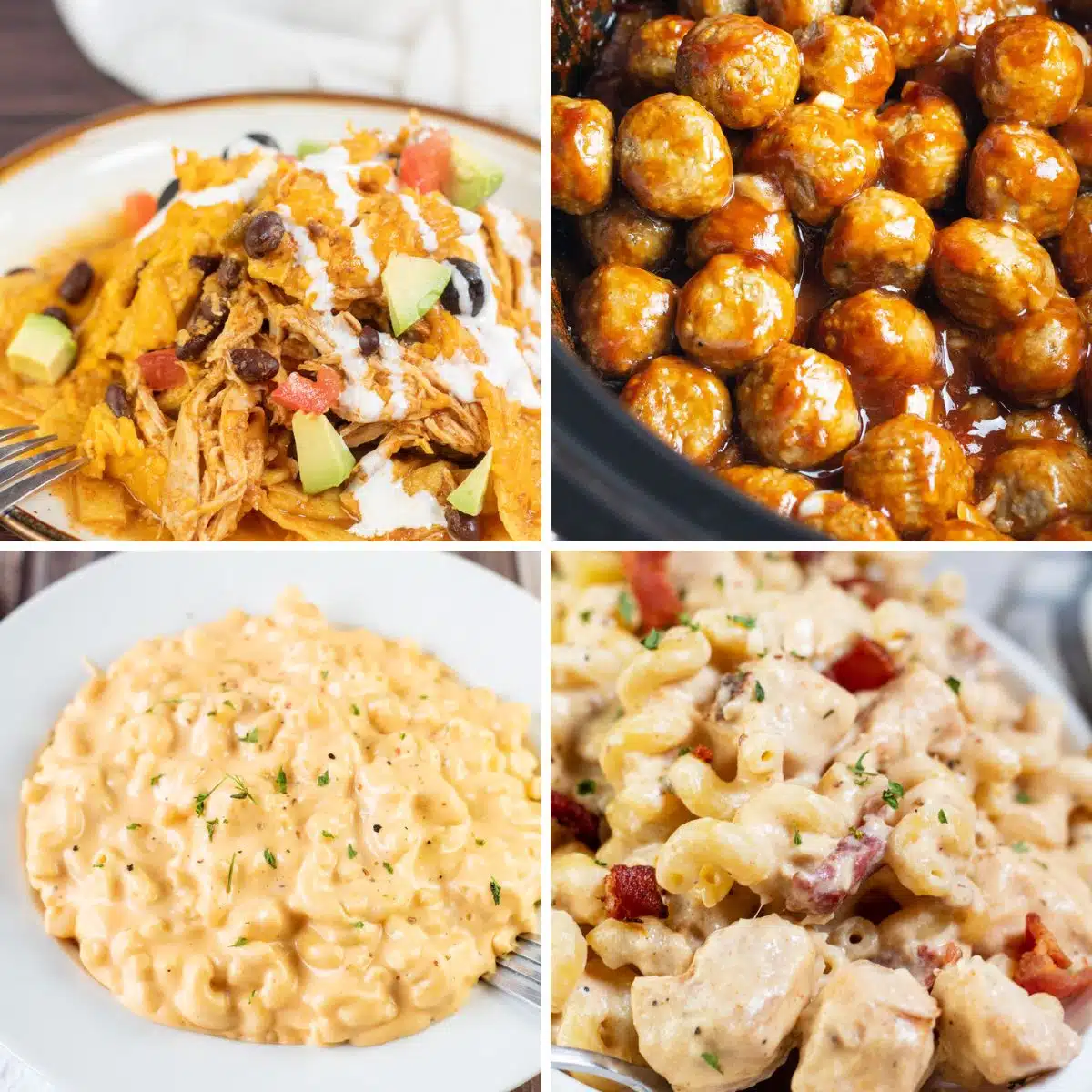 Jump to:
1. Crockpot Chicken Enchilada Casserole
Even though this chicken enchilada casserole is slow-cooked, it has half the prep time of classic chicken enchiladas. There are layers of corn tortillas, juicy chicken, tasty enchilada sauce, black beans, and melted cheese to enjoy in every bite!
2. Crockpot Chicken Bacon Ranch Pasta
Chicken, bacon, ranch, there are so many big flavors in this one incredibly easy casserole! Everything is combined with pasta and a rich and creamy alfredo sauce for a cheesy pasta casserole the whole family will love!
3. Slow Cooker Goulash
Perfectly seasoned ground beef and tender pasta slow-cooked to perfection in a rich tomato sauce. Top it off with a hearty helping of shredded cheddar and watch everyone scramble to the dinner table!
4. Crockpot Mac and Cheese
I don't know about you but in my house, no one complains one bit when they hear we are having mac and cheese for dinner! This easy slow cooker macaroni and cheese is ultra-rich and creamy, and it basically cooks itself!
5. Slow Cooker Ranch Chicken
This 5-ingredient ranch chicken is a creamy combination of chicken, cream cheese, cheddar, ranch seasoning, and cream of chicken soup. Serve it over rice, pasta, or on pretzel buns for an easy family dinner!
6. Ham and Pea Pasta
Chunks of salty ham, tender sweet peas, creamy sauce, and al dente fettuccini come together to make a wonderfully delicious pasta dinner. You'll find both the stovetop and slow cooker instructions on the recipe card!
7. Slow Cooker Crack Chicken
This chicken is so good, it's almost addictive! Crack chicken is a creamy, cheesy combination of chicken, bacon, ranch seasoning, and a few other ingredients.
You can serve it as a dip with tortilla chips, over lettuce as a salad, make it into sandwiches, or whatever you like!
8. Slow Cooker Chicken Alfredo
When it's time for dinner, everyone will find it hard to believe you made this rich and creamy chicken alfredo in the crockpot! My secret ingredient is adding a little chicken bouillon to the sauce for an amazing blend of flavors!
>>>>See all of my recipes HERE<<<<
9. Slow Cooker Tuna Noodle Casserole
My grandma always used to make classic tuna noodle casserole, and this crockpot has all the same nostalgic flavor! It's a delicious, budget-friendly casserole that truly stands the test of time!
10. Slow Cooker Buffalo Chicken Rice Casserole
If you enjoy the tangy and zesty flavor of buffalo sauce, this casserole is sure to become a new favorite. It's topped off with crumbled blue cheese, but you can always opt for a light drizzle of ranch dressing if that's what you prefer with your wings!
11. Slow Cooker Green Bean Casserole
There's no reason to wait for Thanksgiving when you're craving green bean casserole (especially when it's this easy)! Serve it as a side dish, or add sausage or bacon and make it the main course!
12. Slow Cooker Corn Pudding
Corn pudding is fluffy and satisfying yet subtly sweet and always delicious! Betty Crocker knocked it out of the park with this easy (and cheesy) slow cooker version!
13. Sloppy Joe Tater Tot Casserole
This cheesy combination of crispy tater tots and ground beef in savory sloppy joe sauce never disappoints. Serve it with a side of sliced pickles to get that familiar sandwich flavor!
14. Crockpot Cheesy Ravioli Casserole
Kids love this super cheesy ravioli crockpot casserole and you'll love how easy it is to make! The meat-stuffed ravioli are even better with a side of fluffy herb-butter dinner rolls for soaking up all the sauce!
15. Spinach Broccoli Breakfast Bread Pudding
If you're a fan of breakfast casseroles, you'll love this spinach bread pudding (breakfast, brunch, lunch, or dinner it's always perfect)! Dice a crusty loaf of Cuvan or French bread, toss with cheesy egg custard, and spinach, and bake!
16. Chili Cheese Crustless Quiche
This Tex-Mex egg casserole is perfect for any meal of the day! You can use canned chili to make things super simple, and it's also a great way to use up leftover chili con carne or Texas chili!
17. Crock Pot Low Carb Pizza Casserole
All the flavor of a warm slice of pizza in an easy and guilt-free crockpot casserole! It's meaty, cheesy, and saucy, and you can mix in any of your favorite pizza toppings to customize the flavor.
18. Slow Cooker Lasagna
Lasagna has never been easier, and this crockpot version tastes just as good as a classic lasagna made in the oven! Start it in the morning, and you have perfectly cooked homemade lasagna ready by dinnertime!
19. Spaghetti Casserole
Toss all the ingredients for a spaghetti bolognese into your crockpot and out comes this amazingly delicious spaghetti casserole 4 hours later! Serve it with a quick side of air fryer garlic bread for an easy spaghetti dinner.
20. Crockpot Hamburger Potato Casserole
This crockpot hamburger casserole is beefy, cheesy, and full of tender seasoned potatoes; what more can you ask for? You can even swap out the beef for ground turkey or chicken, and it's equally delicious!
21. Nacho Hash Brown Casserole
There may only be 6 ingredients, but this super cheesy nacho casserole has no shortage of flavor! Add some ground beef taco meat to make it even heartier!
💭 Tips For Making Crockpot Casseroles
Crockpot casseroles are all about layering flavors and easy ingredients! Here are a few helpful suggestions to keep in mind when making casseroles in your slow cooker:
Layer Flavors Thoughtfully: You can generally start with a layer of meat or protein, followed by vegetables, starches, and sauce. This helps ensure even cooking and prevents certain ingredients from getting too mushy.
Season Well: Fresh herbs, spices, and seasoning blends are a great way to add tons of flavor to simple ingredients!
Add Liquid: Any crockpot recipe benefits from starting out with a little extra liquid. This keeps the ingredients from burning or drying out! Broth, tomato sauce, wine, or even a splash of cream goes a long way!
Be Mindful of Cooking Times: Different ingredients cook at different rates in the slow cooker. For example, meat usually takes longer than vegetables. That means you want the meat at the bottom of the crockpot and the veggies on top, or you can add them a few hours into cooking.
Add Dairy Towards the End: If your recipe calls for dairy, like cheese or sour cream, add it towards the end of the cooking time to prevent curdling and separation. Typically, you should add dairy during the last 30 minutes of cooking.
These crockpot casseroles will quickly become a new part of your weekly dinner rotations! Let me know what casseroles you'd like to see in the crockpot below!
📖 Recipe Card