Best pizza toppings from all over the world featuring classic options like pepperoni, as well as some unique flavor combinations! If you're looking to make homemade pizzas, this list of ingredients can be used as inspiration! There are tasty sauces, flavorful veggies, delectable cheeses, and so much more to try!
Best Pizza Toppings
When it comes to pizza, the sky is the limit for what kind of ingredients and flavor combinations you can use! Everyone likes a classic pepperoni and cheese pizza, but there are many more toppings that can make for an equally tasty pizza pie.
Luckily, when you're making pizza at home, you can take all the creative liberty you like! Just follow these flavors and ingredients as a guide and try whatever sounds good to you!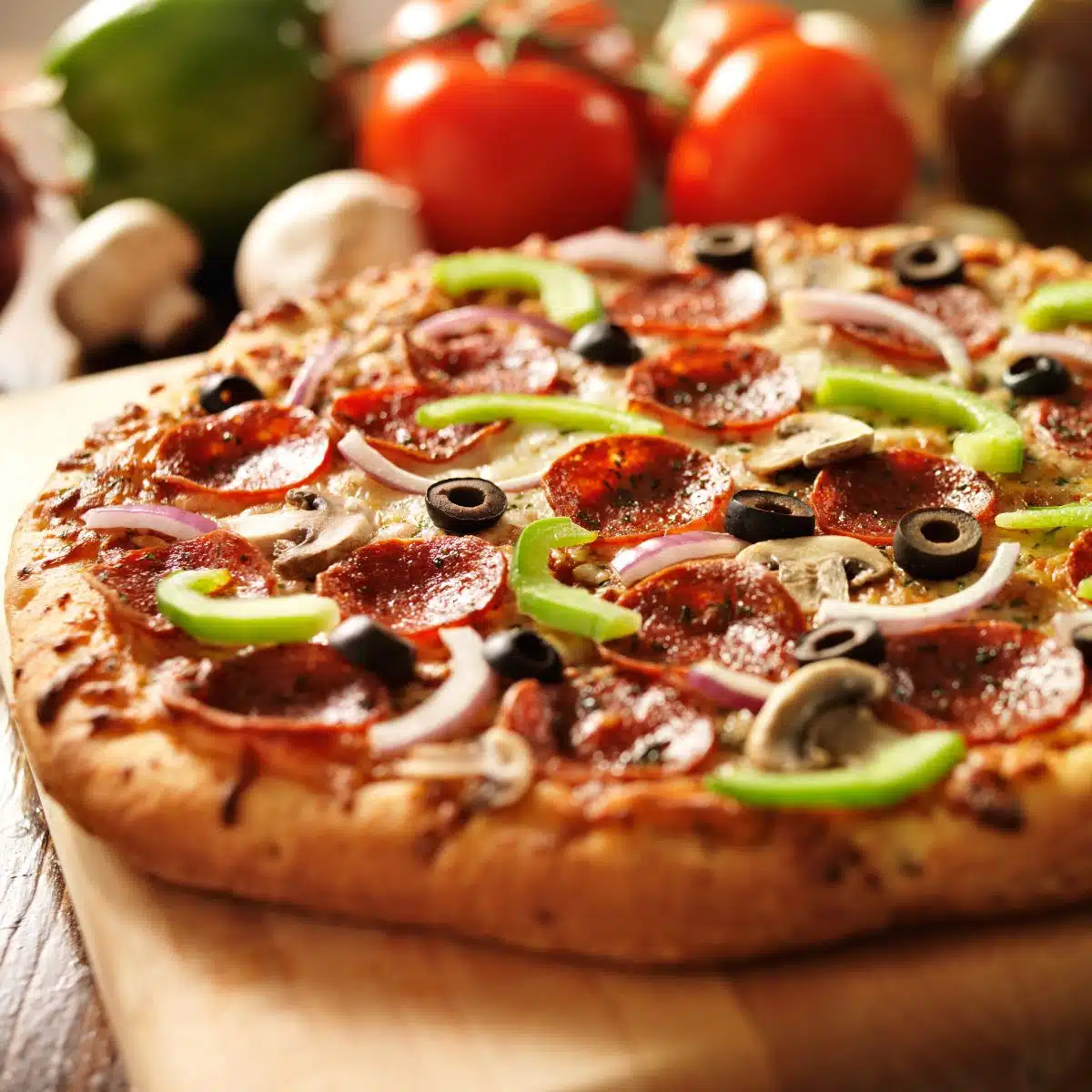 Jump to:
I love making homemade pizzas! Check out my go-to recipes for pizza sauce and pizza dough right here! You should also learn how to reheat pizza to make the most of your leftovers!
Most Popular Pizza Flavors
1. Cheese Pizza
While some people may associate cheese pizza with little kids and picky eaters, using a blend of quality cheeses makes for a delicious slice. Try making a quattro formaggi (4-cheese) pizza with fresh mozzarella, goat cheese, gorgonzola, and Parmesan!
2. Pepperoni Pizza
Pepperoni pizza is hands-down the most popular pizza in the United States. However, you might not be aware that there are many different varieties of pepperoni that you could try!
There's beef pepperoni, turkey pepperoni, pork pepperoni, and cup char pepperoni (it curls up, and the edges get delectably crispy), just to name a few!
3. Meat Lovers
The specific meats on a meat-lovers pizza vary from place to place. In general, it's a pizza with no vegetables and at least 3 different types of meat.
Common choices include bacon, pepperoni, sausage, ham, and seasoned hamburger meat. You can mix and match meats however you choose!
4. Margherita Pizza
Margherita pizza is an Italian classic that is typically served on thin crust (though I'm sure it's tasty on thick crust, too)! It has melted fresh mozzarella, San Marzano tomatoes, and fresh basil.
5. BBQ Chicken Pizza
Chicken and BBQ sauce are an incredible flavor combination that tastes just as delicious on top of a slice of pizza. I like to use shredded rotisserie chicken for the flavor and because it cuts down on prep time a ton!
Spread a thin layer of my honey BBQ sauce or your favorite brand to the top of your pizza dough. Top it with the chicken, shredded mozzarella, and some thinly sliced red onion, and bake!
6. Veggie Pizza
A veggie pizza (also called veggie lover's or vegetarian pizza) typically has red sauce and a variety of fresh vegetables. The ingredients are really up to personal preference, but generally, mozzarella cheese is used.
Some veggies that are typical of a veggie lover's pizza include tomatoes, bell peppers, black olives, red onions, spinach, and artichokes. While less common, even vegetables like broccoli or zucchini can be used!
7. Hawaiian Pizza
The question 'Does pineapple belong on pizza?' has been debated for as long as Hawaiian pizzas have been around. If you ask me, it does belong on pizza if you think that it tastes good (and I do)!
A Hawaiian pizza consists of red pizza sauce, mozzarella cheese, chunks of pineapple, and typically either Canadian bacon or ham.
8. Buffalo Chicken Pizza
Instead of traditional pizza sauce, a buffalo chicken pizza is coated in a thin layer of blue cheese dressing. Then, the chicken is tossed in zesty buffalo sauce!
If you are a fan of blue cheese flavor, you can even add some extra crumbles on top. Now, you never have to decide between chicken wings and pizza again!
>>>>See all of my recipes HERE<<<<
9. Supreme Pizza
A supreme pizza is like a meat lover's and a veggie lover's pizza combined! This is the perfect pie for the person that wants a little bit of everything.
Common meats used on a supreme pizza include pepperoni, meatballs, sausage, and hamburger meat. Vegetable-wise, mushrooms, black olives, bell peppers, and red onions are pretty common.
10. Spinach and Artichoke Pizza
This Mediterranean-style pizza is a classic choice, though it isn't as widely served at large chain pizzerias. It's typically made with a white cream sauce or bechamel sauce.
Top that off with some tender sliced artichoke hearts, sauteed spinach, and mozzarella or provolone cheese, and enjoy!
11. Breakfast Pizza
A slice of breakfast pizza is the perfect way to start your day! There are tons of variations of this type of pizza, though scrambled eggs are always a must!
Instead of pizza sauce, I like to top my breakfast pizza with country gravy and crumbled breakfast sausage. It is downright delicious!
12. Truffle Pizza
The earthy and robust flavor of truffle pizza is worth the splurge. You don't have to top the pizza with actual sliced truffles. Just a generous drizzle of truffle oil will do.
Then, you can add sliced button or baby bella mushrooms instead. The district flavor of truffles pairs best with white sauce, white cheeses, and extra garlic!
13. Seafood Pizza
There's a lot of seafood that surprisingly tastes fabulous on pizza! My personal favorite is to use a blend of fresh seafood, like frutti di mare, with clams, scallops, mussels, shrimp, and squid.
Seafood pairs best with marinara or a red pizza sauce and mozzarella or provolone cheese. I also like a light squeeze of lemon when it is fresh out of the oven, but that's just my personal preference!
Classic Italiano Pizza Toppings
If a classic Italiano-style pizza pie is more to your taste, these are some ingredients that you will more commonly find in Italy. They use the freshest vegetables, cheeses, and fresh herbs to make their pizzas!
Mozzarella Di Bufala: You won't find bags of shredded store-bought mozzarella here! Mozzarella di Bufala is mozzarella cheese made from water buffalo milk. It is rich, creamy, and tender, which makes it an ideal choice for authentic Italian pizza.
San Marzano Tomatoes: San Marzano tomatoes have less acidity than other tomato varieties, and they have a strong, sweet taste. When cooked, they add a tangy and robust flavor that makes them a favorite of professional pizzaiolos.
Basil: Fresh basil leaves are aromatic and fragrant, enhancing the pizza's entire flavor profile. Add the leaves near the end of the pizza's cooking time or just when it comes out of the oven for the best results.
Prosciutto Crudo: Thinly sliced dry-cured ham is a common Italian pizza topping. It's savory, salty, and practically melts in your mouth!
'Nduja: This spreadable pork salumi is smokey and spicy, which adds a fiery kick to any pizza!
Funghi (Mushrooms): Slices of fresh porcini or cremini mushrooms can add a rich, earthy flavor and surprisingly meaty texture to your pizza.
Olives: In Italy, black or green olives are a common addition to pizzas. They add a burst of briny flavor (particularly green olives) that will complement the cheese and pizza sauce beautifully.
Gorgonzola: Gorgonzola, or blue cheese, can be added to pizza to give it a bold and tang flavor! Those who love it love it, though it has a very distinctive taste!
Fresh Cherry Tomatoes: When baked, cherry tomatoes burst, and their natural sweetness is brought out.
Artichokes: Marinated or fresh, artichokes give pizza a unique and slightly nutty flavor.
Rucola (Arugula): Add fresh arugula to your pizza after baking it for a refreshingly peppery crunch!
Parmigiano Reggiano: Parmigiano Reggiano's nutty and salty flavor is the perfect finishing touch to any pizza.
More Great Pizza Toppings
You never know what will taste great on top of a pizza until you give it a try! Outside of the above-mentioned ingredients, here are some tasty pizza sauces, cheeses, meats, and vegetables that are proven to be delicious.
Tips For Choosing The Best Pizza Toppings
Ultimately, the best pizza toppings are the ones you enjoy the most! However, here are some tips that can help you choose the most delicious pizza toppings:
Balance flavors: A great pizza has a perfect balance of flavors. Aim for a mix of savory, sweet, salty, and tangy toppings to achieve a well-rounded pizza pie.
Fresh ingredients: Whenever possible, use fresh and high-quality ingredients. Fresh vegetables, meats, and cheeses will elevate the overall taste of your pizza.
Limit toppings: Pizza is all about balance, and if you have too many toppings, your slice will turn into a soggy mess. For pizzas that have a lot of different toppings (like supreme, meat lovers, or veggie lovers), use a small amount of each ingredient.
Think about cooking times: Some toppings cook faster than others. If you're using ingredients like delicate herbs or thinly sliced vegetables, it's best to add them towards the end so they don't burn.
Experiment with new flavors: There are unlimited pizza topping combinations, so don't be afraid to try unique or unconventional toppings! You might discover something new that you love!
I hope you found this guide to pizza toppings helpful! Let me know your favorite pizza combinations in the comment section below!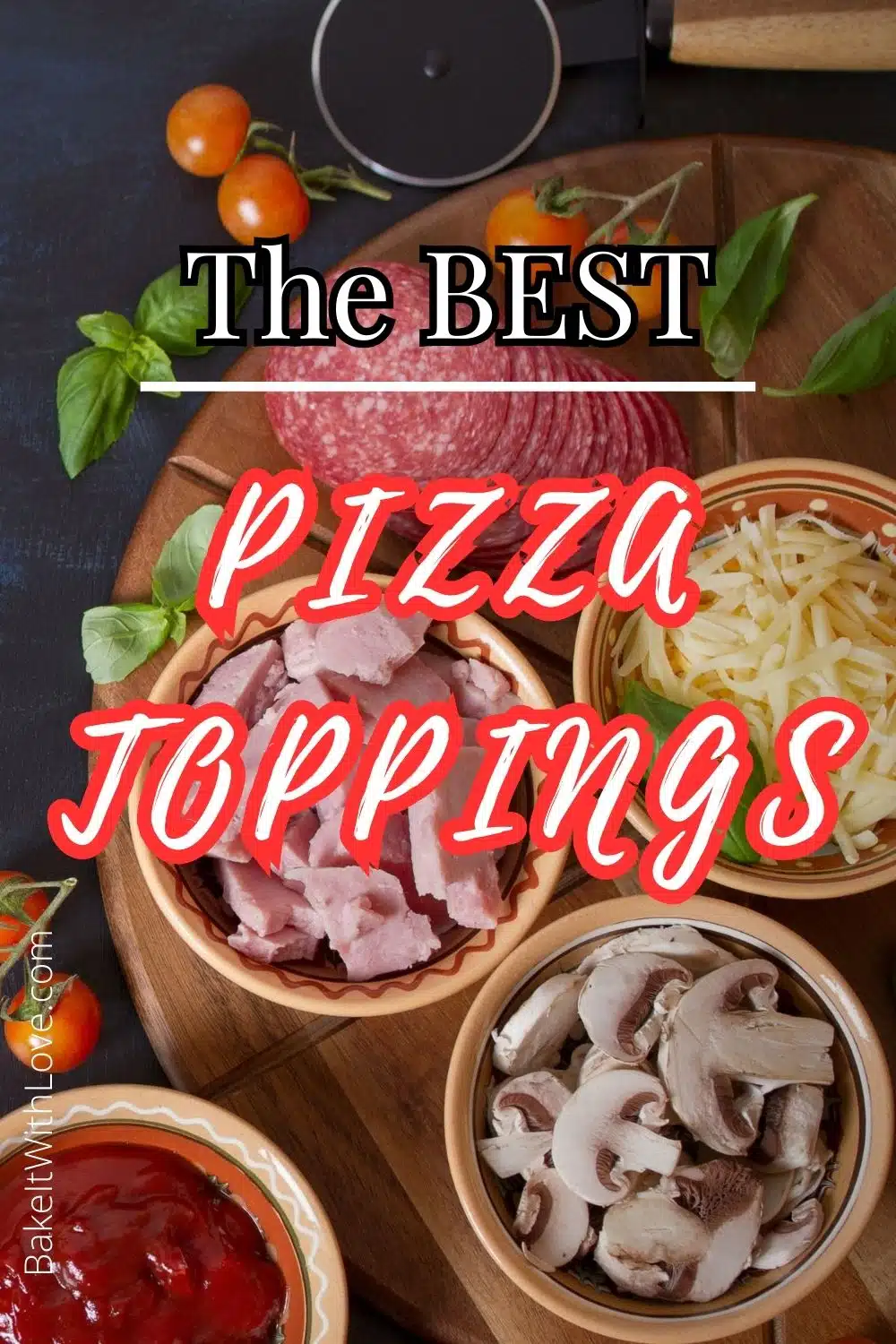 🍕😋 Pizza Recipes To Try
Do you love a recipe you tried? Please leave a 5-star 🌟rating in the recipe card below and/or a review in the comments section further down the page.
Stay in touch with me through social media @ Pinterest, Facebook, Instagram, or Twitter! Subscribe to the newsletter today (no spam, I promise)! Don't forget to tag me when you try one of my recipes!
📋 Recipe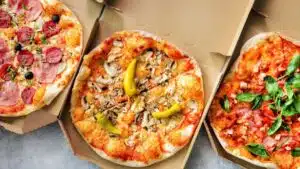 Print Recipe
Leave A Comment
Love This Recipe?
Click On A Star To Rate It!
Best Pizza Toppings: Pizza Aioli (+More Tasty Toppings!)
Best pizza toppings from all over the world featuring classic options like pepperoni, as well as some unique flavor combinations! If you're looking to make homemade pizzas, this list of ingredients can be used as inspiration! There are tasty sauces, flavorful veggies, delectable cheeses, and so much more to try!
Cooling & Chilling
45

minutes
Total Time
1

hour
50

minutes
Pin Recipe
Share on Facebook
Ingredients
1

bulb

garlic

1

cup

mayonnaise

1

tablespoon

olive oil

(extra virgin)

2

teaspoon

lemon juice

1

pinch

cayenne pepper

1

pinch

dry mustard powder

1

teaspoon

each, salt & pepper

(to taste)
Help Us Out!
If you love a recipe, be sure to come back and share your ratings. This helps future users, and allows me to continue sharing free recipes! Angela
Instructions
Preheat your oven to 350°F (175°C/Gas Mark 4).

Cut the top off your garlic to expose the cloves, drizzle with olive oil and wrap in aluminum foil and bake at 350°F (175°C/Gas Mark 4) for about an hour, then allow garlic to cool for 15-20 minutes. When you can safely handle the garlic bulb squeeze out the garlic in to a bowl or mortar and pestle.

Using a mortar and pestle if you have one, if not use a bowl and a fork, mash up the roasted garlic, add the mayo, lemon juice, olive oil, and seasonings. Mix well.

1 cup mayonnaise,

1 tablespoon olive oil,

2 teaspoon lemon juice,

1 pinch cayenne pepper,

1 pinch dry mustard powder,

1 teaspoon each, salt & pepper

Place in the refrigerator for about 30 minutes to chill prior to use.
Equipment You May Need
Notes
Yields approximately 1 cup of aioli.
For the best flavor take the time to roast the garlic.
Do not freeze aioli!
Use good quality mayo, or make your own.
Mash or food process the heck out of the garlic, aioli should be smooth.
Nutrition
Calories:
147
kcal
(7%)
|
Carbohydrates:
4
g
(1%)
|
Protein:
1
g
(2%)
|
Fat:
13
g
(20%)
|
Saturated Fat:
2
g
(13%)
|
Polyunsaturated Fat:
1
g
|
Monounsaturated Fat:
1
g
|
Cholesterol:
9
mg
(3%)
|
Sodium:
261
mg
(11%)
|
Potassium:
3
mg
|
Fiber:
1
g
(4%)
|
Sugar:
1
g
(1%)
|
Vitamin A:
5
IU
|
Vitamin C:
1
mg
(1%)
|
Calcium:
1
mg
|
Iron:
1
mg
(6%)
best pizza toppings, homemade pizza toppings, Pizza Aioli, pizza flavor ideas, pizza toppings, roasted garlic aioli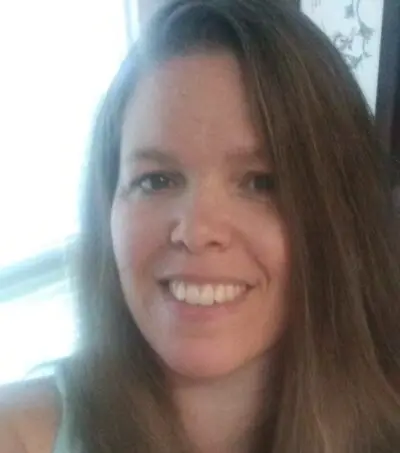 Angela is an at home chef that developed a passion for all things cooking and baking at a young age in her Grandma's kitchen. After many years in the food service industry, she now enjoys sharing all of her family favorite recipes and creating tasty dinner and amazing dessert recipes here at Bake It With Love!