Knowing how to reheat pizza best makes all the difference in just how good the leftover pizza is the next day! Check out all of my methods for oven reheating, stovetop reheating using a skillet, toaster oven, air fryer, and the inside tip for how to make microwave reheating actually work!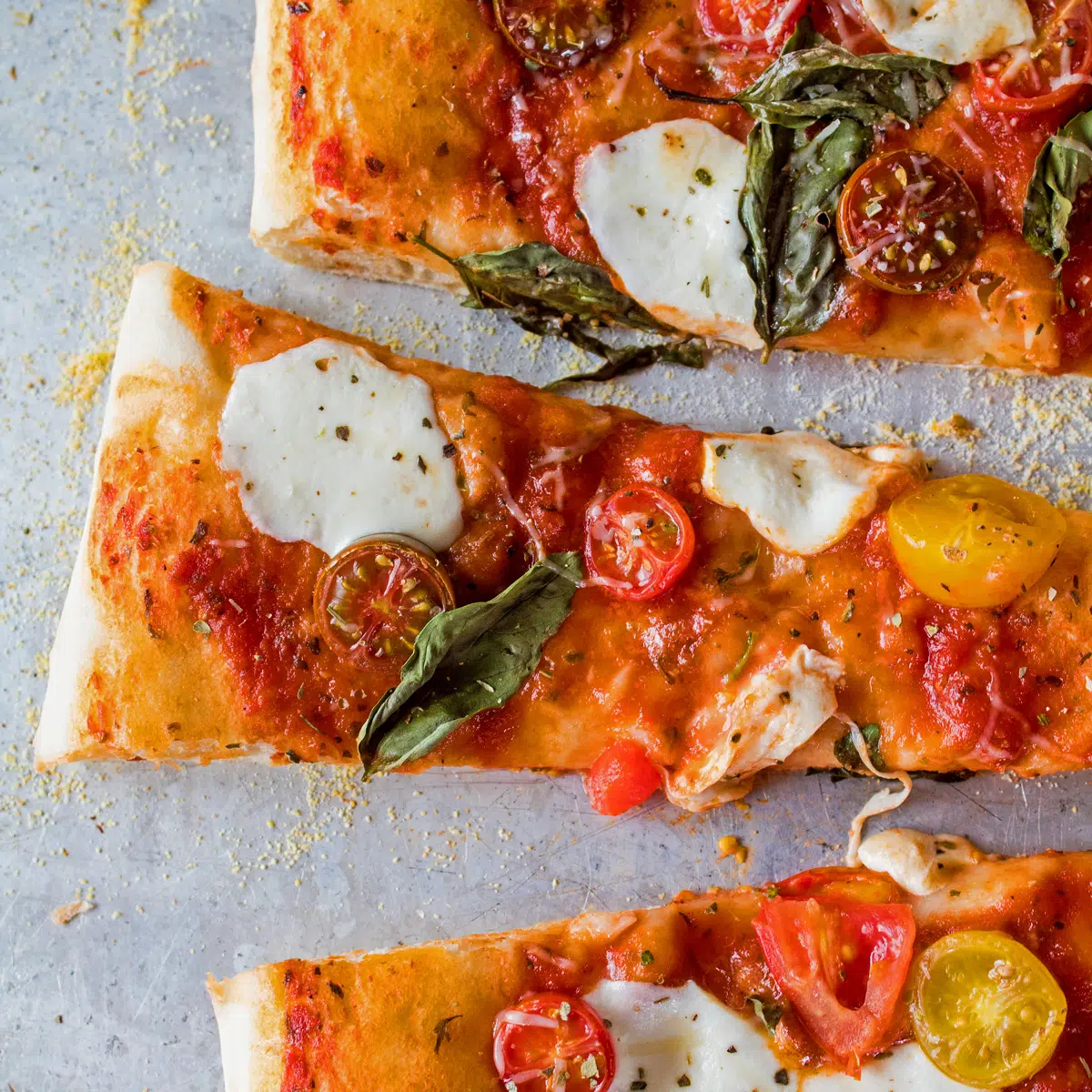 You've been doing it all wrong! Although cold pizza can be a great treat the day after a pizza-filled night in, some things are just better when they're hot.
There are specific methods you need to best revive your day-old bread. A pizza crust is just like any other bread in that it loses its moisture once the starches begin going through retrogradation.
On the outside, you feel the stiffness of the pizza crust, but on the inside, the individual starch molecules are crystallizing and absorbing all of the moisture located in the bread - your pizza crust!
If you properly wrap your pizza with plastic wrap or aluminum foil overnight, you can break down this process by reheating the pizza in your oven with a minimum temperature of at least 140°F (60°C) the next day.
This is the optimum temperature for the crystallization process to be reversed, so the initially absorbed moisture is released from the crystals and the pizza crust is able to soften up.
Keep reading to discover the easiest and best methods for reheating pizza to its original texture and taste!
The Best Way To Reheat Pizza In The Oven
There is truly nothing more satisfying than the feeling you get when taking the first bite of a freshly-baked pizza. Oh so delicious! The more unfortunate part occurs when you try to reheat it in the microwave and the crust becomes extremely soggy and rubbery.
There are much better ways to heat up your leftover pizza pie! I'm sharing my three favorite oven methods for reheating pizza here!
Reheating Pizza in the Oven: Method 1
This first oven reheating method is my personal favorite for the best all-around pizza on day two. If you love a super-crispy crust, check out my husband's fave method (oven method #3) below!
Step 1: Place your leftover pizza on an aluminum foil-covered baking sheet on the bottom rack of the oven, then set the temperature to 275°F (135°C). The bottom rack will ensure the crust of the pizza is getting crispy while the top isn't getting over-cooked.
Step 2: Allow your pizza to slow cook (through the preheating time) in the oven for about 20-25 minutes. This slow cooking process will give the moisture enough time to release from the crystals and cause your pizza crust to soften.
Step 3: Remove from the oven when fully reheated and serve.
Reheating Pizza in the Oven: Method 2
This oven method works exceptionally well as a reheating option and turns out delightfully cheesy pizza. Your leftovers aren't in the oven very long either, just long enough to whip up a simple side salad for dinner!
Step 1: Preheat your oven to 350°F (175°C). This method works best if you make sure that your oven is fully preheated to the correct temperature before you start reheating your pizza.
Step 2: Line a baking sheet with aluminum foil then place it into your preheated oven. You want to make sure that your aluminum foil-lined baking sheet is steaming hot before you place the pizza in there. This is essential for making sure your pizza doesn't crisp up too much for your liking.
Step 3: Once your baking sheet is fully heated, carefully remove the baking sheet from your oven and transfer your leftover pizza onto it. Return the baking sheet with your pizza to the oven and heat for about 8-10 minutes.
Keep checking the pizza every few minutes to make sure your meal isn't burning. After 8-10 minutes have passed, your cheesy pizza is ready to eat.
Reheating Pizza in the Oven: Method 3
If you're not the biggest fan of the aluminum foil method, try just using a hot tray (baking sheet or pizza stone). Using this method to reheat your pizza requires you to follow similar instructions to those above, but it will yield a crispier crust.
Plus it's a pretty easy way to still get amazingly delicious leftovers!
Step 1: For this hot tray method, you want to raise the temperature in your oven to 450°F (232°C). Place the hot tray in the oven by itself while the oven is preheating.
Step 2: Once your oven is fully preheated, you can place your pizza onto the hot tray in the center of the oven on the middle rack. Be very careful when you're taking the hot tray in and out of the oven so you don't accidentally burn yourself.
Step 3: Let your pizza bake in the oven for only about 5 minutes. Make sure you keep checking the pizza during the baking process every minute or so because your oven temperature is quite high.
Your pizza is going to cook really fast at this temperature!
Step 4: Now that your pizza is fully cooked, set it out for a few minutes and allow it to cool slightly before digging in.
Best Way To Reheat Pizza On The Stove Top
If you're not really a fan of the crispy results produced by the oven methods above, try using a pan on the stove top to reheat your pizza. There are a lot of pizza enthusiasts who say this skillet reheating method truly works!
Step 1: Grab your favorite non-stick frying pan or skillet to get started. If you don't have a non-stick pan, you can lightly coat your pan with non-stick cooking spray.
Step 2: Turn the stove to medium-low heat. This makes it much less likely for the pizza to start burning while you're trying to heat it up. Allow your pizza to heat for a couple of minutes or until the bottom of the slice is a nice, golden brown.
Step 3: Place your fingers under the faucet and allow a slight amount of water to run over them. Then, sprinkle a few drops into the pan and watch it instantly sizzle.
This sizzling will also cause some water to pop from the pan so make sure you aren't standing too close to the stove.
Step 4: Use the cover for your pan or any lid you can find to cover the pan. This lets the water add some much-needed moisture to the cheese while the pizza is warming up.
After you've done this, you can cook your pizza on low for just another minute and then it will be ready to enjoy.
How to Reheat Pizza in a Toaster Oven
Put your toaster oven to work with those leftover slices! It's a quick and easy way to get gooey cheese and a crisp crust!
Step 1: Preheat to 350°F (175°C) and place the slices in your toaster oven.
Step 2: Use the medium heat cycle for 3-4 minutes, or until the cheesy is nice and melted. Remove from the toaster oven and enjoy!
How to Use Your Air Fryer to Reheat Pizza
This could quite possibly be one of the easiest ever methods, and you may find it to be your favorite if you have an air fryer on hand!
Step 1: Preheat your air fryer to 325°F (163°C) for thin crust pizza or 350°F (175°C) for normal and thick crust pizzas. Place a slice or two into the air fryer basket or onto the trays making sure that there is some spacing between the slices.
Step 2: Heat for 3-4 minutes, or until the cheese is melted and the slice is warmed to your satisfaction. *If you don't preheat the air fryer, the timing of the first batch can take up to 6 minutes.
Reheating Pizza In A Microwave
Ok, last reheating method...and I'm still dubious about it! According to Domino's Australia, you CAN reheat pizza in the microwave and still get good results.
The trick to it? Place a glass of water in the microwave when you reheat a single pizza slice (or two). Supposedly 30 seconds on high power, and that's it!
I suggest playing with the power setting and timing, as I think a single slice usually needs at least a minute.
Obviously, there are a lot of options to reheat pizza. Your best bet is to utilize your oven, but you certainly have a couple other options if that doesn't create the type of crust you're after!
Reheating Tip: If your pizza is drying out too much during the reheating process, try a spritz of water, or keep it covered with aluminum foil during the reheating process.
Check out the rest of Bake It With Love for baking and cooking tips and tricks that will help you feel more confident in the kitchen!
🍕 Great Make At Home Pizza Recipes
---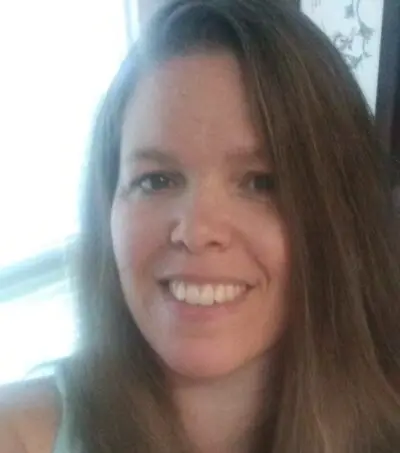 Angela is an at home chef that developed a passion for all things cooking and baking at a young age in her Grandma's kitchen. After many years in the food service industry, she now enjoys sharing all of her family favorite recipes and creating tasty dinner and amazing dessert recipes here at Bake It With Love!