This easy pizza sauce recipe is an incredibly rich, tasty, and flavorful combination of herbs in a thick tomato sauce that's perfect for pizza night! You'll never look back once you've made homemade pizza sauce like this that pairs with my chewy pizza dough for the best pizzas ever!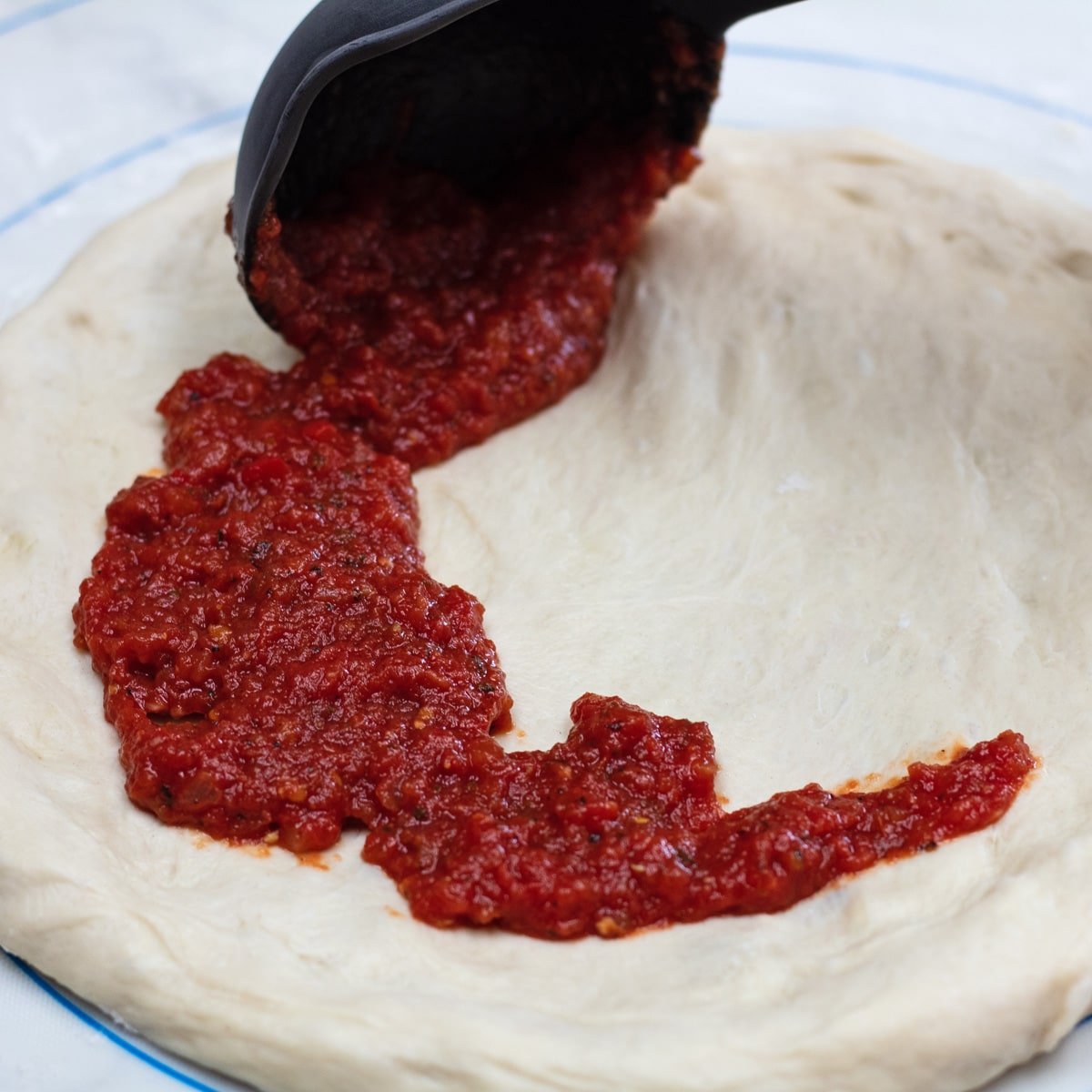 The only pizza sauce you'll ever need!
Is pizza the greatest food ever invented? It's possible. I certainly wouldn't argue with you! But when you get down to it, there are three elements of pizza that all have to be at their best in order to create the perfect pizza pie: the crust, the sauce, and the toppings.
This recipe will help you make the tastiest sauce around with all of the "normal" ingredients and a few new ones. Basil, garlic, and oregano are staples of Italian cooking, but throwing in some fennel seeds and fire-roasted tomatoes give this sauce a tasty kick!
Jump to:
As with most of the world-renowned food that Italy is known for, the magic is in the ingredients and the long cooking times. Slow cooking this sauce allows the flavors to expand and blend in a way that makes your house smell heavenly!
❤️ Why You'll Love This Recipe!
It has a delicious, complex flavor! The fennel adds an interesting taste I love when combined with these classic ingredients.
It's worth the wait! It may take a while to cook, but what's better than homemade pizza for lunch or dinner?!
It's great to keep in the freezer! My pizza sauce stores exceptionally well in the freezer. This makes it a snap to make a quick, homemade pizza any day of the week!
🥘 Ingredients
You'll probably have most of these ingredients on hand, as they are in many dishes. At my house, I use one or two of these most nights of the week and keep a basil plant or two (weather permitting) on my back porch.
Olive Oil - You're making an Italian dish! Use a good quality extra virgin olive oil (EVOO) for best flavor!
White Onion - Dice this very finely, or grate it so that the onion is well distributed throughout your pizza sauce.
Garlic - Jarred minced garlic works, too, but take it from the Italians; fresh is better.
Fire-Roasted Tomatoes - A can of these delicious fire-roasted tomatoes adds depth of flavor, but regular tomatoes work too.
Tomato Paste- The one thing that can never come in a small enough can.
Basil - If you have light in your kitchen, consider keeping a pot in your window for easy access to fresh basil. If not, check the produce aisle at your grocery store. There's usually fresh herbs, freeze-dried herbs, or herbs in a tube there. You can also find frozen basil in little pods in the freezer section.
Dried Oregano - Or fresh if you have some growing on your patio porch! Otherwise dried oregano is a staple herb that most of us have in the spice cabinet. *Use Italian seasoning if you can't find basil and oregano.
Fennel Seeds - With a licorice-like flavor, it adds richness and depth to the sauce.
Salt & Pepper - Anything you have on your table is perfect for this.
You'll also need a food processor or blender, a way to break this pizza sauce recipe down further once simmered.
💭 Angela's Tips & Recipe Notes
Use fresh basil for the best flavor.
As a general rule, if you are replacing fresh herbs with dried, you will need less than you would of the fresh. You can replace any fresh herb with the following: use 1 teaspoon dried herbs to replace each 1 tablespoon of fresh herbs.
Make sauce in large batches and store it in the freezer for later.
I know an hour is a long time to invest in a sauce for one dinner. Make a bunch! You can easily thaw it and have fresh pizza in under 30 minutes during the week when you get busy.
Remember, when making pizza, too much sauce will create a soggy pizza.
Be conservative with it, and you can always dip your crust if you find that you've underestimated it. In Italy, Roma tomatoes are used on margarita pizza, because they have less juice for the same reason.
🔪 Step-By-Step Instructions
It takes a bit of time, but it's well worth it! If this is your first time making homemade pizza, prepare for a life-changing experience!
Heat the oil. Add ½ tablespoon of extra virgin olive oil to a frying pan. Turn the heat to medium.
Saute. Add ¼ a small, white onion and 1 clove of minced garlic to the pan when the oil is hot. Saute until the onions are translucent. It should only take a couple of minutes.
Add the remaining ingredients. Pour in 14.5 ounces of canned fire-roasted tomatoes, 2 ounces of tomato paste, 1 tablespoon of chopped fresh basil (or ¼ tablespoon of dried), 1 teaspoon of dried oregano, 1 teaspoon of fennel seeds, and 1 teaspoon each of both salt and pepper. Combine thoroughly.
Boil then simmer. Bring the mixture to a low boil before reducing the heat. Simmer for about an hour, stirring occasionally.
Cool. If desired, cool slightly and transfer to a food processor or blender to puree until the sauce reaches your desired consistency. If you're using it as a dipping sauce, serve it warm.
Spread. Use a large spoon or ladle to spread the sauce over your pizza dough, and spread it around. If you're not using it immediately, cool completely then store it in the fridge or freezer (see storage below).
This makes enough for two 16-inch pizzas plus a bit extra, although pizza isn't the only thing you can use this pizza sauce recipe for! Try it as a dipping sauce for bread sticks or toasted ravioli too! Enjoy!
🥡 Storing & Reheating
Refrigerating
The pizza sauce will last in the refrigerator for up to three days. Make sure the sauce is fully cooled before transferring to an airtight container.
Freezing
If you're planning a pizza party, make the sauce far in advance and stick it in the freezer to save yourself some time.
It can be frozen in an airtight container, leaving space for expansion, for up to three months. Make sure you leave plenty of room--about half an inch.
The water content in the sauce gets bigger when it freezes, and it will break the container if it has nowhere to go. Mason jars work really well for this.
Sometimes, we only need a small amount of sauce at a time. If you're someone who enjoys making personal pizzas, this tip is for you!
Freeze small portions in ice cube trays covered in plastic wrap. When it's hard, or about 2-3 hours, pop out the cubes and transfer them to a plastic freezer bag or airtight container for long-term freezing.
You can also store smaller portions in freezer storage bags. Transfer portions into the bags then lay them flat on a baking sheet to flash freeze (this way they store in flat, stack-able portions).
Reheating
If you're pulling the sauce out the fridge for a pizza, there's no need to reheat, as it will go in the oven. If you're using it as a dipping sauce, pour what you need into a saucepan and cook over medium-low heat until it reaches your desired temperature.
You can also drop it in the microwave in a microwave-safe bowl or container for 30 seconds at a time. Cover your bowl with a paper towel to avoid splatter. Stir and check the temperature before each interval.
As sauce reheats, it often gets thicker. To counter this, add some water or broth if needed.
There are three ways to reheat from a frozen state. If you plan in advance, just set your frozen container of this pizza sauce recipe in the fridge overnight.
If you don't, defrost it by putting the container of sauce into a big bowl of cool to warm water for 30-45 minutes, or more, depending on how wide the sauce is at its thickest.
To thaw mini cubes, put them in the microwave for 20-30 seconds. After defrosting, follow the instructions above. Don't refreeze any unused pizza sauce.
❓ FAQ
How do I know when the oil is hot and ready to saute?
This is an age-old question that every cook has their own secret for telling, and everyone else wants to know. For sauteing, you want to hit around 320℉, just below the smoke point for most cooking oils.
Personally, I wait until I see that the oil has gone from being smooth and glassy to shimmering with striations (lines) or little rivulets.
Can I use this sauce on pasta?
Pizza sauce and marinara are similar with a couple of key differences. Pizza sauce is thicker with a lower water content to prevent sogginess on the crust. It also contains more spices designed to go well with the fats and oils in cheese.
Pasta sauce is often simply seasoned so as to allow the cook to add complementary spices based on whatever kind of pasta they are cooking. Plus, they have chunks as opposed to a smooth, pureed pizza sauce.
In short, if you're in a tight spot, using pizza sauce on pasta would work, but it would be worth adding some tomato pieces and a bit of water or broth for texture.
📋 Recipe
Print Recipe
Leave A Comment
Love This Recipe?
Click On A Star To Rate It!
Pizza Sauce Recipe
This easy pizza sauce recipe is an incredibly rich, tasty, and flavorful combination of herbs in a thick tomato sauce that's perfect for pizza night! You'll never look back once you've made homemade pizza sauce like this that pairs with my chewy pizza dough for the best pizzas ever!
Total Time
1
hour
10
minutes
Pin Recipe
Share on Facebook
Ingredients
½

tablespoon

olive oil

(extra virgin)

¼

small

white onion

(finely diced or grated)

1

cloves

garlic

(very finely minced)

14.5

oz

fire roasted tomatoes

(canned or regular canned diced tomatoes)

2

oz

tomato paste

1

tablespoon

fresh basil

(chopped, or dried 1 teaspoon)

1

teaspoon

dried oregano

(or 1 tablespoon fresh oregano)

1

teaspoon

fennel seeds

(can be ran through a spice blender or food processor before cooking)

1

teaspoon

each, salt & pepper

(to taste)
Instructions
In a large frying pan or stock pot, add olive oil and bring pan to medium heat.

When oil is hot, add in the onions and garlic. Saute for a couple of minutes till the onions are soft and translucent.

¼ small white onion,

1 cloves garlic

Add the fire roasted tomatoes, tomato paste, and all the seasonings. Mix well.

14.5 oz fire roasted tomatoes,

2 oz tomato paste,

1 tablespoon fresh basil,

1 teaspoon dried oregano,

1 teaspoon fennel seeds,

1 teaspoon each, salt & pepper

Bring to a low boil, reduce heat and simmer for about an hour, stirring occasionally.

Allow to cool slightly before transferring to a blender or food processor. Puree until the sauce reaches your desired consistency.

Cool completely before storing, or serve warm if using as a dipping sauce.

Spread the sauce over pizza dough or you can store it for later. Enjoy!
Equipment You May Need
Notes
Fresh basil is best for flavor.
Should be plenty of sauce with a bit extra for two 16" family size pizzas!
Make extra and freeze for later to save time.

Store in the refrigerator in an airtight container up to 3 days or freeze up to 3 months.
Nutrition
Calories:
227
kcal
(11%)
|
Carbohydrates:
35
g
(12%)
|
Protein:
7
g
(14%)
|
Fat:
8
g
(12%)
|
Saturated Fat:
1
g
(6%)
|
Polyunsaturated Fat:
1
g
|
Monounsaturated Fat:
5
g
|
Sodium:
1085
mg
(47%)
|
Potassium:
678
mg
(19%)
|
Fiber:
8
g
(33%)
|
Sugar:
17
g
(19%)
|
Vitamin A:
2652
IU
(53%)
|
Vitamin C:
23
mg
(28%)
|
Calcium:
213
mg
(21%)
|
Iron:
5
mg
(28%)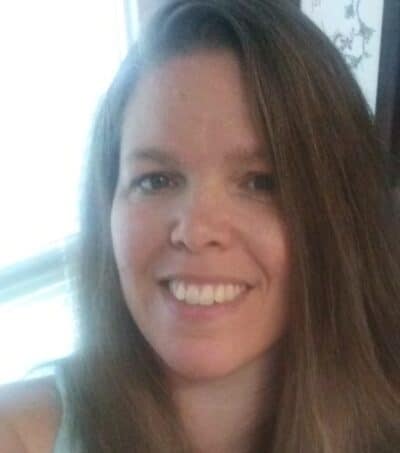 Angela is an at home chef that developed a passion for all things cooking and baking at a young age in her Grandma's kitchen. After many years in the food service industry, she now enjoys sharing all of her family favorite recipes and creating tasty dinner and amazing dessert recipes here at Bake It With Love!