Best canned chicken recipes for when you're looking to save time in the kitchen yet want a tasty main course to serve for dinner! Packed with flavor and ready to use, this versatile pantry staple opens up a lot of possibilities for creating delectable dishes with minimal effort. From taquitos and tacos to casseroles and pot pies, you are sure to find a dish on this list that everyone will love!
Best Canned Chicken Recipes
A well-stocked pantry is a home cook's best friend, and canned chicken deserves a prime spot on your shelves! Since it's a versatile ingredient that's already cooked, it can be added to any dish that calls for shredded, pulled, or chopped chicken.
So say goodbye to lengthy cooking times and hello to the large potential of easy, quick, and delicious chicken dishes that canned chicken opens up! Whether you're in the mood for a delicious casserole or a comforting soup, this collection is full of the best canned chicken recipe ideas!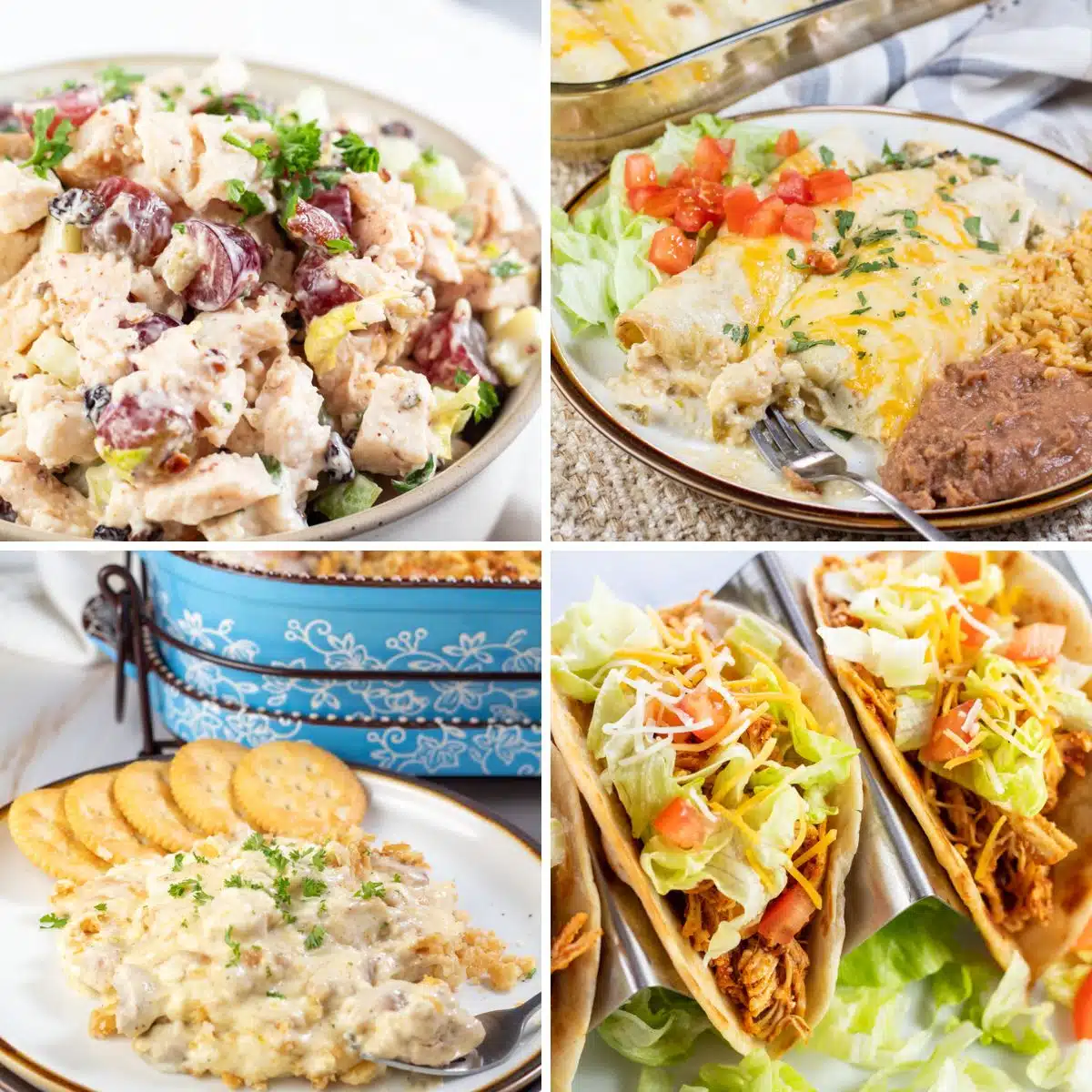 Jump to:
1. Chicken Taquitos
These chicken taquitos are incredibly easy to make and loaded with savory Mexican flavors. Top them off with some guacamole, salsa roja, or pico de Gallo, and you'll have a tasty meal that everyone will enjoy!
2. Chicken Salad With Grapes
If you're looking for a quick and delicious chicken salad that you can prepare in minutes, then this is the one for you! All you have to do is mix a handful of ingredients in one bowl, then serve it as is, or use it to make a tasty sandwich!
3. Chicken Enchiladas With Green Sauce
Another great Mexican-inspired dish to make with canned chicken is my chicken enchiladas with green sauce! They're full of tangy flavor and a great alternative for when you want to switch things up from traditional red sauce!
4. Chicken Bacon Risotto
This chicken bacon risotto dish adds a fun twist of Southern comfort food to your typical risotto. It's full of indulgent flavor from cream cheese, sharp cheddar cheese, and bacon, so no one will tell if you use canned chicken!
5. Ritz Chicken Casserole
If you're like me, then you love a delicious casserole that you can whip up in a pinch for busy weeknights. This Ritz chicken casserole is made with 7 simple ingredients that are all easy to find at the grocery store!
6. Buffalo Chicken Dip
This homemade buffalo chicken dip is the ultimate easy appetizer to bring to your next potluck or family gathering! All you have to do is drain and warm your canned chicken, heat the other ingredients, then stir to combine.
7. Chicken Broccoli Rice Casserole
This chicken broccoli rice casserole is an all-in-one meal that's ready on the table in just an hour! Each bite is loaded with cheesy, creamy goodness that is sure to satisfy anyone who tries it.
8. Shredded Chicken Tacos
If you have canned chicken on hand, you can easily prepare some delicious chicken tacos for family taco night! Simply toss it with my chicken taco seasoning, salsa, onions, and garlic, then add your favorite taco toppings on top!
>>>>See all of my recipes HERE<<<<
9. Chicken Stuffing Casserole
Chicken stuffing casserole is a flavorful combination of shredded chicken, veggies, stuffing, and creamy sauce! It's super filling and perfect for serving on cold days when you want a warm and comforting meal.
10. Chicken Pot Pie
Chicken pot pie is another comforting chicken dinner to prepare with canned chicken! This recipe features an incredibly creamy chicken pot pie filling that's covered with a perfectly golden, flaky crust, all made from scratch!
11. Bisquick Chicken And Dumplings
If you've never made chicken and dumplings before, you're in for a real treat with this super simple recipe! It only requires 10 minutes of prep time and is packed with extra flavor from fresh herbs and sauteed vegetables.
12. Caldo De Pollo Mexicano
This Mexican chicken soup recipe is a true comfort food with chopped chicken, tender vegetables, and chicken bouillon. Don't worry. It's not very spicy (especially if you skip the jalapeno), so even your kids would enjoy this soup!
13. Italian Chicken Pastina Soup
Whenever you're feeling under the weather, this Italian chicken pastina soup is a wonderful way to rehydrate, as it's a broth-based soup with many nutrients! It's traditionally served during the cold winter months but can be enjoyed any time of the year.
14. Creamy Chicken Minnesota Wild Rice Soup
This amazingly tasty soup features Minnesota wild rice, cooked chicken, onion, celery, carrots, heavy cream, chicken stock, and fresh herbs! It's the perfect dish to make ahead of time, as the flavors will taste even better the next day.
15. Chicken Tater Tot Casserole
Chicken tater tot casserole is a quick and easy freezer-friendly meal that's practically effortless to make! It's prepared with common ingredients that you mostly like already have and is ready to serve in just 35 minutes!
16. Chicken Divan Bake
Chicken Divan casserole is another delicious main course dish to make on hectic nights! A mixture of chicken, cream of chicken soup, chicken broth, white rice, broccoli, milk, and cheese is topped with Panko breadcrumbs, then baked to golden perfection!
17. Biscuit Chicken Pot Pie
This easy recipe combines the traditional flavors of chicken pot pie with homemade cream biscuits to make an incredibly tasty casserole! The best part is that it's a one-dish meal, so you don't have to spend extra time making sides to go with.
Tips For Cooking With Canned Chicken
After you've chosen which recipe you want to make with canned chicken, it's time to prepare your canned chicken! Here are some easy tips and tricks to help you get started:
Drain and shred: Most canned chicken is packed in water or broth, so it's essential to thoroughly drain the meat. Once drained, use a fork to shred the chicken into small pieces for even distribution in your recipes.
Season to taste: Canned chicken is already cooked and seasoned to some extent but typically has a mild flavor. This allows you to experiment with your favorite seasonings, spices, or herbs and tailor the taste to your preferences!
Pair with complementary ingredients: Since canned chicken is versatile, you can combine it with a variety of ingredients like vegetables, cheese, sauces, and grains. Try using your canned chicken in dishes like salads, casseroles, sandwiches, wraps, and pasta.
Use in time-saving recipes: Canned chicken is an excellent ingredient to use in quick and easy meals for busy days. It can save you valuable time in the kitchen and is perfect for when you need some flavorful and satisfying without the lengthy cooking process.
Check expiration dates: Although canned chicken has a long shelf-life, it's important to double-check the expiration date before use. Avoid using canned chicken that has any sign of rust, dents, or leakage.
Now that you have many delicious recipe ideas using canned chicken, you can keep your pantry stocked for busy days! Make sure to leave a comment down below if you try any of them out!
🐔😋🍗 More Tasty Chicken Recipes
📋 Recipe