We've gathered up some of the very best crockpot chicken recipes for making easy weeknight dinners that the whole family will love! Slow cooking chicken makes it melt-in-your-mouth tender, and with your handy-dandy crockpot, it doesn't get any easier!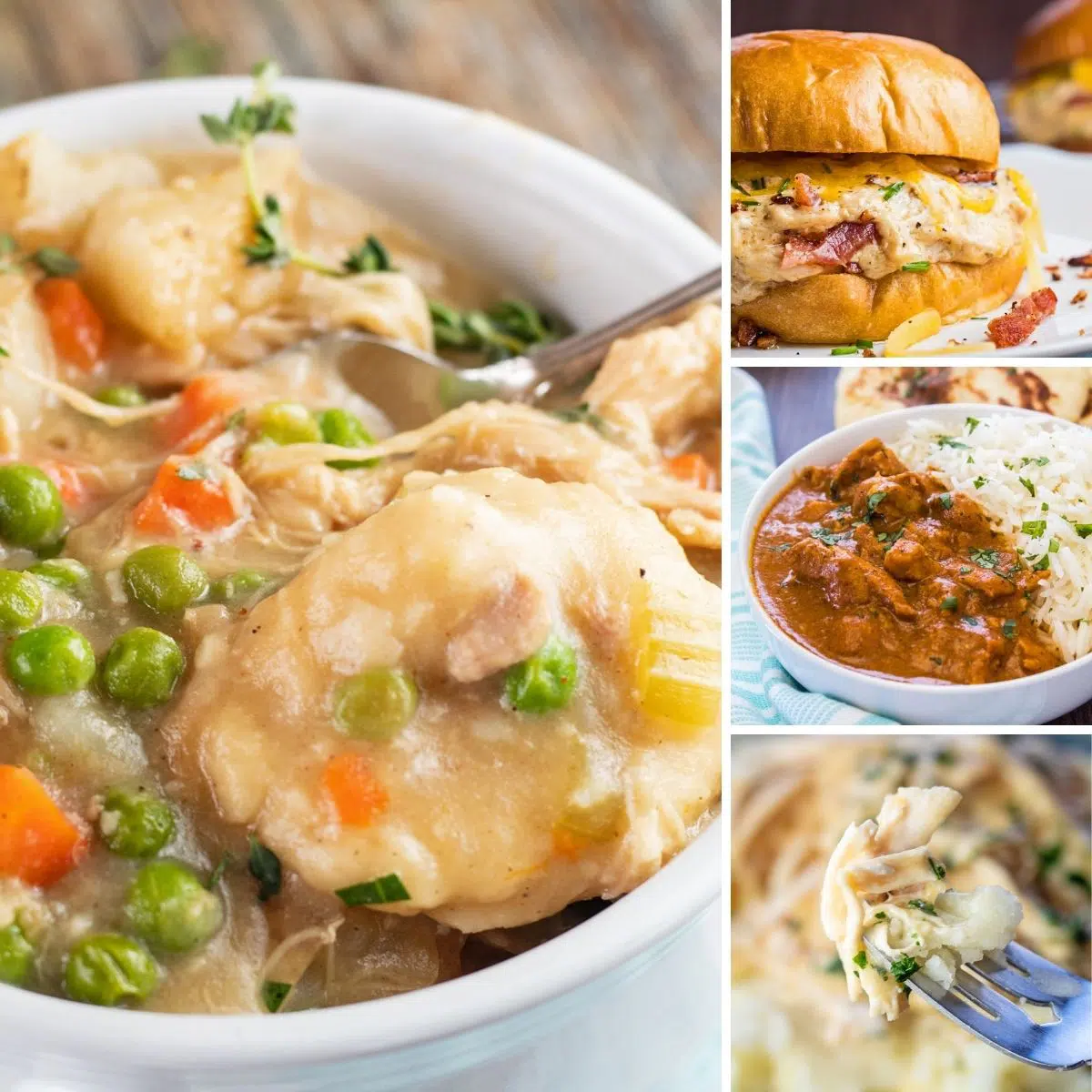 Easy chicken dinners you'll want to make again and again!
It's no surprise that the ease and convenience of crockpot cooking make it the go-to method for many at-home cooks. Prepping everything in the morning, placing it in the crockpot, and going about your day is always more appealing than slaving away in the kitchen.
I could talk about my favorite slow cooker recipes all day (and there are a lot of them), so I thought it might be helpful to narrow them down by protein. Chicken is the most consumed meat in the world, so it seems like the natural place to start!
Jump to:
If you've got chicken breasts that have been hanging out in the freezer for a while, now's the time to bust them out. Below are my all-time favorite chicken recipes to make in the crockpot, and who knows, you might find a few new family favorites!
1. Chicken and Gravy
Tender pulled chicken and gravy is so simple, but it's always been highly requested at our house. It makes the perfect topping for a heaping pile of mashed potatoes.
Bake a few cheese rolls cheese rolls to sop up any extra gravy and you'll be in heaven!
2. Butter Chicken
Butter chicken is an internationally adored Indian dish that you can easily make in your slow cooker. This delicious, fragrant curry dish is warm and comforting, perfect for cozying up on a night in.
3. Chicken Alfredo
Pasta in the crockpot, yes it's a thing, and yes it is as amazing as it sounds! This fuss-free creamy crockpot chicken alfredo recipe is sure to make it into your weekly rotation.
Throw in some of your favorite vegetables like broccoli or mushrooms to switch it up from time to time!
4. Chicken and Dumplings
A classic Southern comfort food, chicken and dumplings are a need-to-know recipe. Tender chicken, veggies, and traditional dumplings are a match made in heaven.
Making dumplings from scratch may sound daunting, but with this easy recipe you'll be whipping them up like a pro.
5. Chicken Drumsticks
These chicken drumsticks are slathered in your favorite BBQ sauce and require almost no prep! There's only 4 ingredients, then you just set 'em and forget 'em!
This gives you all the time you need to whip up some of your favorite BBQ sides and make a meal of it!
6. Crack Chicken
Crack chicken is a versatile mixture of creamy cheeses, tender chicken, bacon, and ranch. It's great as a dip, it's great as a sandwich, it's great no matter how you eat it!
Make it as an appetizer for your next party or serve it with hamburger buns at a potluck. Everyone will be asking you for this recipe!
7. Buffalo Chicken Dip
Buffalo chicken dip deserves to make an appearance outside of Super Bowl Sunday, in our opinion. There's something so satisfying about the bold flavor of Buffalo sauce being balanced out with some smooth, cream cheese on top of a crunchy chip.
Serve it right out of your crockpot to make clean-up a breeze!
8. Salsa Verde Chicken
This versatile pulled chicken can be served up in tacos or over your favorite seasoned rice. It's not difficult to make your own salsa verde at home, but you can make the whole recipe that much easier by using your favorite jar of green salsa from the store!
9. Chicken Meatballs
Whether you're opting for chicken meatballs in an effort to be healthier, or you've got some ground chicken on hand that needs using, there's no better way than making them in the crockpot.
For a hearty dinner, serve them over pasta with marinara sauce, over rice, or offer them up as-is if you need an easy appetizer!
10. Cheesy Chicken Penne Pasta
Penne pasta with tender chunks of chicken and lots (and lots) of melty cheddar cheese makes an excellent example of a one-pot Italian dinner that your family will be more than thankful for.
Mushrooms and onions are a welcome addition to this recipe, but if you have picky eaters they can easily be left out and the dish will be delicious all the same!
11. Chicken 'Enchilada' Casserole
All the goodness you love in an enchilada, but in a casserole form in the crockpot! I love serving this up with some sour cream, green onions, and hot sauce, but it will be delicious with any of your favorite Tex-Mex toppings!
12. Coconut Curry Chicken
Coconut curry chicken may take a tad more prep work, but I promise the end result is more than worth it. It's packed full of flavor, and the chicken soaks it all up as it cooks!
Ladle it onto a steamy bowl of basmati rice, and you've got yourself a satisfying meal!
13. Tuscan Chicken Pasta
Spinach, sun-dried tomatoes, and chicken, oh my! This classic Tuscan recipe can be achieved in your crockpot in just 3 easy steps!
Sliced or whole chicken breasts accompanied by wilted spinach, sun-dried tomatoes, garlic, and campanelle pasta makes for another wonderful one-pot dinner.
14. Larb Lettuce Wraps
Larb is a chicken dish prepared by slowly cooking ground chicken without getting any color or a sear on it, so naturally, a crockpot is an excellent way to achieve the proper texture.
We recommend serving this seasoned chicken in lettuce wraps with fresh basil and hot peppers if you dare.
15. French Onion Chicken
Perfectly cooked boneless chicken breasts made right in your crockpot. Slather them in some condensed French onion soup and you've got an indulgent, satisfying dinner that will pair great with any of your favorite sides.
Top the chicken breasts with Swiss cheese and pop them under the broiler until melted and bubbling. Trust me when I say you'll want to make this recipe again and again!
16. Turmeric Chicken Noodle Soup
Two things we hear are good for us or will make us feel are feeling under the weather have now come together for one delicious crockpot recipe!
Some of us may be familiar with adding turmeric to a variety of things, but adding it to a savory soup in your crockpot is now just as effortless as it is to toss it in a smoothie or tonic in the morning.
17. Spinach & Artichoke Chicken
Yeah, you heard it right… your favorite warm savory dip plus added protein! No need to limit this delicious combination to merely an appetizer, you now can enjoy it as a low-carb meal with no shame!
Serve it with chips or on top of rice, either way, you'll savor every bite!
18. Sriracha Honey Wings
Everyone is entitled to their own chicken wing opinion, whether that be legs or thighs, boneless or bone-in, or whatever your sauce preferences. When it comes to wings, we think this sriracha honey combination steals the show, especially when slow-cooked to perfection.
Plus with this method there is no messy tossing of sauce, they cook in their flavoring agent, making serving a breeze!
Weeknight meals just got better! Tell us what you're cooking up in the comments down below!
📋 Recipe