If you are wondering what to serve with beef stroganoff to make it a well-rounded and delicious dinner, you've come to the right place! I've compiled a list of my favorite dishes that pair well with beef stroganoff and a few surprise sides that will compliment your stroganoff perfectly!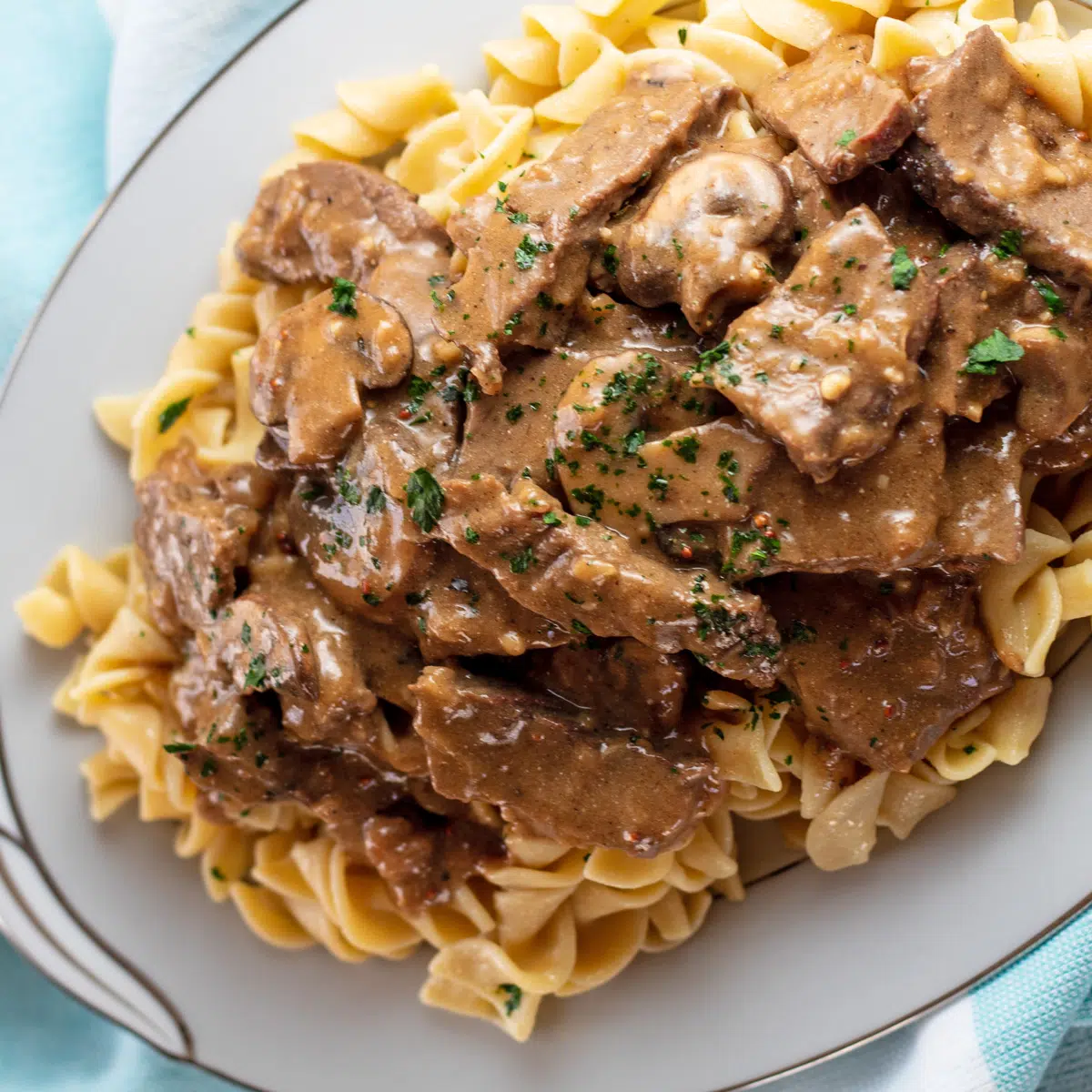 A list of all my favorite dishes to serve alongside your delicious beef stroganoff!
Beef stroganoff is a traditional Russian dish that has become one of the most requested dinners at my house. Tender chunks of beef and mushrooms are sauteed then coated in a smooth cream sauce becoming the ultimate comfort food.
Beef stroganoff's popularity has spread across the globe and can be found served with different dishes depending on the region. Each combination is just as good as the next because beef stroganoff pairs well with so many different foods!
You can ladle it over your favorite side, soak it up with bread, or eat it on its own. Almost any way you serve your stroganoff, you can't go wrong!
Jump to:
1. Buttered Egg Noodles
You've probably seen beef stroganoff served atop a bed of buttered egg noodles because it is the most common dish paired with stroganoff in the states. The tender chunks of beef, mushrooms, and smooth sour cream sauce go perfectly with pasta!
Egg noodles can be wide and flat or twisted, either way, they are the perfect vehicle to carry the delicious stroganoff right to your mouth! (And who doesn't love pasta!?)
The buttery texture and size of egg noodles make it preferable to other pasta options, not that it wouldn't still be delicious regardless of your noodle choice.
2. Rice
Not only is white rice quick and simple to make, but it is the perfect base for your creamy beef stroganoff. The rice soaks up all that delicious sauce and makes every bite the perfect bite! My favorite and easiest method is making basmati rice or jasmine rice in the instant pot!
If you end up refrigerating leftovers, the rice is even better the next day after it has had time to really absorb all the tasty sauce!
3. Mashed Potatoes
I haven't met a single person that does not love mashed potatoes. Mashed potatoes are a tasty comfort food all on their own, so covering them in beef stroganoff will really make your dinner out-of-this-world delicious!
We know mashed potatoes go well with sauce (I mean gravy is a sauce, right?) and we know it pairs well with beef because it's served at every steakhouse that's ever existed. Stroganoff is just a combination of all our favorite things to eat with mashed potatoes!
4. Roasted Potatoes
If you prefer your potatoes on the crispy side, pair your beef stroganoff with some oven-roasted potatoes! Cut into perfect bite-sized pieces, roasted potatoes are crisp on the outside and soft on the inside.
I generally serve my roasted potatoes to the side of the beef stroganoff, but hey- if a little sauce gets on them no one will be complaining. Plus, they are super easy to make and very filling!
5. Roasted Brussel Sprouts
Probably not the first thing you would think to pair with beef stroganoff but trust me, they are truly delicious together. Roasting the brussel sprouts caramelizes them while retaining that satisfying crunch that perfectly contrasts the tender beef in the stroganoff.
Roasted brussel sprouts are a great option if you are carb-conscious or looking to work in some greens! You won't even miss the carbs because brussel sprouts are just as filling. Also, you can use frozen brussels if you want to make dinner time even easier.
6. Garlic Bread
Nothing beats sopping up a delicious sauce with your favorite bread. My favorite bread to serve at home is my air-fryer garlic bread because it's so super easy and can be whipped up in a few minutes!
Because the garlic bread is delightfully crispy, it won't get soggy right away. That means you can spoon some of your beef stroganoff on top and eat it like a half-sandwich! Or wait until the end of your meal and use your bread so soak up every drop of sauce.
7. Baked Sweet Potato
Baked Sweet Potatoes are healthier than normal potatoes, making them the perfect accompaniment for your beef stroganoff if you want something just a tad less heavy. The slight sweetness of a baked sweet potato with melted butter cuts the savory, creamy flavor of the stroganoff.
Baked sweet potatoes are filled with fiber and healthy carbs so you don't have to feel bad eating them even though you'll feel like you're splurging.
Also, hear me out, I like the beef stroganoff sauce on my sweet potato and my family agrees! Give it a try yourself!
8. Side Salad
Serve a tasty side salad alongside your beef stroganoff. Salads are so customizable; you can make yours exactly how you want it. Better yet, offer up the salad toppings and let everyone make their own just how they like it!
A house salad with tomatoes, cucumbers, cheese, and croutons is easy to make in a jiffy and it goes with practically any dressing. Alternatively, you could make a large Caesar salad and let everyone serve themselves!
9. Steamed Cauliflower
A fuss-free way to make cauliflower that is both crisp and tender, microwaving will cut down your cook time while still producing the same great results. Cauliflower is so versatile and mild-flavored it can go with any dish.
Steamed cauliflower only needs a little butter, salt, and pepper to be utterly delicious. Serve it to the side of your stroganoff or ladle your stroganoff on top. Either way, it will add a tasty textural element much healthier than noodles or potatoes!
10. Sauteed Broccolini
Sauteed broccolini with a little citrus and parmesan cheese truly compliments the savory elements of beef stroganoff. This broccolini is so simple to make and is arguably more impressive than its regular counterpart.
A few minutes of cooking and a little light seasoning is all it takes to prepare a side dish worthy of some of the fanciest restaurants. If you see some broccolini at your grocery store, snag a bunch and give it a try!
11. Cabbage
Cabbage is present in many Russian dishes and this crockpot cabbage is my favorite method to use because you can make it early in the day and forget about it until dinner. Just a few ingredients and time is all you need.
In this recipe butter and bacon meld with the cabbage to make a side dish so savory you'll forget it's a vegetable at all. You might want to make extra, because in my house we always come back for seconds.
12. Lemon Asparagus Orzo
Lemon asparagus orzo combines pasta and asparagus with the bright flavor of lemon that perfectly contrasts the savory beef stroganoff. It is a great dish when you are aiming for a well-rounded meal of meat, veg, and carbs.
Because of the contrasting flavors, I would serve this to the side of your stroganoff. The citrusy flavor of the orzo will cleanse your palate before another bite of savory stroganoff.
13. Parmesan Risotto
This is one of the most requested recipes at my house by far. Parmesan Risotto is often considered gourmet as it is served at many top tier restaurants and is famously used by many TV chef personalities (I'm talking to you, Gordon Ramsay).
Surprisingly, parmesan risotto is super easy to make! It consists of a lot of stirring and monitoring, but that's the hardest part. The rich, creamy results make all the mixing and waiting worth it.
14. Roasted Vegetable Medley
A roasted vegetable medley goes with any main dish and beef stroganoff is no exception. Roasted veggies become tender and flavorful while they caramelize in the oven.

I use a combination of brussel sprouts, parsnips, carrots, and beets that provide an appetizing array of colors and textures. Other than that, you only need a little seasoning and some olive oil to make a veggie-filled side dish even the kids will love.
15. Chocolate Pecan Slab Pie Bars
After you're done savoring the hearty flavors of your beef stroganoff, enjoy a little something sweet! These chocolate pecan slab pie bars combine a cream cheese pie crust, pecans, and a chewy chocolate filling.
They take a little time to make but trust me, the end result is worth it. After a stroganoff dinner and a few of these bars, everyone will be leaving the table happy and completely satisfied!
We hope that you enjoy a fabulously tasty beef stroganoff dinner with these ideas for the best sides to serve with your meal! Be sure to share your personal favorite sides in the comments below and check back in to let us know what you liked best! Enjoy!
😋 Fantastic Stroganoff Recipes
---
📋 Recipe