We've gathered all the best eggplant recipes so you can enjoy some savory, tender eggplant in all its delicious forms! Eggplant is so versatile you can serve it as an appetizer, side dish, main course, salad, and more!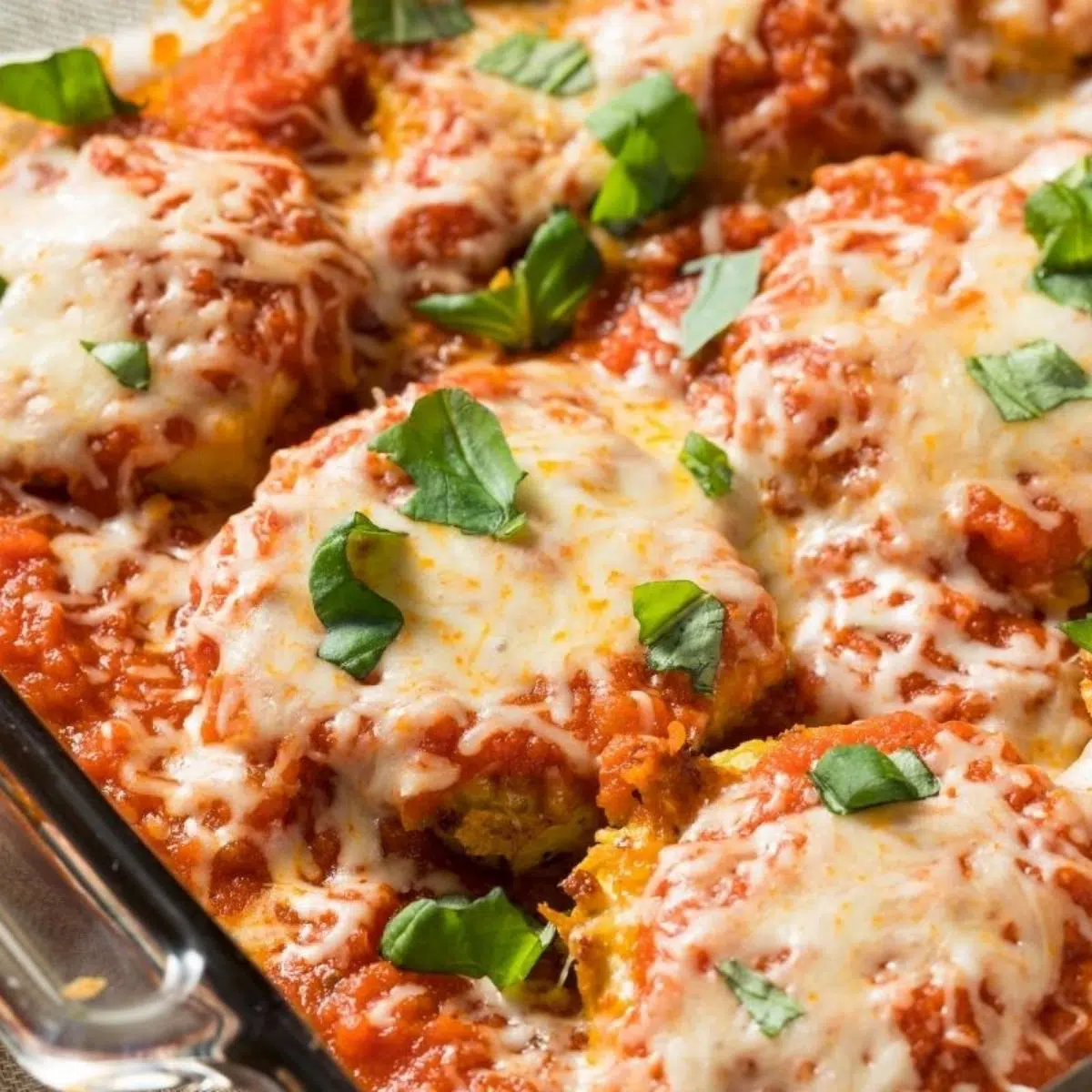 The most delicious ways to serve eggplant to impress even the eggplant skeptics!
You can find eggplants in different sizes and colors, but all are delicious and healthy. It's actually mind-boggling to think of all the ways you can prepare eggplant!
With the correct cooking techniques and an abundance of spices and seasonings, this vegetable can provide an astonishing array of flavors.
Jump to:
Here are some varied tasty recipes that will satisfy your cravings for eggplant, from traditional casseroles to air-fried appetizers!
1. Baked Eggplant Parmesan
This is a really classic and exquisite eggplant dish. It's made with tender eggplant slices coated in handmade breadcrumbs, baked until tender, and then topped with melted cheeses and marinara!
You can serve eggplant Parmesan as an appetizer or an entrée, and your guests will be blown away by your culinary skills. It's incredibly savory and indulgent with its crispy coating and melted cheese.
2. Grilled Eggplant
Eggplant grilled to perfection has a rich, smokey flavor that complements any meal. The edges of the eggplant get a nice char while the center stays deliciously tender.
Grilled eggplant can be enjoyed on its own or served as an attractive side dish with steaks, roasted chicken, and more.
3. Moussaka
Moussaka is a Greek dish made with fried or baked eggplants, potatoes, a rich tomato sauce made with beef or lamb, and a delectably creamy béchamel sauce on top.
Think of it like a hearty eggplant lasagna that epitomizes Greek comfort food. So if you are craving a rich eggplant casserole that packs a lot of flavors, this dish is for you.
4. Baba Ganoush
Few healthy eggplant recipes can compete with the flavor and variety of baba ganoush. You can serve it with pita or potato chips as a delightful snack or appetizer.
It is rich and creamy and quite similar to hummus. However, instead of chickpeas, it is made with eggplant, tahini, olive oil, and salt.
5. Ratatouille
Ratatouille is a traditional French recipe that has gained a loyal following around the world. Tomatoes, eggplant, zucchini, yellow squash, and bell peppers are just some of the fresh ingredients you'll find in this dish.
Plan ahead if you want to prepare ratatouille because it takes some time to make. It tastes even better the next day once the flavors have had time to meld together!
6. Caponata
Caponata, a Sicilian eggplant appetizer, is a delicious combination of sweet and sour. Cooked eggplant and other vegetables are diced and tossed in an agrodolce sauce that includes a touch of olive oil. Those who appreciate robust flavors will adore caponata.
Caponata is great as a snack or as a garnish for seafood or meat. You'll be making this Italian dish over and over again!
7. Eggplant Gratin
Eggplant gratin is a delicious side dish made with eggplant and tomatoes that is perfect for serving a crowd. Almost any protein goes nicely with this baked eggplant casserole, and it's so simple to make!
Eggplant gratin is typically made with a few simple ingredients such as eggplant, tomatoes, lemon, garlic, thyme, and good olive oil. Then, everything is roasted to golden brown perfection in one dish.
8. Eggplant Fries
This recipe is such a fun take on french fries. They are absolutely addicting and always a crowd-pleaser!
If you want to make eggplant fries healthier, try air frying them or baking them in the oven. They have a crispy exterior and a velvety interior, perfect for dipping! Tzatziki is one of the most popular dips to serve with them.
9. Sauteed Eggplant
Sauteed eggplant goes well with just about anything. In only 20 minutes, you can have wonderfully caramelized sautéed eggplant!
We love it since it's an easy last-minute addition to almost any dinner. With just a few ingredients and a frying pan, you can have a great meal that everyone will enjoy!
10. Oven Roasted Eggplant
This eggplant recipe is perfect if you're looking for something quick and filling. The nicest part is that it is completely prepared in the oven!
With a nice, caramelized char, oven-roasted eggplant is so full of flavor. It's delicious, and it's good for you, too!
11. Stuffed Eggplant
The combination of warm and fragrant flavors in this stuffed eggplant dish results in a delicious supper that is both nutritious and filling, not to mention visually appealing. Although this dish is excellent as the main course, you can also serve it as an appetizer or side dish!
This is a definite must-try recipe. It is hard to believe how fast and simple it is to prepare stuffed eggplant!
12. Crispy Baked Eggplant
If you are in need of a simple side dish, oven-baked eggplant slices are both crispy and flavorful! In this recipe, breadcrumbs and parmesan cheese are used to coat sliced eggplant before baking it to perfection.
These delicious slices of eggplant are typically gone before they even have a chance to cool. So, if you're looking for an easy, guilt-free side dish, go no further than this crispy baked eggplant!
13. Cheesy Eggplant Casserole
If you prefer a meatless main course, this rich eggplant casserole is a great option for you. It is made with eggplant, tomato sauce, and gooey mozzarella cheese. It's quite scrumptious!
Cheesy eggplant casserole is incredibly easy to assemble and takes very little time to make. More importantly, it's so indulgent and super satisfying! You won't even miss the meat!
14. Eggplant with Garlic Sauce
This is a simple and delicious eggplant dish with a sweet and tangy garlic sauce! Not to mention, the eggplant is incredibly soft and nearly dissolves in your tongue.
The eggplant is sautéed in garlic sauce after it is grilled to crisp, smokey perfection. Eggplant with garlic sauce can be served as a side dish or as a main course, it's completely up to you!
15. Roasted Eggplant Salad
Roasted eggplant salad is not only delicious but is also vegan, paleo, low-carb, and full of middle eastern flavor! Make yourself a large batch and store it in the fridge for a quick lunch or dinner.
Serve your roasted eggplant salad with some dip with crackers or as bruschetta on toasted bread for a filling and nutritious meal.
We hope that you found this tasty eggplant recipe compilation helpful! Please let us know if you try any of these recipes and how they turn out in the comment section below!
📋 Recipe