There are so many wonderful spinach recipes in the world that I couldn't possibly list them all, so here are the best of the best! Cold or warm, wilted or fresh, sautéed or baked, there are so many amazing ways to enjoy spinach!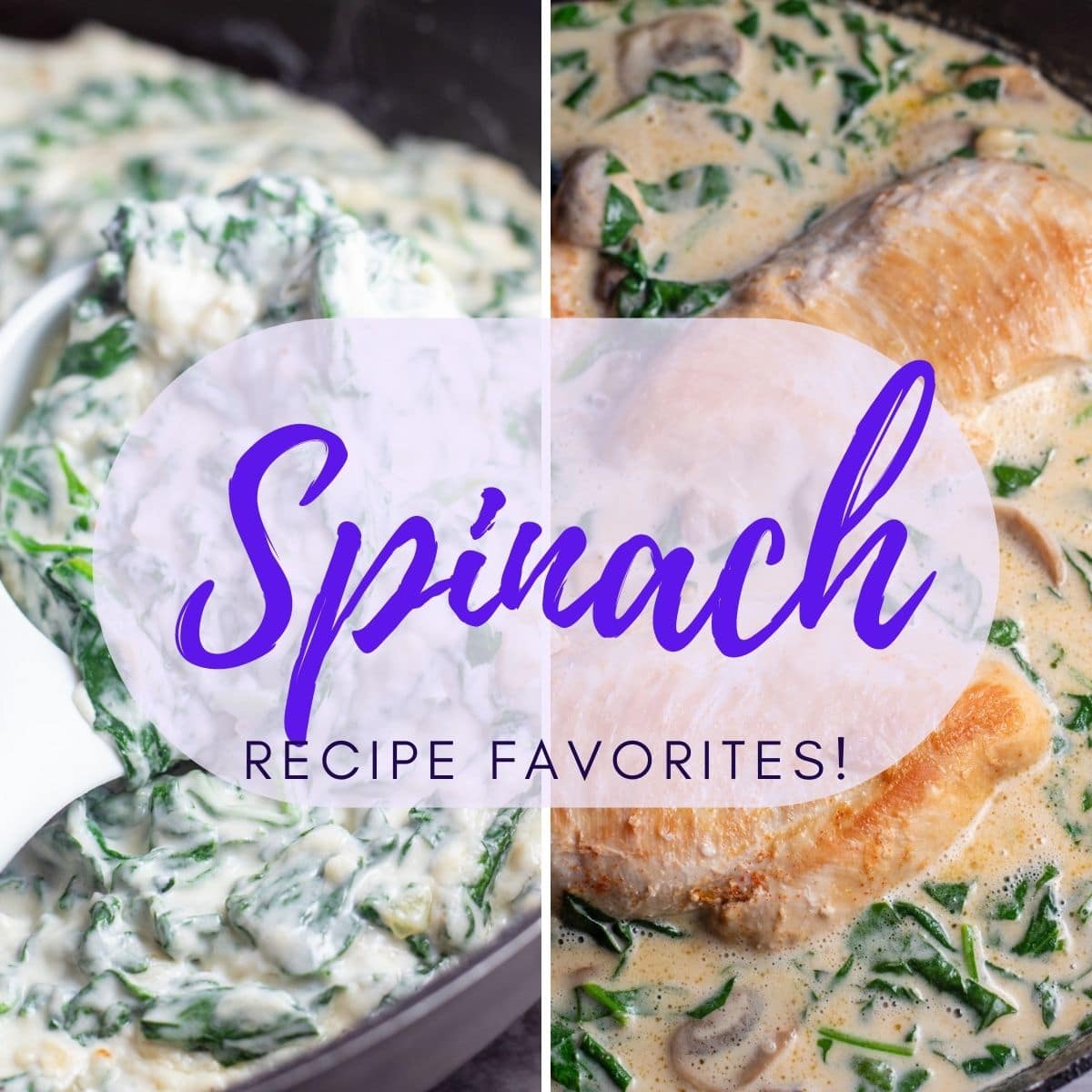 An easy and versatile super food - spinach can do it all!
Spinach is usually one of the super-foods that top the list when it comes to overall nutritional value. This is because it's a good source of iron and fiber, as well as a good source of vitamins and minerals.  
Spinach is not only nutritious, but it's also delicious and versatile. The number of mouthwatering dishes that call for this unassuming vegetable will astound and delight you.
Jump to:
The spinach recipes below are just some of the tastiest dishes you should try.
1. Steakhouse Creamed Spinach
Not only is this recipe so delicious and easy to prepare, but Steakhouse Creamed Spinach is also one of our favorite classic dishes. Delightfully flavorful, perfectly cooked spinach is tossed with an easy-to-prepare creamy sauce.
It's a recipe you'll want to make again and again. So if you're looking for something that's both delicious and visually appealing, this is it.
2. Sautéed Spinach
Delicious, quick, and nutritious, sautéed spinach is a healthy side. Plus, it's very easy to make.
If you've never cooked spinach this way before, now is the time to try it. Simply sautéing the spinach leaves with a bit of oil, salt & pepper to taste until they wilt is all it takes.
3. Spinach Casserole
For a fast and easy dinner, try making a spinach casserole! My favorite recipe incorporates spinach, cream cheese, and other seasonings for a filling family dinner.
When it comes to hearty, flavorful, and decadent casseroles, this one is a keeper.
4. Spinach Salad
There are a plethora of spinach salad recipes to choose from. Harvest salads, pasta salads, and chicken salads are all scrumptious and flavorful with spinach added.
Fresh fruits and vegetables, including apples, strawberries, and other greens, can be combined with spinach and help to bring out its natural sweetness. Tossing spinach salads with homemade vinaigrette is a fresh and healthy option for any meal of the day.
5. Creamy Parmesan Garlic Mushroom Chicken
Flavorful pan-seared chicken combines with this rich and flavorful sauce made with pan juices plus sauteed spinach and mushrooms. It's a hearty meal that everyone will love and it's packed with amazing flavors!
The garlic and Parmesan cheese highlight the wonderful flavor of the sauce that's studded with just the right amount of spinach!
6. Greek Spinach and Rice
If you are looking for a spinach recipe that is both mouthwatering and satisfying, this is the one for you. Spanakorizo, like many Greek dishes, is deceptively simple to prepare.
This is comfort food that is both nourishing and delectable. It features lemon, dill, and chives with rice and spinach
7. Creamy Spinach Pasta
This recipe is quick and easy to make, and it fills us up and makes us happy. Any type of noodles can be used for this 30-minute meal!
There is something about a visually appealing pasta dish that makes it more exciting to eat. Even though it's so simple, it still manages to look and taste like it took a long time to make.
8. Spinach Soup
Although this recipe is quick enough to prepare on a weeknight, it is also impressive enough to serve to company. We love that this soup is incredibly tasty, and the best part is that it is extremely simple to make and does not require a lot of effort.
We appreciate that almost all of the ingredients are usually already in our pantry, which normally saves a grocery trip!
9. Spanakopita
Spanakopita, or Greek spinach pie, is a classic and flavorful recipe. Spinach and feta are combined with fresh herbs to make a simple but delicious Greek dish.
It's encased in a flaky pastry shell and is a hit with everyone! You'll need to make a lot of them because they'll disappear so quickly!
10. Spinach Artichoke Dip
Spinach artichoke dip is a decadent, creamy appetizer that is incredibly simple to prepare. You can enjoy this cheesy, warm dip as an appetizer at your next gathering, game day celebration, or any time you're entertaining friends and family.
Rich but not overpowering, the flavors of artichoke and spinach are delicious and prominent.
11. Spinach Lasagna
Spinach lasagna is a delicious dish to bring to a potluck or to share with friends. It is extremely filling, and it is also vegetarian-friendly. This hearty, comforting, and delicious lasagna is absolutely divine.
Don't be surprised if it's devoured by people who aren't even particularly fond of vegetables.
12. Palak Paneer
Palak paneer is a creamy spinach dish made with delicious chunks of pan-fried cottage cheese. The spinach has a creamy texture, and the cheese has a mild flavor.
It is a recipe that is best enjoyed with a side of steaming basmati rice and some buttery naan bread.
13. Spinach Pesto
You can use spinach pesto in so many different ways, from sandwiches to marinades to dressings to pasta. There are so many tasty dishes you can make with this one recipe, and it's so appetizing on everything!
Spinach pesto is packed with nutrients and bursting with flavor!
14. Hasselback Chicken with Spinach, Bacon & Mozzarella
This amazingly tasty baked chicken breast is literally loaded with delicious flavors from the melted cheese, bacon, and spinach! The bacon grease drips flavor into every bite of your chicken dinner making it entirely yummy.
Just a few minutes of prep time and then pop this family favorite chicken with spinach dinner into the oven!
15. Spinach Frittata
It's so simple to make a spinach frittata. This frittata is ready in less than 30 minutes and is a great option for a quick and easy meal for breakfast.
This is such a wonderful item to serve to a large group for brunch. The best part of this recipe is that you can prepare it the night before, store it in the fridge, and bake it in the morning.
16. Spinach Artichoke Chicken
This creamy spinach artichoke chicken is perfect for a weeknight meal because it's quick, simple, and delicious. Serve it with a fresh salad if you want to keep it low carb. Otherwise, serve it over pasta for an indulgent meal.
It's elegant enough for a candlelit dinner for two. To impress your date, serve this dish along with a few slices of air fryer garlic bread and a bottle of white wine.
17. Spinach Enchiladas
If you enjoy Mexican cuisine and spinach, you'll love these enchiladas. Whether you're making it for yourself or your loved ones, you're sure to enjoy this nutritious dish.
It's easier to put together than traditional enchiladas, and the finished product is always rich and flavorful. After one taste, you'll want to make it again and again.
18. Spinach Quiche
Our favorite way to start the day is with a hearty spinach quiche. There is a wonderful balance of flavors, and it only requires a few simple ingredients to make it.
Guests will enjoy this, and it is ideal for Sunday brunch. You could even serve it as a holiday breakfast recipe because it is so elegant.
We hope you found a spinach recipe that piques your interest. What is your favorite recipe to make with spinach? Let us know what you think in the comments section below!
Do you love a recipe you tried? Please leave a 5-star 🌟rating in the recipe card below and/or a review in the comments section further down the page.

Stay in touch with me through social media @ Pinterest, Facebook, Instagram, or Twitter! Don't forget to tag me when you try one of my recipes!
📋 Recipe