Tanghulu, or Chinese candied fruit, is from Northern China. These glossy, candied strawberries are just as wonderful as a sweet dessert treat! Use an assortment of fruit to make an amazing array of colorful candied fruit, berries, citrus, and more!!
Best Tanghulu Fruit Recipe
I can't believe how long it's taken me to share these super fun, shiny, and just GORGEOUS strawberries and fruit! I mean, I've made my crack grapes plenty of times now because the kids can't get enough of them.
This tanghulu is one of my most deliciously decadent indulgences! You're sure to love the crisp candy coating and sweet treat!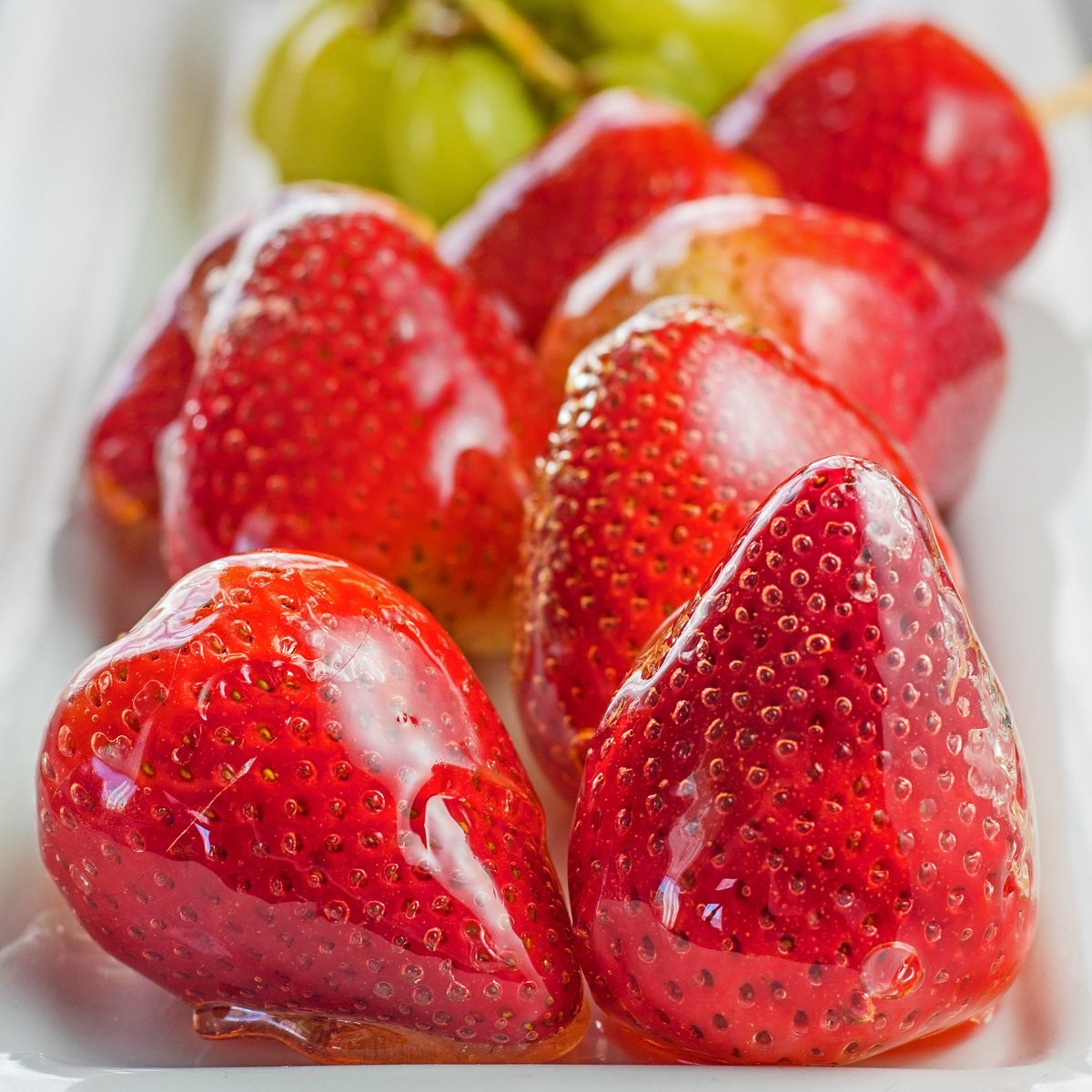 Jump to:
❔ What Is Tanghulu
Tanghulu (also called bingtanghulu) is a candy-coated fruit enjoyed during the winter season of Northern China. Street vendors sell the brightly colored shiny, red, sour berries on bamboo skewers with all of the berries candy-coated together.
The sweet treat is traditionally made with the fruit of the mountain hawthorn (also called Chinese haw, Chinese hawthorn, hawberry, or simply 'haw'). The berries, to me, very closely resemble small crab apples in appearance. Crab apples are also certainly a sour enough fruit to coat with sugar!
Since haws are not found in grocery stores near me, I have opted to coat a variety of fruit tanghulu style!
Tanghulu has become popular through a trend on TikTok and for its crackling sounds when eaten. It is frequently tagged with ASMR (autonomous sensory meridian response) for those that enjoy the auditory stimulation as well.
🥘 Tanghulu Ingredients
Just a few ingredients and supplies and you're on your way to making some amazing sugar glass-coated candied tanghulu! The result is amazingly tasty and oh-so-pretty!
Sugar - the main component for making hard candy, or sugar glass as this coating is more commonly known. Use regular granulated sugar to make your tanghulu.
Water - a bit of water gets the process started, but the boiling will evaporate the water to form the high shine appearance of our candied shell!
Corn Syrup - we need a bit of fructose to help prevent the candy syrup from crystallizing while you heat it. The corn syrup keeps the sugar liquified longer so that you have a few extra seconds to work at coating your fruit.
Fruit - choose your favorite fruits! I'd suggest checking out my details below about how well fruit varieties can be stored after coating them with candy. My favorites for making tanghulu are what you see here, 🍓 strawberries (addictive and delicious!), 🍇 grapes, and 🍊 Cuties.
*Be sure to see the free printable recipe card below for ingredients, exact amounts & instructions with tips!*
If you love this easy-to-make candied fruit, check out my ridiculously tasty crack grapes! Everything you love about that glossy, crackly coating plus tangy bits of candy to make the coating complete!
📖 Variations
Assorted fruit can be used for the tanghulu - I note a lot of my top picks here on the page! Your best bet is a fruit that can stand up to the hot syrup coating, and that is not super juicy.
Add more to your candy coating like my 'crack grapes' in the photo above!
🔪 How To Make Tanghulu
Other than your ingredients, there are a few things you'll need. I suggest using a candy thermometer, and a heavy-bottom saucepan, also you'll need skewers.
The skewers should be long enough that when coating the fruit, you aren't in danger of burning your fingers or hands!
Prepare Your Fruit & Equipment
Prepare your fruit. Wash and dry the fruit thoroughly to make sure that it is dry. The extra water will seize your syrup!
Make The Candy Coating Syrup
In your saucepan, combine the sugar, water, and corn syrup. Bring to medium-high heat and allow the syrup to come to a boil without stirring!
Place skewers into the ends of large fruit, or stack lots of fruits onto one long skewer. Alternatively, you can also candy-coat small bunches of grapes (just leave a good stem portion for you to hang onto).
Boil the syrup until it reaches 300ºF (150ºC) which is the hard crack stage. Remember, no stirring!
Coat Strawberries With Syrup & Dry
Once you have reached the hard crack stage of boiling your syrup, reduce the heat by one increment and start coating your fruit ASAP! Spoon the sugar syrup over the skewered fruit, moving quickly through the process.
Place the coated tanghulu fruit onto a parchment paper-lined plate, surface, dish, or cookie sheet. Allow the coating to set up until firm, about 2-3 minutes. Serve immediately and enjoy!
💭 Tanghulu Tips & Notes
2 methods for coating the fruit - Either with multiple pieces of fruit on one skewer (which will help you coat quickly) where you will need to spoon the syrup over your skewered fruit. Or individually skewered berries and fruit (which will coat your fruit more thoroughly) that can be dipped directly into your sugar syrup.
Use berries that are not quite ripe - Berries that are not perfectly ripe will not be as tender and juicy as perfectly ripe strawberries. This means that not only is the berry more capable of standing up to being candy-coated, but it is also going to stay stable longer. Juicy berries and fruit will weep underneath the candy layer!
You've made your delicious tanghulu strawberries and fruit, now how do you get all of that hard candy out of your saucepan? The solution is to refill the saucepan with water and bring it to a boil. Everything dissolves into the water and voila! You have a clean pan again. 🙂
🥡 Storing
This part is going to depend on the type of fruit that you used to make your tanghulu.
In the case of strawberries, the thin skin of the berry means that you have 2 - 3 hours at most to enjoy your tanghulu strawberries. Typically, more ripe berries will start to release their juice under the candy coating between 45 minutes to an hour.
Enjoy your tanghulu quickly before the fruit starts seeping and you end up with a sugary sweet mess!
The same holds true for peeled tangerines, mandarin oranges, Cuties (or Halos, which are both Clementine mandarin orange hybrids), apricots, and sliced fruits. If you slice navel oranges, blood oranges, pineapple, or other tropical fruits they will also have the fruit juices exposed to the candy coating.
🍓 Best Fruits For Longer Lasting Tanghulu
Fruits with thicker skin like grapes are ideal for coating with sugar glass! Candy-coated grapes will last around 4 days in an airtight container.
Humidity will affect this greatly! I have also experimented enough to know that my refrigerated tanghulu grapes may still look OK after refrigerating, but the glossy candy coating is actually sticky when serving.
Larger berries like honeyberry may also hold up well to candy-coating. I also suspect that there are many less common fruits that would be excellent for the tanghulu-style coating too.
🍒 More Great Fruit Recipes
❓ FAQ
How long does tanghulu take to harden?
Between 2 to 3 minutes for your candy coating to harden, depending on the temperature of your sugar syrup. I like to boil my syrup until it reaches 300 degrees F (150 degrees C) rather than the upper end of the 'hard crack' stage for the syrup (which is 310 degrees F/154 degrees C).
This lower temperature for the candy stage allows me an extra minute to coat my fruit, but also means the candy coating takes a moment longer to fully set.
How do I make tanghulu candied fruit without corn syrup?
I've only ever tried this with strawberries, but slice a small strawberry up into thin slices and add it to your sugar-water combination. This will add the glucose needed, and work as a substitute for the corn syrup in any sugar glass.
You can also use a pinch of cream of tartar to stop the formation of sugar crystals. The cream of tartar aids in keeping your sugar syrup smoother, and longer.
Additionally, you can use honey rather than corn syrup (2 cups sugar+1 cup water+2 tablespoons honey) to make your tanghulu.
📋 Recipe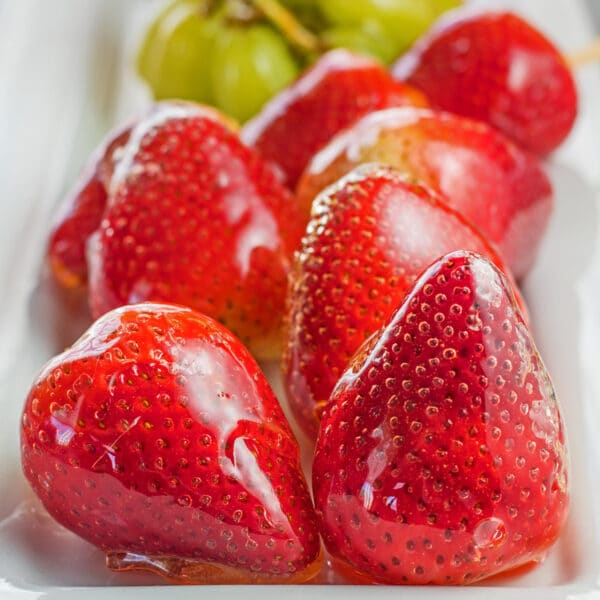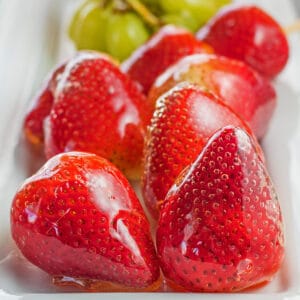 Print Recipe
Leave A Comment
Love This Recipe?
Click On A Star To Rate It!
Tanghulu Recipe (Candied Strawberries)
Tanghulu, or Chinese candied fruit, is from Northern China. These glossy, candied strawberries are just as wonderful as a sweet dessert treat! Use an assortment of fruit to make an amazing array of colorful candied fruit, berries, citrus, and more!!
Share on Facebook
Ingredients
2

cups

sugar

¼

cup

water

⅓

cup

corn syrup

2

lbs

strawberries

(or assorted fruit)
Instructions
In a saucepan combine the syrup ingredients: sugar, water, corn syrup. Heat the syrup over medium-high heat.

2 cups sugar,

⅓ cup corn syrup,

¼ cup water

Prepare your fruit with skewers. *I have to wash everything, that's why you see the abundance of paper towels. I was busy drying all the fruit!

Boil the syrup until it reaches 300°F (150°C) or the hard crack stage.

Once you have reached the hard crack stage, reduce the heat by one bit to keep the coating boiling. Spoon the candy coating over your skewered fruit. Move quickly through the process or you won't get everything coated in one batch of sugar syrup.

Allow the coated fruit to setup as you continue to coat the additional fruit. Place coated berries, grapes, tangerines, etc onto a parchment paper-lined plate, cookie sheet, or dish.
Nutrition
Calories:
270
kcal
(14%)
|
Carbohydrates:
70
g
(23%)
|
Protein:
1
g
(2%)
|
Fat:
1
g
(2%)
|
Saturated Fat:
1
g
(6%)
|
Sodium:
11
mg
|
Potassium:
175
mg
(5%)
|
Fiber:
2
g
(8%)
|
Sugar:
66
g
(73%)
|
Vitamin A:
14
IU
|
Vitamin C:
67
mg
(81%)
|
Calcium:
21
mg
(2%)
|
Iron:
1
mg
(6%)
Candied Fruit, street food, Tanghulu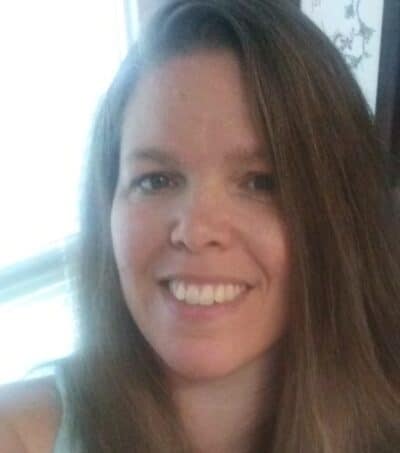 Angela is an at home chef that developed a passion for all things cooking and baking at a young age in her Grandma's kitchen. After many years in the food service industry, she now enjoys sharing all of her family favorite recipes and creating tasty dinner and amazing dessert recipes here at Bake It With Love!