Banana calories and nutrition: A complete guide to everything you need to know about this nutritious and delicious fruit! From calories and carbs to protein and fats, I cover it all right here! So keep on reading to learn how to incorporate this incredible fruit into a healthy and well-rounded diet.
Banana Nutrition Guide
Bananas are not only a great food to eat on their own but also an excellent ingredient in baking. However, even though this fruit is a favorite for eating and baking, not many people know how many calories are in a banana.
Not to worry I am here to help you! Moreover, if you keep reading you will not only find out how many calories are in a banana but other delicious and nutritious facts about this fruit, including some suggestions on how to use it more in your baking.
Jump to:
Want More Recipes? Enter your email below and we'll send them straight to your inbox!
For great ideas on baking with bananas, be sure to check out all of my fun and flavorful banana recipes here!
How Many Calories In A Banana
While fruit is one of the healthiest options for a snack and for baking it is also one of the most difficult to calculate the nutritional value. This is simply because it does not come in a prepackaged container that has a nutritional label.
However, the lack of a nutritional label should be an indication that this food is one of the best for you. As a natural food from the earth, bananas are low in calories and fat. Moreover, they contain several vitamins and nutrients.
Although bananas are one of the healthiest foods around, they are more difficult to calculate the exact calories because of their variety in sizes. Therefore, while I will provide you with an overview of the calories in a banana keep in mind these are approximate calories.
However, if you do your best to follow the size guidelines the calories in your banana will be within a few calories of what is listed here.
Calories in a Small Banana
A small banana contains about 90 calories. The size of a small between is between 6 and 7 inches. In some cases, you may come across extra small bananas that are shorter than 6 inches. These extra-small bananas have about 72 calories.
Calories in a Medium Banana
A medium-sized banana contains about 105 calories. A medium banana is considered a banana that is between 7-8 inches long.
Calories in a Large Banana
Large bananas have around 121 calories. The measurement for a large banana is between 8-9 inches long.
Calories in an Extra-Large Banana
If a banana is longer than 9 inches, it is an extra-large banana and starts at around 135 calories for a banana between 10 and 12 inches.
Calories in 1 cup of Banana
In addition to the measurement of whole bananas, you may find that you need to know how many calories are in a chopped or mashed banana. The easiest way to find that measurement is to use a 1-cup measuring tool.
One cup of banana that is chopped or sliced is 134 calories. However, a cup of mashed banana is 200 calories.
A cup of mashed banana has more calories than a sliced or chopped banana because there is more volume per cup. When looking at weight, a cup of mashed banana is about 225 grams while a cup of sliced banana is around 150 grams. Therefore, be mindful of what form the banana is in when measuring it to get an accurate number of calories.
How Many Carbs in a Banana
While a banana is low in calories it does contain more carbohydrates than other fruits. This is due to the natural sugars contained in bananas.
Therefore, if you are following a diet plan that monitors carbs and sugars you may want to focus on how many carbs are in bananas more than the calories.
Grams of Carbohydrates in Bananas
Extra Small Banana: 19 grams
Small Banana: 23 grams
Medium Banana: 27 grams
Large Banana: 31 grams
Extra Large Banana: 35 grams
1 Cup Sliced/Chopped Bananas: 34 grams
1 Cup Mashed Bananas: 51 grams
How Many Proteins And Fats In Bananas
Bananas are naturally fat-free. Moreover, they do not contain a significant amount of protein. Therefore, when looking at the macronutrient of bananas the primary focus is on carbohydrates.
While bananas do not contain all three macronutrients, they do contain several vitamins are minerals. In addition to being a low-calorie food, the large number of micronutrients is one of the great benefits of bananas.
What Vitamins And Minerals Are In Bananas
Like most fruits, bananas are full of vitamins and minerals. One of the primary micronutrients found in bananas is potassium. Another well-known vitamin in bananas is Vitamin C.
A medium-sized banana provides the body with 422 milligrams of potassium. The same medium banana has 10.3 milligrams of Vitamin C.
In addition to these two primary micronutrients, the following are also found in bananas:
Magnesium
Phosphorus
Folate
Bananas also contain trace amounts of B Vitamins, thiamine, riboflavin, niacin, and B-6. Beyond the several vitamins and minerals, bananas have a significant amount of fiber.
Using Bananas In Recipes
With so many health benefits it is no surprise that bananas are a favorite fruit to eat on their own. However, they are also great to use in baking and other recipes.
A banana is an easy way to add nutrition and flavor to smoothies, yogurt, and cereal without adding too many calories. In addition, bananas can be a great low-calorie treat when mixed with other fruits or even with a little bit of melted chocolate.
While bananas themselves are low-calorie keep in mind that any ingredients you add to bananas will increase the calories. Therefore, if you are focused on a low-calorie diet be mindful of combining bananas with high calories foods like sugar.
On the other hand, while adding high-calorie ingredients to bananas will increase the overall caloric value of food, you can use bananas as a substitute to lower the overall caloric value.
Using Bananas As A Substitute
The texture and moisture in bananas are a great substitute for fat in recipes. Therefore, if you want to make a cookie or cake recipe low-fat you can substitute the butter or oil with bananas.
However, while this will lower the caloric value and fat content of the recipe, it will also shift the overall texture. The removal of cooking fat often leads to a denser final product.
If your goal is to lower the calories though and you enjoy the flavor of bananas, have fun exploring how to use bananas as a butter substitute or oil substitute.
Explore The Versatility Of Bananas
As a low-calorie food that is also nutritious, bananas are a great addition to any baker's kitchen. Whether you choose to eat them alone, make delicious bread from them, or swap out the butter for bananas, this fruit is bound to become a favorite for all your baking needs.
Now that you've learned everything there is to know about the nutritional values of bananas, you can enjoy them as a regular part of your diet! Let me know your favorite way to enjoy bananas in the comment section below!
>>>>See all of my recipes HERE<<<<
🍌 Banana Recipes To Try
📋 Recipe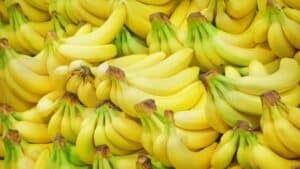 Print Recipe
Leave A Comment
Love This Recipe?
Click On A Star To Rate It!
Banana Calories and Nutrition: Banana Mug Cake (+More Tasty Banana Recipes!))
Banana calories and nutrition: A complete guide to everything you need to know about this nutritious and delicious fruit! From calories and carbs to protein and fats, I cover it all right here! So keep on reading to learn how to incorporate this incredible fruit into a healthy and well-rounded diet.
Pin Recipe
Share on Facebook
Instructions
Mug Cake
In a small mixing bowl, or the microwave-safe mug itself, mash your browned banana until relatively smooth.

Stir in 1 tablespoon of melted butter, 1 lightly beaten egg, 1 tablespoon milk, and ¼ teaspoon of vanilla.

1 large egg,

1 tablespoon milk,

1 tablespoon butter,

½ teaspoon vanilla extract

Measure in the brown sugar, baking powder, and pinch of salt, stir to combine. Add the all-purpose flour then stir until just combined.

3 tablespoon brown sugar,

½ teaspoon baking powder,

1 pinch salt,

3 tablespoon all-purpose flour

Microwave for 2-3 minutes, stopping at the 2 minute mark to check how done the cake is (it may take less than 3 minutes *see note).

Let the cake set in the microwave to cool for at least 1 minute before eating, or while you make the glaze.

NOTE! Your coffee mug needs to be larger than an 8-10 ounce mug to fit the entire batch of batter. Use a large mug or small bowl to microwave your mug cake in.
Equipment You May Need
Notes
A pinch of salt is roughly 1/16th of a teaspoon. A pinch of cinnamon would also be great in this easy microwave mug cake.
Cooking time may vary slightly depending on the model of your microwave.
The more evenly shaped (less tapered) your coffee mug or small bowl, is the easier your cake will cook evenly and quickly.
Check your cake's doneness by inserting a toothpick in the center. If no wet batter is left on the toothpick, it's ready! The cake should also be springy to the touch (but don't burn your fingertips!).
Storing: Mug cakes are best fresh but they are also delicious cold. If you decide to refrigerate extra or any leftovers, place them in an airtight container for 2-3 days. No need to reheat!
Nutrition
Calories:
864
kcal
(43%)
|
Carbohydrates:
136
g
(45%)
|
Protein:
10
g
(20%)
|
Fat:
34
g
(52%)
|
Saturated Fat:
20
g
(125%)
|
Polyunsaturated Fat:
2
g
|
Monounsaturated Fat:
9
g
|
Trans Fat:
1
g
|
Cholesterol:
241
mg
(80%)
|
Sodium:
361
mg
(16%)
|
Potassium:
866
mg
(25%)
|
Fiber:
4
g
(17%)
|
Sugar:
104
g
(116%)
|
Vitamin A:
1214
IU
(24%)
|
Vitamin C:
10
mg
(12%)
|
Calcium:
224
mg
(22%)
|
Iron:
3
mg
(17%)
banana calories and nutritition, Banana mug cake, best microwave dessert recipes, easy desserts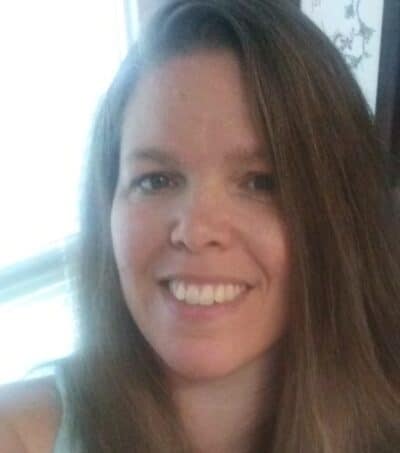 Angela is an at home chef that developed a passion for all things cooking and baking at a young age in her Grandma's kitchen. After many years in the food service industry, she now enjoys sharing all of her family favorite recipes and creating tasty dinner and amazing dessert recipes here at Bake It With Love!