What is buttermilk: A complete guide with tips, tricks, and information for cooking or baking with buttermilk! I've even included recipes for making your own buttermilk as well as a few great substitutes for buttermilk! So let's dive into this classic ingredient that makes some of our favorite and most flavorful meals!
Complete Guide To Buttermilk
Buttermilk biscuits, buttermilk pancakes, buttermilk cake. All these tasty baked goods have the same thing in common – buttermilk!
Due to its ability to add moisture, flavor, and texture to a variety of foods, buttermilk is one of the most versatile baking ingredients. Moreover, it can be used in savory dishes as well.
Jump to:
Want More Recipes? Enter your email below and we'll send them straight to your inbox!
If you're looking for a way to test out your newfound knowledge of buttermilk, be sure to check out all of my delicious buttermilk recipes!
Where does this versatile ingredient that can be used in both baking and cooking come from though? What is buttermilk? To learn more about this beloved ingredient, keep reading.
Everything You Need to Know about Buttermilk
If you have never used buttermilk, here is a quick introduction to what to expect. Buttermilk is a fermented dairy product. Much like yogurt.
Therefore, it has a tangy flavor and a slightly sour smell. If you like the science behind the "why" – this is a result of the presence of lactic acid bacteria. This bacteria gives it its characteristic tangy smell and flavor.
Why is it Called Buttermilk
Originally, buttermilk was the byproduct of butter-making, hence the name. Now, today, most of us don't make our own butter so you may wonder, "what by-product?"
Butter is made from churning heavy cream. The longer the cream is churned the fattiest parts of the cream begin to stick together. As the fattiest parts come together to form butter, there is a leftover liquid. This leftover liquid is buttermilk.
While you still get the remaining liquid when making butter today, it is not typically cultured. This is because butter today is often made from regular cream, rather than cultured cream. Therefore, the remaining buttermilk is not fermented.
How is Buttermilk Made Today
As I mentioned above, the butter you eat today is not often made from cultured cream. Therefore, the buttermilk you find in stores today is not made as a byproduct of butter.
Instead, what you find today in the cartons is made by adding bacteria cultures to milk. These are healthy bacteria (similar to the ones found in yogurt) that help ferment the milk.
Most brands of buttermilk make their buttermilk with low-fat milk as the base. Therefore, in addition to being healthy for the gut, it is a healthy low-fat food.
Can You Make Your Own Buttermilk
Yes! You can make your own buttermilk. Moreover, you can make it without having to churn your own butter.
Since buttermilk is simply fermented milk you can quickly make your own with an at-home acid like lemon juice or vinegar. Therefore, all you need is milk and lemon juice or vinegar.
To make one cup of buttermilk, add 1 tablespoon of either lemon juice or vinegar to one cup of milk. When made at a dairy manufacturer, they typically use low-fat milk. I prefer to use whole milk when making DIY buttermilk.
Since the buttermilk substitute is only going to "ferment" for about 10 minutes it will not thicken up as much as professionally made buttermilk. Therefore, I find that using fattier milk makes for thicker and creamier homemade buttermilk. However, you can use any milk you have at home. You can even use your favorite plant-based milk.
Once you add the lemon juice or vinegar to the milk let the milk sit on the counter for at least 10 minutes. After ten minutes check to see that it has started to ferment.
When the milk has thickened and curdled then you have buttermilk. If it has not thickened after ten minutes, let it sit for another five to ten.
While DIY buttermilk is not quite as tangy as the kind purchased from the store it will work as an excellent buttermilk substitute in any recipe.
Buttermilk Substitutes
If you are here because you've found yourself in a bind and don't have any buttermilk on hand, there are some options besides making it at home. You could try making a 1:1 substitution with any of the following ingredients:
Plain Yogurt - You will need to incorporate some milk to make it a similar consistency.
Unsweetened Kefir - This liquid yogurt drink makes a fantastic alternative to buttermilk.
Sour Cream - As with yogurt, you will want to thin it out with some milk.
Buttermilk Powder - If you can locate some buttermilk powder, all it takes is a little water and you will have buttermilk in a flash!
Take a look at my page dedicated to buttermilk substitutes for more alternatives and useful information.
What are the Benefits of Buttermilk
As mentioned above, buttermilk is made similarly to yogurt. Therefore, it provides some similar benefits – like healthy bacteria for the gut. In addition, since it is made from milk it provides several vitamins and minerals such as Vitamin D, Vitamin A, Potassium, and Calcium
Beyond these nutritional benefits, some people find that buttermilk is easier to digest than regular cow milk. Therefore, if you find cow milk to lead to an upset stomach you may want to try replacing regular milk with buttermilk in your recipes.
How to Use Buttermilk in Baking
Now that you know what buttermilk is, it is time to get into the fun part, all the things you can use buttermilk to make!
One of the great benefits of buttermilk is the moisture it adds to baked goods. Therefore, it is often used in recipes like the favorites I previously mentioned: pancakes, biscuits, and cakes.
One way buttermilk is used that may surprise you is to make chocolate cake. Replacing the milk or water your chocolate cake recipe calls for with equal parts buttermilk will yield a deliciously moist cake. Moreover, it will elevate the flavor.
Beyond using buttermilk for moisture and flavor, one of the most important ways buttermilk is used in baking is as a leavening agent. The acidic component of buttermilk can help bread rise when combined with the right ingredients. Like baking soda.
Do you remember science experiments in school where baking soda and vinegar were mixed? If so, you remember the immediate bubbling that takes place.
This is the same type of effect that baking soda has when combined with buttermilk in baking. The acid mixes with the baking soda and creates a reaction that allows bread and other baked goods to rise.
How to Use Buttermilk in Cooking
In addition to baking, buttermilk is also a handy ingredient in cooking. It can be used to make some of your favorite dips and dressings, like a creamy homemade ranch dressing.
Buttermilk is also the perfect addition to many soups and sauces. The rich texture and tangy flavor make soups and sauces creamy with a bit of zing to the flavor.
While buttermilk is not used as often in cooking as it is in baking keep it in mind as a substitute the next time you are out of milk, yogurt, or sour cream.
Add Buttermilk to Your Kitchen
Now that you know what buttermilk is, you will find that it is the perfect addition to your kitchen. Whether you choose to buy buttermilk from the store or experiment with making your own DIY buttermilk.Enjoy exploring all the fun and flavorful ways to use this versatile ingredient!
Enjoy exploring all the fun and flavorful ways to use this versatile ingredient! If you found this article useful and would like to see more like it, let me know in the comments below!
>>>>See all of my recipes HERE<<<<
😋 Buttermilk Recipes To Try
📋 Recipe
Print Recipe
Leave A Comment
Love This Recipe?
Click On A Star To Rate It!
What Is Buttermilk: Homemade Buttermilk (+More Useful Tips!)
What is buttermilk: A complete guide with tips, tricks, and information for cooking or baking with buttermilk! I've even included recipes for making your own buttermilk as well as a few great substitutes for buttermilk! So let's dive into this classic ingredient that makes some of our favorite and most flavorful meals!
Servings:
1
cup buttermilk
Lemon Juice & Vinegar Options
10
minutes
Pin Recipe
Share on Facebook
Ingredients
Option 1 - Milk + Lemon Juice (Sour Milk)
1

cup

whole milk

(or 2% milk - not quite a full cup)

1

tablespoon

lemon juice

(fresh squeezed or bottled lemon juice)
Instructions
Combine the milk and lemon juice then mix until smooth. Allow to sour for up to 10 minutes.

Stir the buttermilk and use in your recipe. *Note that the buttermilk will have a slightly curdled texture and appearance - this is fine!
Equipment You May Need
Nutrition
Calories:
152
kcal
(8%)
|
Carbohydrates:
13
g
(4%)
|
Protein:
8
g
(16%)
|
Fat:
8
g
(12%)
|
Saturated Fat:
5
g
(31%)
|
Polyunsaturated Fat:
1
g
|
Monounsaturated Fat:
2
g
|
Cholesterol:
24
mg
(8%)
|
Sodium:
105
mg
(5%)
|
Potassium:
338
mg
(10%)
|
Fiber:
1
g
(4%)
|
Sugar:
13
g
(14%)
|
Vitamin A:
396
IU
(8%)
|
Vitamin C:
6
mg
(7%)
|
Calcium:
277
mg
(28%)
|
Iron:
1
mg
(6%)
buttermilk replacements, Buttermilk Substitute, homemade buttermilk, how to make buttermilk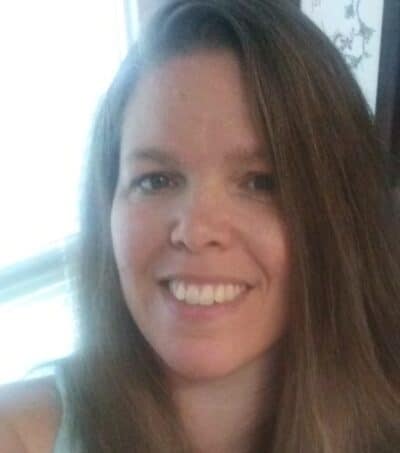 Angela is an at home chef that developed a passion for all things cooking and baking at a young age in her Grandma's kitchen. After many years in the food service industry, she now enjoys sharing all of her family favorite recipes and creating tasty dinner and amazing dessert recipes here at Bake It With Love!