My rich, luscious, and tasty plant-based Mint Chocolate Chip Nice Cream is the creamy and healthy dessert you've been waiting for! Just five ingredients transform into a cool frozen treat that'll amaze kids and adults alike!
This mint chocolate chip nice cream recipe is a cool, velvety, and chocolatey treat that's perfect for the whole family!
Nice cream is a plant-based dessert made from a base of frozen bananas. Initially meant to be a vegan alternative to ice cream, it's quickly become a favorite healthy dessert all over the world!
My mint chocolate chip nice cream uses a little peppermint extract and lots of chocolate chips to make a dessert that'll win over even the pickiest eaters!
Jump to:
This mint chocolate chip nice cream comes together in just a few minutes, which makes preparation so easy! Whether you're making a single serving or a dish for everyone, my recipe makes it super simple!
My amazing mint chocolate chip nice cream uses five ingredients to create a dessert so delicious, you'll want it every night! The sweetness comes completely from bananas, so there's no added sugar, making this a nourishing dessert you can feel great about eating!
❤️ Why You'll Love This Recipe!
Super Simple! This recipe simply blends bananas with a few ingredients, and it's done! It's the simplest dessert you'll ever make!
It's Nutritious! This dessert has vitamins, fiber, and loads of potassium from the bananas, as well as heart-healthy antioxidants from the chocolate. This dessert will fuel and nourish you!
So Delicious! Mint chocolate chip lovers, unite! In my opinion, mint chocolate chip is one of the most underrated ice cream flavors. This recipe gives you that delicious minty, chocolatey flavor that you're guaranteed to love!
🥘 Ingredients
My luscious and sweet mint chocolate chip nice cream has just 5 ingredients! Use very ripe bananas for the best flavor and texture!
Bananas – You want to use large bananas, that are very ripe and well-spotted. Using plain yellow or slightly green bananas are too starchy and don't have enough sweetness for the dessert.
Milk – We're just using a splash of milk here, so you can use whatever kind you prefer! Dairy milk will help it to taste the most traditionally ice cream like, however.
Peppermint Extract – Try to use a good quality peppermint or spearmint extract here, so it tastes like fresh mint and not like toothpaste! (See Tips & Recipe Notes)
Salt – You'll only use a small pinch of salt per batch to help meld the flavors and add depth to the nice cream.
Chocolate Chips – You can use whatever type of chocolate you like here! You can also use mini chocolate chips, or cacao nibs.
🔪 Instructions
This mint chocolate ice cream is the perfect easy dessert! This recipe makes 2 smaller servings or 1 large serving, but you can easily make multiple batches to feed the whole gang!
Prep the bananas. Wait until your bananas are very browned and spotted, then peel and cut into several chunks – about 5 to 6 pieces per banana. Place the banana pieces into airtight freezer bags or containers and let freeze at least overnight, or until you're ready to make the nice cream.
Let the bananas soften. Take the bananas out of the freezer and let them sit out on the counter for about 5 minutes. Meanwhile, grab your blender, food processor, nice cream maker, Vitamix, or even an immersion blender and a very large cup.
Blend the nice cream. Place the frozen, softened pieces from the 3 large bananas into your food processor or blender along with ⅛ teaspoon of pure peppermint extract, and a small pinch of salt. Blend until you reach a smooth, soft serve texture, adding ½ a tablespoon of milk as needed to help it blend.
Dish it up! Stir in 2 tablespoons of chocolate chips once the nice cream reaches the perfect consistency and serve immediately. You can also spread the nice cream into a bowl or loaf pan and freeze for 30 minutes to 1 hour for a more scoopable consistency!
My decadent, velvety-smooth mint chocolate chip nice cream is incredible served just as it is! If you want extra chocolatey flavor, you can add extra chocolate chips on top, or even a drizzle of gooey hot fudge! Enjoy!
💭 Tips & Notes
Use 100% pure peppermint extract, not imitation, for the very best flavor!
Also try not to use more than the recommended amount, as a little peppermint extract goes a very long way!
Let the bananas sit out for about 5 minutes before blending for a super creamy texture.
Allowing the frozen bananas to become slightly soft helps your blender or food processor turn them into a super smooth, velvety treat!
Unless you have a very powerful blender like a Vitamix, I would recommend just making one batch at a time.
Trying to make multiple servings at once can possibly overwhelm your blender and leave you with an undesirable texture.
If you're making a few batches, leaving the finished ones in the freezer will help them stay perfectly frozen while you make the next batch!
🥡 Storing
You can perfectly store leftover nice cream or batches for another day in the freezer! Simply put the nice cream in a loaf pan and wrap well with plastic cling film or put in an airtight container.
I would recommend putting a piece of plastic cling film directly on the nice cream as well to prevent ice. When stored like this, the nice cream will stay good in the freezer for up to 3 months!
When you're ready for the nice cream, simply place out on the counter for 5 minutes (or up to 15 if you like it soft), scoop with an ice cream scoop, and enjoy!
❓ FAQ
Why is some mint chocolate chip ice cream green?
Typically, mint chocolate chip gets that color from food coloring! My nice cream recipe doesn't have any food coloring, but you can add a drop or two of green food coloring if you want that classic minty color! You can also add a bit of spirulina powder for a more natural green color.
What's the best chocolate for mint chocolate chip?
My recipe calls for standard chocolate chips, and I recommend semi-sweet for a sweet flavor with a bit of richness. You can also use dark chocolate if you want a more intense chocolate flavor!
If you don't like chocolate chips, you can also chop up a chocolate bar and add that to the nice cream! This will spread the chocolate bits more evenly throughout the ice cream, which is equally delicious! You can even add cacao nibs for an intense, natural chocolate bite!
Why does my nice cream come out runny?
If in the past your nice cream turned out more like a smoothie, don't give up! It may be that the bananas were too hard, and you added too much liquid to compensate for the blender. This has happened to me a few times! For the best blend, make sure you let your bananas sit out to soften and only add a ½ tablespoon or so of milk to help it blend if needed.
If your blender is still struggling with the bananas, just give it a few minutes to soften further, stir the banana mixture, and try blending again.

🧁 More Desserts
Do you love a recipe you tried? Please leave a 5-star 🌟rating in the recipe card below and/or a review in the comments section further down the page.
Stay in touch with me through social media @ Pinterest, Facebook, Instagram, or Twitter! Subscribe to the newsletter today (no spam, I promise)! Don't forget to tag me when you try one of my recipes!
📖 Recipe Card
Print Recipe
Leave A Comment
Love This Recipe?
Click On A Star To Rate It!
Mint Chocolate Chip Nice Cream
My rich, luscious, and tasty plant-based Mint Chocolate Chip Nice Cream is the creamy and healthy dessert you've been waiting for! Just five ingredients transform into a cool frozen treat that'll amaze kids and adults alike!
Pin Recipe
Share on Facebook
Ingredients
Help Us Out!
If you love a recipe, be sure to come back and share your ratings. This helps future users, and allows me to continue sharing free recipes! Angela
Instructions
Freeze the Bananas
To start out, wait until your bananas are nicely browned and leopard-spotted. Peel and cut into 5-6 chunks then place the banana pieces into an airtight freezer storage bag or container.
Make Your Nice Cream
Set your frozen bananas out for about 5 minutes while you prep everything else needed. Grab a food processor, blender, vitamix, or even an immersion blender if you have a great big cup for blending. *There are easy commercial nice cream makers, but this is pretty simple without them!

Place the banana chunks from 3 large bananas into your food processor along with a vanilla extract and a pinch of salt. Blend until you reach a soft-serve consistency, adding milk as needed if you want.

½ tablespoon milk,

⅛ teaspoon peppermint extract,

1 pinch salt

Stir in the chocolate chips once the nice cream reaches a soft-serve consistency and serve immediately, or freeze for at least 30 minutes before serving with an ice cream scoop (for a more ice cream-like consistency).

2 tablespoon chocolate chips
Notes
Freeze batches of your browned bananas in advance that way they're always ready to go when you want some nice cream!
2-3 large bananas are one generous serving or two small servings of nice cream.
Peppermint extract has the best mint extract flavor (it's also the best flavor for hiding the banana flavor!).
Nutrition
Calories:
259
kcal
(13%)
|
Carbohydrates:
57
g
(19%)
|
Protein:
3
g
(6%)
|
Fat:
4
g
(6%)
|
Saturated Fat:
2
g
(13%)
|
Polyunsaturated Fat:
1
g
|
Monounsaturated Fat:
1
g
|
Trans Fat:
1
g
|
Cholesterol:
2
mg
(1%)
|
Sodium:
33
mg
(1%)
|
Potassium:
737
mg
(21%)
|
Fiber:
6
g
(25%)
|
Sugar:
35
g
(39%)
|
Vitamin A:
172
IU
(3%)
|
Vitamin C:
18
mg
(22%)
|
Calcium:
32
mg
(3%)
|
Iron:
1
mg
(6%)
healthy desserts, Mint Chocolate Chip Nice Cream, non-dairy, vanilla bean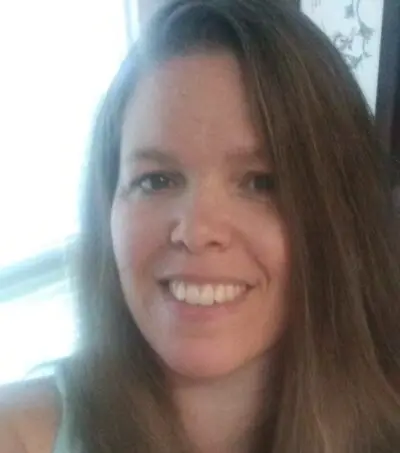 Angela is an at home chef that developed a passion for all things cooking and baking at a young age in her Grandma's kitchen. After many years in the food service industry, she now enjoys sharing all of her family favorite recipes and creating tasty dinner and amazing dessert recipes here at Bake It With Love!