No need to wonder what to serve with chicken noodle soup because I made a list of the best recipes to pair with everyone's favorite soup! This list has light sides, some indulgent dishes, and a few filling entrees that would all taste wonderful with a warm bowl of chicken noodle!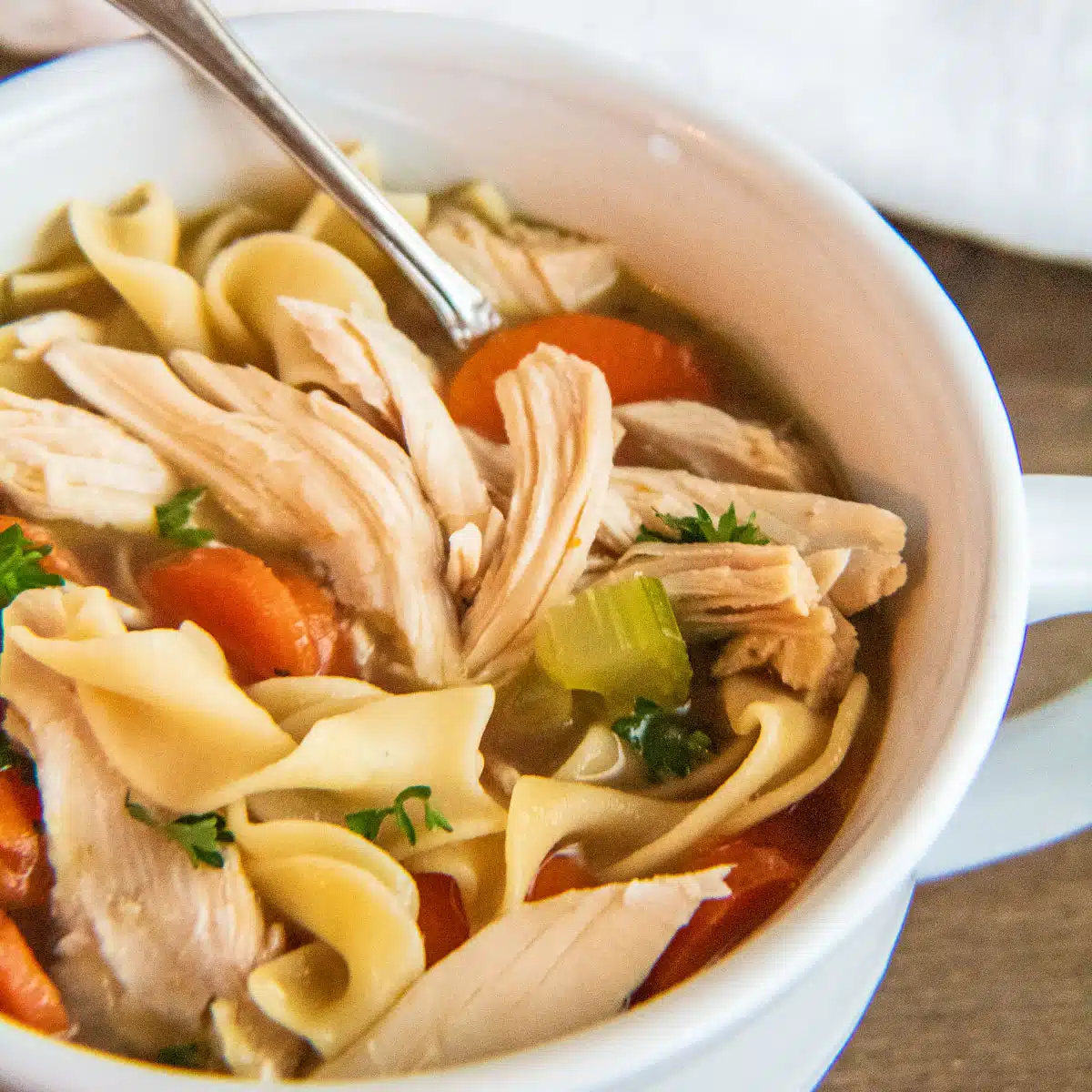 A list of all my favorite foods to enjoy with a bowl of chicken noodle soup!
There is something so comforting about a hot bowl of soup. Savory broth, noodles, a few veggies, that's all it takes to make one of the most popular soups in history!
Chicken noodle soup is such a traditional comfort food. You can eat it on its own and be perfectly content, but if you're wanting a little more than just soup, we can help.
Jump to:
Below is a list of mouthwatering dishes that we've put together to make it a little easier for you to decide what to have with your soup!
1. Air Fryer Biscuits
These Air Fryer Biscuits are sure to become a new family favorite if you enjoy buttermilk biscuits. Canned biscuits taste homemade when cooked to golden-brown perfection in the air fryer.
They go great with hearty soups like chicken noodle soup and many other delectable dishes. Eat them as is or dunk them in some broth!
2. Chicken Club Sandwich
Stacked high chicken club sandwiches are the perfect partner for soup. Pan-seared chicken breast and bacon elevate this sandwich when paired with a tasty array of fresh toppings.
For a hearty and nutrient-dense meal, serve it alongside a cup of chicken noodle soup!
3. Baked Parmesan Zucchini Rounds
These zucchini rounds are easy to prepare and packed with flavor. With a sprinkling of parmesan cheese, they are one of my go-to veggie recipes.
If you're looking for a healthy and delicious snack or side dish, these are it. Dress with ranch or marinara sauce before serving.
4. Caesar Salad
Caesar salad is one of the most popular additions to any meal. This fresh salad uses crisp romaine lettuce topped with crunchy breadcrumbs and freshly shaved parmesan.
The only thing better than a crisp Caesar salad is a Caesar with some made-from-scratch dressing! Everyone knows soup and salad pair together perfectly, and you can adjust portions of each depending on how hungry you are.
5. Air Fryer Garlic Bread
This crunchy and beautifully toasted air fryer garlic bread goes nicely with simple pasta dishes, sauce dips, or a steaming bowl of chicken noodle soup.
Air fryer garlic bread is a quick and easy way to make a delicious snack or side dish in minutes. It's as simple as combining your garlic butter spread and placing the slices in your air fryer.
Dunk it, dip it, or smear it with butter, garlic bread goes with everything.
6. Egg Salad Sandwich
It's easy to see egg salad sandwich is so popular. Hard-boiled eggs are mixed with mayonnaise, a pinch of mustard, and green onions then spread on whatever type of bread you enjoy.
A good old-fashioned egg salad sandwich is one of life's simple pleasures. Whether you're making it for yourself or a crowd, it's simple to put together and easy to customize.
7. Air Fryer Grilled Ham and Cheese
This version of ham and cheese sandwich is easy and indulgent! It is a great dish to serve with chicken noodle soup because it is so crisp and savory.
If you're looking for a kid-friendly lunchbox option, this is a fantastic choice that the kids will love. Nothing beats an air-fried ham and cheese sandwich and soup for lunch!
8. Cajun Fries
Crispy potato cravings can be satisfied with a batch of homemade Cajun Fries. Deep-fried, golden-brown, homemade Cajun fries are one of our absolute favorites.
Homemade Cajun fries are much easier to make than you might imagine. To make them, simply sprinkle some seasoning on the potatoes after they've browned and crisped up a bit.
Once you've had a taste, you'll be craving these all the time. They are great for munching while you enjoy your soup.
9. Naan Bread
Naan Bread is a fantastic, pillowy flatbread that is totally underrated. Enjoy it as a side dish, or stuff it with your favorite meats, lettuce, and cheese to make it a complete meal.
Naan is heavenly when warmed up and served with soups or salads. If you haven't tried it, I highly recommend you give it a shot.
10. Baked Sweet Potato
Simply roasting sweet potatoes in your oven creates a fluffy, delicious, slightly sweet addition perfect for almost any meal.
Healthier than the usual baked potato, sweet potatoes are a great option for those trying to keep it light while also satiating their appetite.
Additionally, sweet potatoes are extremely versatile. It's up to you whether to serve them sweet or savory.
11. Honey Glazed Oven Roasted Carrots
These honey-glazed carrots are surprisingly filling but not surprisingly full of flavor thanks to their delicious honey glaze. This is a great way to dress up carrots, particularly for those who are not usually a fan.
Perfectly tender, these carrots are easy to mindlessly munch while enjoying a bowl of soup.
12. Jiffy Jalapeno Cornbread
Jiffy jalapeno cornbread combines fluffy cornbread mix with cheddar cheese and jalapenos, and it is super easy to make! Plain cornbread is good, but this cornbread has much more flavor!
The jalapeno flavor is not overpowering, so no worries if you don't like things very spicy. Also, this cornbread is delicious with a large bowl of soup!
13. Cheese Rolls
You can't go wrong with cheese rolls, everyone loves cheesy bread! This wonderful side of bread is super easy to make and pairs with just about everything!
Cheesy rolls are an irresistible temptation for bread lovers. Make your house smell like a bakery with these delectable treats!
14. Air Fryer Tater Tots
Forget deep-fried tater tots, the air fryer method is the way to go. Perfectly crisp in minutes, you'll never want to make them any other way.
Frozen tater tots can be quickly thawed and popped right into your air fryer! These tots are so easy to snack on and kids always love tater tots.
15. Coleslaw
With crunchy cabbage and a flavorful dressing, this classic side dish is sure to please. It's a wonderful, refreshing combination of flavors.
Perfect for summer barbecues, brunches, and luncheons year-round, this dish makes an excellent side dish for chicken noodle soup or potluck dishes. It's fantastic!
We hope this guide has helped you decide what to serve with your chicken noodle soup! As always, please feel free to comment and share your thoughts in the comments section below!
📋 Recipe