When making an Indian-inspired dish you may find yourself needing a garam masala substitute, but don't worry, you have a few options! I've gathered all the best spices and spice blends to use in place of garam masala when cooking!
The most fitting spices and spice blends to replace garam masala in Indian-inspired recipes!
The wonderful flavor that garam masala adds to traditional dishes and many more is not to be missed! If you don't keep a commercial-blend garam masala in your spice cabinet, make sure to have some of these alternatives handy!
What is Garam Masala?
Garam masala is not one single spice, but a mixture of many different ones. The name "garam masala" literally translates to "hot spices." This does not often refer to heat, as in spicey, but that warmth mentioned earlier.
The warmth associated with garam masala is a result of the spices usually being roasted before blending them. When the spices are roasted, it enhances the flavor of each and increases the richness of each individual spice.
Once they are all combined, the result is a robust flavor of several rich spices. The unique thing about garam masala is that each mixture of spices is different and varies from region to region in India.
A blend can even vary from chef to chef or family to family, depending on who makes the blend. Therefore, while some regions focus on milder and sweeter mixtures, others will have a spicy element to the mixture.
Powder vs. Paste
Among the different spice blends found around India, there are two different forms that each blend may be found in: powder or paste.
The powdered spice version is most likely the form you will find in the United States. It is simply a powdered mixture of different spices that is used the same way other dry seasonings are used.
Garam masala paste is made from mixing the powdered spice blend with either water, vinegar, or coconut milk. The paste is more commonly used in the southern parts of India, while the powdered form is more common in the north.
What Spices Are Used to Make Garam Masala?
Since each blend of garam masala can vary, there is no way to say that one recipe is the only recipe or blend for garam masala. However, there are several spices that are commonly used across many versions of garam masala.
Common Spices Used in Garam Masala
Cumin
Coriander
Cardamon
Cloves
Cinnamon
Black Peppercorns
Nutmeg
Mace
Bay Leaves
Fennel Seeds
Mustard Seeds
Turmeric
Dried Red Chiles
Not all of these spices will typically be used in one blend. An assortment will be used to form the desired blend though and it will vary depending on the region of India.
Indian dishes that are from Northern India will rely more heavily on the addition of black peppercorns, while dishes inspired from the south of India will have more spice that comes from including dried chiles.
With so many variations of garam masala, you may wonder how you to find the right substitute when creating these dishes at home. The wonderful thing about this blend of spices is that because there are so many variations, there are several ways to substitute!
Times when you may need a Substitute for Garam Masala
If you find an Indian recipe that you want to try at home and it calls for Garam Masala, there are several ways for you to find this spice blend. Indian cuisine has become quite popular in the United States; therefore, you may be able to find it at your local grocery store.
If your local store doesn't carry it, check a specialty food store in your area or even order it online! As the first attempt at a recipe, it is ideal to try and follow the recipe exactly to see what the original flavor is meant to be.
You may find that the Garam Masala blend available to you is not your ideal flavor though, or once you find a love for Indian food you may find yourself without any of this special spice on hand.
In any of these cases, you can choose from several different substitutions to still enjoy a tasty Indian-inspired dish.
Choosing the Best Substitute for Garam Masala
The amazing thing about Garam Masala is that because it is made up of so many different spices, if you have one or two in your spice cupboard, you can get a close flavor substitute when needed.
When choosing a substitute, focus on the flavors you enjoy, in addition to what is available to you. If you don't like spicy foods, then you don't have to include dried chiles. If you don't love the taste of cumin, then leave that out.
You can really tailor-make your own garam masala substitute to reflect your ideal seasoning.
1. Curry Powder
While curry powder is not commonly used in Garam Masala blends, it is a common flavor used in Indian cuisine. Therefore, using it will offer a distinct Indian flavor to your dish.
Keep in mind, however, that this is one spice and will lack the complexity of a Garam Masala. It is a quick and easy substitution though that will still taste delicious.
Curry powder can easily be used in a 1:1 ratio for garam masala in any recipe. It is an especially good choice for savory dishes that include meat and vegetables.
2. Cumin, Coriander, and Cardamon Blend
These three spices are a popular blend included in Garam Masala. While they won't provide the ideal flavor on their own as a substitute, mixing them together can offer a nice flavor that mimics a more complex Garam Masala.
Use this ratio as a replacement for 1 tablespoon of garam masala in any recipe:
1 teaspoon Cumin
2 teaspoons Coriander
½ teaspoon Cardamom
If you want to elevate the sweetness of a dish, try adding a dash of cinnamon to this mix.
3. Allspice and Cumin Blend
Allspice is a common ingredient many home cooks already have in their kitchen. Cumin is also another popular spice to already have at home.
By using these two together, you get a nice combination of the warmth and earthiness from the cumin and a bit of fruitiness from the allspice. This makes a great substitute for garam masala in recipes that are both savory and sweet.
Aim for a four to one blend of cumin to allspice: 4 teaspoons cumin + 1 teaspoon allspice.
To get the closest seasoning exchange with Garam Masala, mix up a 4 to 1 blend and then measure the blend in a 1:1 exchange for the Garam Masala.
4. Pumpkin Spice Blend
Another spice you may already have at home, but have forgotten about, is a little thing of pumpkin spice that you bought at Thanksgiving. Pumpkin pie spice is a blend of nutmeg, cinnamon, cloves, and ginger.
Since several of the common spices used in Garam Masala are also in pumpkin spice, you can use this seasonal spice all year round! Using pumpkin spice on its own will add an overall sweeter tone to a dish, but it works delightfully well to spice up savory dishes.
Pumpkin spice can be used in a 1:1 exchange for Garam Masala in any dish. Some may find that using only pumpkin spice is a bit "too much" of one flavor.
To balance this out, add a bit of cumin, coriander, or a few dashes of black pepper. These spices can be added a little at a time to taste (after the pumpkin spice has already been added).
5. DIY Garam Masala Substitute
While a quick mix of a few spices is a great way to get a quick substitute, if you have a bit more time then you can make a spice substitute that is even closer to a traditional garam masala.
You can see my favorite blend in the recipe card below! Mix everything together well and then measure in a 1:1 exchange for Garam Masala.
If you want to get the most out of this blend, toast the whole spices in a skillet to activate their flavors first. Then, mix them together.
Other Substitutes for Garam Masala
Often when you are looking for a substitute it is because you need something in a hurry. The options above are best for that because most of them can be found already hiding in your cupboard, or at the very least with a quick run to the local grocery store.
In the case that you can't find garam masala or you want to explore some fun variations, you can try any of these other spice blends in place of garam masala.
6. Chaat Masala
Chaat masala is another Indian spice blend. If you have this on hand or come across it at the market, it can be used in place of garam masala.
The overall flavor profile offers more sour notes and tang than garam masala but still has some warmth and earthiness.
When using this as a substitute for Garam Masala, start with a ¼ of the measurement the recipe calls for.
Depending on the blend you have, it could be much bolder than expected. Starting slow and adding more as needed is the best way to make sure you don't overpower the dish.
7. Sambar Masala
Sambar Masala is another Indian spice blend that has some of the base spices in Garam Masala, with an elevated spice profile.
Like Chaat Masala, it can be used to add a more authentic Indian taste to a dish and should be added slowly when used as a substitute for Garam Masala.
8. Ras el Hanout
This is a North African spice blend that has some of the same basic spices you find in garam masala. It can sometimes have an overall stronger flavor profile than garam masala though, so start with just a little bit.
It is suggested to begin with a ¼ of what the recipe calls for in garam masala and then slowly add more as needed to reach the desired taste.
Moroccan Spice
Moroccan spice is sometimes another name for ras el hanout.
If it is not an exact blend of ras el hounout, it will be a close match; therefore, follow the same directions as above if using this as a garam masala substitute.
Tip for Using Spice Blends
If using any of the spice blends above, remember that each blend will have its own unique flavor profile. Therefore, I would suggest trying it in a small amount to make sure you enjoy the flavor before adding it to the recipe.
My list of handy substitutions for use in the kitchen!
We hope you've found the perfect replacement for garam masala in your dish. Let us know what Indian-inspired dishes you recommend by dropping a comment below!
Do you love a recipe you tried? Please leave a 5-star 🌟rating in the recipe card below and/or a review in the comments section further down the page.

Stay in touch with me through social media @ Pinterest, Facebook, Instagram, or Twitter! Don't forget to tag me when you try one of my recipes!
Print Recipe
Leave A Comment
Love This Recipe?
Click On A Star To Rate It!
Garam Masala Substitute: Homemade Garam Masala Seasoning (+More Great Alternatives!)
When making an Indian-inspired dish you may find yourself needing a garam masala substitute, but don't worry, you have a few options! I've gathered all the best spices and spice blends to use in place of garam masala when cooking!
Pin Recipe
Share on Facebook
Ingredients
2

teaspoon

ground cumin

1

teaspoon

ground coriander

1

teaspoon

ground black pepper

¾

teaspoon

ground cinnamon

½

teaspoon

ground cardamom

½

teaspoon

ground nutmeg

¼

teaspoon

ground cloves
Instructions
Add all spices (cumin, coriander, black pepper, cinnamon, cardamom, nutmeg, and cloves) in a bowl and mix together.

Store in an airtight container and keep it in a cool, dry place. Your spices will have a varying shelf life depending on when they were originally packaged.
Nutrition
Calories:
17
kcal
(1%)
|
Carbohydrates:
3
g
(1%)
|
Protein:
1
g
(2%)
|
Fat:
1
g
(2%)
|
Saturated Fat:
1
g
(6%)
|
Sodium:
5
mg
|
Potassium:
36
mg
(1%)
|
Fiber:
1
g
(4%)
|
Sugar:
1
g
(1%)
|
Vitamin A:
25
IU
(1%)
|
Calcium:
26
mg
(3%)
|
Iron:
1
mg
(6%)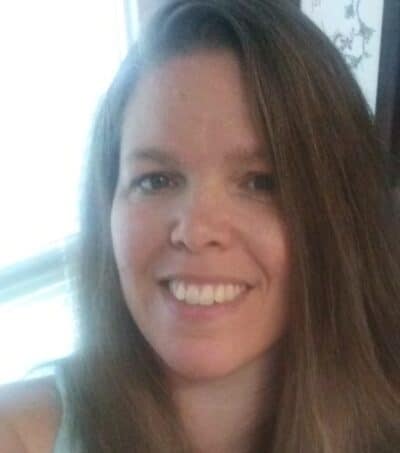 Angela is an at home chef that developed a passion for all things cooking and baking at a young age in her Grandma's kitchen. After many years in the food service industry, she now enjoys sharing all of her family favorite recipes and creating tasty dinner and amazing dessert recipes here at Bake It With Love!