For what to serve with shake and bake pork chops, take a look at these easy recipes to turn your pork dinner into an unforgettable meal! This collection includes everything from classic baked cinnamon apples and glazed corrects to tasty potato and vegetable dishes! If shake-and-bake pork chops are on the menu this week, you've come to the right place!
Best Side Dishes For Shake and Bake Pork Chops
One of my favorite pork chop recipes is simply popping a few pork chops into the oven with some tasty homemade shake-and-bake breading! It's simple to prepare for busy weeknights and brings elegance to an inexpensive cut of meat.
Shake and bake pork chops are a flavored-packed main course that can be served with many different side dishes. From creamy mashed potatoes and mac & cheese to corn casserole, I've gathered my best recipes to pair with your pork dinner in one place!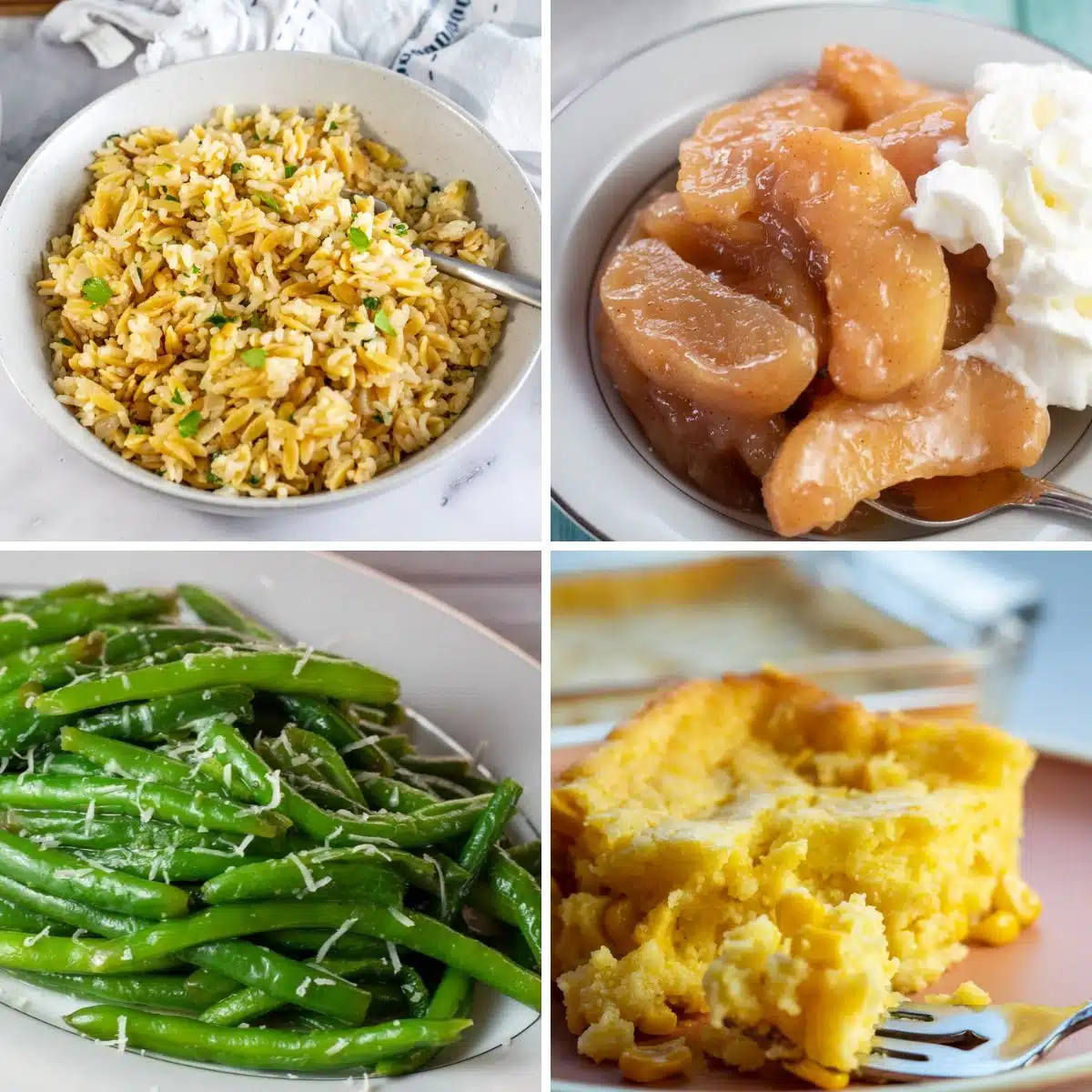 Jump to:
If you don't already have a shake & bake pork chop recipe picked out, feel free to try my homemade shake and bake pork chops or my air fryer shake and bake pork chops!
1. Rice Pilaf
Rice pilaf is a super easy side dish that's made with a handful of simple ingredients! It's the perfect blend of white rice and orzo pasta that complements chicken, pork, beef, seafood, and more.
2. Roasted Vegetable Medley
A roasted vegetable medley provides a refreshing balance to the richness of shake and bake pork chops. Their mix of vibrant flavors and textures is satisfying to both kids and adults alike!
3. Cream Cheese Mashed Potatoes
Cream cheese not only makes these mashed potatoes super rich and creamy, but it adds a subtly tangy flavor that is hard to resist! They're so delicious that they don't even need gravy!
4. Sauteed Green Beans
Green beans are an easy-to-make vegetable that pairs perfectly with pork chops. These green beans are sauteed until perfectly crisp-tender, and they are ready to eat in a matter of minutes!
5. Roasted Broccoli With Garlic and Parmesan
While you could opt for quick and easy steamed broccoli, this roasted broccoli with Parmesan cheese and garlic has so much more flavor! You only need a handful of ingredients and about 30 minutes of time.
6. Baked Cabbage Steaks
These tender baked cabbage steaks are a delicious and nutritious side dish that is surprisingly filling. They only take about 10 minutes of prep time before you can toss them in the oven and let it take over!
7. Instant Pot Au Gratin Potatoes
Creamy, cheesy, and delicious, these au gratin potatoes can be made right in your Instant Pot! It's quicker than baking them in the oven, but without sacrificing texture or flavor!
>>>>See all of my recipes HERE<<<<
8. Jiffy Corn Casserole
This moist and tender corn casserole is loaded with juicy corn kernels in every bite. It's savory and delicious, with just the right amount of sweetness.
9. Skillet Brown Sugar Glazed Carrots
Pork chops taste wonderful with brown sugar and carrots, so why not combine the two? These fork-tender carrots are coated in a sweet and sticky syrup with just the right amount of caramelization.
10. Baked Cinnamon Apples
Pork and cinnamon apples are a classic combination! The sweet and tender apples contrast the crunchy and savory pork chops beautifully.
11. Air Fryer Frozen Sweet Potato Fries
If you're short on time, just grab a bag of frozen sweet potato fries and pop them in your air fryer! They crisp up perfectly on the outside while the inside stays light and fluffy.
12. Butter Herb Rhodes Rolls
These take-and-bake rolls are so soft and tender that no one will know they aren't made from scratch. A quick coating of herb butter is the perfect finishing touch!
13. Steakhouse Creamed Spinach
Rich and creamy steakhouse creamed spinach doesn't only taste great with steaks. It tastes wonderful with pork chops, too! You could even give my equally delicious creamed kale a try!
14. Smoked Gouda Mac and Cheese
The smokey flavor of smoked gouda gives this mac and cheese a tasty gourmet flare. Try topping it with some crispy chopped bacon for an even more indulgent side!
15. Creamed Corn
While corn may be a vegetable, homemade creamed corn tastes like classic comfort food! It's rich, savory, and ever-so-slightly sweet for the perfect balance of flavors.
Tips For Choosing What To Serve With Shake and Bake Pork Chops
When deciding what to serve with shake-and-bake pork chops, you'll want to consider complementary flavors and textures to create a well-balanced meal. Here are some tips for choosing the best side dishes:
With all of these tasty recipes in your arsenal, you'll never get bored with shake-and-bake pork chop dinners! Let me know which recipes you enjoyed by leaving a comment below!
📋 Recipe