Bring the restaurant home with these Cracker Barrel copycat recipes that taste just as good, or better, than the real thing! Get that Southern home-cooked flavor that Cracker Barrel is known for without leaving the comfort of your own kitchen! This list includes popular entrees, sides, and desserts, so you can recreate the Cracker Barrel experience!
The Best Copycat Cracker Barrel Recipes
Sometimes we want restaurant-quality food without having to leave the house. Well, with these delicious Cracker Barrel copycat recipes you can bring the restaurant home!
We put together a list of the best Cracker Barrel recipes that mimic the actual meals served at the restaurant! Give one a try and experience Cracker Barrel's signature down-home Southern cooking in your own dining room!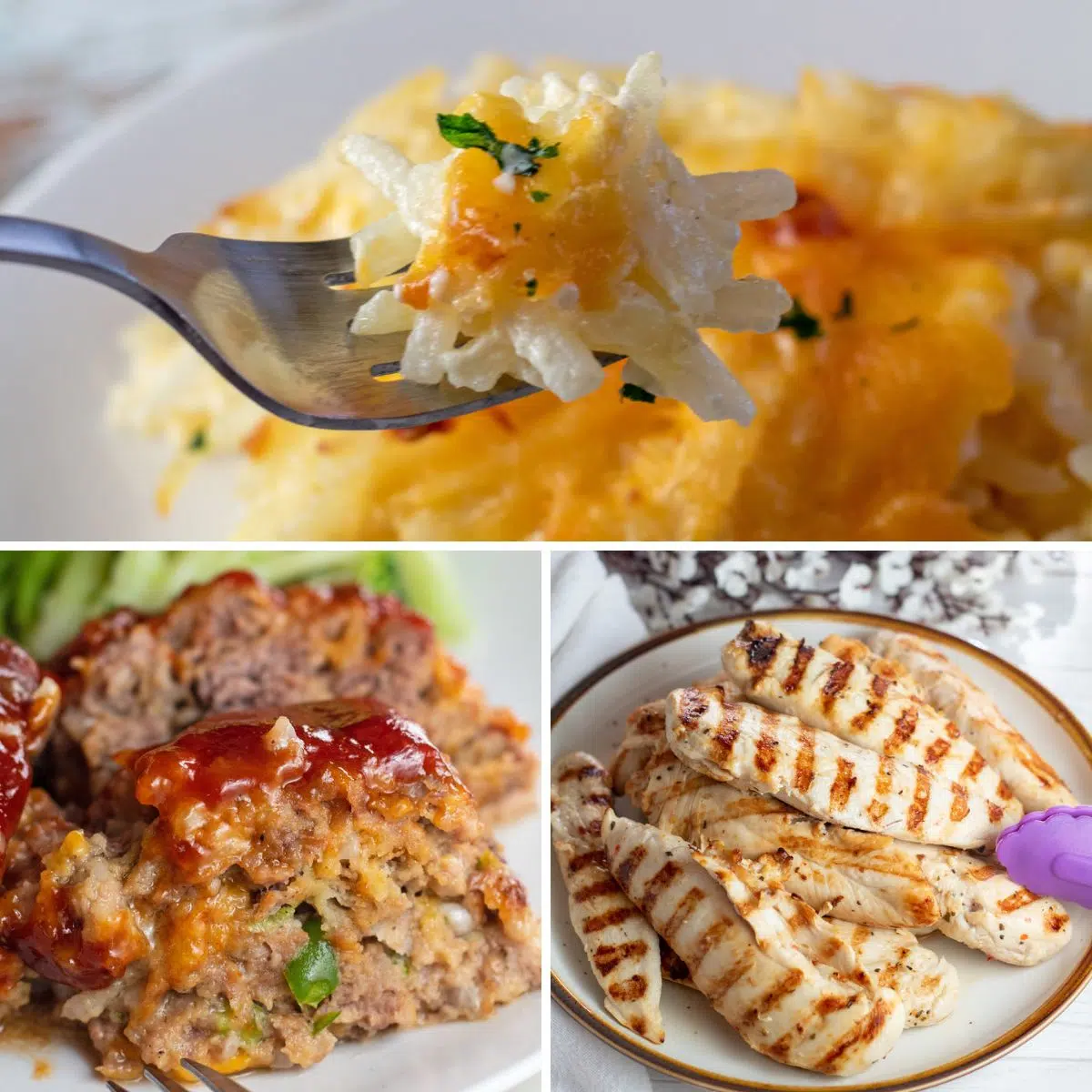 Jump to:
Hearty Entrees
The most popular main courses from Cracker Barrel. These fan favorites are family-friendly and totally delicious!
1. Meatloaf
A classic home-cooked meatloaf with Cracker Barrel's signature addition of shredded cheese! The sweet and tangy glaze is finger-licking good and leftovers taste even better the next day!
2. Grilled Chicken Tenders
These grilled tenders are all the rage! The secret is in the unique marinade made of Italian dressing, honey, and lime juice!
3. Chicken Fried Chicken
Chicken fried chicken is the perfect fried food! It is nice and crispy on the outside and succulent and juicy on the inside!
This copycat fried chicken recipe from Cracker Barrel is spot on and great for any occasion!
4. Country Fried Steak
Country fried steak is absolutely mouthwatering and delicious. This copycat country fried steak recipe is made with an amazing blend of cracked black pepper and cayenne pepper, then topped with warm country gravy.
5. Chicken and Dumplings
Country Dumplings were the first dish I ever ordered from Cracker Barrel and let me tell you, I was very glad that I did! This chicken and dumpling copycat recipe has perfectly sized dumplings with thick chicken-based gravy. This is definitely comfort food at its best!
6. Southern Fried Chicken
Homestyle Chicken reminds me of my youth when we all gathered for family dinners and ate delicious southern fried chicken. This copycat recipe is so similar to Cracker Barrel that you will feel like you are at a restaurant!
7. Biscuits and Gravy
Biscuits and gravy is a hearty and delicious breakfast, lunch, or dinner! Cracker Barrel biscuits and gravy are so perfect that we had to create a copycat recipe to make at home! The thick gravy is made with juicy pork sausage and creamy milk!
8. Chicken and Rice
Chicken and rice is an easy meal to make for large gatherings of your friends and family. This copycat chicken and rice recipe from Cracker Barrel is creamy and pairs perfectly with some freshly baked biscuits.
9. Broccoli Cheddar Chicken
Broccoli cheddar chicken is quite simple to make even though it looks gourmet! This broccoli cheddar chicken recipe is made with cheddar cheese soup, milk, butter, and shredded cheddar cheese!
Pop this dish into the oven until the top is golden brown and you have yourself a delicious dinner!
10. Country Fried Shrimp
Country fried shrimp from Cracker Barrel is marinated in buttermilk before it is breaded and fried to perfection. You can't go wrong with this copycat recipe! And don't forget to add a side of cocktail sauce!
Side Dishes
No meal is complete without the right side dishes! These Southern sides are Cracker Barrel classics that the whole family will enjoy.
11. Hash Brown Casserole
Hash brown casserole is the perfect side dish for breakfast or any time of day! This copycat hash brown casserole is made with shredded potatoes, salted butter, cream of chicken soup, sour cream, and shredded cheddar cheese!
12. Cracker Barrel Baby Carrots
Cracker Barrel baby carrots are sweet and savory! This copycat side dish is one of the easiest dishes you will ever make!
Simply add some butter, brown sugar, and salt to your steamed carrots and allow them to glaze until they are just right!
13. Cracker Barrel Mac and Cheese
Cracker Barrel Mac and Cheese is hearty, buttery, and cheesy, just the way I like it! This copycat Mac and cheese is made with heavy cream and shredded Colby cheese which makes the sauce thick and creamy!
14. Country Green Beans
Country green beans are not your average green beans! These copycat green beans are made with the best ingredient of all, bacon!
Make sure you double the batch on this recipe because everyone will want a double serving!
15. Cracker Barrel Fried Okra
Cracker Barrel fried okra is crispy with just the right amount of saltiness! You will need fresh okra, so be sure to go to the market the day before to get the freshest okra that you can find!
16. Fried Apples
Fried apples are great as a side dish, snack, or dessert! Add a dollop of whipped cream or French vanilla ice cream to these fried apples and now you have dessert!
17. Cracker Barrel Biscuits
Cracker Barrel biscuits a fluffy with just the right density. They pair well with gravy, mashed potatoes, or fried chicken, or you can enjoy them by themselves! This Cracker Barrel copycat recipe makes the freshest biscuits that you will love and enjoy!
18. Broccoli
Broccoli is such a healthy side dish and we couldn't leave it off this copycat recipe list! Cracker Barrel steams their broccoli until it is tender and salted to enhance the flavor. Serve this copycat broccoli with any meal to add more nutrients!
Sweet Desserts
These sweet treats don't shy away from sugar, but they are rich, indulgent, and totally worth splurging! Impress your guests with these classic Cracker Barrel desserts!
19. Chocolate Pecan Pie
Chocolate pecan pie sounds like a dream, am I right? This copycat chocolate pecan pie is sweet and dense with just the right amount of flavors mixed throughout.
Serve this pie after dinner as a dessert or maybe make it for breakfast on a day that you want a sweet treat!
20. Double Chocolate Fudge Coca Cola Cake
Double chocolate fudge Coca-Cola cake is a mouthful to say and an even bigger mouthful to eat! This double chocolate fudge Coca-Cola cake is rich and creamy, it is so good that you will want to make it all the time!
Serve this masterpiece with ice cream or homemade caramel sauce!
Honorable Mention
It isn't Southern cooking without a cold glass of sweet iced tea. The trick is in getting the sugar-to-tea ratio just right!
21. Sweet Tea
Sweet tea is a summertime staple. Cracker Barrel's sweet tea is freshly brewed and can be made ahead of time and chilled in the refrigerator or served with ice.
Make this delicious southern sweet tea for your next barbecue or holiday event!
How many of these delicious dishes have you tried at Cracker Barrel? Let us know in the comments below which Cracker Barrel copycat recipes were your favorite and how they turned out! We would love to hear from you!
📋 Recipe