If you need to know what to serve with baked spaghetti, take a look at this list of 15 tasty sides and appetizers that would pair perfectly! I have everything from garlic bread to veggie sides, so you'll definitely be able to find something you love! Pick one out (or two) and complete your family dinner!
Best Sides To Serve With Baked Spaghetti
Baked spaghetti is such an easy, satisfying, and delicious dinner! While it could certainly be enjoyed by itself, adding on a tasty side is always a good idea!
I have put together this collection of 15 side dishes that pair fantastically with baked spaghetti casserole! No matter which option you choose, you can't go wrong here!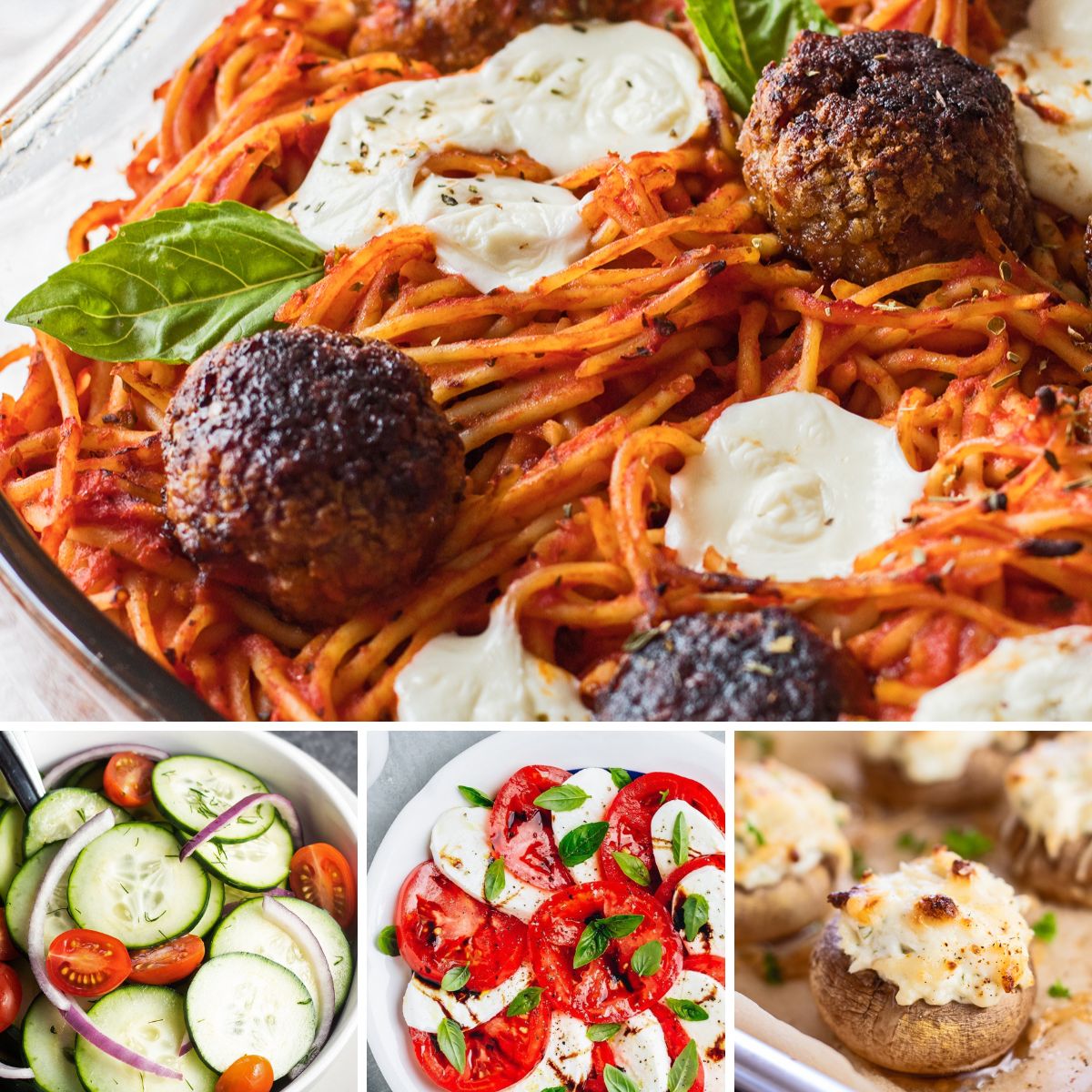 Jump to:
1. Oven Garlic Bread
Nothing is a more traditional and classic pairing than spaghetti and garlic bread! This tasty duo is perfect for any family dinner as everyone will love it.
You can make this garlic bread chewy or crispy depending on your personal tastes and preferences. Sprinkle on some Parmesan cheese to make it even better!
2. Cucumber Vinegar Salad
This beautiful and simple salad is the perfect appetizer for your pasta entree. It is light and refreshing enough that it won't fill you up before your main course, but still tasty and satisfying!
It's a great way to add some fresh veggies to your meal. Plus, it is incredibly easy to make!
3. Air Fryer Texas Toast
Texas toast is a perfect companion for some comforting baked spaghetti! What's even better is that this toast is made in the air fryer, so it couldn't possibly be any easier!
You can prepare it as garlic bread or cheese bread (or both)! The air fryer gets is amazingly crisp with zero effort from you!
4. Caprese Salad
Caprese salad is a fantastic appetizer for pasta dishes because of how light and refreshing it is! It does a great job of balancing out the heartiness of the pasta, plus the mozzarella and tomatoes go perfectly with all of the Italian flavors!
5. Roasted Green Beans
If you're wanting a side dish to accompany your baked pasta, this recipe for roasted green beans is a great place to start! It is an easy dish to prepare and make so you won't have to put in any extra effort to add a tasty vegetable side to your meal!
6. Sauteed Balsamic Mushrooms
These balsamic mushrooms are so incredibly tasty and versatile! You could serve them as an appetizer for your dinner or your could just toss them on top of your spaghetti for an extra-special touch!
Plus, they are ready to enjoy in mere minutes. How could it get any better?
7. Bacon Wrapped Asparagus
The bacon in this dish really adds on a salty and savory element that goes well with the natural flavor of the asparagus! It makes a perfect appetizer (or side dish) for your baked spaghetti!
On the plus side, picky eaters are much more likely to try out asparagus when it is wrapped in some crispy bacon! Yum!
8. Roasted Peppers & Onions
Roasted peppers and onions are great for so many things! Of course, they could be considered a side dish. However, I love to mix them into my baked spaghetti to really turn up the flavor!
This tasty dish truly goes with anything, and you can't go wrong by adding it to your spaghetti dinner.
9. Sauteed Broccolini
If you're wanting a more traditional, lighter, vegetable side dish then try out this recipe for sauteed broccolini! It is quick and easy to make and can instantly add some yummy veggies to your meal!
If you haven't tried broccolini, give it a shot! It is milder and slightly sweeter than regular broccoli. Your whole family will love it!
10. Roasted Brussel Sprouts With Bacon
Brussel sprouts are extremely delicious when roasted. However, when you add in some bacon and a tangy Dijon mustard sauce, they are truly crave-worthy!
They are delightfully crispy and extra savory because of the bacon. I promise this side dish is a real winner!
11. Roasted Vegetable Medley
If you're wanting to add some variety to your side dish, this roasted vegetable medley has a beautiful assortment of veggies to meet everyone's needs!
I love when my vegetables are nice and tender, but you can also roast them so they are wonderfully crispy! It's up to you!
12. Parmesan Roasted Artichokes
Artichokes are such an underrated vegetable because they are completely delicious! The mild nutty flavor of the asparagus combined with the sharp flavors from the Parmesan cheese makes them utterly mouth-watering.
Of course, the pesto dipping sauce makes the whole dish even better! This recipe is the perfect way to mix up your standard appetizer ideas.
13. Milk Butter Boiled Corn on the Cob
Corn on the cob is a family favorite at my house. If you love it, too, have you ever considered boiling it in milk and butter instead of plain water? Let me tell you, the result is heavenly!
The corn becomes so sweet and rich that you'll never want to make it any other way! You'll love it alongside your baked spaghetti as well as any of your other favorite entrees!
14. Cream Cheese Stuffed Mushrooms
This appetizer is a crowd favorite every time I serve it! It is so easy to make but is still loaded with so much flavor! In fact, if you're a fan of mushrooms at all, this will become one of your new go-to recipes!
The cream cheese and Parmesan filling make these bite-size snacks so satisfying that you won't be able to stop after just one.
15. Cheese Rolls
Rolls just seem to go great with any comforting, homey meal! Not to mention, these rolls have a tasty cheesy attribute that makes them even better than your standard dinner rolls!
You could eat these as an appetizer or serve them right alongside your baked spaghetti. No one will complain either way!
All of these tasty sides and appetizers are great for serving with your baked spaghetti! Let me know below which one you want to try out first!
😋 More Tasty Appetizers!
📋 Recipe