Knowing how to make green bean casserole can help you prepare for the holidays and gathering with your family! This guide will walk you through absolutely everything you could need to know! I'll show you how to make this tasty dish from scratch, different varieties, and how to make it ahead of time!
Making Green Bean Casserole Recipes
Green bean casserole is a traditional side dish that is commonly served at Thanksgiving. It features a creamy sauce, a crunchy fried onion topping, and, of course, green beans!
There are a ton of different recipes and variations of green bean casserole. This guide will show you all of the key points that you need to remember in order to make a delicious casserole every time!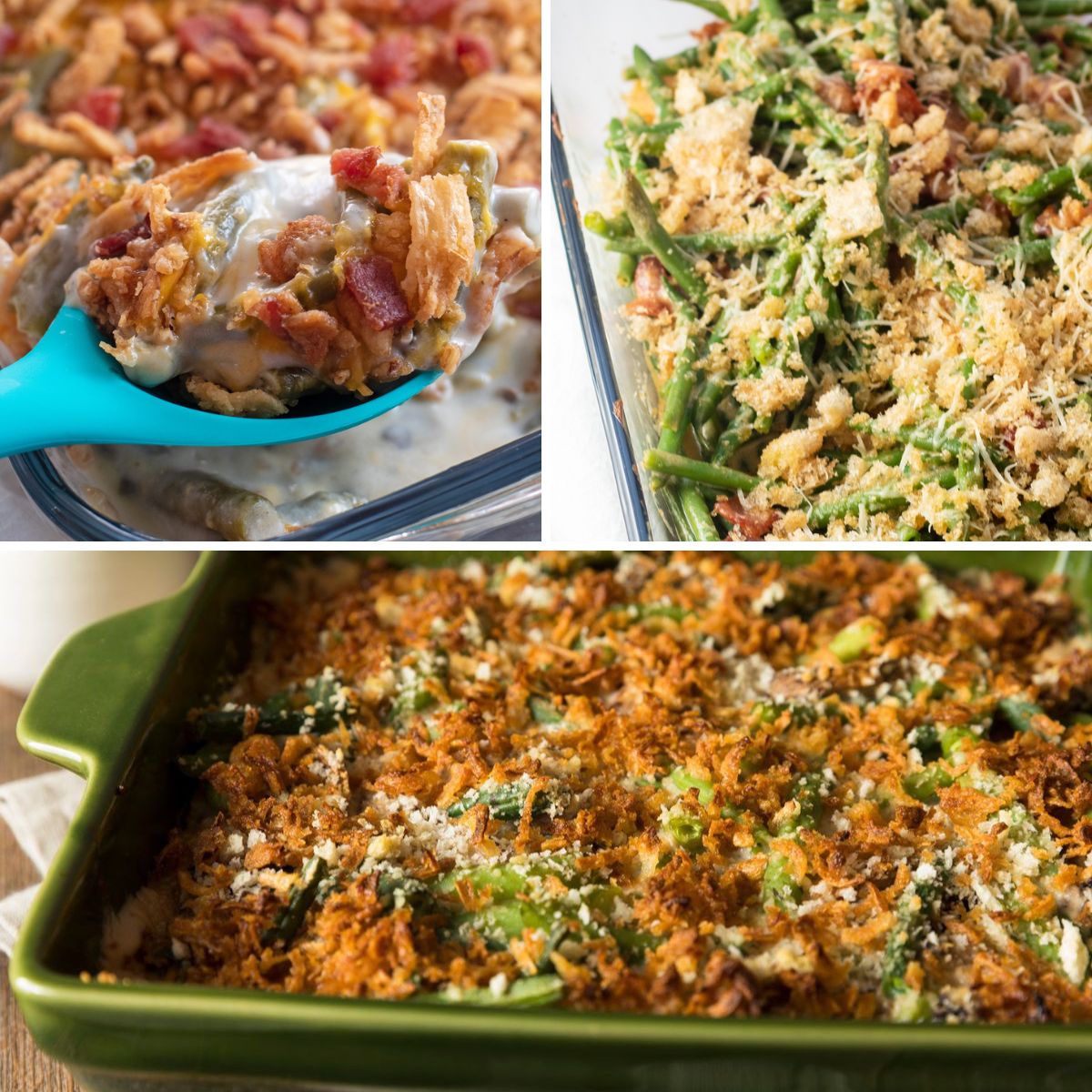 Jump to:
Whether you're a pro at hosting Thanksgiving dinner and holiday parties or giving it a try for the first time this year, you're sure to find my ultimate guide to planning Thanksgiving a help! Don't forget to safely thaw your holiday turkey early too!
Fresh vs Packaged Green Beans
First things first, are you wanting to use fresh green beans that you prepare and cook yourself, or are you wanting canned or frozen green beans? All of these have their own pros and cons.
Of course, fresh green beans are the freshest and definitely give that homemade flavor. However, you'll have to cook them as an additional step in the recipe.
Canned and frozen green beans may be more convenient and quicker, but you are losing the made-from-scratch qualities.
However, there are delicious recipes that use fresh, frozen, or canned green beans! No matter which variety you choose, you can easily prepare a delicious casserole. Ultimately, the choice is completely up to you!
Using Canned Cream of Mushroom Soup
Classic green bean casserole recipes feature canned green beans and cream of mushroom soup for an extra easy-to-prepare dish! These recipes tend to have a minimal number of ingredients and are popular because anyone can make them (and they are delicious!)
Each recipe will vary slightly, but in general, this dish is made by simply mixing the filling ingredients together and pouring it into a casserole dish. Top the mixture with your preferred topping and then bake it in the oven! It really is that simple!
Making Green Bean Casserole From Scratch
If you are looking for a recipe that is more homemade, you can always make it completely from scratch (rather than using cream of mushroom soup). You'll have complete control over your ingredients and it will be extra fresh by using fresh green beans!
There are more steps involved in making green bean casserole from scratch. First, you'll need to wash and trim your fresh green beans. Then, the green beans will need to be blanched in boiling water and immediately drained, and transferred to an ice bath.
The ice bath is the secret to stopping the cooking process, ensuring you have fresh and crisp green beans that are not mushy!
Then, instead of using a can of cream of mushroom soup, you'll need to cook a homemade sauce on the stovetop. Your recipe may vary, but it will consist of something like flour, butter, broth, cream, and seasonings. You'll need to whisk these together as they cook and allow the sauce to thicken up.
Finally, you'll pour the sauce over your green beans and top it with your favorite topping. Bake it in the oven and it is ready to enjoy!
Tasty Additions
Green beans don't have to be the only star of this casserole! You can mix in delicious additions like bacon, cheese, or mushrooms!
Feel free to use any of your favorite cheese varieties. Plus, you can even crumble bacon or cheese onto the topping as well!
Making Your Topping
What would green bean casserole be without its iconic, crunchy topping? This almost always consists of fried onions. However, you can also mix it up by including crumbled bacon or breadcrumbs!
The key to a fantastic topping is making sure it is nice and crispy! If you are making your casserole in the oven, you can add the topping just before you pop it into the oven (if it starts to brown too quickly, you can always cover it with aluminum foil).
However, if you are using a slow cooker or Instant Pot it is better to hold off until after the dish is cooked. These appliances trap moisture and can make the topping soggy.
Making Green Bean Casserole In Advance
To prepare your green bean casserole ahead of time, simply prep it according to the recipe up until the point of adding the topping (don't bake it yet). You don't want to add the topping yet, as it could easily become soggy.
Cover the casserole dish and store it in the refrigerator for a few days at most. When ready, add your topping and pop it into the preheated oven!
Using Your Slow Cooker
If you didn't know it already, you can make this tasty side dish in the slow cooker!
For this version, you will simply need to mix together your soup and seasonings (and any other sauce ingredients) and then dump it on top of your green beans in the Crockpot. Place the lid on top and cook on high for 2½ hours.
To get some extra crispy fried onions, you can add the fried onions to a skillet over medium-high heat. Stir them for about 3 minutes so that they can become crispy. Add them to your green bean casserole when serving.
Avoiding Mushy Green Beans
One surefire way of ruining your green bean casserole is by having mushy or soggy green beans!
Your green beans will become mushy if they are overcooked. Because of this, frozen green beans are preferred to canned ones (as the canned variety is already soft).
If using fresh, make sure to put them into an ice bath after cooking to avoid them becoming too soft and mushy.
What is your favorite green bean casserole recipe? Leave a comment down below and let me know!
🦃 Thanksgiving Recipes
📋 Recipe
Print Recipe
Leave A Comment
Love This Recipe?
Click On A Star To Rate It!
How To Make Green Bean Casserole: Green Bean Casserole with Bacon (+More Variations & Tips!)
Knowing how to make green bean casserole can help you prepare for the holidays and gathering with your family! This guide will walk you through absolutely everything you could need to know! I'll show you how to make this tasty dish from scratch, different varieties, and how to make it ahead of time!
Pin Recipe
Share on Facebook
Ingredients
1 ½

lbs

green beans

(or 2 12-ounce frozen packages)

4

strips

bacon

(save the drippings)

6

oz

cream cheese

(softened and cubed, ¾ of an 8-ounce brick)

1

cup

chicken broth

1

teaspoon

Worcestershire sauce

½

tablespoon

Dijon mustard

½

teaspoon

salt

¼

teaspoon

ground black pepper

¼

teaspoon

garlic powder

¼

teaspoon

onion powder

1

cup

cheddar cheese

(4 ounces grated)
Topping
⅓

cup

breadcrumbs

(or crushed pork rinds)

2

tablespoon

Parmesan

(grated)

2

teaspoon

olive oil

(extra virgin)
Instructions
Preheat your oven to 350°F (175°C) and butter, grease, or spray a 9x13 baking dish with non-stick cooking spray.

If using the steamable bags of frozen green beans, cook the set of packages together for 6 minutes on high then drain any excess water off through a colander. If using fresh green beans, place them in a microwave-safe bowl with 2 tablespoons of water and steam on high heat for 4-6 minutes. Once the green beans are tender-crisp, drain and spread evenly in your prepared baking dish.

Bring a large skillet or non-stick frying pan to medium-high heat and crisp the bacon for 2-3 minutes on each side. Remove from the pan and chop into pieces, leaving the grease in your pan for the sauce. Spread the chopped bacon over the green beans in your baking dish.

Reduce heat to medium and add the softened cubed cream cheese, stirring constantly while the cream cheese melts (it may look a little separated in the grease, don't worry!). Add the first ¼ cup of the chicken broth and whisk to combine, then gradually add the remaining broth. Whisk as you go.

Whisk in the Worcestershire sauce, Dijon mustard, and add the seasoning (salt, pepper, garlic powder, onion powder). Remove from heat and add the grated cheddar cheese. Stir until melted.

1 teaspoon Worcestershire sauce,

½ tablespoon Dijon mustard,

1 cup chicken broth,

½ teaspoon salt,

¼ teaspoon ground black pepper,

¼ teaspoon garlic powder,

¼ teaspoon onion powder,

1 cup cheddar cheese

Pour the sauce over the green beans and bacon, over the top of the entire pan to cover all of the green beans.

Combine the topping ingredients in a small bowl using a fork to combine, then sprinkle over the casserole.

⅓ cup breadcrumbs,

2 tablespoon Parmesan,

2 teaspoon olive oil

Bake at 350°F (175°C) for 20 minutes, or until the cheese sauce is bubbling and green beans are tender. Serve immediately.
Equipment You May Need
Notes
Use the crushed pork rinds for a keto-friendly and gluten-free green bean casserole.
Nutrition
Calories:
237
kcal
(12%)
|
Carbohydrates:
11
g
(4%)
|
Protein:
9
g
(18%)
|
Fat:
18
g
(28%)
|
Saturated Fat:
9
g
(56%)
|
Polyunsaturated Fat:
1
g
|
Monounsaturated Fat:
6
g
|
Trans Fat:
1
g
|
Cholesterol:
46
mg
(15%)
|
Sodium:
558
mg
(24%)
|
Potassium:
288
mg
(8%)
|
Fiber:
3
g
(13%)
|
Sugar:
4
g
(4%)
|
Vitamin A:
1030
IU
(21%)
|
Vitamin C:
13
mg
(16%)
|
Calcium:
182
mg
(18%)
|
Iron:
1
mg
(6%)
best green bean casserole, green bean casserole recipes, Green Bean Casserole with Bacon, holiday side dishes, How To Make Green Bean Casserole, keto, make ahead green bean casserole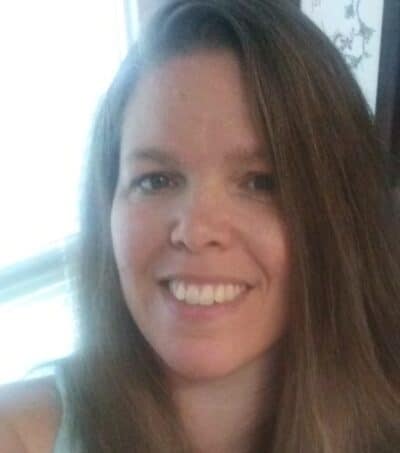 Angela is an at home chef that developed a passion for all things cooking and baking at a young age in her Grandma's kitchen. After many years in the food service industry, she now enjoys sharing all of her family favorite recipes and creating tasty dinner and amazing dessert recipes here at Bake It With Love!