These fall baking recipes are loaded with comforting warm flavors, are easy to make, and are the perfect way to enjoy the season! From bread to pies and cakes to cookies, there is something for everyone on this list! These recipes are warm, cozy, and exactly what you need on those brisk and chilly nights!
Fun Recipes To Bake In Fall
When the air starts to get cooler and the leaves begin changing, I know it's time to break out my favorite fall-time recipes! I love all of the heavenly smells and delicious treats that resonate with this time of year!
I put together this list of some warm and cozy recipes to kick off your baking this year! They are perfect for holiday gatherings, gift baskets, or just enjoying them at home!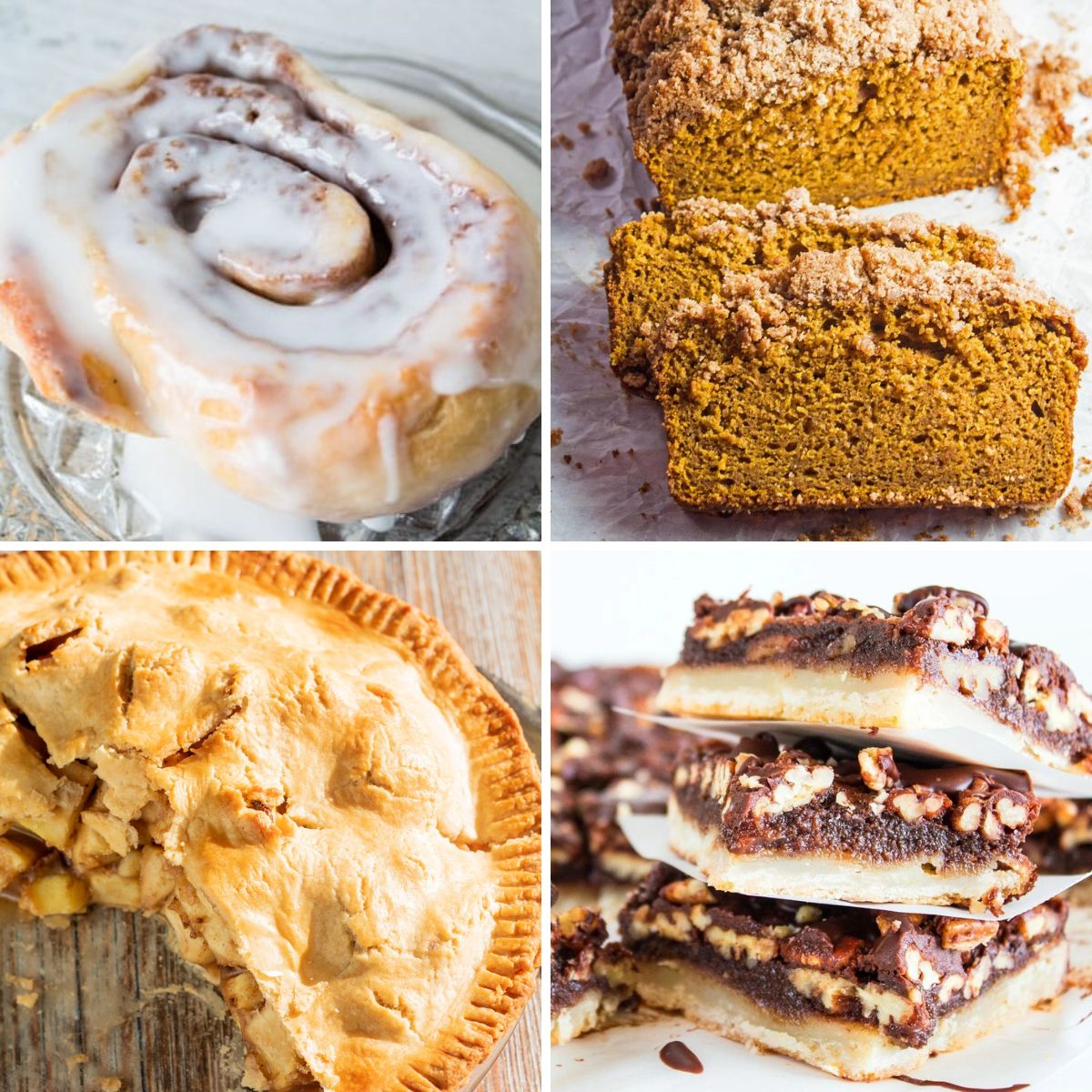 Jump to:
1. Pumpkin Streusel Bread
This sweet and easy bread is loaded with all of your favorite spices and topped with a sweet and crumbly streusel topping! It's perfect for gift baskets or just enjoying yourself!
2. Granny Smith Apple Pie
This apple pie is a classic dessert that is perfect for the holidays! As it is baking in the oven, your house will smell wonderful!
3. Apple Cobbler Bars
These bars are fantastic for serving larger groups! They have all the elements of a traditional apple cobbler but in easy-to-serve squares!
4. Pumpkin Dump Cake
If you love the flavors of pumpkin, this dump cake is a must-try! You simply mix all of the ingredients together and pop them in the oven for an effortless treat!
5. Baked Apples
Baked apples are so easy to make and are the perfect fruity treat! They are great for when you have some extra apples lying around!
6. Pumpkin Zucchini Muffins
These muffins have all of the flavors from the pumpkin and are extra moist from the zucchini! Not to mention, they are packed with nutrients!
7. Apple Cider Donuts
Apple cider donuts are cake doughnuts that incorporate reduced apple cider into the dough itself! You'll taste the autumn flavors in every bite!
8. Pear Crisp
This sweet pear crisp is warm, comforting, and wonderfully delicious! Top it with a scoop of ice cream for an irresistible dessert!
9. Pumpkin Chocolate Chip Cookies
Pumpkin and chocolate are two flavors that go great together! These cookies are so simple to whip up, plus they make great gifts!
10. Apple Crisp
Apple crisps are a classic dessert that is loaded with apples and a crumbly, delicious streusel topping!
11. Sugar Cookie Apple Cobbler
This 2-ingredient dessert is so ridiculously simple to prepare but tastes as if it took much longer! Trust me, you won't have any leftovers with this recipe!
12. Cinnamon Rolls With Vanilla Icing
Cinnamon rolls are the perfect breakfast treat! Once you try this homemade recipe, you'll never want to eat them any other way!
13. Pumpkin Pie
Pumpkin pie is the most iconic, quintessential autumn dessert out there! Loaded with warm and cozy spices, you can't go wrong with this recipe!
14. Sweet Potato Tart
This easy tart is the perfect addition to any holiday dessert table! It is creamy, sweet, and incredibly tasty!
15. Chocolate Pecan Pie Bars
These easy-to-serve bars feature a cream cheese crust and then are loaded with chocolate and pecans!
16. Apple Pie French Toast Casserole
This is the perfect breakfast for when you have family visiting! Apple pie and French toast come together in this hearty breakfast treat!
17. Apple Cake Topped With Almonds
This yummy cake has apples mixed into the batter as well as on top! Then, it is topped with some crunchy almonds for some great texture!
18. Apple Oatmeal Muffins
These muffins use applesauce for flavor and moisture as well as oatmeal for texture! They are a wonderful and nutritious breakfast treat!
19. Puff Pastry Apple Turnovers
These sweet turnovers are a fantastic option for a special breakfast! Grab some frozen pastry dough and apple pie filling and you are ready to go!
20. Apple Banana Bread
Banana bread is a well-loved treat for so many people! Add in some apples to give it a fall-inspired twist!
21. Pecan Tartlets
If you love pecan pie, these little tartlets are just for you! They are everything you love about the popular holiday dessert but in tiny single-serving portions!
22. Snickerdoodles
Snickerdoodles are a classic fall-time cookie! They are chewy, sweet, and coated with yummy cinnamon sugar!
23. Snickerdoodle Apple Dump Cake
Dump cakes are extra simple and effortless recipes! This one showcases all of your favorite cinnamon flavors from the snickerdoodles as well as some apples!
24. Pumpkin Mug Cake
Mug cakes are extra quick and easy to throw together! In just minutes, you'll have an extra delicious, single-serving pumpkin cake!
25. Microwave Apple Crisp
Take everything you love about classic apple crisps and then make it extra easy by cooking it in the microwave! It's a win-win for everyone!
26. Sweet Potato Pound Cake
Sweet potatoes taste great in so many ways! For this recipe, mashed sweet potatoes are made into a cake and topped with a sweet vanilla glaze!
27. Pumpkin Cinnamon Rolls
What could be tastier than combining the sweet and cozy pumpkin flavors with the rich and chewy cinnamon rolls?
28. Cranberry Orange Pound Cake
This recipe uses a cream cheese pound cake that is infused with lemon zest and then swirled with cranberry sauce! If that wasn't good enough, it is then topped with orange icing!
29. Pumpkin Brownies
Pumpkin filling and brownie batter are swirled together for this rich dessert! They're a perfect fall-time version of your standard brownies!
30. Pumpkin Cheesecake
Imagine your classic pumpkin pie, but then make it extra thick, rich, and creamy! Serve it with a dollop of whipped cream for a perfect end to your meal!
31. Cranberry Pumpkin Bread
I love quick and easy bread recipes! This bread is loaded with warm pumpkin flavors and then chock full of sweet cranberries!
32. Pumpkin Whoopie Pies
Whoopie pies are a fun twist on standard cookies! Two pumpkin cookies make a sandwich with a sweet vanilla filling!
33. Pumpkin Cheesecake Streusel Muffins
These decadent muffins are a real treat! They have all of your favorite pumpkin flavors and then are filled with a creamy cheesecake filling!
34. Apple Galette
This galette features a golden pie crust and layers of freshly baked apples!
35. Pecan Pumpkin Pie
Pecan pie and pumpkin pie are two traditional holiday desserts that are incredibly popular! Why not combine them both to get the best of both worlds?
36. Sweet Potato Muffins
Sweet potatoes are naturally sweet and flavorful! These muffins are perfect for breakfast or a snack!
37. Pumpkin Cake
This tasty cake has all of your favorite fall flavors! It is full of pureed pumpkin and warming spices and is then topped with a sweet cream cheese frosting!
38. Apple Crumble Bread
Take everything you love about an apple crumble and then turn it into a loaf of bread! It is even topped with a sweet maple glaze!
39. Apple Zucchini Muffins
These tasty muffins are perfect for an on-the-go breakfast or snack! They taste just like apples but are extra moist and packed with vitamins!
These tasty recipes are sure to satisfy your need for some fall baking! Leave a comment down below and let me know which one is your favorite!
🍂 More Great Fall Recipes
📋 Recipe