Iced pumpkin spice latte is a fall favorite that combines espresso, milk, pumpkin, and pumpkin pie spices for a rich pumpkin-spiced drink! Garnish it with some whipped cream for the perfect finishing touch. This drink is an irresistible treat no matter the time of year!
Best Iced Pumpkin Spice Latte Recipe
How I love my friends who look forward to the fall season - or fall flavors! Without fail, every year, I have a set of friends who are hounding me for 'off-season' treats and fun stuff to make and enjoy. Everything pumpkin is anxiously awaited!
I do know how they feel, though, as I'm one of the people who counts down the days to Christmas starting in July. So, even though I laugh at my friends who have early-onset pumpkin fever (I mean, if Halloween costumes and candy aren't in the stores yet, it's early, right?!) I totally get it!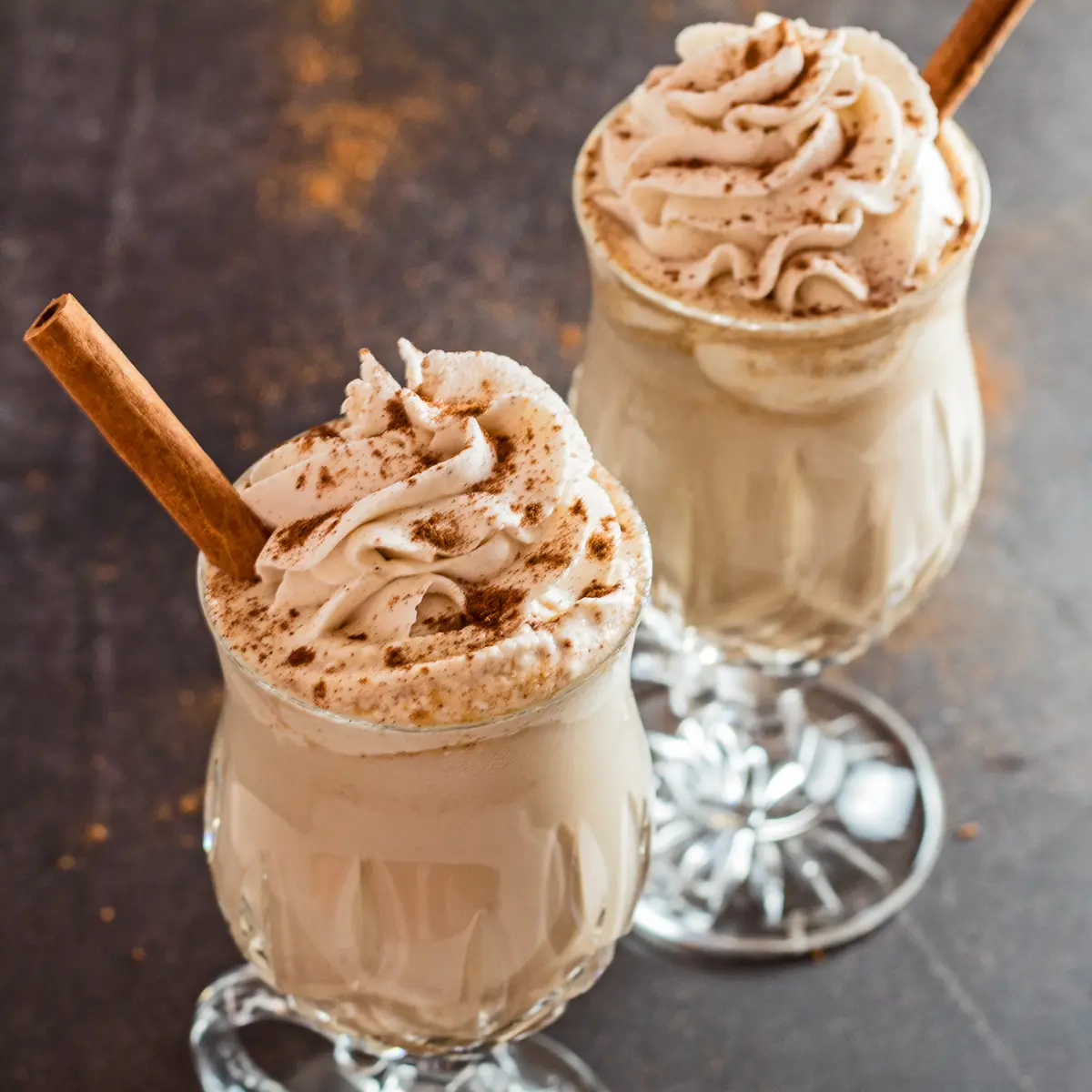 Jump to:
Even better, the smell of pumpkin and pumpkin pie spice is a welcome herald to the autumn season! Serve up this delicious drink iced, hot, or skinny with whatever 'extra' you love, and save yourself the trip to the coffee shop!
Make sure you stop by my collection of recipes that use up canned pumpkin, as well as some of my favorite pumpkin pie spice dessert recipes!
🌎 Origin
The pumpkin spice latte is an espresso drink that was launched by Starbucks in 2003 and has gained so much of a following that it is now affectionately known as a 'PSL'. The store launched the pumpkin spice latte to only 100 stores initially, and it grew in popularity so fast that the following year it was offered nationwide.
An iced pumpkin spice latte is the cold version of the very popular PSL. Getting your pumpkin spice latte served over ice is as simple as asking for it from your barista!
McDonald's and Dunkin Donuts have their own PSL versions, but I know that the homemade lattes are just better. They're quick and can be made whenever the craving hits you!
🥘 Iced Pumpkin Spice Latte Ingredients, Notes, & Substitutions
For this recipe, you can use fresh or canned pumpkin puree (I like Libby's brand). I also recommend trying out some homemade pumpkin pie spice, but store-bought works too!
Espresso - 2 shots of cooled espresso (*see note).
Milk - 1 cup of milk (or non-dairy alternatives or half & half work).
Pumpkin Puree - 1 tablespoon of pumpkin puree.
Maple Syrup - 1 tablespoon maple syrup (or honey).
Vanilla Extract - 1 teaspoon of vanilla extract.
Pumpkin Pie Spice - ¼ teaspoon of pumpkin pie spice (try mine or use your own).
Ice - Ice for serving.
Whipped Cream (optional) - Whipped cream for a garnish, if desired. I recommend using homemade whipped cream, but storebought works too!
*Be sure to see the free printable recipe card below for ingredients, exact amounts & instructions with tips!*
🔪 How To Make An Iced Pumpkin Spice Latte
This super easy-to-make pumpkin-spiced delight comes together in just minutes! Grab a blender and your favorite espresso or coffee to get this iced coffee drink started!
This will make you 1 iced pumpkin spice latte, but you can always make a bigger batch to serve your friends!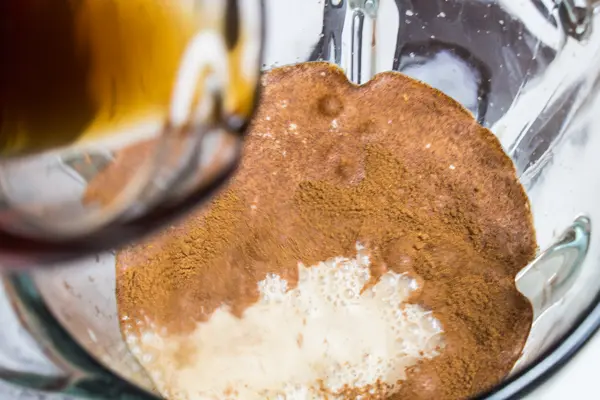 Step 1: Make espresso. To get started, brew 2 shots of espresso and then set it aside to cool.
Step 2: Add ingredients. Next, add 2 shots (118 milliliters) of cooled espresso, 1 cup (237 milliliters) of milk, 1 tablespoon (15 grams) of pumpkin puree, 1 tablespoon (15 grams) of maple syrup, 1 teaspoon (5 milliliters) of vanilla extract, and ¼ teaspoon (1.2 grams) of pumpkin pie spices to your blender (do not add the ice).
Step 3: Blend. Cover the blender with a tight-fitting lid and blend the ingredients together until the mixture is smooth and frothy.
Step 4: Pour and serve. Finally, pour the blended latte into a glass that is filled with a handful of ice. Garnish with whipped cream, spices, and cinnamon stick if desired.
Garnish your tasty latte with delicious homemade whipped cream. (I added some more pumpkin spice to the stabilized whipped cream and it was dreamy!) Sprinkle a pinch of additional pumpkin pie spice over your whipped cream and then serve with a cinnamon stick. Enjoy!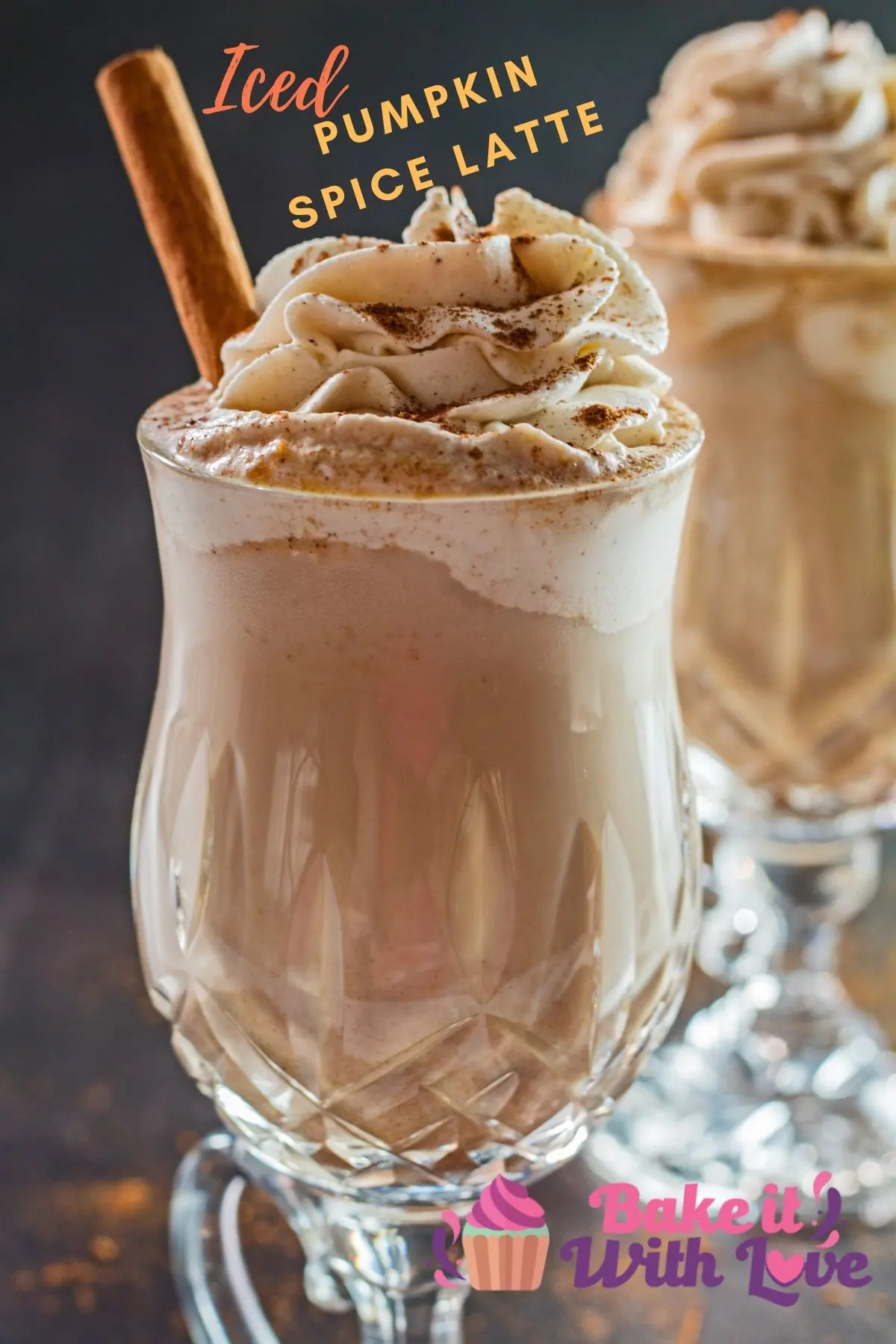 💭 Angela's Tips & Recipe Notes
A wonderfully strong espresso is my favorite; however, any coffee will do! Brew your coffee nice and strong to use about a ¼ cup for each latte, or use about ½ cup at regular strength. Instant coffee can also be used as your latte base.
Any of your favorite sweeteners can be used to make your lattes. Use maple syrup, honey, brown sugar, sugar, stevia, or swerve.
Simply omit the ice to make a hot latte when the weather starts leaning toward winter weather rather than the brisk days of fall!
A pinch of salt is an additional option, as it highlights the pumpkin-coffee-cream flavors. Everyone here is happy with or without salt. Which way do you prefer your lattes?
🥡 Storing
This quick and easy latte is really meant to be enjoyed fresh! However, if you have any leftovers, you can store the blended iced pumpkin spice lattes in the refrigerator for up to 3 days (without ice).
>>>>See all of my recipes HERE<<<<
❓ FAQ
What Does a Pumpkin Spice Latte Taste Like?
A pumpkin spice latte has a good amount of coffee flavor with a hint of pumpkin flavor and warm pumpkin pie spices like cinnamon, nutmeg, ginger, allspice, and cloves. Depending on the sweetener used (honey, maple syrup, or brown sugar) you will also detect those flavors in the drink.
My homemade iced lattes are just like the hot version but poured over ice after blending. I have always enjoyed the subtle flavors that complement the espresso or strong brewed coffee so very well!
Does A Pumpkin Spice Latte Have Caffeine?
If you follow this recipe as written (using 2 espresso shots) your drink will contain 180 mg of caffeine. In perspective, this is about half of an adult's daily limit.
Of course, you can very easily alter this recipe to be caffeine-free! Simply substitute the espresso shots for about ½ a cup of your favorite decaf coffee!
Are Pumpkin Spice Lattes Vegan?
You can easily make a vegan iced pumpkin spice latte! Make sure to choose a non-dairy milk alternative, such as almond milk. Also, double-check that the specific brand of maple syrup that you're using is vegan.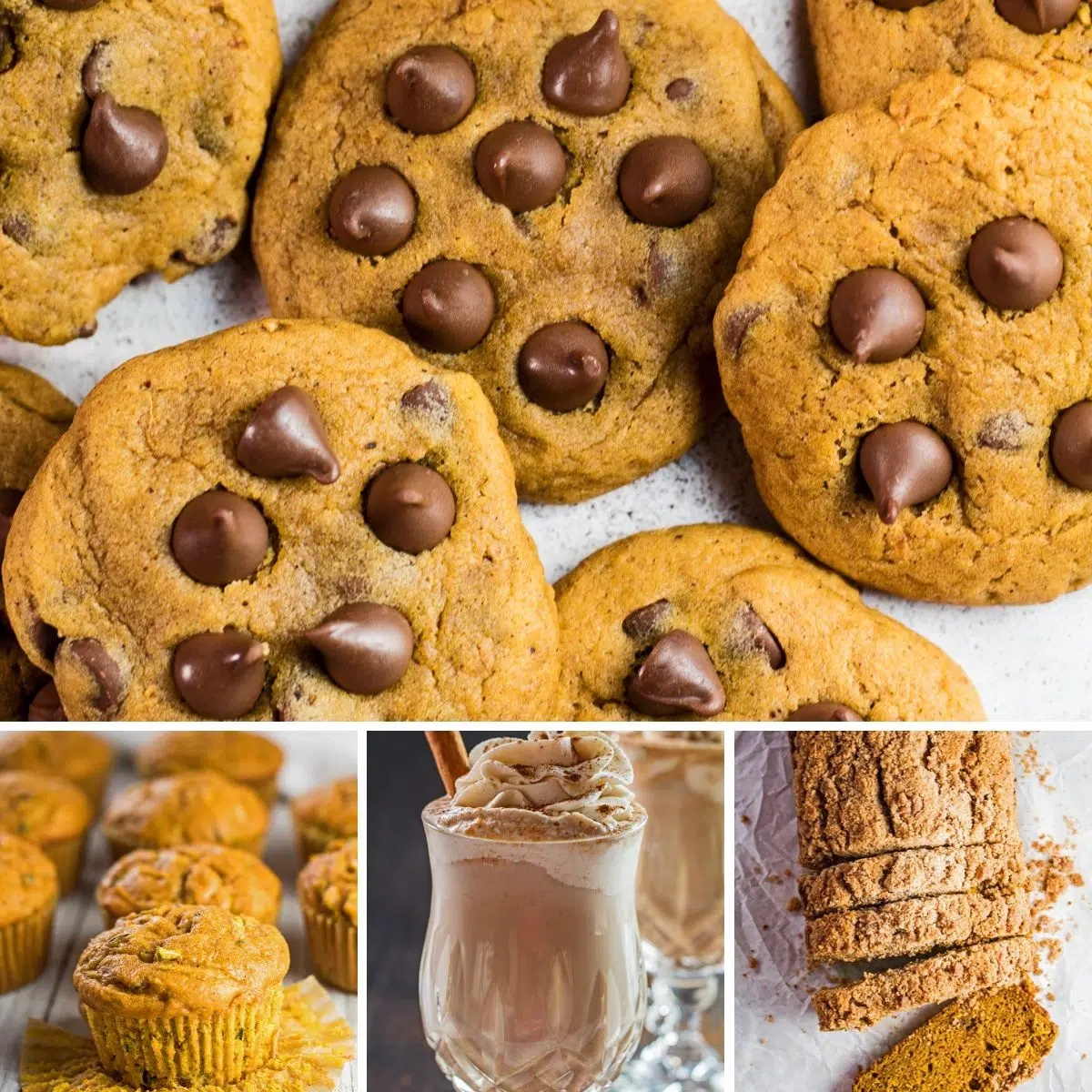 Do you love a recipe you tried? Please leave a 5-star 🌟rating in the recipe card below and/or a review in the comments section further down the page.
Stay in touch with me through social media @ Pinterest, Facebook, Instagram, or Twitter! Subscribe to the newsletter today (no spam, I promise)! Don't forget to tag me when you try one of my recipes!
📋 Recipe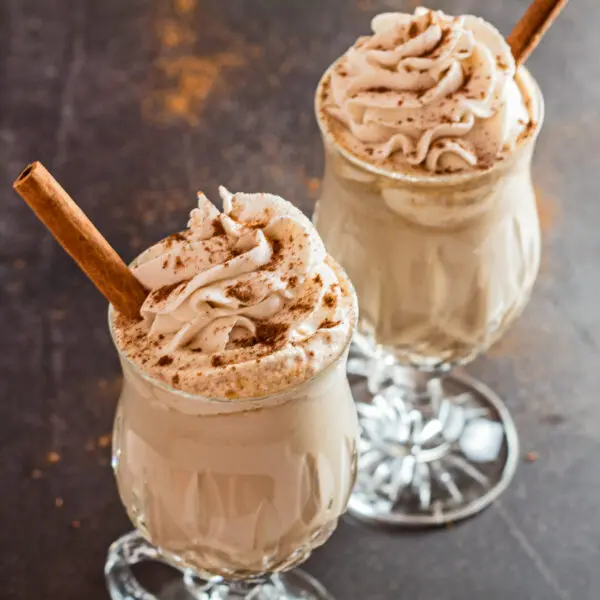 Print Recipe
Leave A Comment
Love This Recipe?
Click On A Star To Rate It!
Iced Pumpkin Spice Latte
Iced pumpkin spice latte is a fall favorite that combines espresso, milk, pumpkin, and pumpkin pie spices for a rich pumpkin-spiced drink! Garnish it with some whipped cream for the perfect finishing touch. This drink is an irresistible treat no matter the time of year!
Pin Recipe
Share on Facebook
Help Us Out!
If you love a recipe, be sure to come back and share your ratings. This helps future users, and allows me to continue sharing free recipes! Angela
Instructions
Make your espresso or brew some strong coffee. Set aside to cool.

In a blender, add the espresso, milk, pumpkin puree, maple syrup, vanilla extract, and pumpkin pie spice (see recipe - or use your favorite warm spices).

Blend until the latte is smooth. It will also get frothy during blending. Taste and adjust spices, pumpkin, or sweetener as needed.

Pour the blended latte into a glass filled with ice, and top with whipped cream and a pinch more pumpkin pie spice if desired.
Nutrition
Calories:
162
kcal
(8%)
|
Carbohydrates:
29
g
(10%)
|
Protein:
9
g
(18%)
|
Fat:
1
g
(2%)
|
Saturated Fat:
1
g
(6%)
|
Cholesterol:
5
mg
(2%)
|
Sodium:
114
mg
(5%)
|
Potassium:
496
mg
(14%)
|
Fiber:
1
g
(4%)
|
Sugar:
26
g
(29%)
|
Vitamin A:
2834
IU
(57%)
|
Calcium:
321
mg
(32%)
|
Iron:
1
mg
(6%)
Iced Pumpkin Spice Latte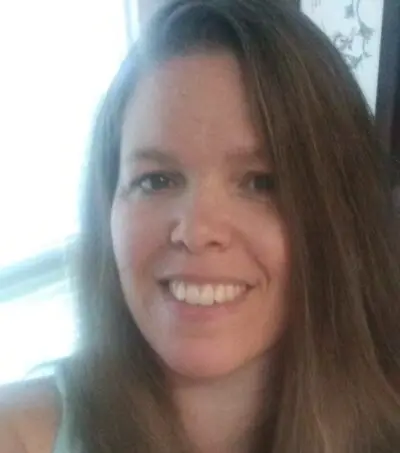 Angela is an at home chef that developed a passion for all things cooking and baking at a young age in her Grandma's kitchen. After many years in the food service industry, she now enjoys sharing all of her family favorite recipes and creating tasty dinner and amazing dessert recipes here at Bake It With Love!