These pumpkin pie spice dessert recipes are full of fall flavors that will cure your craving for something sweet! From classic pumpkin pies to unique spiced desserts, this list has something for everyone. Whip up these desserts for the Thanksgiving table or simply to celebrate the changing of the seasons!
Recipes Using Pumpkin Pie Spice
Is your favorite thing about Thanksgiving all of the desserts featuring the fantastic flavor of pumpkin pie spice? Then you're in the right place!
Thankfully, you don't have to wait for a holiday to enjoy a sweet treat made with these warm baking spices that combine to make pumpkin pie spice!
These recipes are perfect for any fall occasion. Potlucks, parties, holidays, or just because!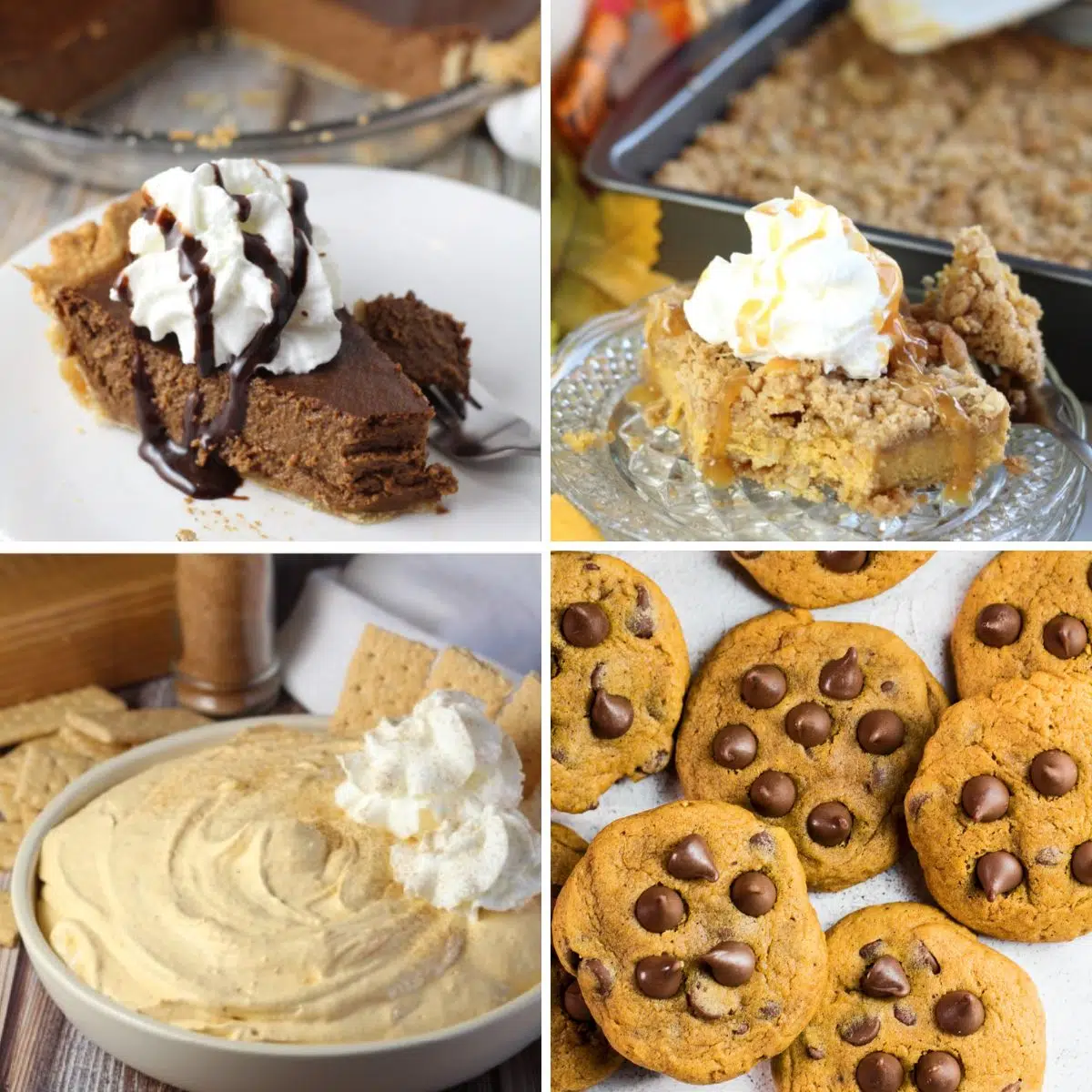 Jump to:
Fall Desserts With Pumpkin Pie Spice
If you have one of these pumpkin spice desserts in hand you'll be the most popular person in the room! Don't be shocked when everyone wants the recipe!
Make your own amazingly tasty pumpkin pie spice from scratch with my simple pumpkin pie spice recipe!
1. Pumpkin Pie
There is no pumpkin pie without pumpkin pie spice! This classic recipe will be your new go-to year after year.
It's exactly the kind of pie you expect to see on the Thanksgiving or Christmas table, and there's nothing wrong with that!
2. Pumpkin Pie without Evaporated Milk
If you are short a can of evaporated milk, don't worry! You can still make wonderfully creamy and delicious pumpkin pie.
No one will realize you left out an ingredient. It's just as tasty as any other pumpkin pie!
3. Pumpkin Roll
A spiced pumpkin roll is a great dessert to bring to potlucks or fall get-togethers. Everyone loves the soft pumpkin cake, and it has a sweet cream cheese filling that is downright heavenly.
4. Pumpkin Dump Cake
Anyone can make this easy pumpkin dump cake recipe! You just combine canned pumpkin pie filling, boxed spiced cake mix, evaporated milk, brown sugar, eggs, and butter then bake.
You can add optional crushed graham crackers or pecans for texture. It's tasty either way, though!
5. Iced Pumpkin Spice Latte
Skip the coffee shop and make your own iced pumpkin spice latte! This sweet caffeinated treat can be enjoyed any time of day.
A swirl of whipped cream and a cinnamon stick make the perfect garnishes.
6. Pumpkin Chocolate Chip Cookies
Chocolate chip cookies but with a fun fall twist! You can even dip them in milk and they are just as tasty.
The cookies come out of the oven so chewy and warm. You'll have a hard time not eating the whole batch by yourself!
7. Pumpkin Streusel Bread
The best part of this moist pumpkin bread is the crumbly streusel topping! It has a cozy spiced flavor that makes a great treat morning, noon, or night.
8. Pumpkin Zucchini Muffins
Pumpkin zucchini muffins are a healthy and subtly sweet treat! They make for an easy family-friendly breakfast to eat on the go.
Not to mention, they are so easy to make! One batch will be enough to have breakfast for a few days straight.
>>>>See all of my recipes HERE<<<<
9. Pumpkin Fluff Dip
This light and airy pumpkin fluff dip is a great sweet starter or dessert! It's so simple, it only requires 4 ingredients. Just combine and chill!
You can use graham crackers, marshmallows, or fruit for scooping up the fluff. Yum!
10. No-Bake Pumpkin Cookies
You can make fabulous fall cookies without ever turning on your oven! If you are a fan of no-bake cookies, you'll love this incredible pumpkin and oatmeal version.
11. Pumpkin Streusel Bars
One of my favorite combinations! Pumpkin pie filling featuring the best pumpkin pie spice blend ever, layered between streusel!
These tasty pumpkin pie bars are perfect either as a delightful snack or served with some whipped cream and caramel sauce. Yum!
12. Chocolate Pumpkin Pie
All of my chocolate fans can rejoice! This amazing pumpkin pie recipe combines with rich, creamy chocolate to make a pie that everyone is sure to love!
13. Pumpkin Cheesecake Cookies
Tender pumpkin cookies are filled with a sweet cream cheese mixture! It's a delicious combination of 2 amazing desserts!
14. Pumpkin Bars
This pumpkin pie spice dessert recipe features cake-like bars that are coated with cream cheese frosting. You can even sprinkle some extra pumpkin pie spice or cinnamon on top!
15. Pumpkin Snickerdoodles
These are classic snickerdoodles but with a twist! They include pumpkin puree and pumpkin pie spice in the cookie dough itself!
16. No-Bake Pumpkin Cheesecake
Cheesecake can be somewhat intimidating to prepare. However, this no-bake version is ridiculously easy!
17. Pumpkin Fudge Poke Cake
Pumpkin cake, rich fudge sauce, and vanilla frosting make this pumpkin pie spice dessert recipe completely irresistible! Not to mention, it is much easier to make than it looks!
18. Pumpkin Pecan Tart
This combination of pumpkin and pecan pie makes this a truly holiday-worthy dessert. It's the best of both worlds!
19. Pumpkin Spice Cupcakes with Cream Cheese Frosting
Everyone loves cupcakes, so you can't go wrong showing up to a fall gathering with these pumpkin spice cupcakes! The cinnamon cream cheese frosting adds another layer of fall flavor.
20. Pumpkin Spice Milkshake
Pumpkin spice lovers rejoice because now your favorite flavor comes in milkshake form! Best of all, you only need 5 minutes and 5 ingredients to put it together.
A dollop of homemade whipped cream is my favorite addition!
21. Pumpkin Pie Spice Cheesecake Squares
These easy pumpkin cheesecake squares are made for sharing. It has a crumbly streusel base that doubles as its topping which makes one tasty layered pumpkin dessert!
22. No-Bake Pumpkin Spice Dessert
This no-bake pudding dessert is loved by kids and adults alike! It includes mostly sugar-free ingredients so you can indulge without feeling guilty.
23. Pumpkin Spice Cake
This pumpkin spice cake is loaded with pecans! It has an incredible cream cheese frosting that will have you savoring every bite.
24. Pumpkin Spice Coffee Cake
You can have dessert for breakfast with this pumpkin spice coffee cake! It makes for a great morning treat year-round, especially with the vanilla glaze that's drizzled over the top!
25. Pumpkin Mousse
This velvety pumpkin mousse is so rich and indulgent. You can even add some crumbled graham crackers if you crave some crunch!
🙂😀 Testimonials
I've tried several from this collection, and my baked goods have never tasted better. Highly recommended for anyone looking to master the art of fall baking!

Addison in Hillsboro
💭 Tips For Choosing A Recipe Using Pumpkin Pie Spice
Keep these tips in mind when choosing a pumpkin pie spice recipe!
Complementary Ingredients: Look for recipes that include ingredients that pair well with pumpkin and the spices in the blend. Common pairings include cinnamon, nutmeg, ginger, and cloves.
Desserts Beyond Pie: While pumpkin pie is a classic, don't limit yourself! Pumpkin pie spice can elevate cookies, muffins, cheesecake, and even ice cream.
Consider the Occasion: Think about the event or occasion where you plan to serve the dessert. Are you baking for a casual gathering, a holiday feast, or a special celebration? This can help you narrow down your options.
Difficulty Level: Consider the difficulty of the recipe. If you're short on time, opt for simpler dishes like a quick pumpkin spice oatmeal. For special occasions, you can explore more intricate recipes like a spiced pumpkin soufflé.
These pumpkin pie spice desserts are just the thing for curing your pumpkin spice craving! Tell me which of these desserts you plan to try in the comments below!
🍂 More Fall Flavors
📖 Recipe Card