These fall dinner recipes include family-favorite meals that are perfect for cooler weather because they are warm, cozy, and delicious! From easy crockpot casseroles to hearty soups and roasted meats, there's something here for everyone. There's no better way to bring in the new season than with some new food!
Best Fall Dinner Ideas
When I think of fall, I think of warm and hearty soups, roasted meats, and cozy casseroles (and don't forget the pumpkin spice lattes). Below, you'll find my favorite fall dinner recipes that I look forward to making at this time every year. I hope your family enjoys them as much as mine does!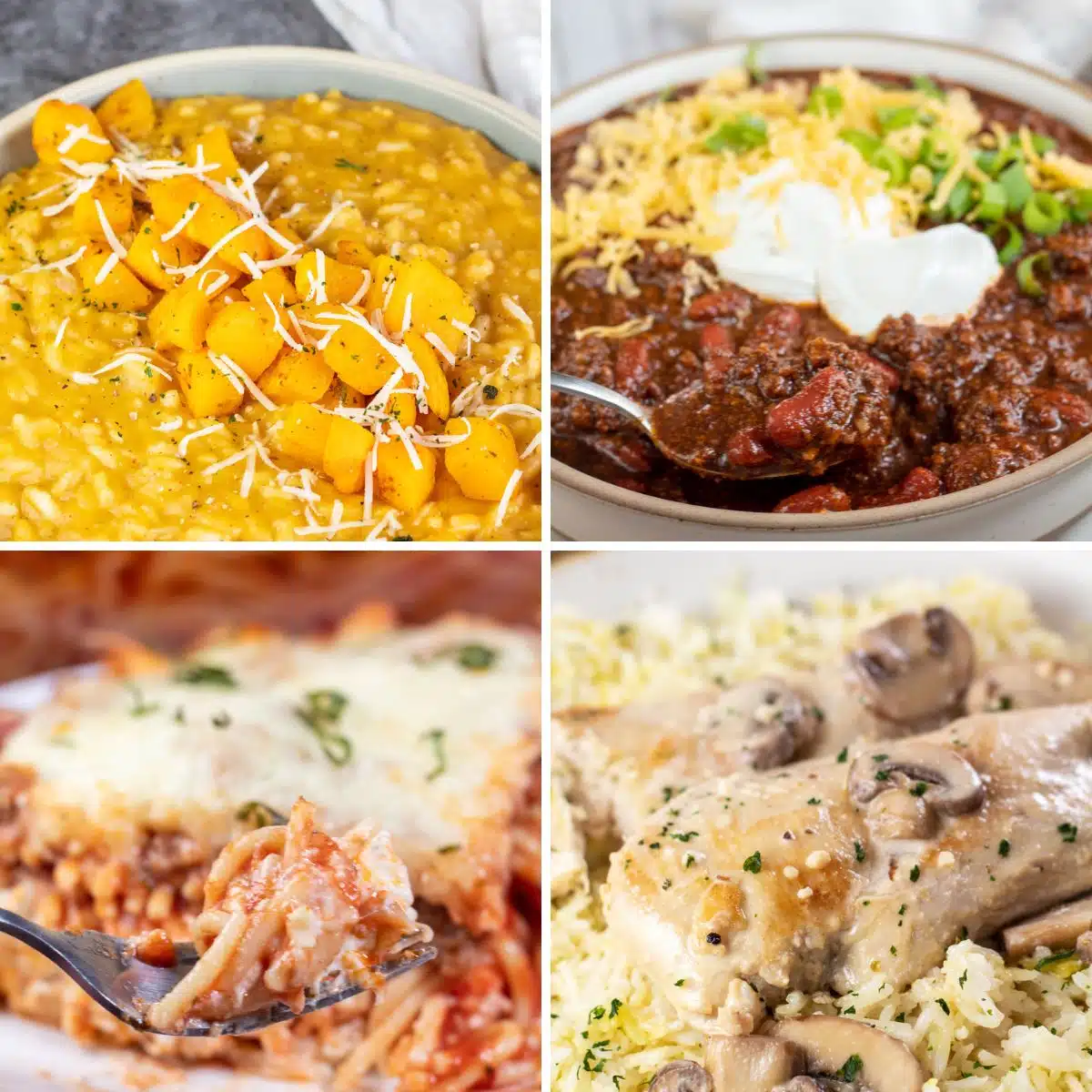 Jump to:
If you are looking forward to all the warmly spiced fall treats that pop up this time of year, be sure to check out my collection of fall baking recipes! I have plenty of tasty pumpkin spice recipes, too!
1. Mushroom Chicken
Earthy mushrooms in a rich and creamy sauce is an easy and delicious way to elevate chicken breasts. I like to serve it over a warm bed of rice pilaf, so not one drop of that delicious sauce goes to waste!
2. Butternut Squash Risotto
Fall is when butternut squash is in season, so it's the perfect time to incorporate it into your recipes. This rich and creamy butternut squash risotto makes an excellent side dish or vegetarian main course!
For something quick and easy, you can always dice and roast your butternut squash.
3. Million Dollar Spaghetti Casserole
This casserole is made with the classic combination of spaghetti, cheese, and meat sauce, and it tastes like a million bucks. That's because, in addition to the regular cheese, it also includes cream cheese and cottage cheese for a richly flavorful sauce that is extra creamy!
4. Guinness Lamb Stew
Guinness beer gives the broth a rich depth of flavor, which makes this lamb stew perfect for fall! It's warm and satisfying, with chunks of buttery lamb meat and tender vegetables to enjoy.
5. Slow Cooker Salisbury Steak
School is back in session, so it's the perfect time to bust out your crockpot for weeknight dinners. These juicy Salisbury steaks with savory mushroom gravy taste as if you slaved over the stove all day, but really, you just set it and forget it!
6. Chicken Divan Casserole
This easy chicken casserole is a comfort food classic that never disappoints! Just toss together some rotisserie chicken (or any cooked chicken), rice, broccoli, cream of chicken soup, and cheese, then pop it in the oven until golden and delicious!
7. Whole Roasted Rabbit
If you go rabbit hunting in the fall, this recipe is the best way to prepare a whole rabbit. If not, you should still pick one up from your local butcher because this succulent and flavorful roasted rabbit meat is more than worth the trip.
8. Fish and Chips
I'll admit, fish and chips are something you can enjoy year-round. However, when I think of a warm plate of golden fries and crispy fried fish with malt vinegar and tarter sauce, comfort food certainly comes to mind!
>>>>See all of my recipes HERE<<<<
9. Dutch Oven Chili
Chili has got to be one of the best cold-weather foods. Served up hot with some shredded cheese and a dollop of sour cream, I can't think of anything better!
10. Smoked Duck and Mushroom Risotto
A whole roasted duck makes for a showstopping main course, but you also get to look forward to the leftovers! This duck and mushroom risotto is rich and indulgent, with a super creamy texture that will have you savoring every bite.
11. Pasta a la Norma
Pasta a la Norma is a classic Italian recipe featuring eggplant and al dente penne pasta in a delicious tomato sauce with grated ricotta cheese. It's super simple yet always satisfying (especially with a slice of garlic bread)!
12. Cowboy Casserole
Kids and adults alike will enjoy this tasty tater tot casserole with seasoned ground beef, corn, cheese, and bacon. I like to eat it with a splash of hot sauce, but everyone else enjoys it as-is!
13. Crockpot London Broil
For a delicious roast dinner that you don't have to fuss over, the crockpot is the way to go. This London broil is fall-apart tender and comes complete with potatoes, green beans, and carrots for a well-rounded meal.
14. Cabbage and Noodles
Don't let the simplicity of the name fool you; haluski (aka cabbage and noodles) is more flavorful than it sounds. Butter egg noodles are tossed with crispy bacon, caramelized onions, tender cabbage, and a little salt & pepper for an easy and delicious dinner.
15. American Chop Suey
A hearty combination of ground beef, tomato sauce, and macaroni noodles, American chop suey is a warm and inviting dinner on cold evenings. Not to mention, the leftovers taste even better for lunch the next day once the flavors have had time to meld in the fridge!
16. Pork Tacos
Elevate your taco Tuesdays by making some carnitas-style pulled pork tacos! This is a great Monday recipe for using up leftover pulled pork from the weekend. All you need is your favorite taco toppings!
See my page on what to serve with pork tacos to help round out the meal.
17. Crockpot Creamy Salsa Chicken
To make creamy salsa chicken, you just toss chicken, cheese, salsa, and a little salt & pepper into your crockpot and let it do its thing. The result is a wonderfully flavorful creamy chicken filling that can be used in tacos, enchiladas, quesadillas, sandwiches, and more!
💭 Tips For Making The Best Fall Dinners
Creating the best fall dinners involves embracing the flavors and ingredients of the season to make comforting and delicious meals. Here are a few tips for preparing the best dinners this fall:
Use seasonal ingredients: Fall is known for its abundance of seasonal ingredients like pumpkins, squash, apples, pears, sweet potatoes, cranberries, and various hearty greens.
Experiment with spices: Warm and aromatic spices like cinnamon, nutmeg, cloves, and allspice are perfect for enhancing the 'fall flavor' of a dish. You can use them in both savory and sweet recipes to add depth and warmth.
Roasting: Roasting vegetables and meats brings out their natural sweetness and creates a comforting, caramelized flavor. You can never go wrong with a roasted vegetable medley, butternut squash, or roasted chicken with fresh herbs.
Hearty soups and stews: Cooler temperatures call for comforting soups and stews. Make a rich butternut squash soup, hearty chili, or a classic beef stew for a warm and satisfying fall dinner.
Pasta and risotto: Fall is a great time for comforting pasta dishes and creamy risotto. It's the perfect time to try out pumpkin or mushroom risotto or a hearty pasta recipe with a rich sauce.
These family-favorite fall dinner recipes never disappoint! Let me know your favorite autumn recipes in the comment section below so I can try them!
📋 Recipe