For what to serve with pork tacos, take a look at these easy side dishes that will turn your taco night into a well-balanced meal! This collection includes everything from classic refried beans and Mexican rice to delicious condiments. If you're planning a taco dinner this week, you've come to the right place!
Best Recipes To Serve With Pork Tacos
Pork tacos are a delectable and versatile dish featuring tender pork meat with a variety of flavors and textures from toppings. Whether you opt for traditional carnitas or marinated pulled pork, they're a great alternative to your typical ground beef tacos!
When it comes to what to serve with them, there are plenty of easy side dishes and condiments that will complement the savory flavor of pork. Here are a few great options to make your next taco night extra special!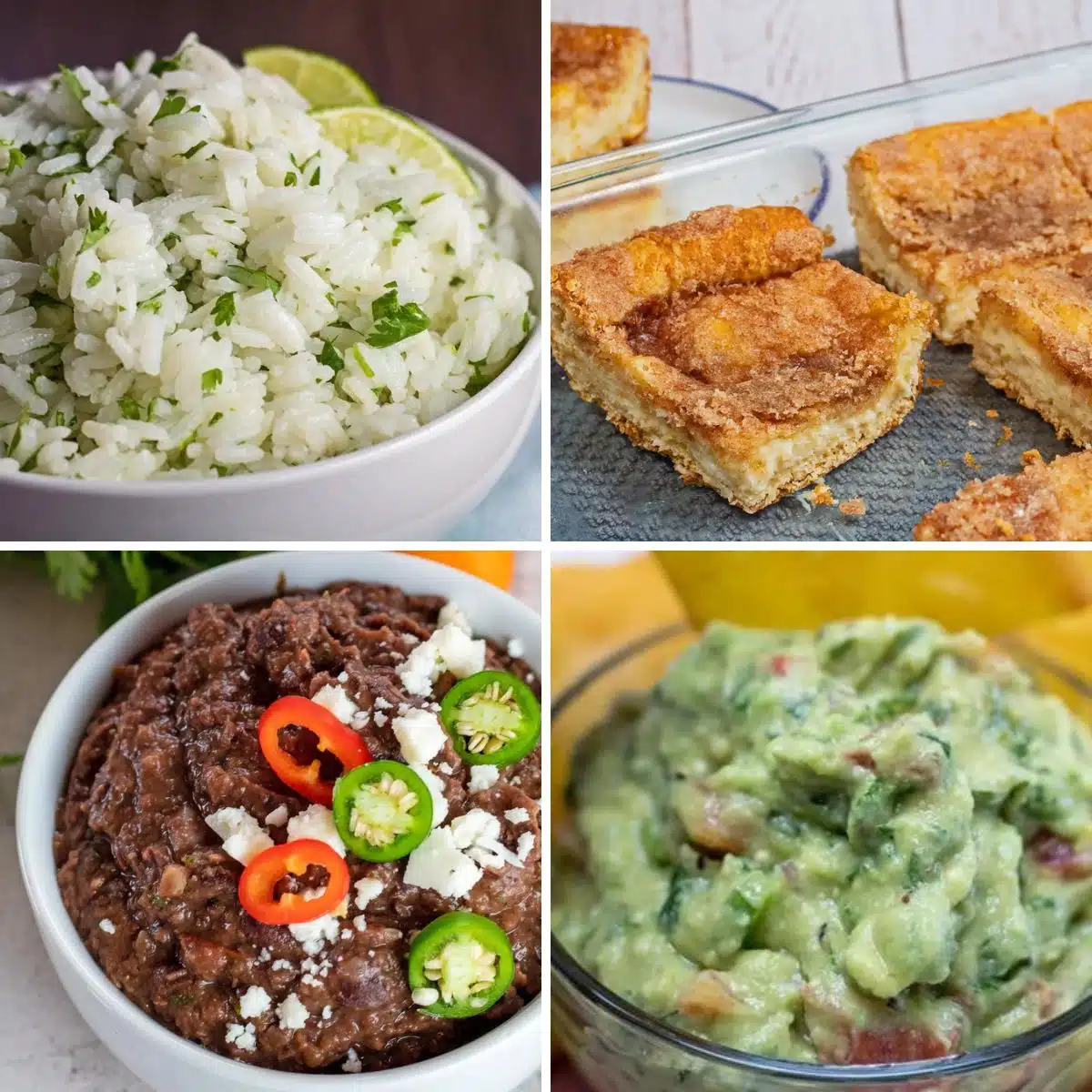 Jump to:
If you don't already have a pork taco recipe in mind, my slow-cooker pork carnitas would taste absolutely delicious with anything on this list!
1. Restaurant Style Mexican Rice
This Mexican rice is better than restaurant-style rice, yet it's incredibly easy to make at home! Loaded with fire-roasted tomatoes and just enough of a kick from jalapeno peppers, you'll want to make your rice like this every time.
2. Refried Black Beans
Of course, taco night is not complete without some delicious refried beans on the side! This quick and easy version features a few cans of black beans simmered with minced onion, garlic, and homemade taco seasoning!
3. Guacamole
Whether you top your tacos or enjoy it with some chips, this simple guacamole will bring a refreshing touch to your dinner! Trust me, its addicting flavors will leave everyone wanting seconds!
You could also try my creamy guacamole or hatch chile guacamole if you are looking for some flavor variations!
4. Roasted Peppers & Onions
These succulent roasted peppers and onions are the perfect vegetables to top your tacos, burrito bowls, or fajitas! All you need is a few minutes of prep time, some fresh bell peppers, onions, and some simple seasonings.
My roasted mini peppers would be delicious if you prefer a sweeter flavored pepper!
5. 7-Layer Dip
I can't think of a better appetizer or side dish for taco night than my easy 7-layer dip! Whether you choose to serve it warm or cold, it's sure to be a hit with everyone at the table.
6. Air Fryer Tortilla Chips
Tortilla chips are always a popular choice to serve with tacos. When you use your trusted air fryer, you never have to worry about them turning out greasy!
>>>>See all of my recipes HERE<<<<
7. Cilantro Lime Rice
This Instant Pot cilantro lime rice is effortless to make and will pair well with a variety of dishes. It tastes similar to Chipotle's version, but you can make it at home for a fraction of the price!
8. Mexican Street Corn
My family absolutely loves when I make Mexican street corn (Elotes) with tacos or any other Mexican-inspired dish! It only takes a few ingredients to make and is ready to serve in 40 minutes.
Another great corn recipe to serve with your pork tacos is my grilled corn on the cob!
9. Baked Avocado Fries
Another great appetizer or snack to serve with your pork tacos is my crispy baked avocado fries! The avocado stays nice and soft on the inside while the Panko breadcrumb coating crisps up to golden perfection.
I like to dip them in my chipotle aioli or Cajun dipping sauce!
10. Jiffy Jalapeno Cornbread
This Jiffy Jalapeno cornbread is an amazing upgrade to everyone's favorite boxed corn muffin mix! It's the perfect way to combine southwest flavors with the sweet taste of Jiffy cornbread - all you have to do is add diced jalapenos, red bell pepper, and cheddar cheese!
11. Mexican Corn Fritters
These pan-fried corn fritters are a quick and easy appetizer or side dish loaded with wonderful Mexican flavors! You don't even have to wait for corn to be in season since frozen corn works just as well.
12. Fresh Pineapple Salsa
Another great topping option for your pork tacos is this fresh pineapple salsa! It's incredibly easy and quick to make and has the perfect combination of sweet and spicy ingredients!
13. Salsa Roja
If you're looking for a great all-purpose salsa recipe to top your pork tacos or to serve with chips, my roasted salsa roja is an excellent choice! You can keep it chunky or blend it down for a smoother consistency, either way, it won't disappoint!
14. Fresh Mango Salsa
This fresh mango salsa is not only shockingly delicious, but it's also super simple to make! Loaded with sweet and spicy flavors from diced fresh mango and minced jalapeno, it will complement any Mexican-inspired dishes.
15. Salsa Verde
This tomatillo-based salsa always gets rave reviews and is a personal favorite of mine! You can either roast or grill your veggies in order to get a robust flavor if preferred.
16. Pico De Gallo
It's no surprise that my classic pico de Gallo made this list! It's packed with authentic Mexican flavors and vibrant colors and will bring just the right amount of kick to your pork tacos.
17. Avocado Ranch
This copycat Taco Bell avocado ranch is an incredibly delicious condiment that literally tastes good on everything! It only takes a few minutes to prepare and is better than the original version.
18. Baja Sauce
Another delicious Taco Bell sauce to make in the comfort of your home is this flavorful Baja sauce! With its creamy texture and slightly zesty flavor, it's the perfect addition to a DIY taco bar, or you can use it to top your burritos, quesadillas, and more!
19. Sopapilla Cheesecake Bars
There's no better way to end your family taco night than these easy and delicious sopapilla cheesecake bars! They're simple to prepare as they are made with canned crescent rolls and a simple sweet cream cheese filling.
Tips For Choosing What To Serve With Pork Tacos
While pork tacos pair well with many things, you'll want to consider the specific flavor of the seasoning you decide to use on the pork. Here are a few suggestions to kind in mind while you are deciding what to serve with your pork tacos:
Beans and Rice: Beans and rice are a classic accompaniment to many Mexican-inspired dishes. Whether you prefer refried beans, pinto beans, charro beans, black beans, Spanish rice, or cilantro lime rice, all choices would be delicious with pork tacos.
Sour Cream or Mexican Crema: The cool temperature and tangy flavor of sour cream help balance out any spices you add to your pork meat. Mexican crema is a great alternative and can be easily drizzled on top of your tacos.
Guacamole or Avocado Slices: It's common to see avocado served with tacos, either as a topping or on the side. Avocados have a rich, creamy texture that will help balance the savory flavors of pork.
Corn: Corn is an easy side dish that will always taste great with tacos. All it needs is a little butter, salt, and pepper. My steamed corn on the cob, Instant Pot corn on the cob, or air fryer corn on the cob are all simple to make.
Slaw: A fresh slaw full of tangy flavor is the perfect pairing for tacos, especially if you like them spicy. Try my broccolini slaw or Southern coleslaw!
These are just a few of my favorite recipes to pair with pork tacos on family taco night! Let me know if you give any of them a try in the comments down below!
📋 Recipe