These easy Thanksgiving desserts are all simple and foolproof to prepare but are also delicious enough to be served for the holidays! From pies and cakes to cookies and bars, there is something for everyone! Your friends and family will certainly be impressed, no matter which recipe you choose!
Easy Thanksgiving Dessert Recipes
We all know that Thanksgiving is a holiday that completely revolves around food. It can easily become overwhelming when trying to plan appetizers, side dishes, entrees, and desserts!
Luckily, this collection of dessert recipes only includes things that are simple to prepare so you can take some stress off of yourself!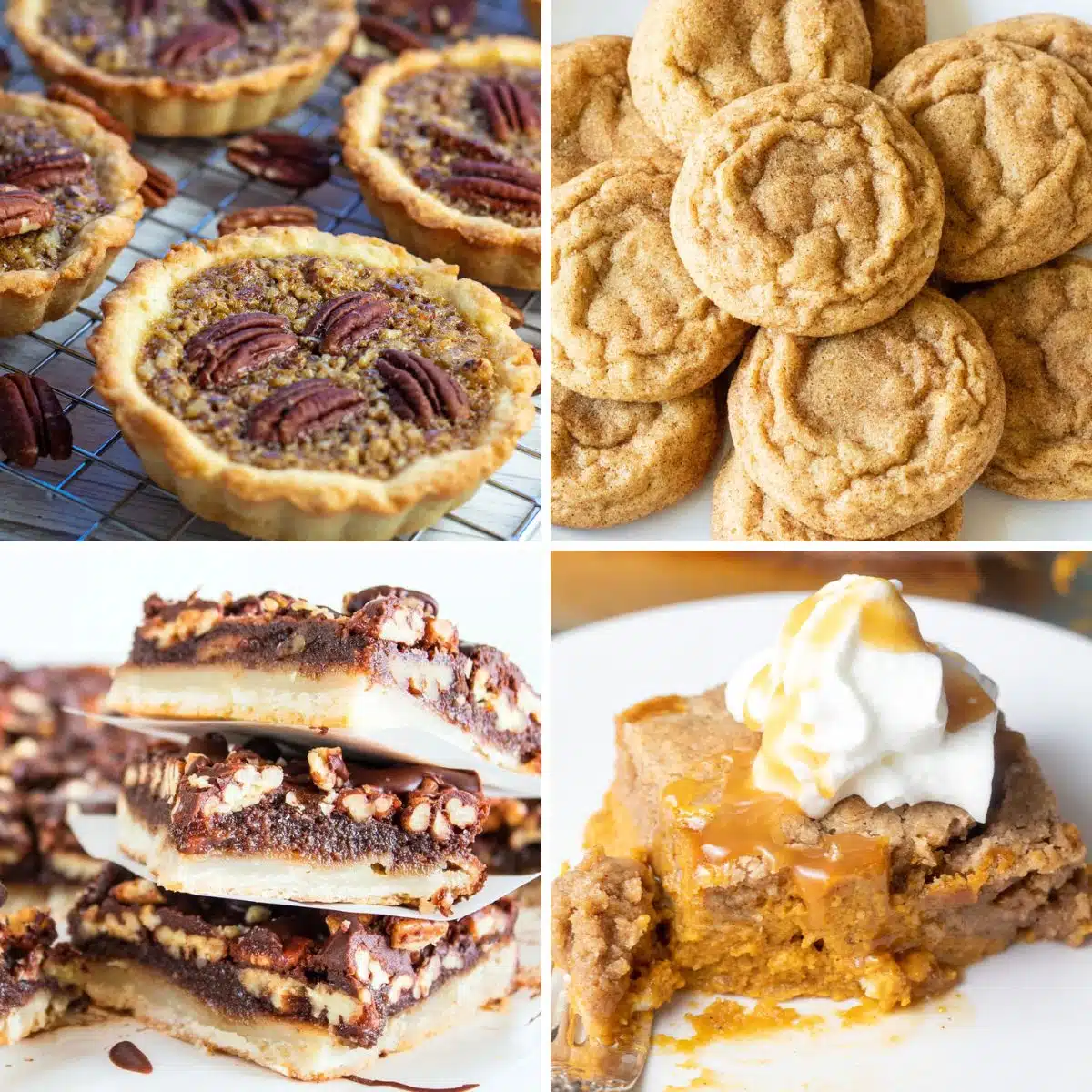 Jump to:
Whether you're a pro at hosting Thanksgiving dinner and holiday parties or giving it a try for the first time this year, you're sure to find my ultimate guide to planning Thanksgiving a help! Don't forget to safely thaw your holiday turkey early, too!
1. Pecan Tartlets
These bite-sized tarts taste just like a classic pecan pie but as an easy-to-serve treat! Bring them along to any Thanksgiving celebration, potluck, or Friendsgiving.
There's no need to mess with cutting, slicing, or serving a pie!
2. Pumpkin Dump Cake
Dump cakes are probably one of the easiest desserts there is! You just dump your ingredients into a baking dish and pop it into the oven!
This specific dump cake features pumpkin puree and pumpkin pie spice for a truly fall-inspired treat.
3. Chocolate Pecan Pie Bars
Dessert bars are always a hit when you have a lot of people to feed because they are so easy to slice and serve! These bars combine sweet cream cheese pie crust, tons of chocolate, and crunchy pecans!
It satisfies any craving you might be having!
4. No-Bake Pumpkin Pie
No-bake treats taste amazing and are ideal for even beginning bakers who may not have much experience. Just prepare your pie and place it into the fridge to chill overnight so it is ready to go the next day!
5. Pumpkin Snickerdoodles
Imagine your favorite cinnamon-packed snickerdoodles but with the added element of pumpkin puree and warm spices! Of course, there are tons of easy cookie recipes, but these are perfect for autumn!
6. Peach Crumble Bars
If you're in the mood for a simple, fruity-based dessert then these bars are perfect! They combine fresh peaches with a cinnamon oatmeal topping. Serve them as-is or add a scoop of vanilla ice cream!
7. Chocolate Chess Pie
This crowd-pleasing pie will have every chocolate lover begging you for the recipe. You can choose to make the pie crust from scratch or use one from the store for some added convenience.
8. Sour Cream Blackberry Pie
Pie may be one of the most requested Thanksgiving desserts there is! One of the best things about this blackberry pie (other than being delicious) is that you can make it ahead of time and freeze it for later!
9. Reese's Pieces Cookies
These tasty cookies feature sweet, bite-sized peanut butter candies. As an added bonus, it is such an easy recipe that does not require any chilling, rolling, or cutting.
10. Double Chocolate Cookies
For some truly indulgent cookies, try these out! They have a chocolate-based dough and are then loaded with sem-sweet chocolate chips!
11. Apple Cranberry Pie
Apple pie is always a hit, but adding some fresh cranberries really takes it to the next level! If you're a huge cranberry fan, make sure you serve some apple cider cranberry sauce, too!
12. Sweet Potato Pie
There are so many Thanksgiving pie recipes out there, but sweet potato pie is one of the most popular! It's always a safe choice when you aren't exactly sure what your guests want!
13. Butterscotch Brownies
These butterscotch brownies (technically, blondies) use brown sugar for a rich and deep flavor and then are packed with butterscotch baking chips! They are a unique twist on standard brownies that everyone will enjoy.
14. Cranberry Crumble Bars
Cranberries are pretty synonymous with the holiday season, and these crumble bars definitely won't disappoint you! And, if you're serving a crowd, one batch of these bars is enough to serve 24 people!
15. Dutch Apple Pie
Whip up some homemade apple pie filling, and then add a wonderfully delicious brown sugar streusel topping! It's similar to a classic apple pie but without having to deal with the top crust.
💭 Tips For Choosing Easy Thanksgiving Desserts
Choosing an easy-to-make dessert for Thanksgiving dinner can seem a little overwhelming. Keep these things in mind when choosing your favorite treats to make!
Know Your Guests: Understand your guests' preferences, allergies, and dietary restrictions, so you know which recipes people can enjoy.
Consider the Entree: If your dinner is very rich and heavy, opt for a lighter dessert. On the other hand, if your dinner is on the lighter side, you can indulge in a richer dessert.
Time: Keep in mind how much time you have for making dessert. Some desserts can be made a day or two in advance, which can be a relief on the big day.
Quantity Matters: If you have a large gathering, consider desserts that are easy to multiply and serve, like dessert bars or cookies.
Variety: Instead of one large dessert, consider making 2-3 smaller, varied options so that all of your guests can choose something they like.
Presentation: A simple dessert can be elevated with a little attention to presentation. Fresh berries, a sprinkle of powdered sugar, a scoop of whipped cream, or a drizzle of caramel can make even the most basic dessert look gourmet.
What are your favorite easy Thanksgiving desserts? Let me know in the comments below!
📖 Recipe Card