These Thanksgiving pie recipes include classic and unique desserts that will make an excellent addition to your holiday dinner spread! Try out a traditional recipe for pumpkin pie, an old-fashioned pecan pie, or go with something totally new like a pumpkin chiffon pie. With so many pies to choose from, you'll want to keep baking right into the new year!
Best Pies For Thanksgiving Dinner
Some people say the best thing about Thanksgiving is the turkey, some say the side dishes. Well, I say it's dessert!
There's something so festive about a classic homemade pumpkin pie, but that's not all there is! These Thanksgiving pie recipes are ideal for sweater weather and sharing with family and friends.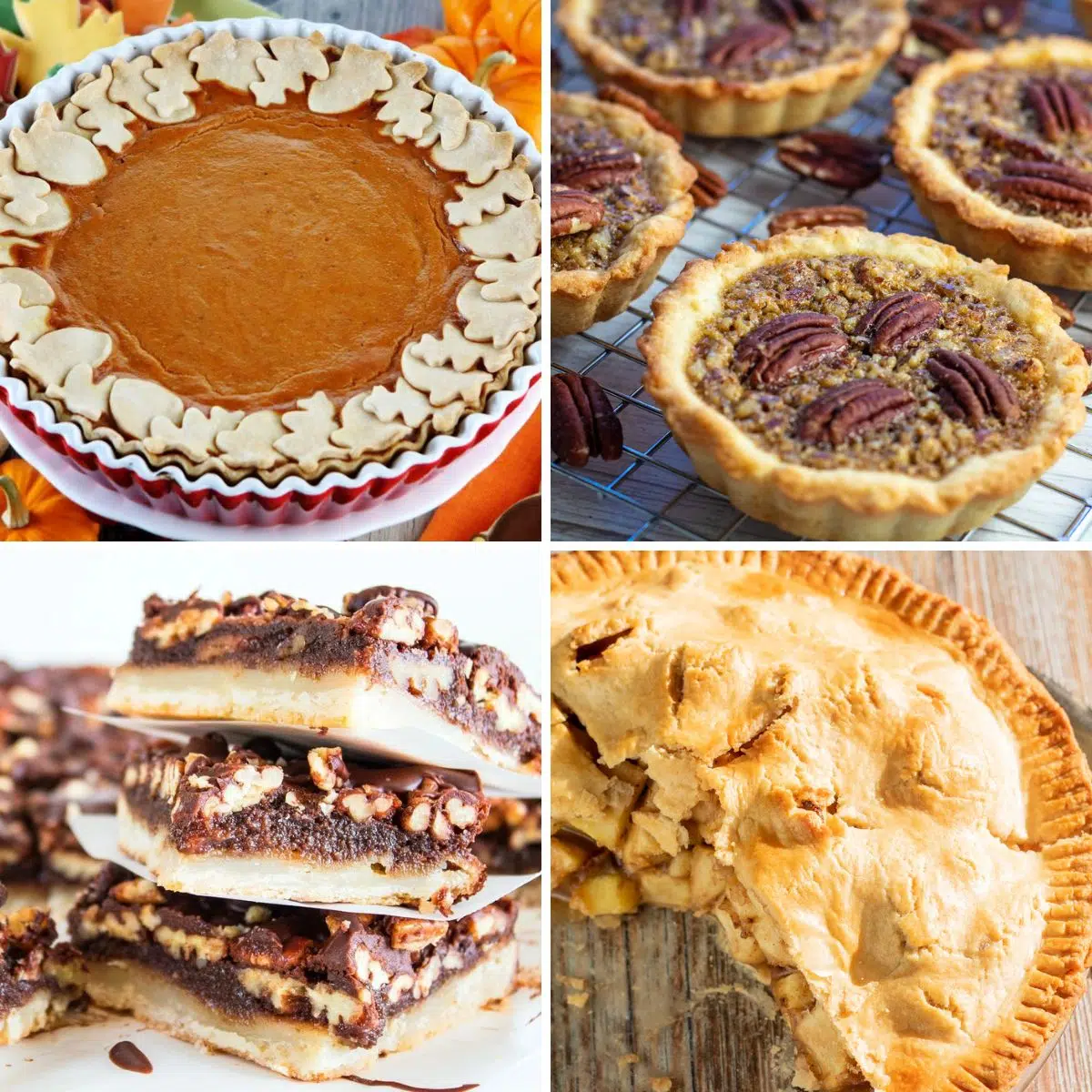 Jump to:
Whether you're a pro at hosting Thanksgiving dinner and holiday parties or giving it a try for the first time this year, you're sure to find my ultimate guide to planning Thanksgiving a help! Don't forget to safely thaw your holiday turkey early, too!
Any of these Thanksgiving pie recipes will be the star of the show on your dinner table. With a wide assortment of fall flavors, your perfect pie is sure to be on this list!
1. Pumpkin Pie
First and foremost, a classic pumpkin pie. This recipe is a quintessential Thanksgiving dessert.
Everyone loves a smooth and creamy spiced pumpkin in a flaky butter pie crust. You can make this recipe year after year, and you'll never get tired of it!
2. Pecan Pie
If you aren't having pumpkin pie this Thanksgiving then you should try pecan. In fact, we often do both!
This traditional recipe has a creamy filling made with butter, sugar, eggs, and plenty of pecans. It's just what you want when you are home for the holidays.
3. Pumpkin Pie without Evaporated Milk
If you are out of evaporated milk or just prefer not to use it, this is the pie for you. It tastes just like a classic, homemade pumpkin pie and no one will ever know it's missing a thing!
I love to add autumn leaves made from the pie dough. It's a fun and festive pumpkin pie made for celebrating!
4. Pecan Tartlets
Pecan tartlets are just mini pecan pies. No need for slicing, everyone gets their own cute little tart!
They are a perfectly portioned dessert for finishing off the meal without overindulging. That's if you can eat just one!
5. Sweet Potato Tart
This decadent sweet potato tart is a beautiful addition to Thanksgiving dinner. With a creamy sweet potato filling and toasted marshmallow meringue topping, it's downright hard to resist.
If you are a fan of candied yams with the toasted marshmallow topping, this pie will be your new favorite.
6. Chocolate Pecan Pie Bars
Chocolate pecan pie bars are meant for sharing. They are chewy and chocolatey with a tasty cream cheese pie crust and lots of crunchy pecans!
If you have plans to go to a Friendsgiving or potluck, these pie bars are the perfect thing to bring.
7. Pumpkin Dump Cake
Ok, maybe it's not technically a pie, but this pumpkin dump cake is 100% Thanksgiving-worthy. Not to mention, it's a totally beginner-friendly recipe.
Canned pumpkin pie filling and a box of spiced cake mix are the two key ingredients. Serve it with a dollop of homemade whipped cream and you'll be in heaven.
8. Granny Smith Apple Pie
Granny Smith apples make the most wonderful apple pies. Using homemade apple pie spice makes this one of the coziest and most fragrant apple pies you will ever have.
You can use store-bought crust to make this pie even easier. Or go all out and make the pie crust from scratch!
9. Pumpkin Slab Pie
A creamy spiced pumpkin slab pie is a crowd-pleasing alternative to the Thanksgiving classic. Instead of making multiple small pies, this one will make about 24 slices!
It's a fairly simple recipe. You can even make the pie filling in advance and refrigerate it until you need it!
10. Sweet Potato Pie
Sweet potato pie is a classic Southern dessert. The sweet potato filling is creamy and subtly spiced.
It's a great alternative to pumpkin pie. Especially if you have lots of sweet potatoes on hand!
If you're a fan of Southern cooking, try out some of these Southern Thanksgiving recipes.
11. Chocolate Pumpkin Pie
This fun twist on pumpkin pie is one the whole family will enjoy! Rich chocolate and creamy pumpkin is the flavor combination you didn't know you needed.
Your family may love it so much that they request all of the pumpkin pies be chocolate from here on out!
12. No-Bake Pumpkin Pie
This easy no-bake pumpkin pie is packed with flavor starting with a tasty gingersnap cookie crust and ending with the delightfully spiced filling! You'll love every bite of this amazing no-bake dessert!
13. Salted Bourbon Pecan Pumpkin Pie
This pie is bursting with fall flavor! It's essentially a combination of pecan and pumpkin pie with a splash of bourbon and a sprinkle of sea salt for good measure.
You can even mix in chocolate chips to add another layer of flavor!
14. Salted Caramel Pumpkin Pie
If you love caramel, then this pumpkin pie is calling your name. This recipe combines a sweet salted caramel sauce with a classic pumpkin pie and the results are legendary.
There's no shame in using a store-bought pie crust to speed things up. Trust me, you won't hear any complaints!
15. German Chocolate Pie
With all the richness and flavor of a German chocolate cake, this pie is as decadent as pie gets. The gooey chocolate filling is heavenly.
To top it all off, literally, an irresistible topping of toasted pecans and sweet shredded coconut.
16. Thanksgiving Pie Bars
I love pie bars for so many reasons! They are easy to serve and easy to eat.
These epic layered pie bars consist of every classic Thanksgiving pie you can imagine. There's a layer of apple pie, pumpkin pie, and pecan pie, tied together with an incredible crumb topping!
17. Pumpkin Chiffon Pie
The cloud-like pumpkin filling of this chiffon pie is so light and airy. It's an elegant pie that is suitable for the fanciest of Thanksgiving get-togethers.
A par-baked graham cracker crust holds the whipped filling in place. Your family will savor every bite.
18. No Bake Chocolate Pecan Pie
I love no-bake desserts for obvious reasons. No-bake means less work!
This recipe has 3 entire layers of chocolatey goodness. Plus plenty of pecan pie filling.
For more easy sweet treats, try my no-bake cookies!
19. Butter Pecan Cream Pie
You won't go back to regular pecan pie once you try this butter pecan pie with cream cheese! Salty pecans are the perfect contrast to the creamy, buttery pie filling.
Not to mention, it's totally no-bake! Could this pie be any more perfect?
20. Cinnamon Sugar Butter Pie
This pie may not look like much but the flavor is everything! The crust tastes like an oatmeal cookie and the buttery brown sugar filling is smooth and delicious.
It's a simple recipe that will quickly become a tradition in your household.
21. Apple Cranberry Pie
Fresh apples and tart, juicy cranberries make for an incredible fall pie! With cinnamon, nutmeg, and ground cloves the pie is full of traditional autumn spices.
Try your hand at making a buttery homemade lattice crust! It will be just as delightful to look at as it is to eat.
22. Chocolate Chess Pie
There are only a handful of simple ingredients in this rich chocolate chess pie. It's foolproof, especially when you use a prepared pie crust.
It's gooey and sweet like a thick chocolate custard. It tastes even better if you bake it the day before and let it chill in the fridge overnight!
23. 5 Spice Pumpkin Pie with Phyllo Crust
This deep-dish pumpkin pie is seasoned with Chinese 5-spice. It gives it a complex, warm flavor.
Thy phyllo crust is dramatic and delightfully flaky. It's a lovely blend that both modern and traditional palates will enjoy!
24. Lemon Cranberry Meringue Pie
The flavors in this pie are out of this world. The filling is made with an easy lemon curd that is then topped with a tart, thin layer of cranberry gelée.
A mountain of light and airy meringue tops it all off. Give it a kiss from the blowtorch to toast the peaks and you have one gorgeous, and delicious dessert!
25. Dutch Apple Pie
This upgraded apple pie is deliciously flavorful and wonderfully sweet! The filling is made with fresh Granny Smith or Golden delicious apples.
Instead of a crust covering the top, this pie has a buttery streusel topping! Serve it with a scoop of vanilla ice cream to get the full experience.
26. French Silk Pie
This rich and indulgent French silk pie is a chocolate lover's dream. The filling is smooth (like velvet) with a pile of homemade whipped cream on top.
An oreo cookie crust holds all of the decadent chocolate filling in place. It's the most perfect way to complete your Thanksgiving dinner.
>>>>See all of my recipes HERE<<<<
❓ FAQ
🦃 More Thanksgiving Guides
See more Thanksgiving →
These Thanksgiving pie recipes are best enjoyed with those you love! Don't forget to come back and let me know which pies you tried by leaving a comment below!
📖 Recipe Card