These luncheon menu ideas are perfect for baby showers, engagement parties, ladies' luncheons, company lunches, and more! If you're hosting a group of people for any occasion, these easy and delicious crowd-pleasing recipes are just what you need! There are appetizers, side dishes, main courses, and desserts, so you can plan the whole menu!
Best Recipes For Hosting Lunch
Whether you're leading a meeting at work or hosting a lunch for friends, when it's time for that midday meal, you want to deliver! From savory sandwiches to fresh salads (and even a few desserts), these recipes were hand-picked to satisfy any palate!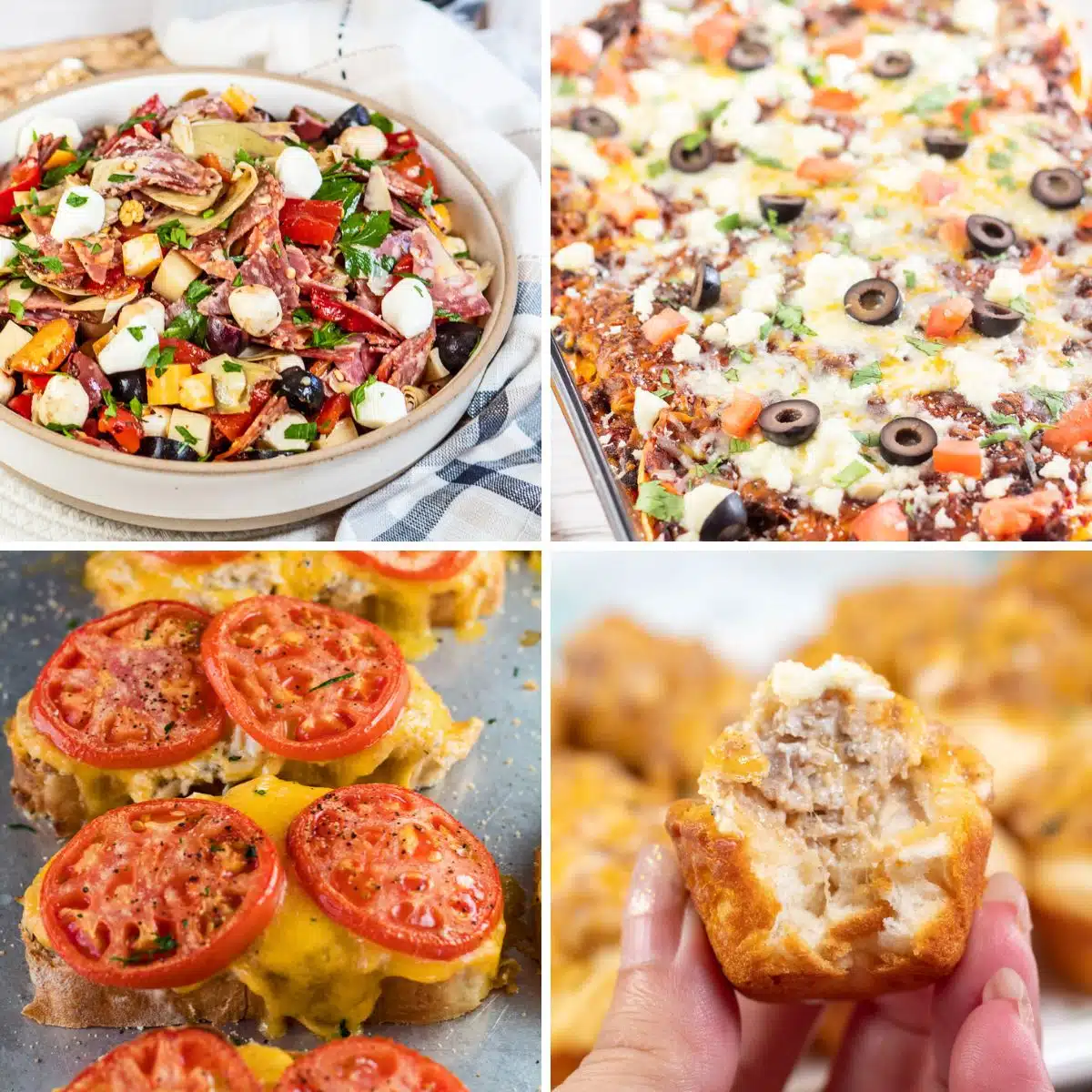 Jump to:
Luncheon ideas and potluck recipes have a lot in common, so check out my other post for more great ideas! You really can't go wrong with any of these potluck side dishes or potluck desserts!
1. Antipasto Salad
Everyone loves an antipasto salad, and it's a straightforward recipe to scale up to feed a crowd. Best of all, you can make it the night before and keep it in the fridge until it's time for your midday lunch!
2. Cheese Platter
A cheese board is great for grazing while people socialize and can feed anywhere from two to a few or a crowd! The cheeses and accouterments can be sliced or portioned out in advance, and then you can quickly assemble it the day of!
Along the same lines as a cheese board, I also have an antipasto platter or charcuterie board that would be equally perfect for any luncheon!
3. Sausage Cream Cheese Biscuit Bites
These sausage and cream cheese biscuit bites are always a crowd favorite and can be made with just 4 ingredients (win/win)! They're fluffy, savory, and cheesy and can be served as an appetizer or side dish.
4. German Potato Salad
Classic potato salad is always a good option for luncheons, but I like to shake things up with this tangy German potato salad! It has a vinegar-based dressing that will wake up your tastebuds, and there's bacon!
5. Baked Scotch Eggs
Scotch eggs make for an extra-hearty appetizer or a lighter main course with a few tasty sides. You can coat the hard-boiled eggs in the sausage mixture and refrigerate them the day before, so all that's left to do is bake!
6. Mexican Lasagna
For an easy Mexican-inspired lunch, I love pairing this Mexican lasagna with some quick restaurant-style rice and homemade salsa. The lasagna has layers of beef, cheese, beans, and tortillas, so you don't need much else!
7. Sun-Dried Tomato Quiche
Quiche is an elegant and delicious breakfast, brunch, or lunch option that you can bake and freeze, then reheat for your luncheon! I love the flavor of the sun-dried tomatoes in this quiche, though quiche florentine and asparagus quiche are close seconds!
8. Crockpot Chicken Bacon Ranch Pasta
If you won't have a lot of time the day of your luncheon, bust out your crockpot and toss in the ingredients for this chicken bacon ranch pasta! It's a hands-off recipe that you can start in the morning and have ready for lunch 4 hours later.
>>>>See all of my recipes HERE<<<<
9. Cincinnati Chili
Chili is perfect for fall or winter luncheons when the weather has cooled down. I love Cincinnati chili because it's served over spaghetti, which is always a talking point for those who have never tried it!
10. Tuna Melt
Warm and cheesy tuna melt sandwiches are an oldie but a goodie! Tuna salad, fresh tomatoes, cheese, and bread, toasted to crispy, melted perfection. A side of homemade air fryer potato chips is always a plus.
11. Rotisserie Chicken Salad
Swing by the store and snag a rotisserie chicken, or make your own at home in the air fryer! Shred it up, and it makes for the easiest and most delicious chicken salad EVER (it is seriously one of my all-time favorite rotisserie chicken recipes)!
12. Baked Panko Chicken
If you're looking for a hearty and delicious protein option that will please a lot of people, look no further than this baked Panko chicken! Panko breadcrumbs give it a delectable crunch that will have everyone asking for the recipe.
13. Cheesy Funeral Potatoes
Cheesy funeral potatoes originated as a satisfying meal for large groups or gatherings, so naturally, they are perfect for luncheons. The crispy cornflake topping adds a delectable crunch to every bite!
14. Creamy Grape Salad
This cool and creamy grape salad is sweet enough to be a dessert, but refreshing enough to be a side dish! It's also another great option if you're looking for things you can keep in the fridge until lunch.
15. Mississippi Mud Pie
If you're looking for a dessert that will have everyone talking, this Mississippi mud pie always comes with rave reviews! It's super chocolatey with an Oreo cookie crust and layers of whipped cream and chocolate pudding. (Oh, and it can be kept in the fridge!)
16. Banana Cinnamon Muffins
A big batch of these banana cinnamon muffins will have guests leaving your luncheon all smiles! The more over-ripe the bananas, the more moist and flavorful your muffins!
17. Ambrosia Salad
Ambrosia salad is a classic Southern dessert loaded with sweet fruits, mini marshmallows, and creamy Cool Whip! It is easy to self-serve and can be made the night before and left to chill until lunchtime the next day.
💭 Tips For Hosting A Luncheon
I chose these luncheon menu ideas for their ease of preparation and ability to feed a crowd. Those are the two most important things to consider when hosting a luncheon!
Here are a few more helpful suggestions to keep in mind:
Plan Ahead: Start planning your luncheon well in advance. Create your guest list (knowing the number of attendees will help you plan your menu).
Menu Selection: Once you know the number of people you are serving, plan your menu. Offer a variety of dishes, including appetizers, main courses, side dishes, and desserts. Write out your list of ingredients and do any shopping.
Prepare in Advance: Many of these recipes can be prepared in advance, or the ingredients can be pre-chopped, diced, sliced, etc. This will save you valuable time on the day of your luncheon.
Beverages: Offer a variety of beverages, including water (most important), tea, and perhaps a signature cocktail or non-alcoholic mocktail if appropriate.
Timing: Stick to the schedule to ensure that the luncheon flows smoothly. Plan your timing carefully to allow for socializing, eating, and any other planned activities!
Are you a seasoned pro at hosting luncheons? Let me know your go-to recipes in the comment section below!
📖 Recipe Card