These rotisserie chicken recipes are so flavorful, hearty, and delicious that you will want to try all of them! Rotisserie chicken is so versatile that it can be used for casseroles, soups, enchiladas, or just eaten by itself! These hearty and savory dishes are full of flavor and tender, juicy rotisserie chicken!
The Best Rotisserie Chicken Recipes
Chicken is such a versatile protein as it can be used in so many different dishes. It makes cooking so much easier when all you need to do is pull out some already cooked rotisserie chicken!
I gathered together my favorite recipes that feature rotisserie chicken. These are all so mouthwatering that you won't be able to pick just one!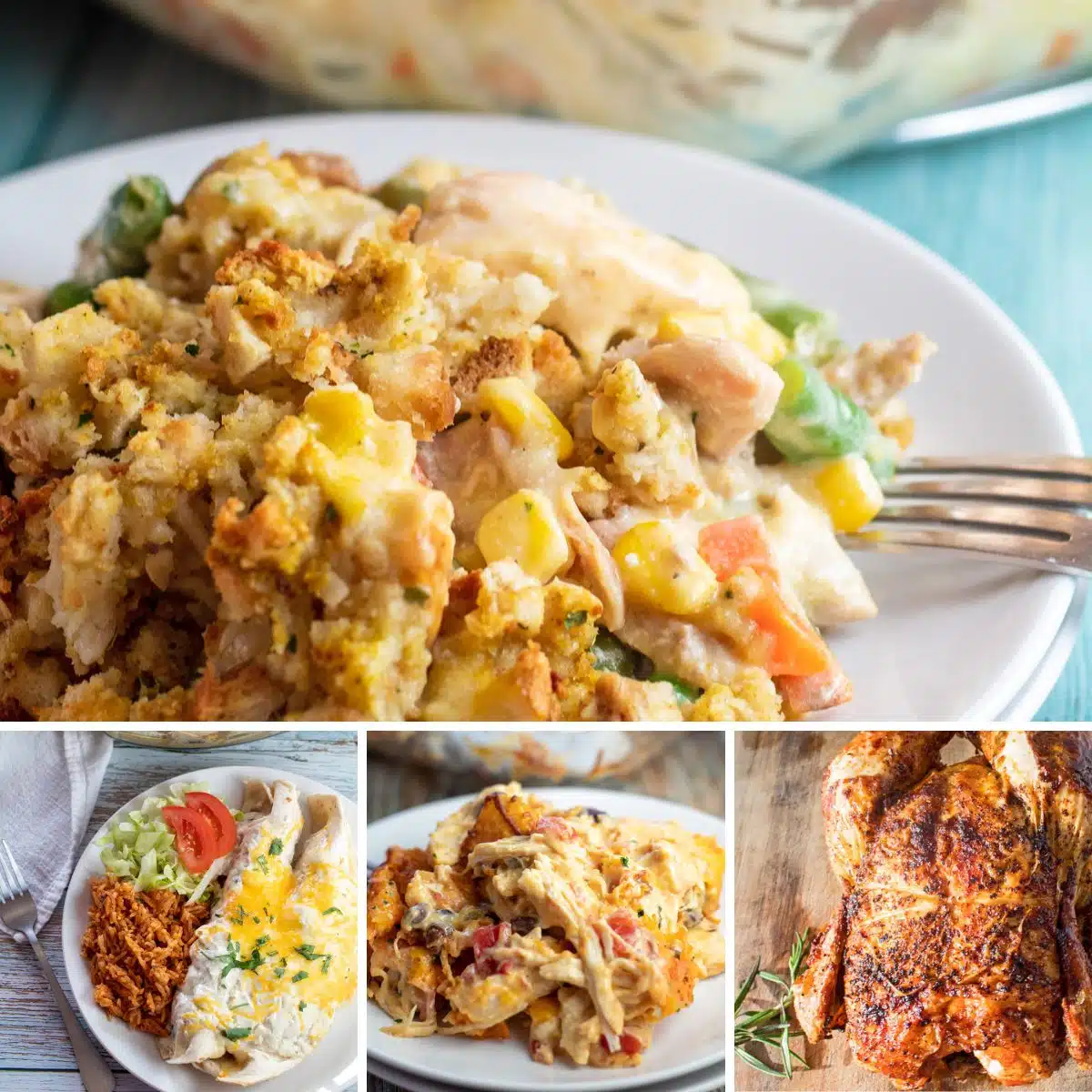 Jump to:
1. Air Fryer Rotisserie Chicken
Yes, you can use an air fryer to make a rotisserie chicken! It is exactly as easy as it sounds and is still fall-off-the-bone tender!
The air fryer gives the chicken a delicious, crispy skin while still being irresistibly juicy on the inside! No one will believe that it was made in an air fryer!
2. Rotisserie Chicken Salad
Chicken salad is my favorite, easy lunch to make when I have some leftover rotisserie chicken! This light and healthy meal is delicious any time of year!
You can eat it on a sandwich or just eat it out of the bowl! Not to mention, it will be ready to eat in only 10 minutes!
3. Sour Cream Chicken Enchiladas
This classic Mexican staple is a family favorite at my house! You won't even miss the restaurant with how delicious these enchiladas are!
After trying these flavorful enchiladas, this recipe will be added to your regular dinner rotation!
4. Chicken Broccoli Rice Casserole
My chicken broccoli rice casserole is always a hit when I serve it at family get-togethers! The rich, creamy sauce in this dish is going to blow everyone away!
This home-cooked, comfort meal is so tender and cheesy that you won't have any leftovers!
5. Doritos Chicken Casserole with Cream Cheese
Combining the cheesy, crunchy Doritos with a comforting casserole is a true match made in Heaven. This dish is an absolute kid favorite, they'll even want to help you make it!
This casserole is so easy, you'll only need 10 minutes to prepare it! The rest of the time is spent cooking in the oven.
6. Chicken a la King
This recipe is so quick and simple that it will be ready to eat in just 15 minutes! Chicken a la king is the perfect dish for those busy weekday dinners!
Additionally, you can make an extra batch and freeze it for later! It's a win-win for everyone!
7. Chicken Stuffing Casserole
I don't think anything sounds more comforting than combining stuffing and casserole into the same dish. This meal would be perfect for the holidays, but can also be enjoyed year round!
This meal is great for busy families because it only takes 30 minutes to make!
8. Italian Chicken Pastina Soup
This warm and savory soup is packed with delicious Italian flavors! It is perfect for the cold winter months or if you aren't feeling well.
This recipe is ready to eat in 20 minutes so you won't have to spend your entire afternoon in the kitchen!
9. Chicken Spaghetti with Rotel
If you have never eaten chicken spaghetti then you need to try it right now! This is such a family-friendly meal as it is loved by both kids and adults!
This cheesy, delectable casserole will be on your table in only 35 minutes. It is that easy!
10. Creamy Chicken Minnesota Wild Rice Soup
My hearty wild rice soup is exactly what you need after being out in the cold! It will warm you up and satisfy your need for some delicious comfort food!
Minnesota wild rice is super healthy and extra tasty! Even picky eaters will love this soup.
11. Chicken Divan Casserole
I love casseroles for how easy, delicious, and comforting they are. My chicken divan casserole is perfect for any family meal!
Warm chicken, cheese, rice, and broccoli all get to shine in this dish!
12. Chicken Enchiladas
If you're in the mood for some Mexican food, then these chicken enchiladas are exactly what you need! This classic meal is popular for a good reason- it's delicious!
Use up some leftover rotisserie chicken and this dish will be incredibly easy!
13. Bisquick Chicken and Dumplings
I'm pretty sure that chicken and dumplings are in the actual definition of "comfort food". Use some Bisquick for the dumplings and this recipe could not get any easier!
Sauteed veggies, tender chicken, and fluffy dumplings all come together to make this unforgettably delectable dish!
These hearty, warm, and flavorful rotisserie chicken recipes are too good not to share! Leave a comment down below and let me know which one you want to try first!
📋 Recipe