Best potluck side dishes: a collection of crowd-favorite recipes that are easy to transport and always delicious! From potluck classics like deviled eggs to new and unique sides like mashed potato casserole, there's something here for everyone! Bring a few of these side dishes along, and you'll be the most popular person at the party!
Best Side Dishes For Potlucks
So you've been asked to attend a potluck-style event, and you aren't sure what to bring? Well, you can't go wrong with any of the easy and delicious side dishes below!
These recipes are perfect for feeding a crowd, easy to transport, and easy to reheat (if they need to be reheated at all). You can even prepare some of them in advance so you don't have to stress the day of!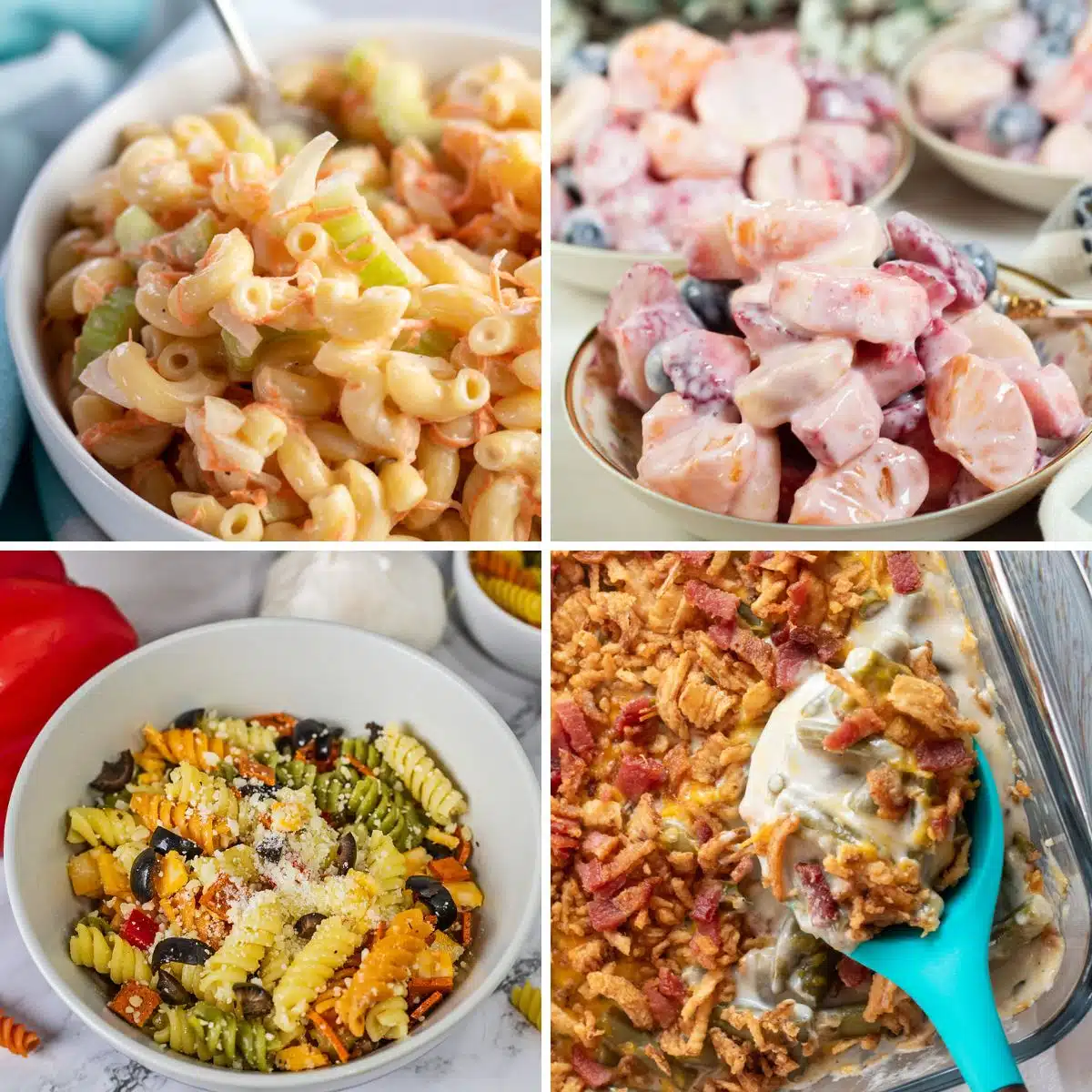 Jump to:
For more potluck inspiration, check out my pages dedicated to my favorite potluck salads and potluck desserts!
1. Greek Yogurt Fruit Salad
This vibrant and refreshing fruit salad is tossed in a cool and creamy Greek yogurt dressing. You can even use your preferred seasonal fruit so that it's different every time!
2. Pasta Salad with Italian Dressing
Pasta salad is delicious cold, making it perfect for potlucks because you can keep it in the fridge until ready to serve! I typically make this with my homemade Italian dressing, but you can make things even easier by grabbing a bottle at the store.
3. Broccolini Slaw
This cool and crisp broccolini slaw features a creamy and tangy Greek yogurt dressing. It's an excellent way to balance out heavier entrees, and you can keep it in the fridge until you need it.
4. Potato Salad
My go-to recipe for traditional potato salad! Potato salad is almost expected at potlucks, and this potato salad features mustard, mayo, and pickle relish for that classic balance of flavor.
5. Ambrosia Salad
Ambrosia salad can be served as a sweet side dish or as dessert! It combines mini marshmallows with mandarin oranges, pineapple, cherries, coconut, and a light and creamy dressing made from whipped cream and sour cream.
6. Cheesecake Factory Brown Bread
A couple of loaves of this copycat cheesecake factory brown bread will go a long way! It tastes just like their signature recipe. All you need is a little butter to go along with it.
7. Butter Swim Biscuits
Crisp on the outside and light and fluffy on the inside, these butter swim biscuits are delicious with butter or jam! They're ready in under 30 minutes, and make nine large biscuits (you can always make two batches if needed)!
8. Franks and Beans
Bring on the nostalgia with a big pot of homemade franks and beans (or beanie-weenies if you prefer). It's ready in just 20 minutes and tastes perfectly delicious when heated up in the microwave if a stovetop or oven isn't available.
>>>>See all of my recipes HERE<<<<
9. Bacon Wrapped Jalapeno Poppers With Creamed Cheese
If you're from the South, then you're used to seeing bacon-wrapped jalapeno poppers with cream cheese at every group gathering! They don't have to be served smoking hot and are typically perfect if prepared just before the potluck and covered with foil.
10. Fresh Mango Salsa
This mango salsa is made with fresh fruits and vegetables, so it can be served straight from the fridge! It makes an excellent addition to salads, wraps, tacos, & more!
11. Creamed Corn
Whip up a quick batch of homemade creamed corn with frozen or canned corn! There's plenty of butter, cream, and even a little sugar added so that it is super rich, sweet, and creamy!
12. Mashed Potato Casserole
Mashed potato casserole is much easier to travel with than traditional mashed potatoes. You can even bake it in a disposable foil baking pan for easy cleanup when the potluck is over!
13. Paula Deen's Macaroni and Cheese
Paula Deen's baked mac and cheese is rich, creamy, and wonderfully indulgent. This is a guaranteed crowd-pleaser as long as you can access an oven to warm it up!
14. Chicken Salad with Grapes
I love the contrast of flavors between the creamy and savory chicken salad and the sweet bursts of juicy grapes. Chicken salad can even become an entree if you bring along some croissants or bread for making sandwiches!
15. Campbell's Green Bean Casserole
Green bean casserole is not just for Thanksgiving! I love the classic flavor of this Campbell's green bean casserole made with cream of mushroom soup and topped off with crispy fried onions.
16. Hawaiian Macaroni Salad
The crunch of fresh celery complements the sweet tropical flavor of this Hawaiian macaroni salad beautifully. It features a creamy dressing made from mayonnaise, pineapple juice, and vinegar that is hard to resist!
17. Deviled Eggs
No potluck is complete without a big tray of deviled eggs! You can customize the recipe with your favorite seasonings or tasty mix-ins like pickled onions or bacon!
Tips For Choosing The Best Side Dishes For Potlucks
Technically, you can bring whatever you'd like to a potluck! However, there are a few key things that can help make the whole experience a lot easier.
Portability: Ideally, potluck recipes are easy to transport and serve. Casseroles, crockpot recipes, and room temperature or cold dishes are the easiest.
Versatility: Choose a side dish that can be enjoyed chilled or at room temperature and save yourself the stress of warming it up. Cold dishes can be kept in a cooler or placed in the fridge at the potluck until ready to serve.
Crowd-pleasers: Recipes that are generally well-liked and enjoyed by many people are a safe bet. Things like macaroni and cheese, bread, and potatoes are always a crowd favorite.
Easy to share: Finger foods and bite-sized portions are a great way to serve a large group. Deviled eggs are the perfect example!
I've brought each of these wonderful recipes to group gatherings and potlucks and received plenty of compliments! Be sure to let me know what everyone thought of the food in the comments below!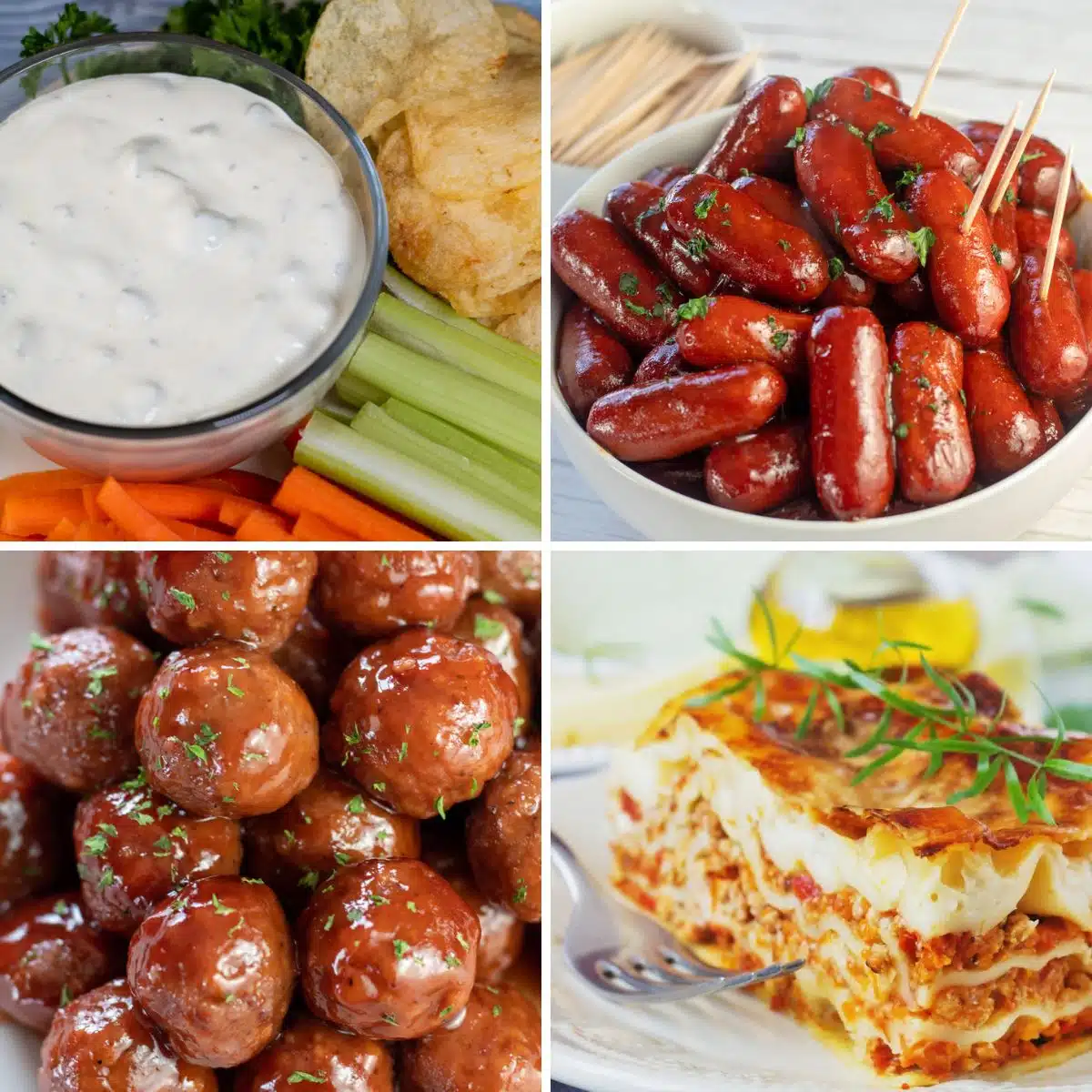 📋 Recipe