When you're wondering 'What to serve with fajitas' for dinner, all you have to do is check out this amazing gathering of Mexican-inspired recipes! Pick your favorites and prepare them alongside your fajita meat, peppers, and onions for a flavor-packed family meal!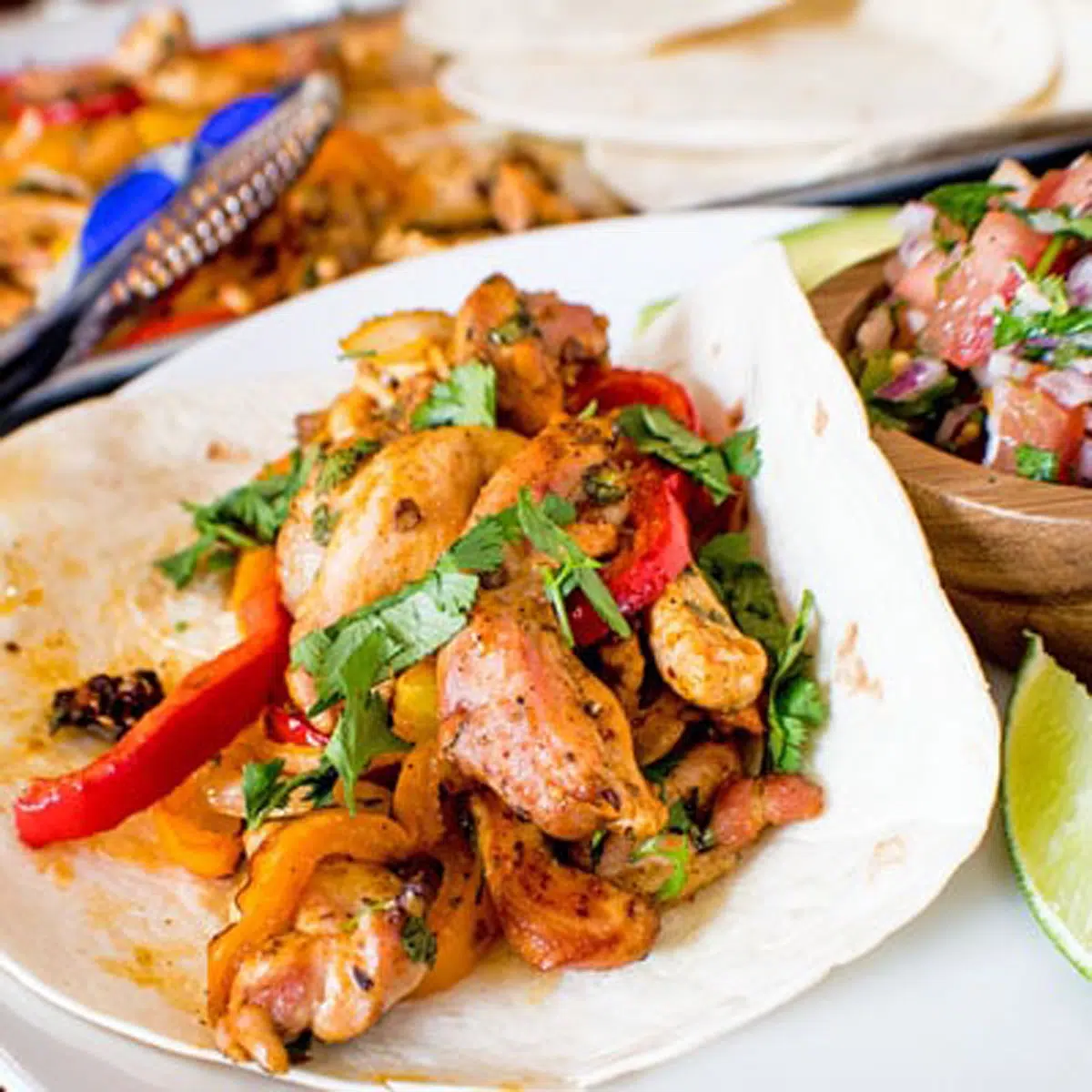 Pair your easy-to-make fajitas with the best sides for a quick dinner!
Fajitas are a quick but incredibly tasty meal that are perfect for dinner any night of the week! If you're wondering what the best side dishes are to serve with your fajita dinner, I've got you covered!
All of these Mexican-inspired recipes are made utilizing ingredients that you'll have on hand for making fajitas too! The delicious combinations shared here are exactly what you need for making a satisfying family meal!
The very best fajita night will include a tasty starter like my shrimp cocktail appetizer, plenty of salsa and guacamole to choose from, plus delicious sides. So let's get started with everything you need to pull off a Fajita Friday that your family will rave about!
Best Side Dishes for Fajitas
Even though fajitas can certainly be served as a meal of their own, there's nothing wrong with making it a complete Mexican or Tex-Mex style dinner! Serve up one or more of these side dishes that are the best for pairing with fajitas!
1. Mexican Rice
My flavor-packed restaurant-style Mexican rice is the perfect side dish for fajitas! The spices included kick this simple rice side dish up to an amazing level of deliciousness!
Pile some rice into your fajitas or serve it on the side, no one will complain! The rich tomato flavored rice is just made for layering flavors onto!
2. Cilantro Lime Rice
Another great rice side dish for fajitas is this more mellow-flavored cilantro lime rice! It cooks up pretty much effortlessly in your Instant pot but you can apply the same ingredients into stovetop or rice cooker rice!
Fluff your cooked rice, stir in the cilantro and lime, then serve with your dinner!
3. Black Beans
I LOVE frijoles (in this case frijoles negras) with fajitas! Just like when you dish up some rice with your fajitas, the black beans can easily be served on the side or layered into your fajita filling!
These easy-to-make homemade refried black beans are meant to be served with any Mexican dinner your family loves enjoying!
4. Mexican Street Corn
Um, yum! Make room on your plate for these tasty, creamy, tangy elotes! Sweet corn is the base of this ridiculously tasty Mexican street corn that is topped with creamy garlic chipotle sauce, queso fresco, and smoked paprika!
Pile your fajitas full then serve them with this delicious Mexican street corn. The creamy topping will offset the fajita 'heat' making them the perfect side for your meal!
5. Guacamole
Pick your guac! Use my hatch chile guacamole shared here, or choose my classic guacamole or creamy guacamole for variety! Any of these tasty guacamole recipes are delightful when served with your fajitas!
Pile this staple Mexican side dish onto your fajitas with the fajita filling, or dip your fajitas as you go to get a plentiful amount in each bite!
6. Pico De Gallo
My all-time favorite for any Mexican meal is this vibrant and super fresh pico! It's also another staple Mexican side for topping any dish whether you're serving this tasty pico de gallo with tacos, enchiladas, or fajitas!
Chop up some fresh tomatoes, onion, jalapeno, and cilantro then season with salt and pepper to taste and squeeze fresh lime juice into the mix! It's a condiment that is simply bursting in flavor!
7. Corn Fritters
The tender inside-crispy outside texture of corn fritters is a delightful starter or side dish when served with fajitas! The mild flavor is also a nice contrast to the liberally spiced fajita mix!
Not only are they great for dipping into your salsa or guacamole you've already made for the fajitas, they're also a fantastic use of leftover elotes! Cut the corn from the cob and whip up these easy appetizers in no time!
8. Nachos
Make some easy air fryer tortilla chips or use your favorite brand to make these loaded nachos in no time! Get your finger food night started right with the cheesy goodness of homemade nachos!
Save a few chips on your plate to scoop up any of those fajita fixins' that manage to fall out during the meal too! My recipe shared here is extremely versatile, so match it to whatever your serving as your fajitas!
9. Green Chile Stew
This ultra-flavorful green chile chicken stew is the perfect compliment to your fajitas! It's so flavorful, you might just get tempted to scoop out the chicken and load up any extra flour tortillas!
Serve up this rich and addictive stewed chicken to enjoy with your sheet pan chicken fajitas. Keep it green chile themed, and serve some salsa verde with your fajitas too!
10. Albondigas Soup
Next in the soups category (it's so hard to decide between them!) is this brothy albondigas soup! The beefy meatball soup is so tasty alongside some sheet pan steak fajitas!
Simmer your soup while you prep your meat, peppers, and onion, then serve and enjoy with your fajita-feast!
11. Quesadillas
Who doesn't love easy, cheesy quesadillas?! Add your favorite fillings then sear until nicely crisped whether you're using corn tortillas like I have here, or flour tortillas!
All of your fajita condiments cross-over and work for dipping your quesadillas into too! Plus, if you have picky eaters the quesadillas may be all that you manage to get them to eat!
12. 7 Layer Dip
This fun and easy 7 layer dip is a standard party appetizer in my home! It's well-loved by everyone and NEVER lasts long! You can always trust that whatever is served, this layered bean dip will disappear!
I've been known to serve this party dip as a quick dinner, but when served with fajitas you'll have an incredibly delicious meal!
14. Mexican Shrimp Cocktail
Pair this OMGosh delicious shrimp appetizer with some sheet pan shrimp fajitas for a Mexican themed seafood extravaganza! Your shrimp lovers will thank you and it's a fairly light meal to enjoy!
I love to serve my shrimp cocktail with freshly seared fajitas during the summer months when I don't want to heat up the house much!
15. Mojito
Want to round out your fajita night with an equally delicious cocktail drink? Try my vodka mojito for a refreshing change to the usual!
The citrus drink is delightful either with your meal, or served after!
📋 Recipe