These are the best zucchini recipes to spotlight just how versatile and delicious a vegetable zucchini can be in your dinners & more! This underrated veggie can be used in a wide variety of ways! Zucchini can be a healthy alternative to pasta, sautéed, baked, and even used in desserts!
The Best Zucchini Recipes
Zucchini can soak up flavorful sauces or it can hide inside a dessert! This healthy and nutritious vegetable is a great addition to many meals and dishes.
I've put together this list of my absolute favorite zucchini recipes for you to try out! These recipes cover a vast variety of flavors, so find one that sounds perfect for you and your family!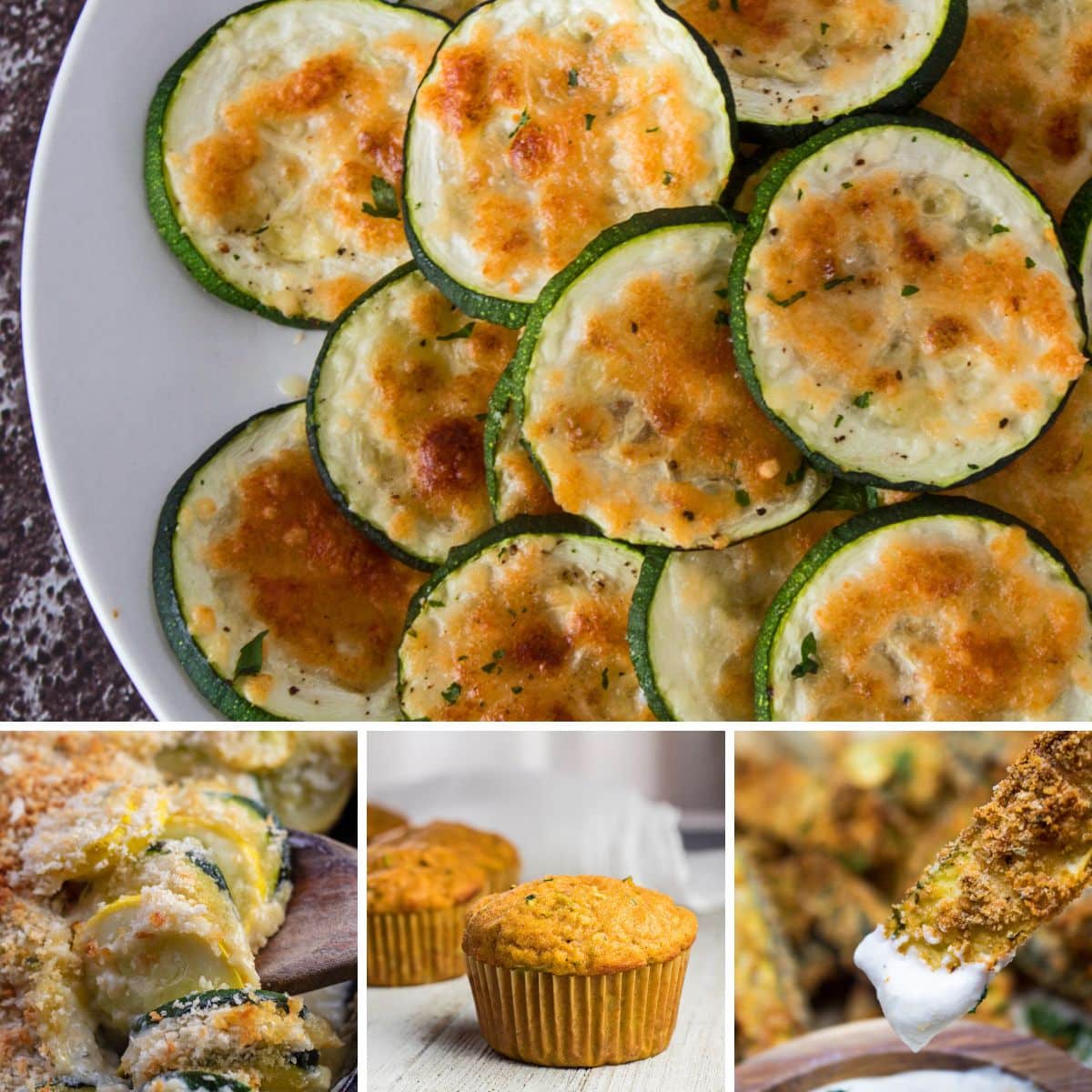 Jump to:
1. Air Fryer Zucchini
This air fryer zucchini is a great veggie side dish that can balance out any hearty main course. This recipe lets the natural flavor of the zucchini shine with a little bit of extra flavor from the Parmesan cheese!
This incredibly easy dish can be cooked in the air fryer while you get the rest of your meal prepared. It is an effortless, nutritious dish that can complement just about any meal!
2. Zucchini Squash Casserole
There is something about warm, cheesy casseroles that just scream comfort! This creamy casserole is a great way to get your kids to eat more vegetables!
This side dish would be delicious next to a great chicken dish like my instant pot chicken thighs! The Panko breadcrumbs add a great texture to this smooth and tender dish.
3. Pumpkin Zucchini Muffins
These incredibly easy pumpkin zucchini muffins are the best way to start your day! They are fluffy, moist, and full of flavor!
If you're a pumpkin-spice fanatic like I am, you will want to eat these muffins all year long! Go ahead and make a big batch all at once so you can freeze the extras and thaw them out when you want them!
4. Hibachi Zucchini
My hibachi zucchini and onions are a tasty way to add a Japanese twist to your ordinary vegetable side dish. The zucchini soaks up all the flavors from the teriyaki and soy sauce, making it completely mouthwatering!
The zucchini pieces are tender and delicious! You can even add in your favorite stir-ins to make a dish that your family and friends will love!
5. Sautéed Zucchini and Yellow Squash
The zucchini and yellow squash in this recipe is topped with garlic and Parmesan cheese to make a dish that even picky eaters will love! Sautéing the zucchini and yellow squash makes them extra flavorful and tender!
This is a great last-minute meal idea! You will have this fantastic side dish on the table and ready to eat in only 10 minutes!
6. Baked Parmesan Zucchini Rounds
These irresistible zucchini rounds can be as crispy as you like! I love to grab some ranch and eat them like chips.
This dish is also incredibly easy to make! Just slice your zucchini, add your Parmesan and seasoning, and let the oven do the rest!
7. Crispy Baked Zucchini Fries
You won't even miss the potatoes after tasting these crispy zucchini fries! The crispy outside and Parmesan cheese make these completely irresistible!
This is a great healthier alternative to a deep-fried snack. Just grab your favorite dipping sauce and you're ready to eat!
8. Albondigas Soup
This hearty Mexican meatball soup is incredibly tasty! It has a rich tomato and beef broth as well as lots of veggies including, you guessed it, zucchini!
This is a great soup to serve to the family at dinner time, but it's also perfect for cold evenings or any time you are feeling under the weather. It's warm and comforting, just like soup should be!
9. Creamy Turkey Pasta Primavera
Turkey pasta primavera is an excellent way to use up any leftover turkey you have hanging around (especially after Thanksgiving). This creamy pasta dish also features a number of different vegetables, zucchini included.
Top your pasta with a sprinkling of Parmesan cheese and everyone might enjoy the holiday turkey even more the second time around!
10. Panda Express Kung Pao Chicken
This super easy Panda Express copy cat features tender wok-fried chicken and a mixture of stir-fried vegetables. If you are a fan of Panda Express, you will love this dish!
The ginger garlic sauce ties it all together for a super simple Asian-inspired recipe the whole family will enjoy.
11. Caldo de Pollo Mexicano
Move over chicken noodle, caldo de pollo Mexicano is here and it is incredibly delicious! This Mexican chicken soup is warm and savory with shredded chicken and lots of veggies.
There are 2 whole zucchinis sliced up in this soup! So if you have a couple on hand you need to get rid of, I couldn't think of a better way!
12. Panda Express Mushroom Chicken
If you want your zucchini front and center, this no-fuss Panda Express mushroom chicken dupe is the way to do it. There are equal amounts of tender chunks of wok-fried chicken, mushrooms, and zucchini all covered in an incredible garlic soy sauce.
This recipe is low carb and can quickly be thrown together on busy weeknights!
We hope you've discovered some fun new ways to cook or bake with zucchini! Tell us about your favorite zucchini recipes in the comments below!
📋 Recipe