What to serve with pulled pork: the perfect menu ideas for serving up this tasty classic, family favorite BBQ dish! Whether you're rounding out a hearty lunch or dinner, I've listed the best starters, sides, and desserts to pair with your pulled pork meal! I even have some truly tasty southern-inspired desserts to round out your meal!
Best Pulled Pork Side Dishes
It's hard to imagine a full southern meal without a delightfully smoky, bbq pulled pork sandwich on a toasted bun with that addictively sweet barbecue sauce.
There's not much that wouldn't be delicious alongside it, but in case you're stuck, I've come up with a list of excellent options.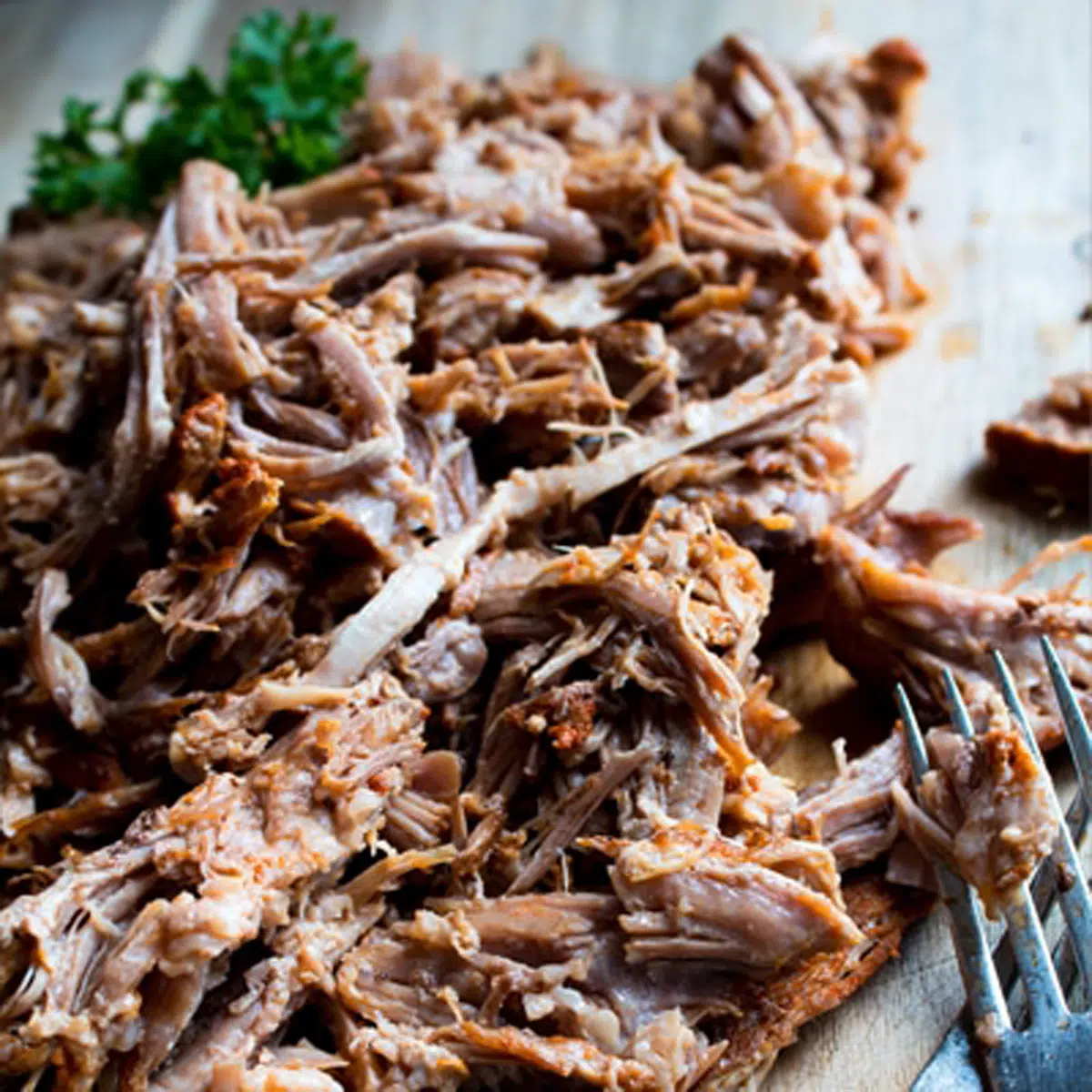 Hearty flavors combine to make amazingly tasty meals the whole family will love!
Southern Baked Mac & Cheese
Baked Beans
Cajun Fries
Onion Rings
Butter Boiled Corn on the Cob
Sauteed Zucchini & Squash
Basmati Rice
Jalapeno Cheddar Scones
Corn Fritters
Pretzel Buns
Collard Greens
Succotash
Potato Salad
Coleslaw
Air Fryer Potato Chips
Ranch Roasted Potatoes
Roasted Bone Marrow
Air Fryer Breaded Okra
Crab Stuffed Shrimp
Totchos
Air Fryer Frozen Sweet Potato Fries
Oven Garlic Bread
Hello Dolly Bars
Preacher's Cake
Cherry Pie Bars
Whether you're looking for vegetable sides, rice, potatoes, pasta, or even desserts, I've got you covered! They're all wonderful when served with pulled pork and I have a feeling these will disappear quickly!
Jump to:
1. Southern Baked Mac & Cheese
There's nothing better than some cheesy, creamy, gooey mac and cheese. This recipe is everything you want it to be and then some.
It has three different kinds of cheese and a bit of cayenne pepper for an extra kick. I would go so far as to say you could even mix in pieces of pulled pork to convert this to a hearty main dish.
2. Baked Beans
I love baked beans! There really isn't anything similar in flavor, and they always remind me of summer barbecues and fall potlucks and they're perfect with pulled pork!
For anyone who always wants more meat, grab some bacon, ground beef, and liquid smoke and get the party started. These aren't your regular old Original Bush's baked beans!
3. Cajun Fries
Honestly, all fries are good fries, but some are better than others. These are full of that amazing Cajun flavor with a perfect crunch.
Spices like garlic, cayenne pepper, onion powder, oregano, thyme, red pepper flakes, and ground black pepper make this side one-of-a-kind! Be forewarned - they're very addictive.
Pile your pulled pork onto an amazingly chewy pretzel bun and serve these Cajun fries alongside for a tasty lunch or dinner!
4. Onion Rings
Onion rings: fair food at its finest. Bring the state fair to your kitchen with this fantastic recipe for a crunchy, flavorful side. Air fryers are fantastic at getting things as crunchy as you want them to be.
From frozen to freshly fried in 13 minutes. These aren't just plate decorations for burgers! Don't miss trying these with pulled pork sandwiches too!
5. Butter Boiled Corn on the Cob
Boiling your corn on the cob in milk may seem like an outlandish idea, but I promise it's better than water. The milk and small amount of added sugar soak into the corn bringing out all of your corn's natural sweetness!
Butter and cream add the richness everyone wants when they eat this dish, and a sprinkle of paprika is the final, colorful touch! And of course, a dash of salt goes a long way.
Whether you're making crockpot pulled pork or smoking a nice pork shoulder, corn and pulled pork are an amazing combo!
6. Sauteed Zucchini & Squash
Summer brings all kinds of fresh vegetables with farmers' markets abound and for those of us with gardens. Zucchini and squash grow like crazy, and I'm always trying out new ways to eat them individually and as a duo.
In this recipe, I saute my zucchini and yellow squash in garlic and toss them with Parmesan. It's both fresh and satisfying.
With only ten minutes from garden to table, you can tell why it's one of my favorites! It's also one of my favorite sides to serve with pulled pork when the squash is in full production. Yum!
7. Basmati Rice
Pull out the Instapot for this recipe. Want to make meal prep faster and easier? This basmati rice recipe is for you!
Two minutes, and you can have this ready to cook. In another 15, you can have it on the table.
While there's no pork broth, adding beef or vegetable stock will make this a welcome accompaniment to serve alongside your pulled pork main.
8. Jalapeno Cheddar Scones
Forget the dinner rolls! These Jalapeño Cheddar Scones pack in the spicy, cheesy, bacony flavors and will send your taste buds reeling. Consider these the American southwest's answer to British scones with tea.
You might even enjoy using these as mini sandwiches for your pulled pork! With all the traditional barbecue flavors, it's no mystery why these go well together.
9. Corn Fritters
Savory corn pancakes are amazing any time of year but are best during the summer to early fall sweet corn harvests. It's a chance for the whole family to get involved with dinner. Shuck it, cut it off the cob, mix the ingredients, and cook.
My Mexican Corn Fritters have that extra spice that makes these a favorite. Cumin, jalapeños, chili powder, and paprika really pack a punch!
These are great topped with pulled pork for any meal of the day!
10. Pretzel Buns
Pretzel buns became a popular trend a few years ago, and they've never gone away. And with good reason! If you even remotely like pretzels, you'll love this hamburger bun replacement. In fact, I'd wager you'll be ready to trade in your sandwich bread, too!
Add a little butter, and you'll see why. These buns are heaven. Throw on some pulled pork for a very memorable sandwich!
>>>>See all of my recipes HERE<<<<
11. Collard Greens
Collards are another traditionally southern dish. While some of us northern folk might struggle to tell the difference between these and other greens, anyone who has eaten south of the Mason-Dixon line has seen these on their plate.
They're full of health benefits and hold up to the broth and bacon. Even the red pepper flakes add a bit of a sizzle!
12. Succotash
If you've never had this delightful dish, you might be surprised to find that it still exists. It might show up in an old movie or a cartoon (Sufferin' succotash!), but it's not a widely consumed dish despite its great taste.
Full of lima beans and sweet corn, it can include any of the following and more: onions, turnips, tomatoes, potatoes, bell peppers, okra, and sometimes various meats (try some chopped pork!).
13. Loaded Baked Potato Salad
There are at least a hundred ways to make potatoes. I haven't found one that was disagreeable, and this tasty loaded baked potato salad is no exception.
The combination of creamy potato salad and bbq pulled pork is a summertime staple!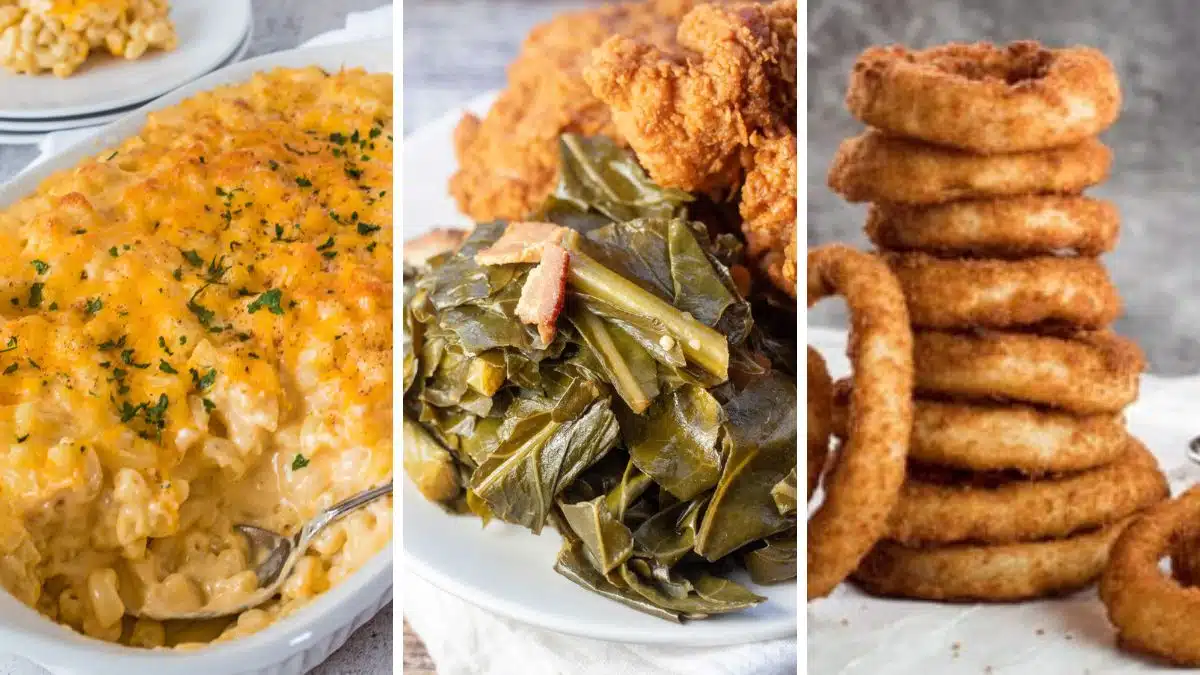 14. Southern Coleslaw
Is it really a barbecue if there's no coleslaw? Regardless of which of the many ways it has been made, this dish is an American classic with Southern flair!
Full of healthy and crunchy cabbage, you just need to add a creamy or vinegary sauce, and it's ready to serve. Pile some slaw onto pulled pork sliders for an amazing snack, lunch, or dinner!
15. Air Fryer Potato Chips
Nothing's more suited to serving alongside a pulled pork sandwich than these delightfully crispy homemade potato chips! They're loved by everyone, so you know they'll disappear fast!
16. Ranch Roasted Potatoes
Another popular potato side dish for pulled pork are these tasty, crispy ranch roasted potato wedges. They're great for snacking on while you wait, or serving as a side!
17. Roasted Bone Marrow
Keep up the hearty meat theme of your meal by serving these incredibly flavorful roasted bone marrow portions! Let your family slather the rich bone marrow on some crackers while waiting for dinner!
18. Air Fryer Breaded Okra
If you're a fan of fried okra and want a really simple way to serve it up, you can't get much simpler than using frozen breaded okra! Pop the okra into your air fryer to get a delightfully crispy snack or side ready!
19. Crab Stuffed Shrimp
For your seafood fans in the family, you can mix up this amazingly tasty crab stuffing and bake it in tender shrimp! The flavor combination is divine!
20. Totchos
I love to serve totchos with pulled pork, especially when I'm making sandwiches! If you're already eating with your hands, you might as well enjoy another finger food favorite!
21. Air Fryer Frozen Sweet Potato Fries
One of my family's favorite side dishes for sandwiches is fries, so of course we have tried them all! These savory sweet potato fries are perfect with pulled pork lunches!
22. Oven Garlic Bread
Tasty garlic bread is a versatile side dish that pairs well with practically anything you serve! You definitely cannot go wrong with using some bread to clean up your plate!
23. Hello Dolly Bars
While they have many names - seven-layer bars, miracle bars, magic cookie bars, etc. - they always have the same decadent, mind-blowing flavor. Made up of buttery graham cracker crust, chocolate chips, butterscotch chips, shredded sweetened coconut and pecans, these will be the hit of your party.
If you're not careful, they may even overshadow your pulled pork!
24. Preacher's Cake
Preacher Cake is a far cry from Hello Dolly Bars but is equal in deliciousness. Another southern invention, this cake has bits of pineapple, coconut, and walnuts.
The best part? It's covered in sweet and tangy cream cheese icing!
It's designed to be made quickly, in case your preacher unexpectedly stops at your house for dinner. While that's not a common problem these days, this fantastic cake is still a perfect dessert for your pulled pork dinner!
25. Cherry Pie Bars
Everyone loves these cherry pie bars! They're so popular when shared at potlucks and parties, but they're also easy enough to whip up as a last-minute dessert!
I hope that you enjoy a fabulously tasty pulled pork lunch or dinner with these ideas for the best sides to serve with your meal! Be sure to share your favorite sides in the comments below and check back in to let me know what you liked best! Enjoy!
📋 Recipe