There's nothing quite as amazing as a perfectly seasoned smoked pork roast to enjoy as a family meal with all your favorite sides! It's an easy, versatile, and satisfying dinner that the whole family will love having as often as you care to serve it up!
A few minutes of prep and some time in the fridge, and the rest of preparing this flavorful roast is pretty much effortless!
The Easiest Smoked Pork Roast You'll Ever Make!
A juicy, tasty smoked pork roast is something I love any time of year. It's great for those summer barbecues, but it also makes a great comfort food dinner on a chilly winter evening. This recipe is so easy, you don't even have to wait for a weekend!
After many years, I've perfected what I think is one of the tastiest pork dry rubs. It has brown sugar, sage, garlic, onion, and more to give you sweet and savory flavors in every bite! Try this with yellow mustard on your pork roast.
Jump to:
It's hard to say what adds more flavor, the spices or the smoker! They complement each other perfectly and create one amazing piece of meat.
Pork is especially good for roasts, because it's fatty. In this case, the fat delivers flavor, too.  So if you're looking for that restaurant-quality meat, this is the one.
With just a few steps, there's not much of a time investment for the hands-on preparation. You do, however, need to set aside some time for marinating, smoking, and letting the meat rest. 
❤️ Why You'll Love This Recipe!
It's easy! There's minimal prep work to ready your pork roast before you put it in your smoker!
It's simple! With just three ingredients (plus the spices for my homemade pork rub, if using), you can create a masterpiece that the whole family will love!
It's versatile! You can serve a smoked pork butt in so many different ways...sandwiches or sliders, with mac n cheese, salads, tacos, and more!
🥘 Ingredients
There are only three ingredients, but if you don't keep pork rub on hand, you might need to take a peek into your spice cabinet. The rub is the key to the exceptional flavor!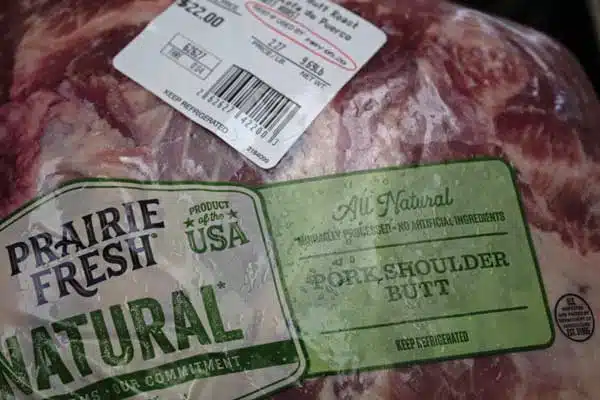 Boneless, Pork Shoulder Butt - Get ready for amazingly flavorful smoked pork that practically falls apart!
Yellow Mustard - This is the secret ingredient for that slight tangy flavor. I highly suggest not skipping this step - mustard and pork go together so well!
Pork Dry Rub - Try my pork rub recipe or use your favorite store-bought blend.
🔪 Instructions
While the prep work only takes a few minutes, do this well in advance of your dinner. It takes time to soak in all those amazing spices.
Prepare & Season
Prepare the pork. Spread 6 tablespoons of yellow mustard all over your 10 pound pork shoulder or Boston Butt. Do this over a baking sheet or cutting board to reduce the mess. Then, add the pork rub making sure to cover the meat entirely.
Let it dry brine. Put the pork in the refrigerator uncovered for at least an hour. It will be even better if you let it sit uncovered overnight, or up to 12 hours.
Smoking the Pork Roast
Preheat the smoker. Pull the meat out of the fridge and let it come to room temperature, for about 30-45 minutes. Meanwhile, set your smoker to 300℉ (150℃) and get it smoking per the manufacturer instructions.
Smoke to perfection. When the smoker reaches the set temperature, put the pork on your smoker grill with the fat side facing upward. Smoke for 5 hours or until internal temperature is at 190℉ (88℃).
Remove and rest. When the pork is done, remove it from the smoker. Wrap it with a loose tent of aluminum foil and let it rest for up to an hour (at least 30 minutes) before serving.
Serve. However you choose to eat it, it's sure to be amazing!
I love a simple smoked baked potato thrown into the smoker while the roast finishes as my number one pick for the perfect side dish to serve with a smoked pork roast. Of course, mac and cheese is an arguable favorite too.
Don't forget some coleslaw and some slider buns. The possibilities are endless! Enjoy!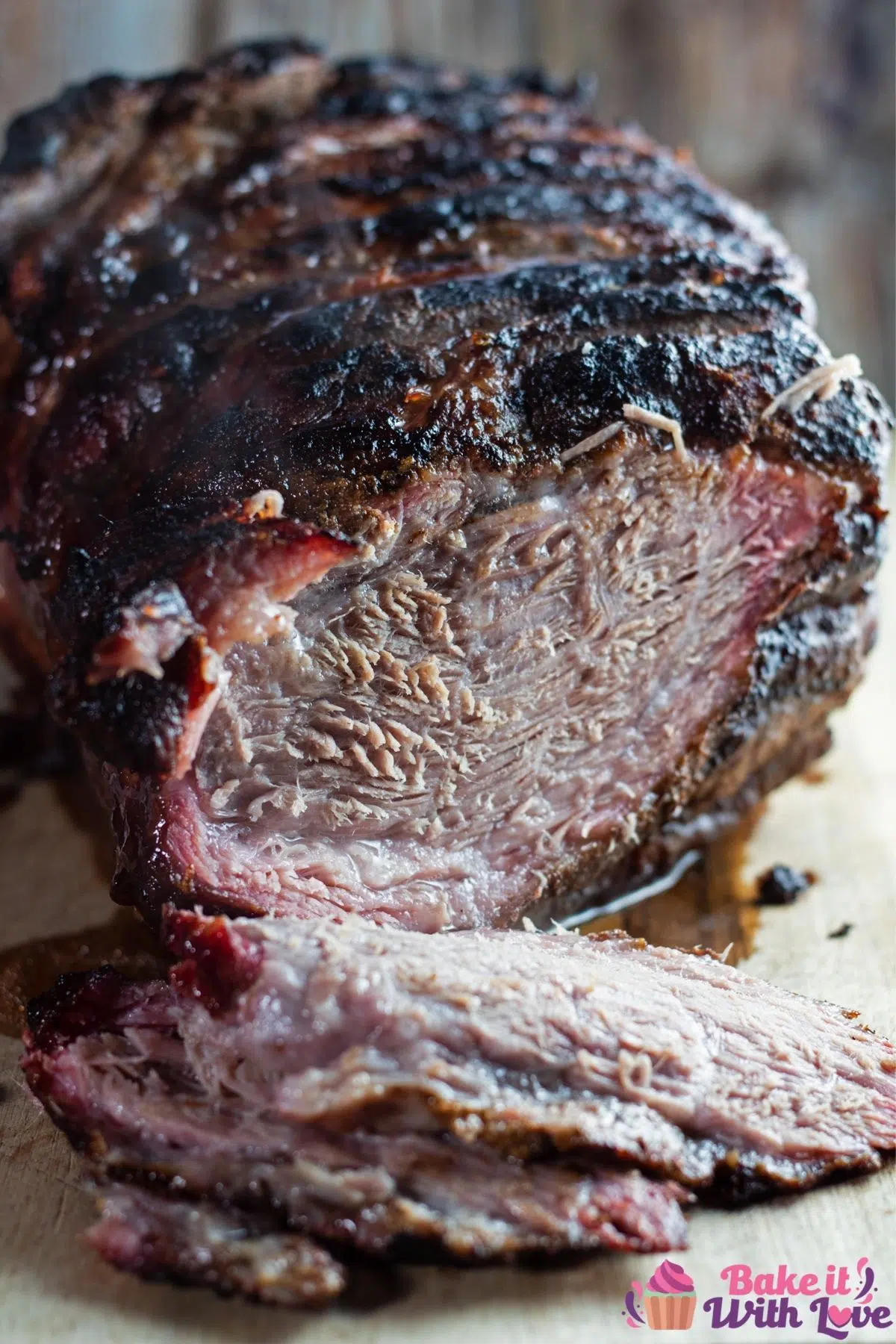 💭 Tips & Notes
You don't HAVE TO use the mustard.
The mustard doesn't actually impart any flavor to the meat. In this case, it works as a binder for the seasoning only.
The salt in the dry rub can denature (break down) the pork meat fibers all on its own if you let the seasoning do its thing for at least 1-3 hours.
When it comes to smoking meat, the wood chips you use make a difference.
For pork, I suggest using apple or cherry wood. Fruit and pork go really well together, so it makes sense that the woods from a fruit tree would be complementary to the smoking process.
The flavors of both wood varieties add complexity to an already great meal. If, however, you have a favorite wood to smoke with, don't let this deter you. You know what you like more than I do!
Use a probe to determine doneness.
It's difficult to tell if a piece of meat is done just by looking. If you really want to be certain, use a temperature probe. When working with pork, especially, it's very important not to under cook the roast.
Temp the smoked pork roast at the center of the thickest portion of the meat.
Allow at least 30 minutes (and up to an hour) for the roast to rest wrapped in aluminum foil.
Resting a piece of meat helps it re-absorb and distribute the juices evenly. When you want every bite to be filled with flavor and delicious juice, it's worth letting it sit for a while.
Do this before chopping or pulling the pork.
🥡 Storing & Reheating
Refrigerating & Freezing
If you've chopped or pulled your pork, put it into an airtight container in the fridge, and it will last for up to 4 days. If you're storing it whole, wrap it tightly in foil.
Sometimes, there's more than you can eat, especially with a roast. It's a great meal to have ready to go in the freezer, and it will last 2 to 3 months before the flavor will start to deteriorate.
When freezing your smoked pork, put it in an airtight freezer storage container or separate it out into individual, portion-sized containers. This way, you can thaw just the portions you need for planned meals in the future.
Reheating
My favorite way to reheat a pork roast is by adding a little beef or chicken stock to a baking dish before putting in the leftover meat. Heat covered with foil at 325℉ (163°C) for 30 minutes. The foil will help steam things up.  
The key is to warm the whole thing without drying out the outside by using low heat and longer times. It won't be as much of an issue if you've pulled it apart already.  
To reheat a frozen roast, leave it in the fridge overnight to defrost before following the directions above. With a little planning, you'll be enjoying that roast like it was fresh out of the smoker!
❓ FAQ
Will this recipe work with a smaller roast?
Absolutely. For a smaller roast, you'll just need to reduce the cooking time. In general, 30 minutes of smoke time per one pound will do the trick. Smoke at 300℉ (150℃).
How much pork should I make?
This is a question I used to struggle with often. On average you should plan on making ⅓-1/2 pound per person who is joining you for dinner. Note that, in general, any bone-in pork roast loses about 40% of its weight once cooked and shredded, pulled, or chopped.
For example, my 10 pound pork shoulder used here will yield about 6 pounds of finished meat for serving 12-18 people.
Pork shoulder vs Boston Butt Is there a difference?
Both of these are from the same part of the pig, but they're not quite the same.  The butt is a meatier cut with more marbling. Marbling makes it a slightly more tender piece of meat. If you're worried about the extra fat, don't be. Much of it will cook off and only leave behind great flavor.
While most people opt for a shoulder, rest assured; both are flavorful and delicious. Boston Butts can sometimes be less readily available, depending on your grocery store.
Do you love a recipe you tried? Please leave a 5-star 🌟rating in the recipe card below and/or a review in the comments section further down the page.
Stay in touch with me through social media @ Pinterest, Facebook, Instagram, or Twitter! Subscribe to the newsletter today (no spam, I promise)! Don't forget to tag me when you try one of my recipes!
📖 Recipe Card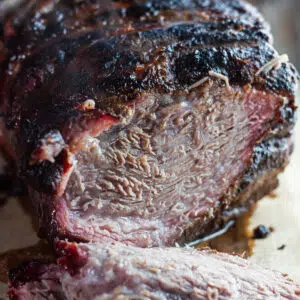 Print Recipe
Leave A Comment
Love This Recipe?
Click On A Star To Rate It!
Smoked Pork Roast
There's nothing quite as amazing as a perfectly seasoned smoked pork roast to enjoy as a family meal with all your favorite sides! It's an easy, versatile, and satisfying dinner that the whole family will love having as often as you care to serve it up!
Total Time
5

hours
40

minutes
Pin Recipe
Share on Facebook
Ingredients
10

lbs

Boneless Pork Shoulder or Boston Butt

6

tablespoon

yellow mustard

1

pork dry rub

(use mine or store bought)
Help Us Out!
If you love a recipe, be sure to come back and share your ratings. This helps future users, and allows me to continue sharing free recipes! Angela
Instructions
Prep
On a baking sheet or cutting board, apply the mustard all over the pork shoulder/butt. Add the rub liberally over the entire roast.

6 tablespoon yellow mustard,

1 pork dry rub,

10 lbs Boneless Pork Shoulder or Boston Butt

Refrigerate uncovered for at least 1 hour, preferably overnight for 12 hours.
Smoking the pork shoulder or Boston butt
Remove pork roast from the refrigerator, allow to come to room temp. Approximately 30-45 minutes. Meanwhile, preheat your smoker to 300°F (150°C).

When your smoker is at the proper temperature place roast in the smoker fat side up. Smoke at 300°F (150°C) for approximately 5 hours or until internal temperature is 190°F (90°C).

Remove from smoker, loosely tent the roast with aluminum foil and allow to rest at least 30 minutes, up to 1 hour.

Slice, shred, pull, or chop. Serve and enjoy!
Equipment You May Need
Notes
This recipe works on small pork roasts as well.  Just reduce the smoking time, a general rule is 30 minutes smoke time per pound at 300°F (150°C). 
The 2 keys to success with smoking the roast is to use a probe and allow at least 30 minutes of rest time.
Serving size is about ⅓-1/2 lb per person.
Pork roasts lose about 40% of their weight once cooked and sliced for serving. Plan accordingly for guest portions.
Nutrition
Calories:
302
kcal
(15%)
|
Carbohydrates:
1
g
|
Protein:
43
g
(86%)
|
Fat:
13
g
(20%)
|
Saturated Fat:
5
g
(31%)
|
Polyunsaturated Fat:
1
g
|
Monounsaturated Fat:
6
g
|
Trans Fat:
1
g
|
Cholesterol:
136
mg
(45%)
|
Sodium:
198
mg
(9%)
|
Potassium:
775
mg
(22%)
|
Fiber:
1
g
(4%)
|
Sugar:
1
g
(1%)
|
Vitamin A:
3
IU
|
Vitamin C:
1
mg
(1%)
|
Calcium:
34
mg
(3%)
|
Iron:
3
mg
(17%)
Boston butt, pork butt, pork shoulder, smoked, Smoked Pork Roast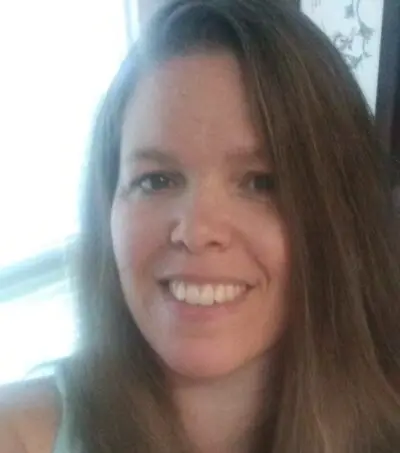 Angela is an at home chef that developed a passion for all things cooking and baking at a young age in her Grandma's kitchen. After many years in the food service industry, she now enjoys sharing all of her family favorite recipes and creating tasty dinner and amazing dessert recipes here at Bake It With Love!